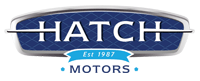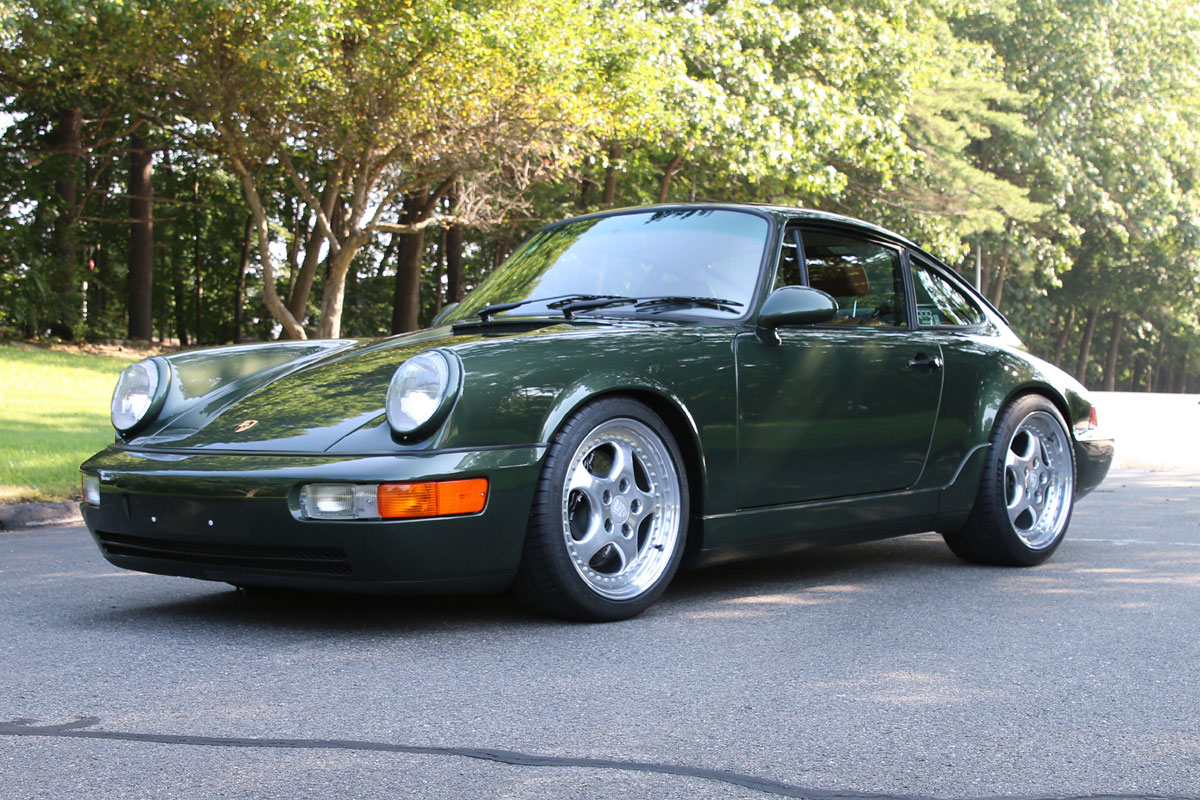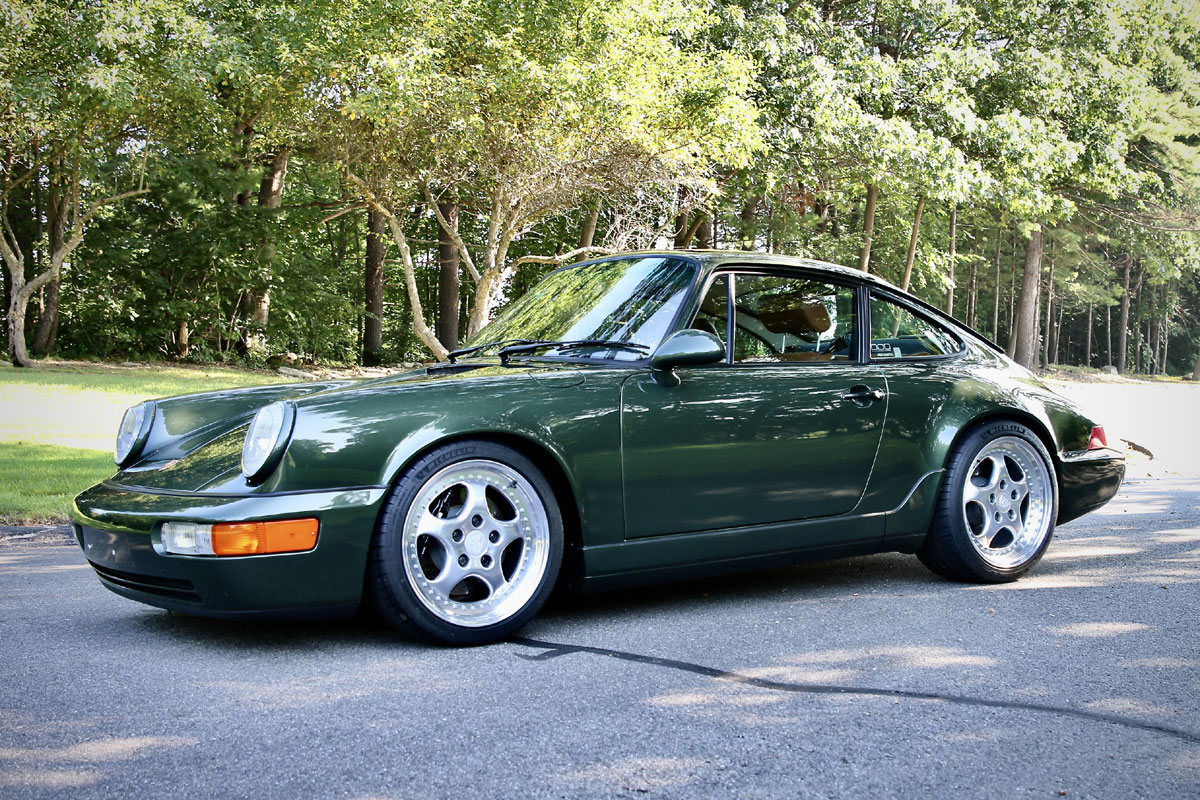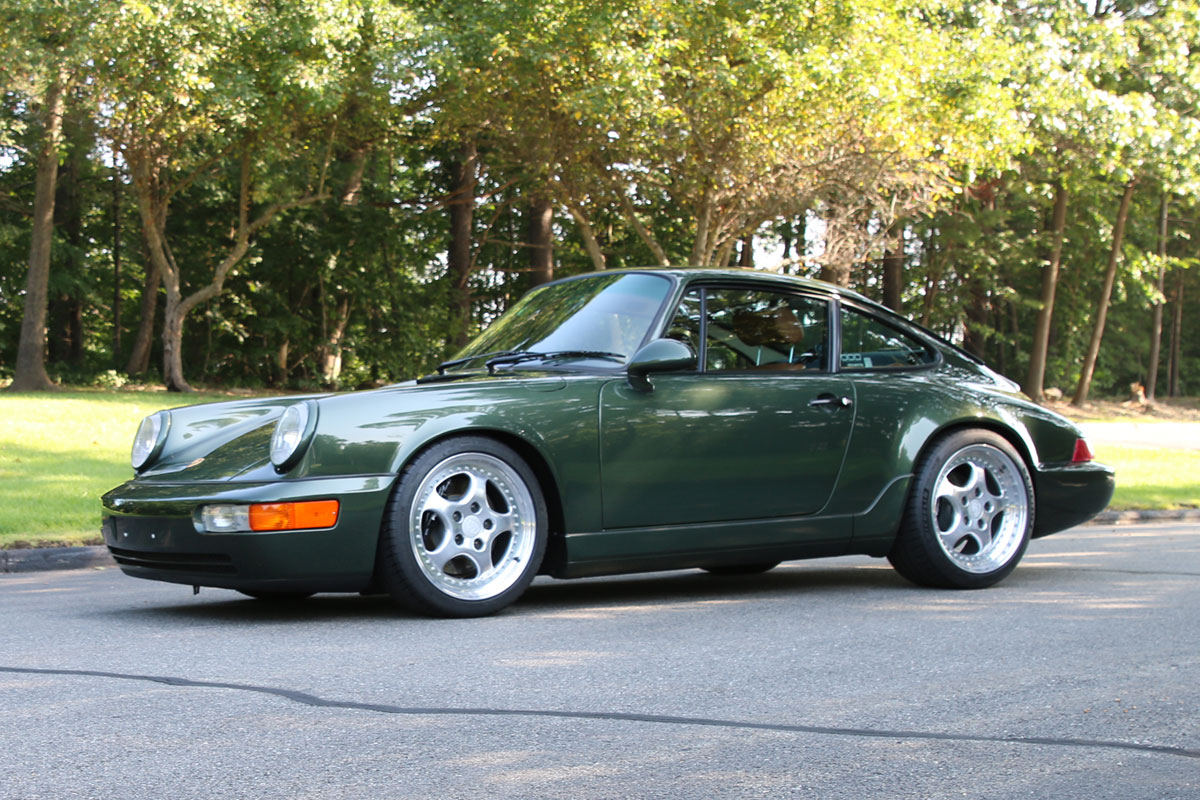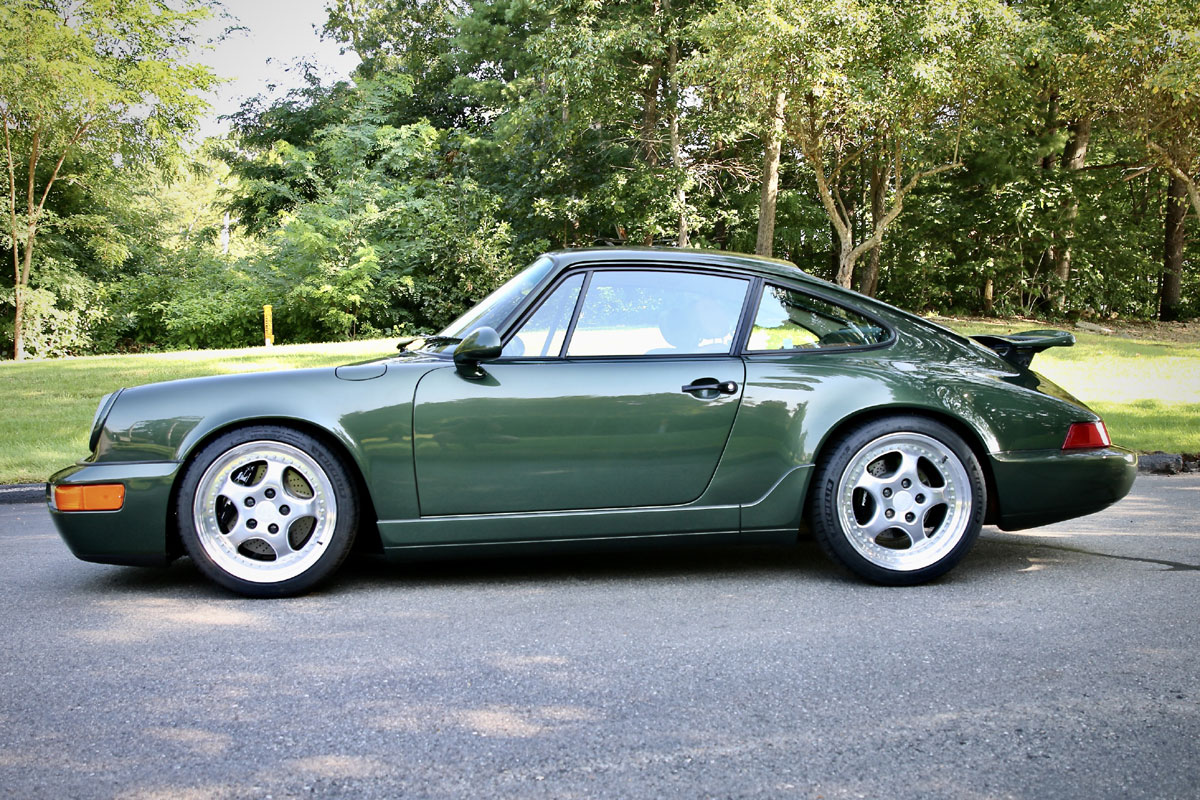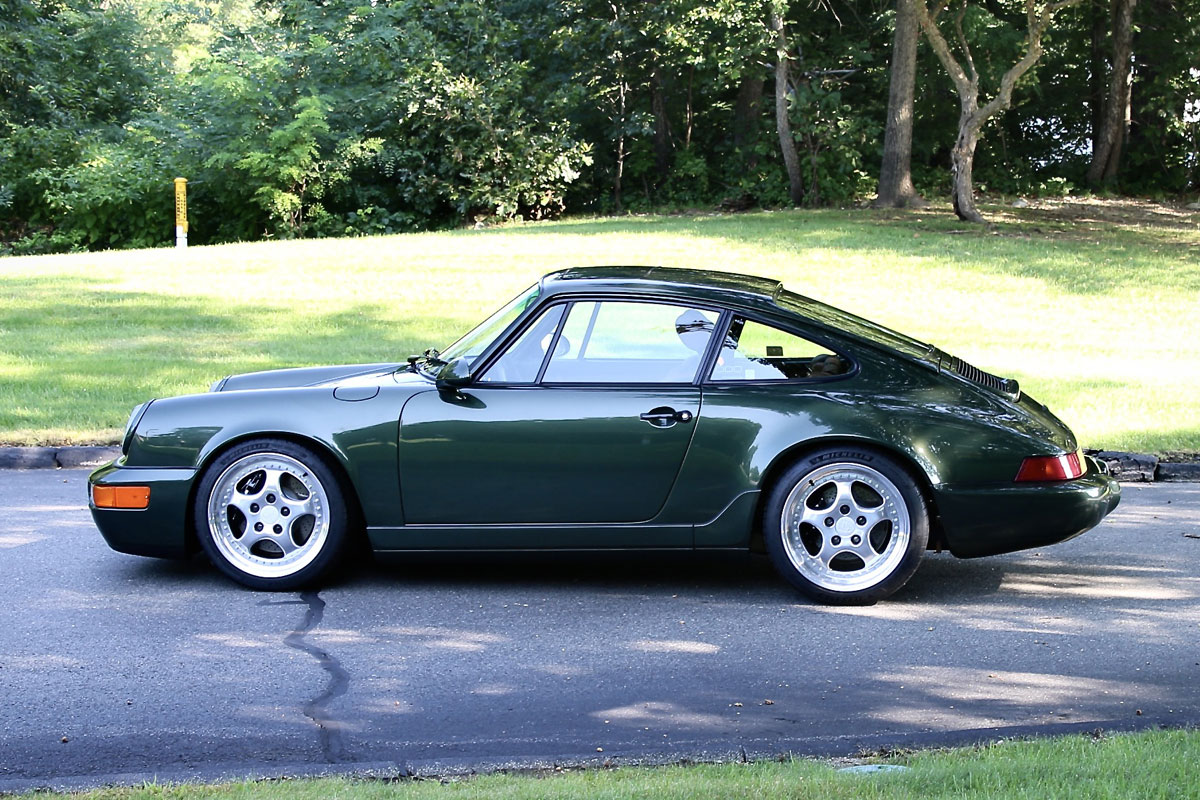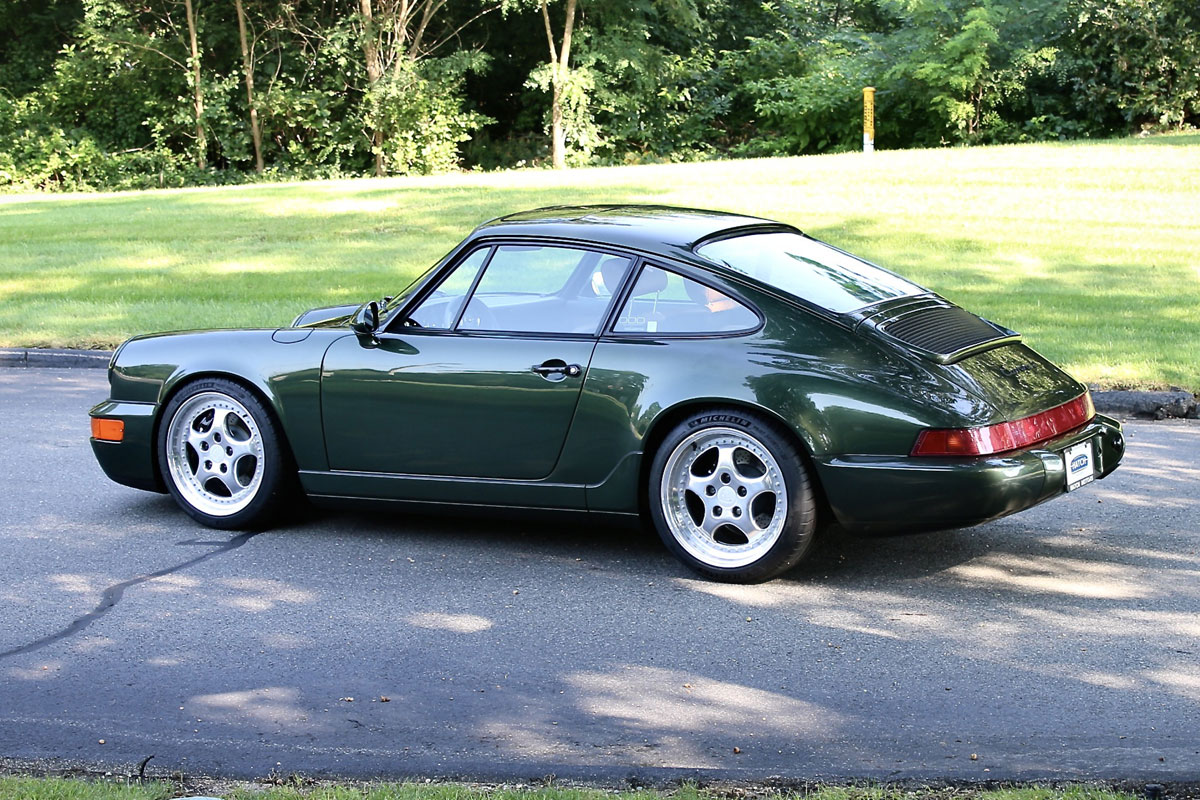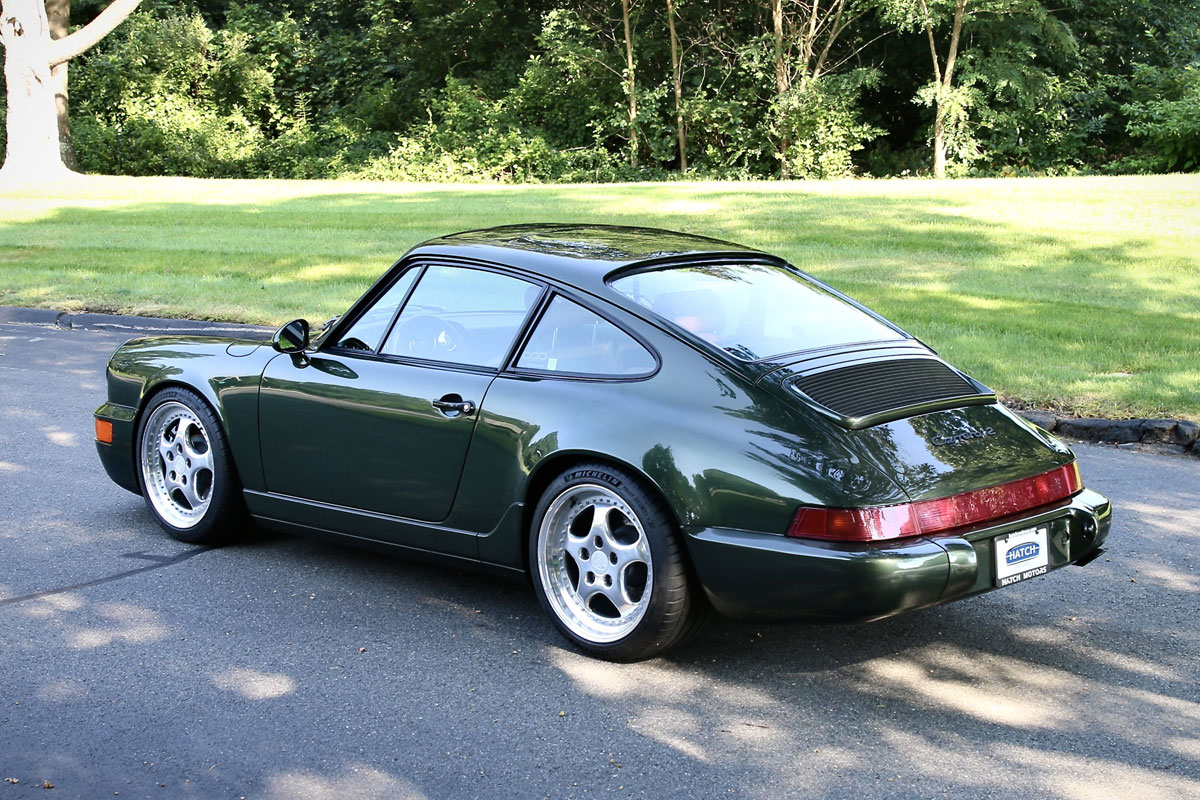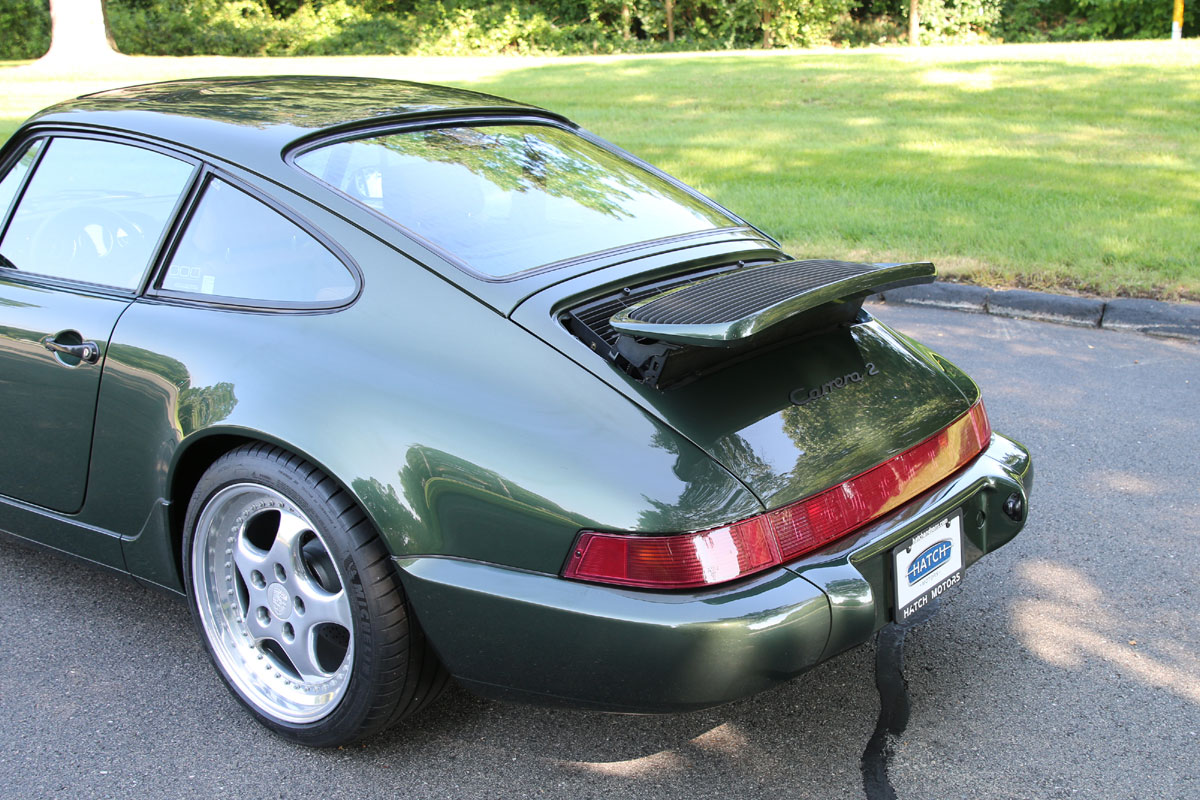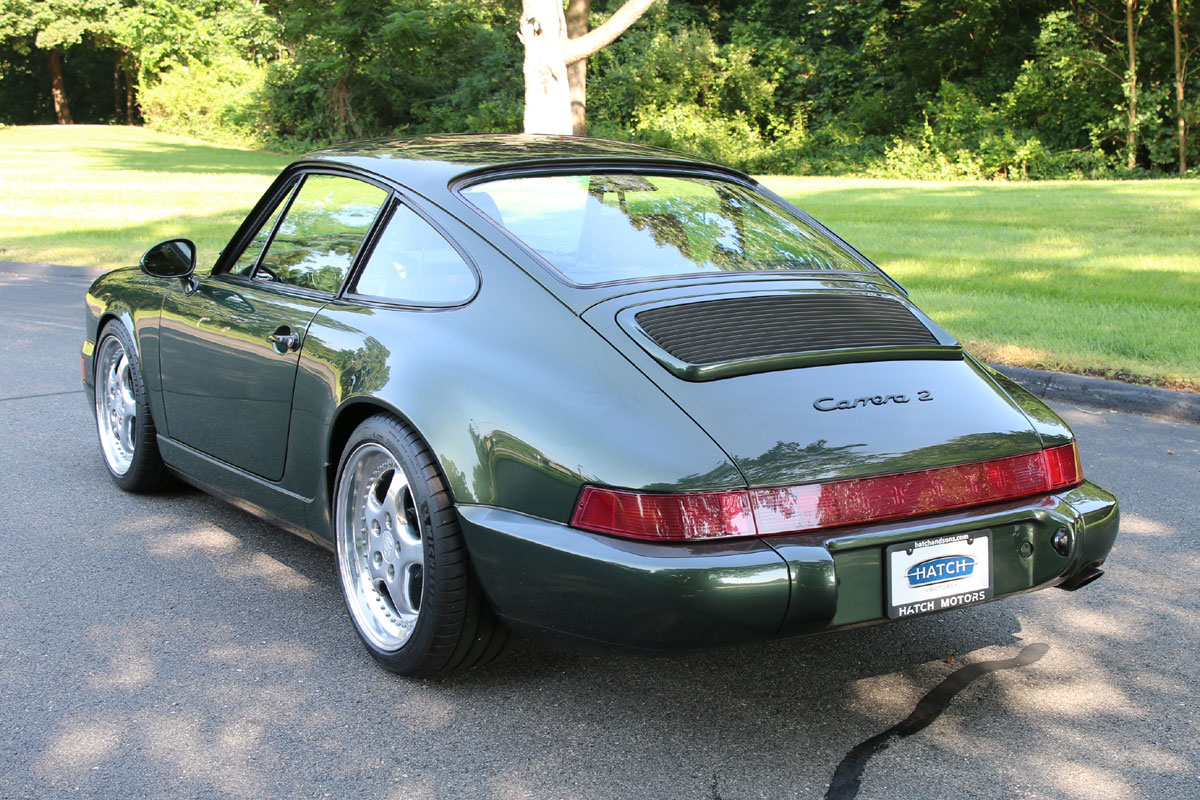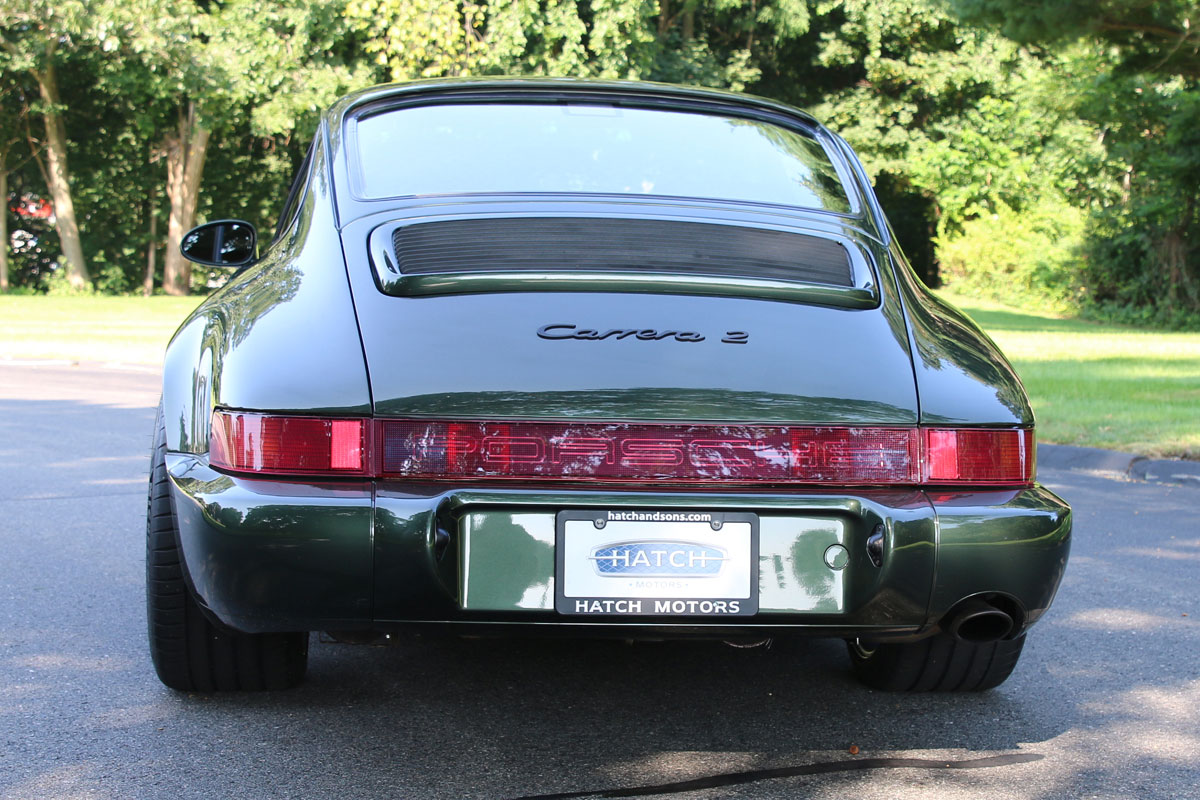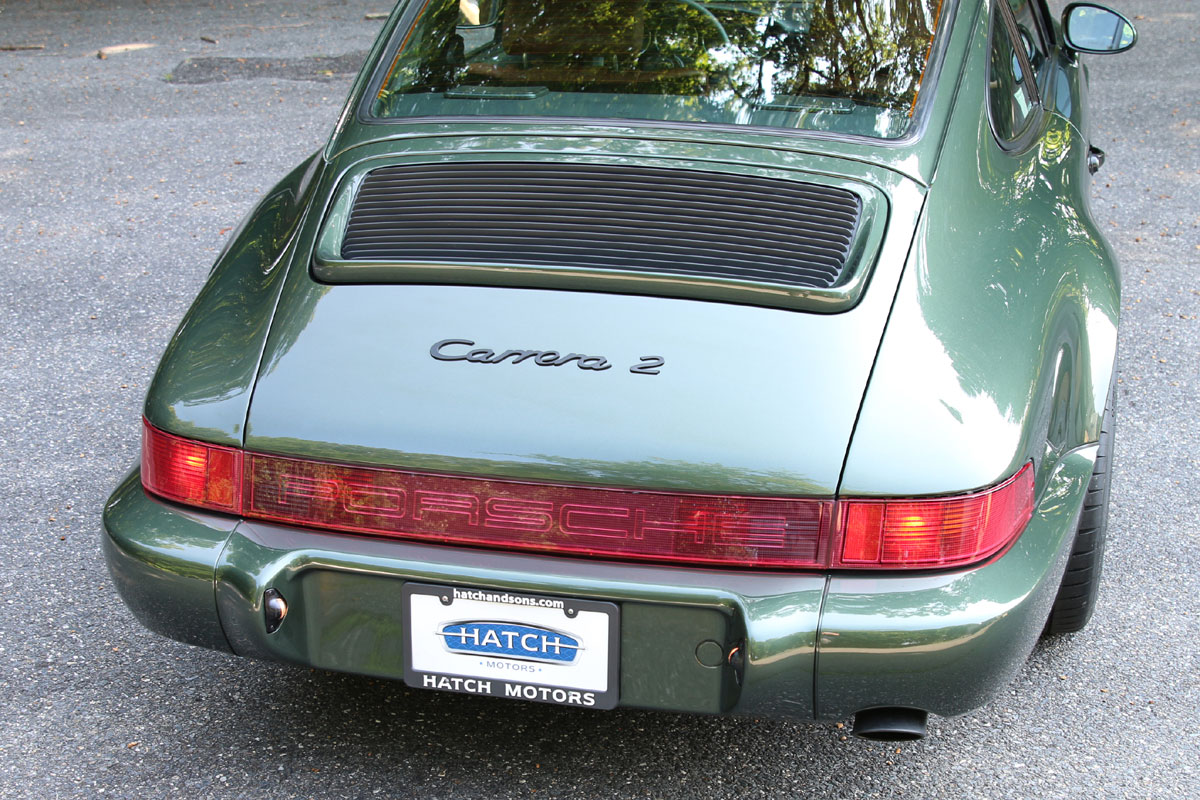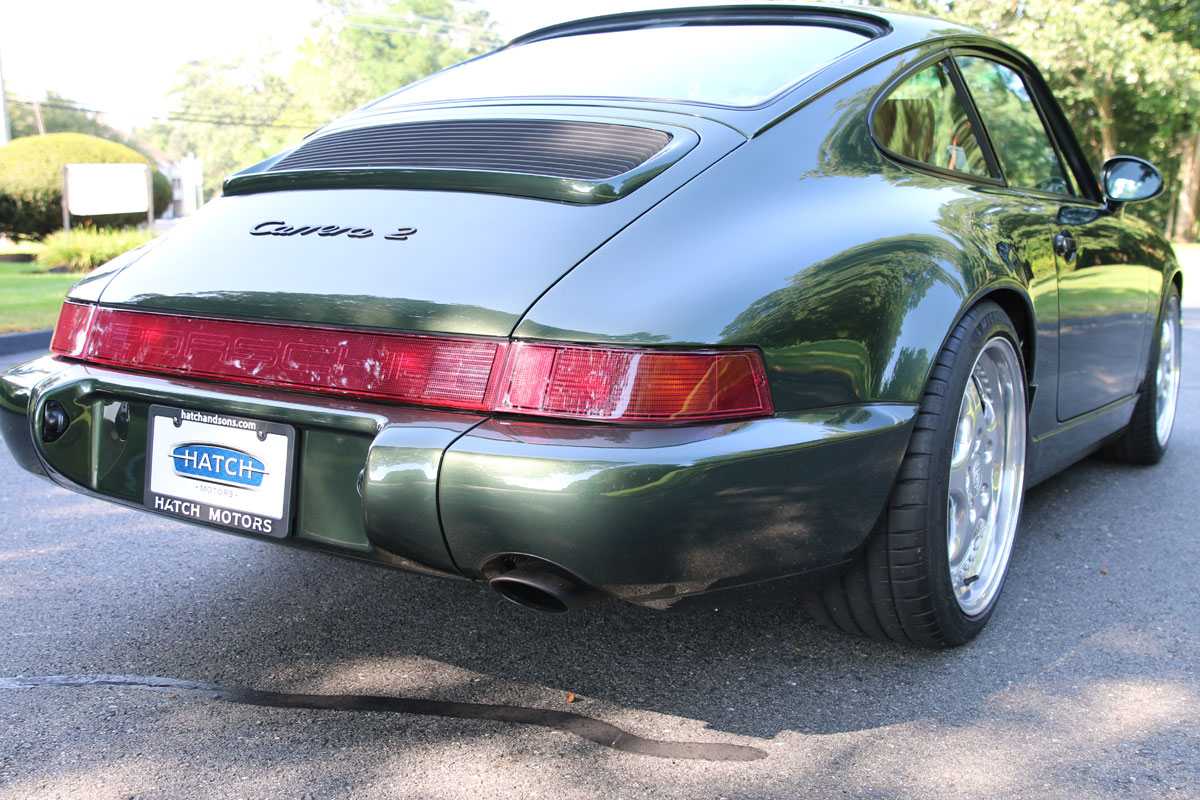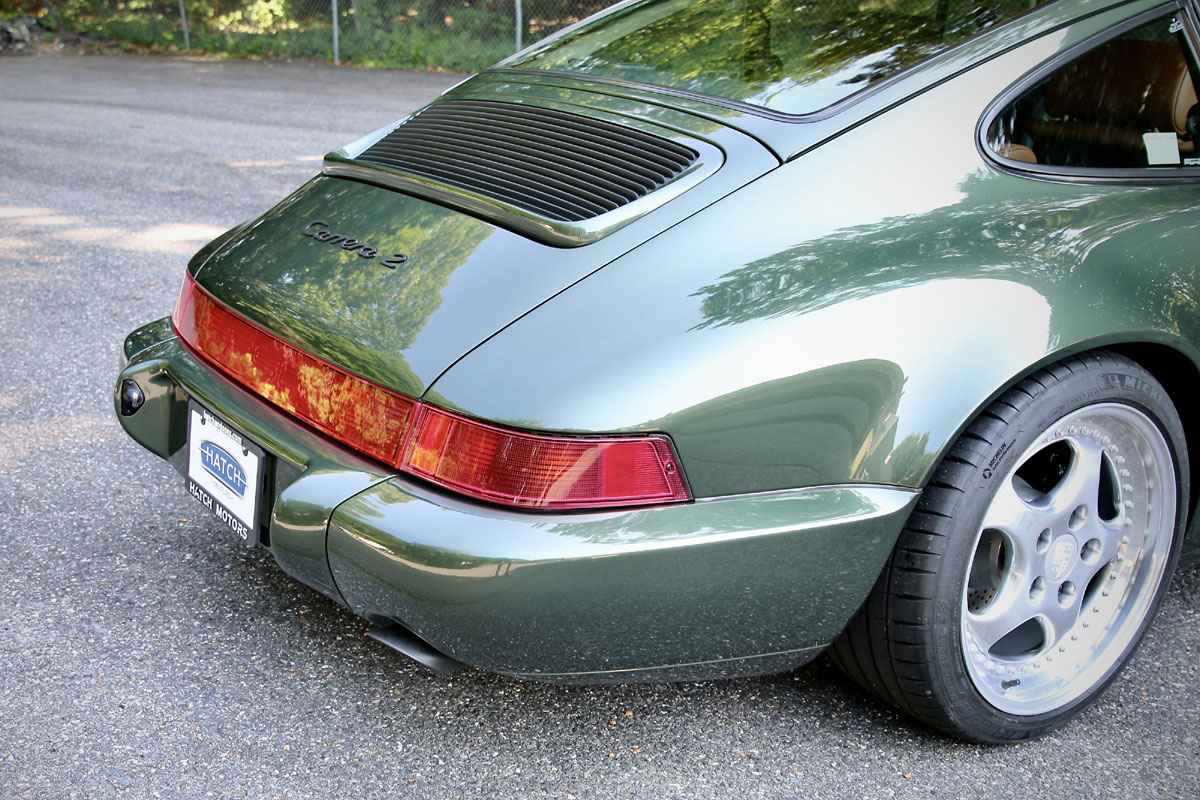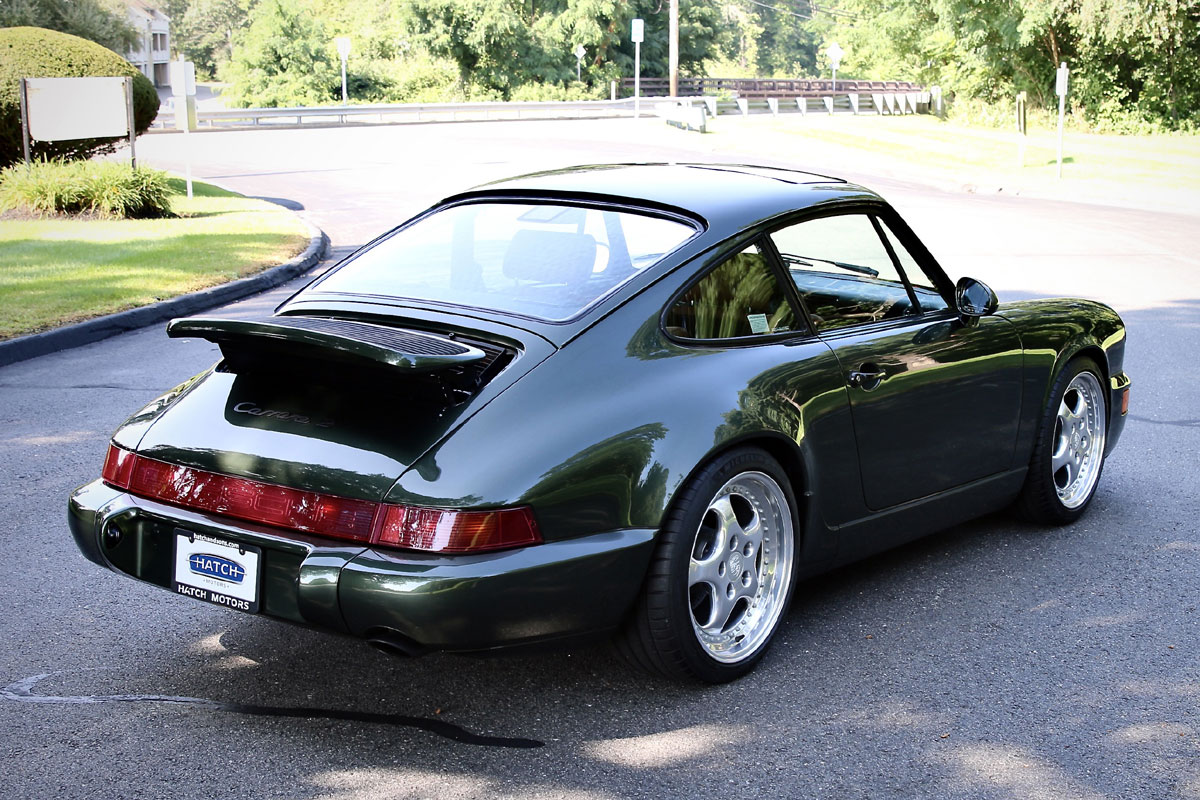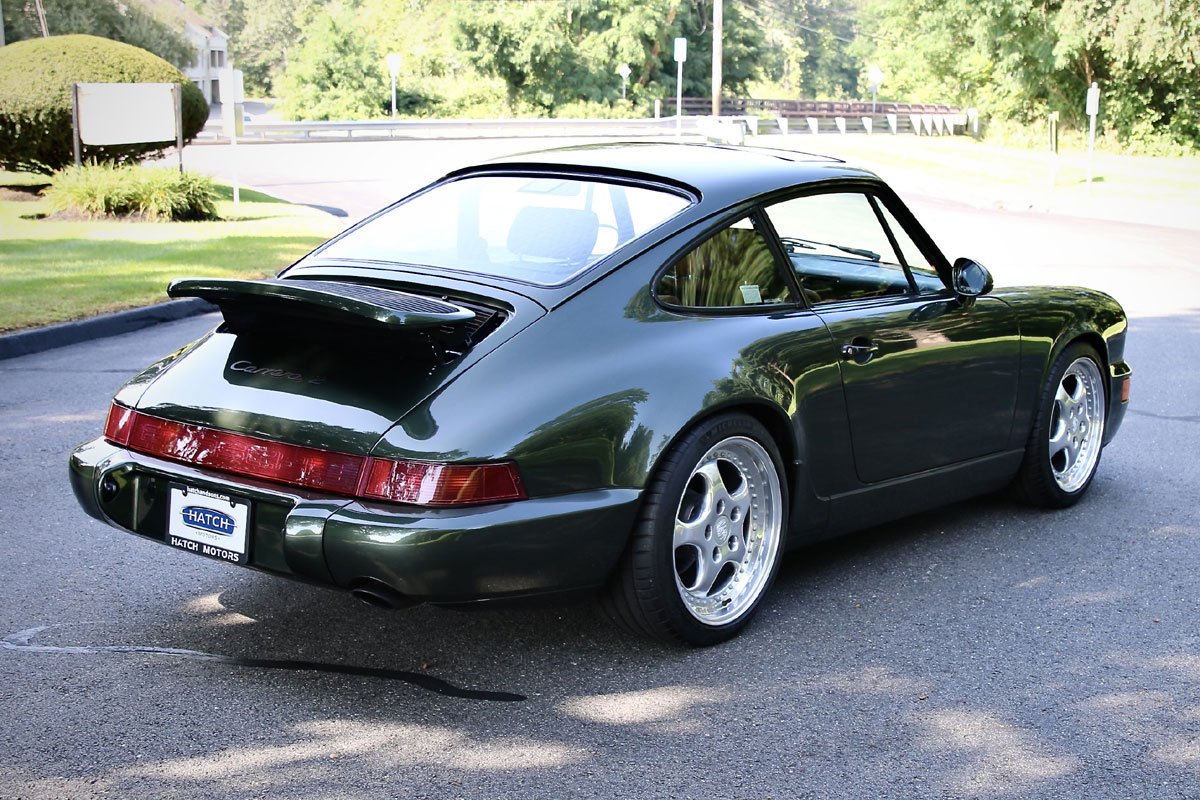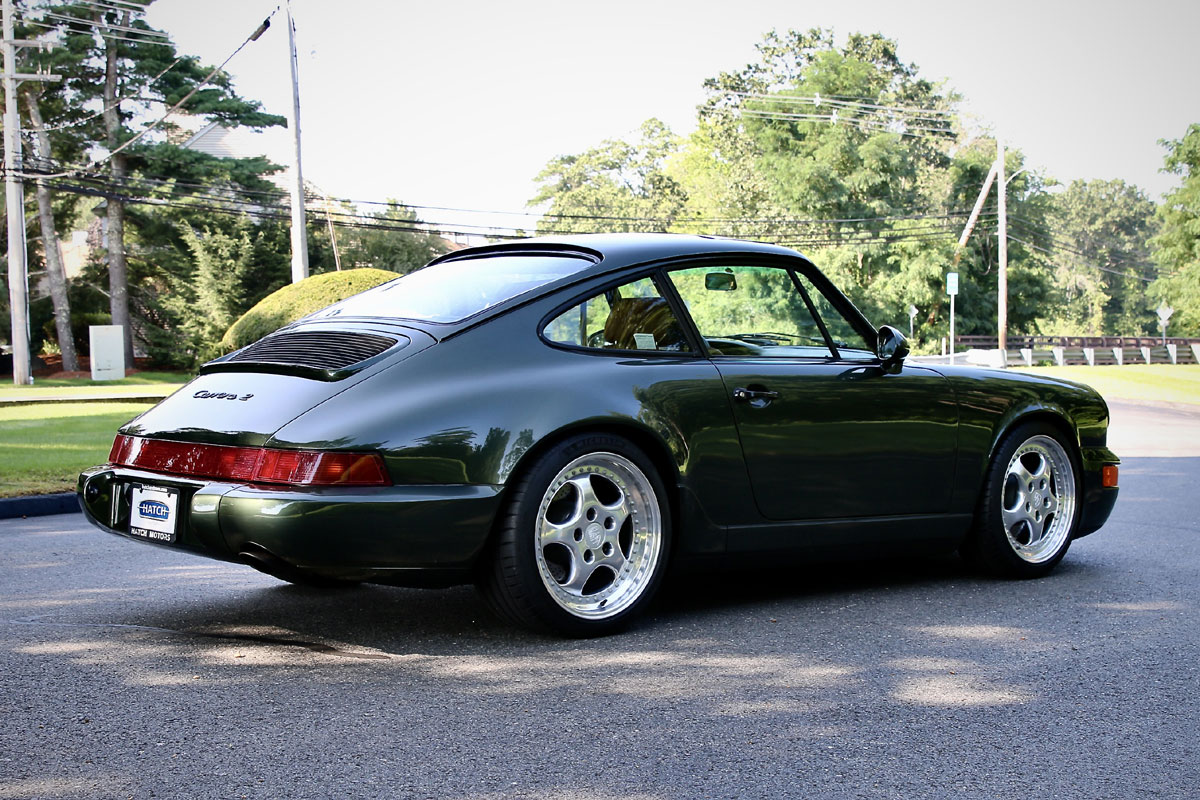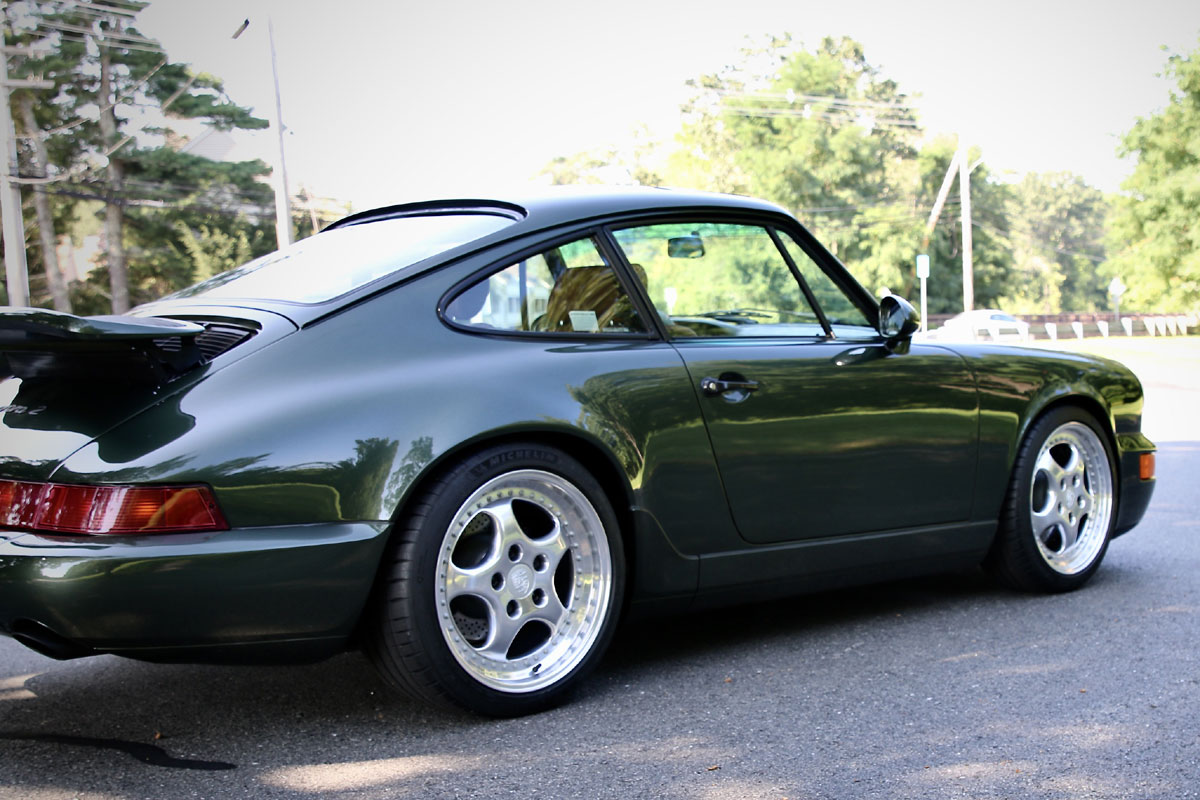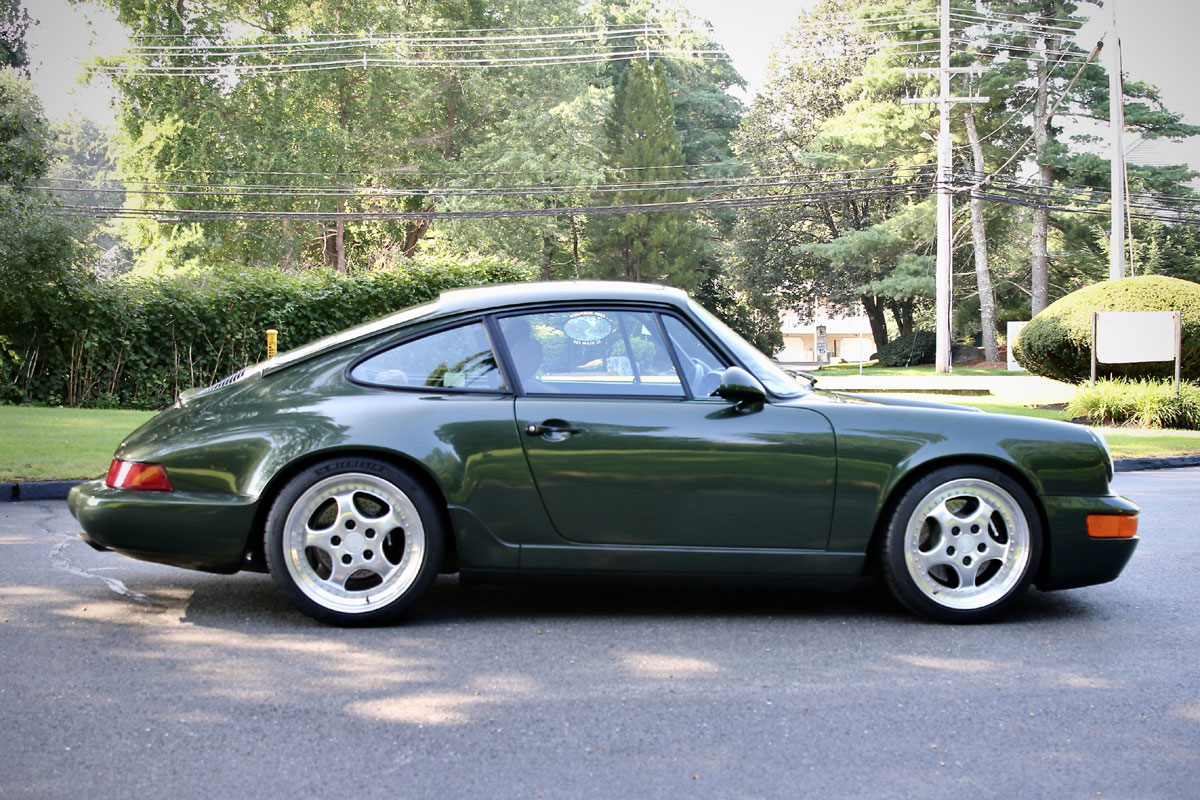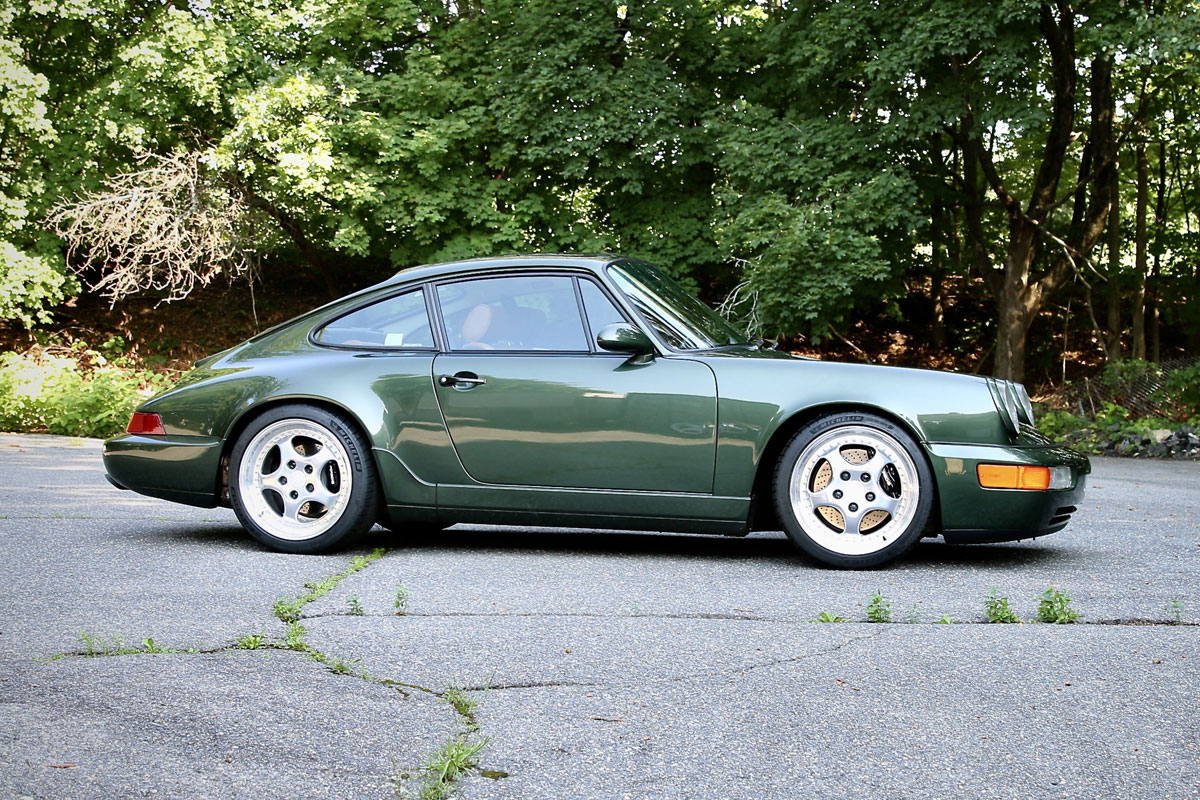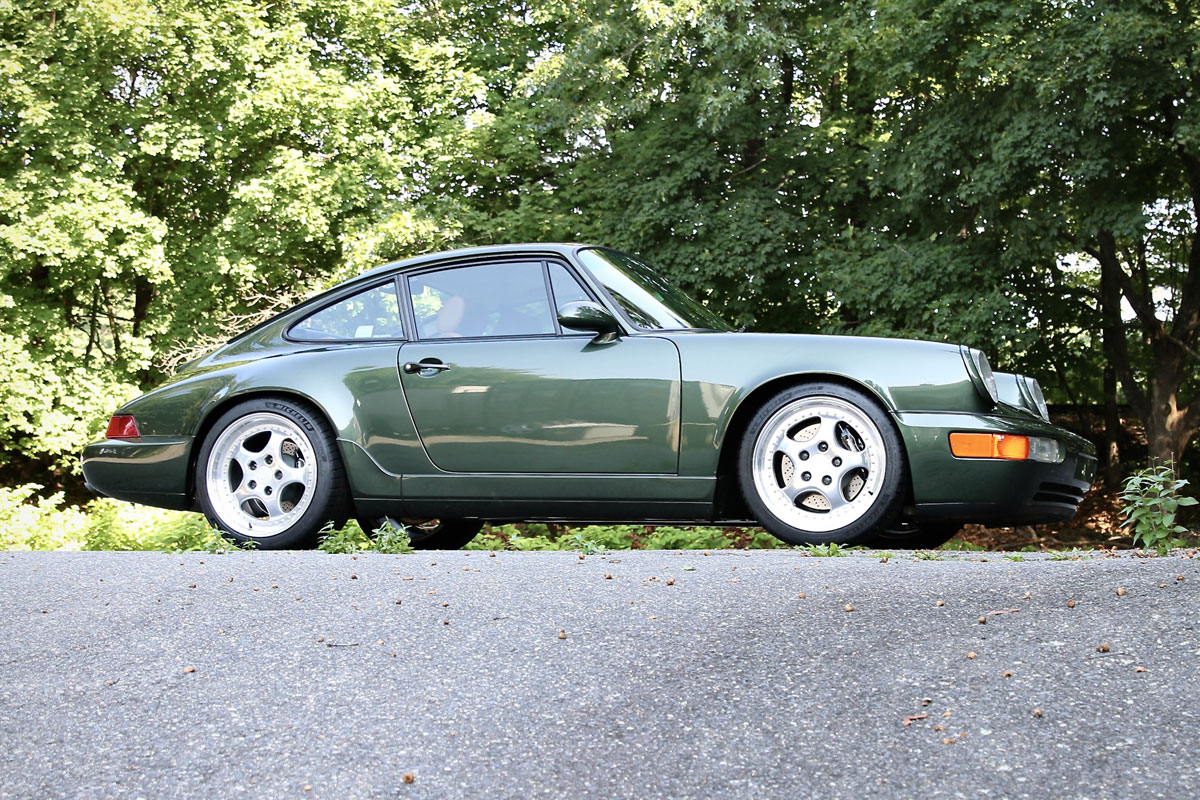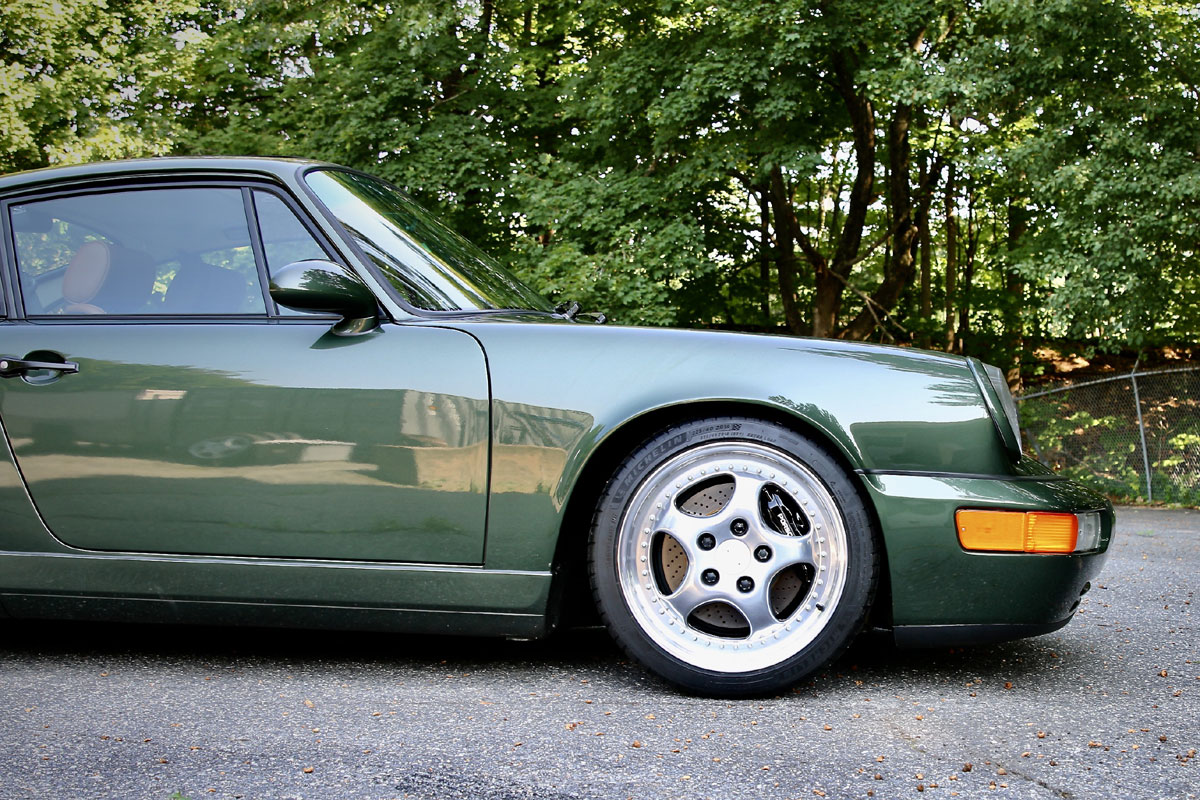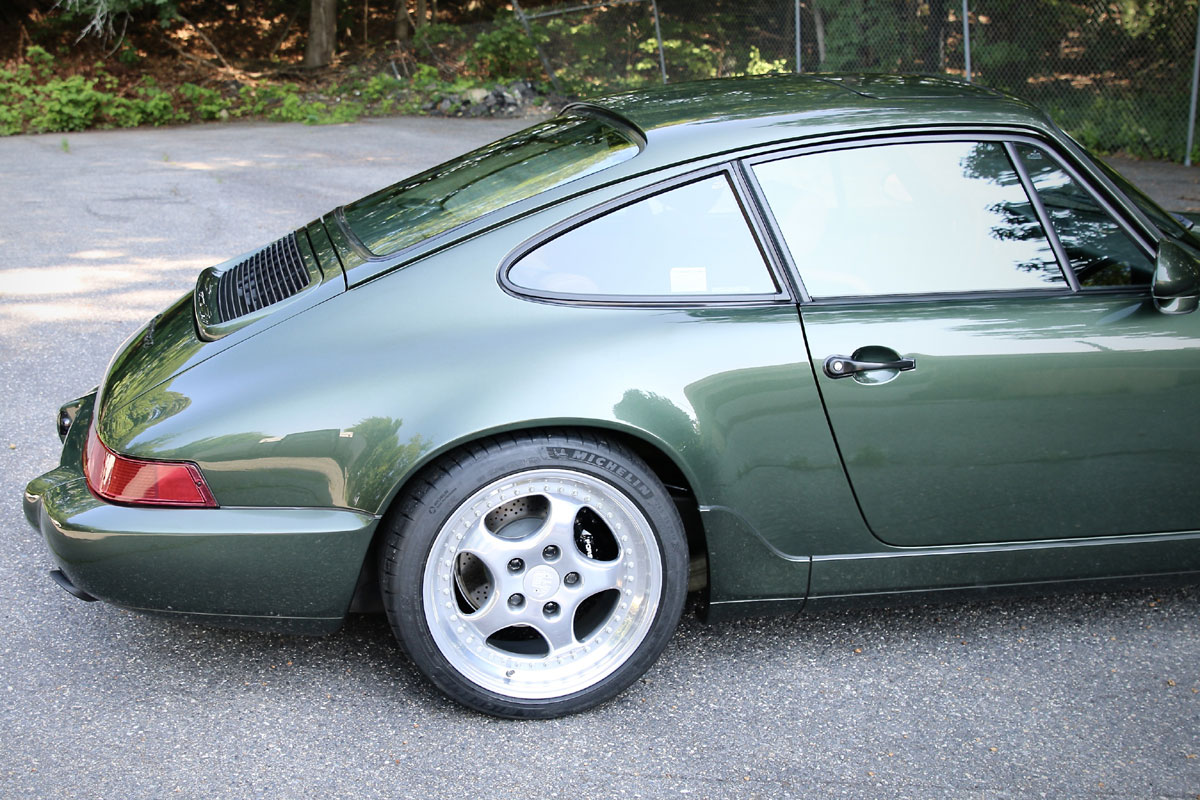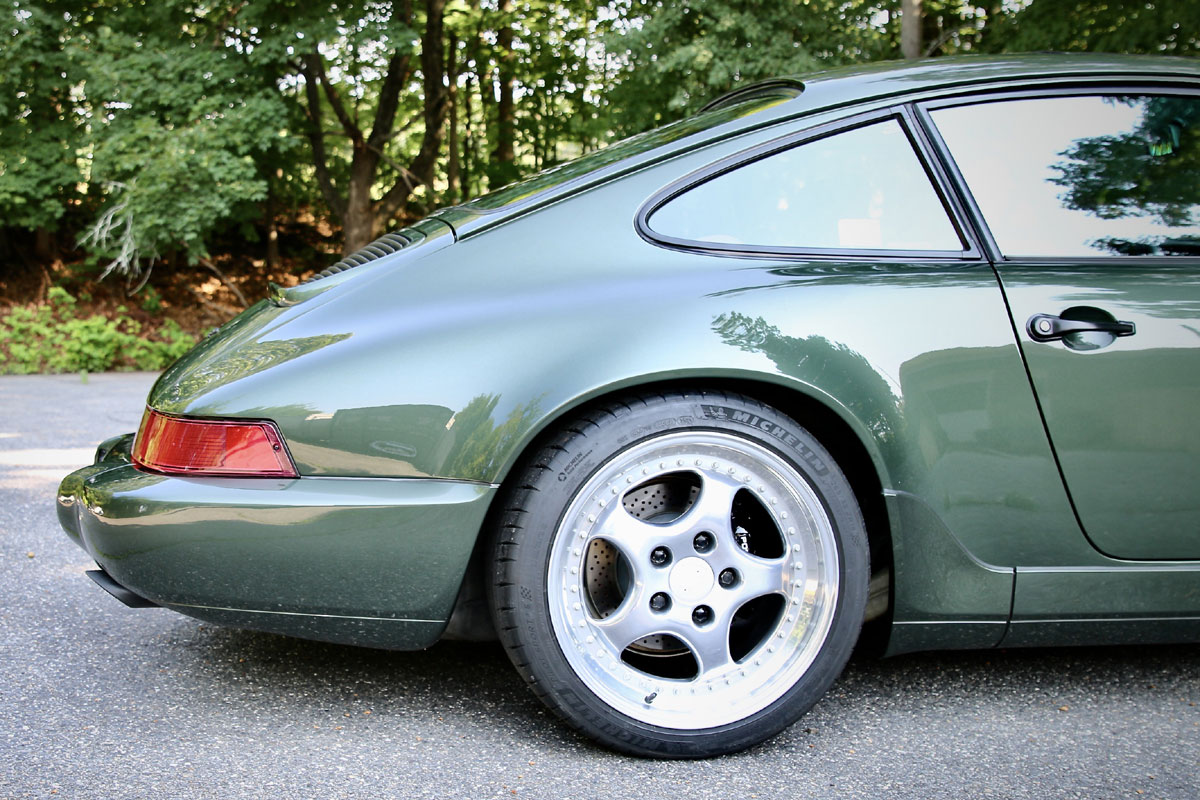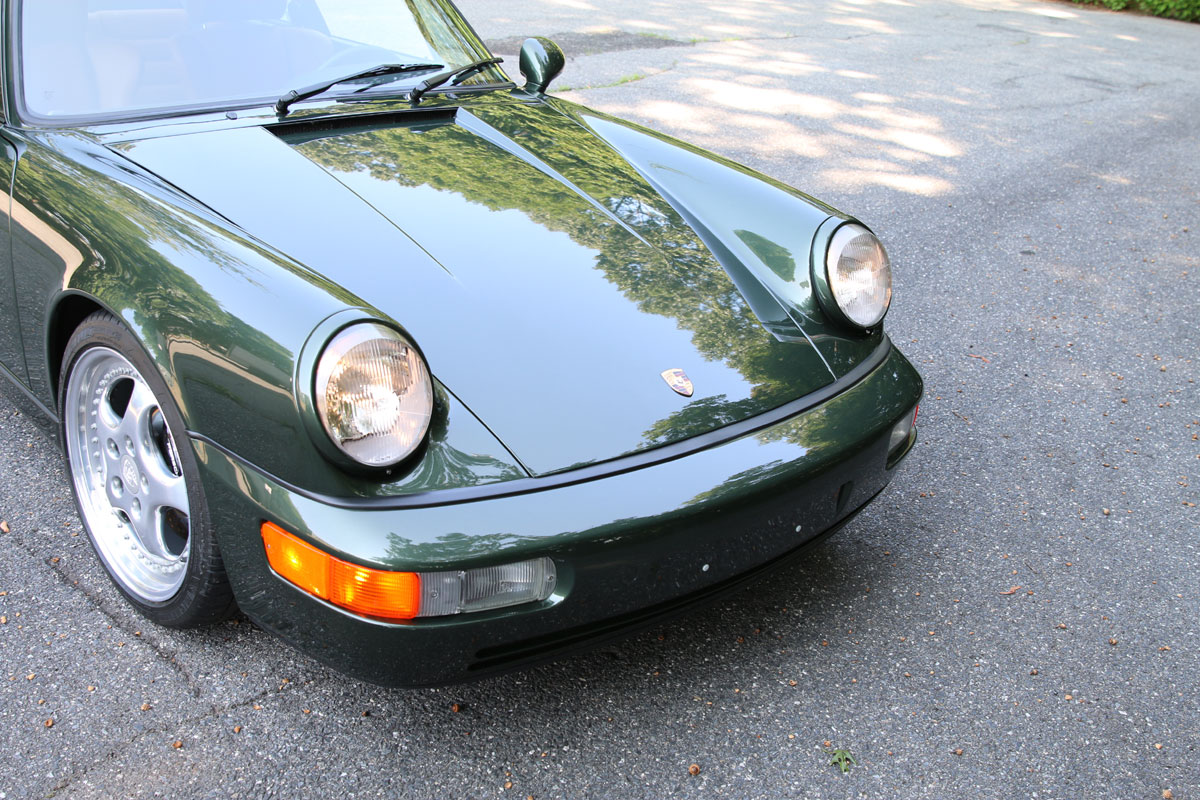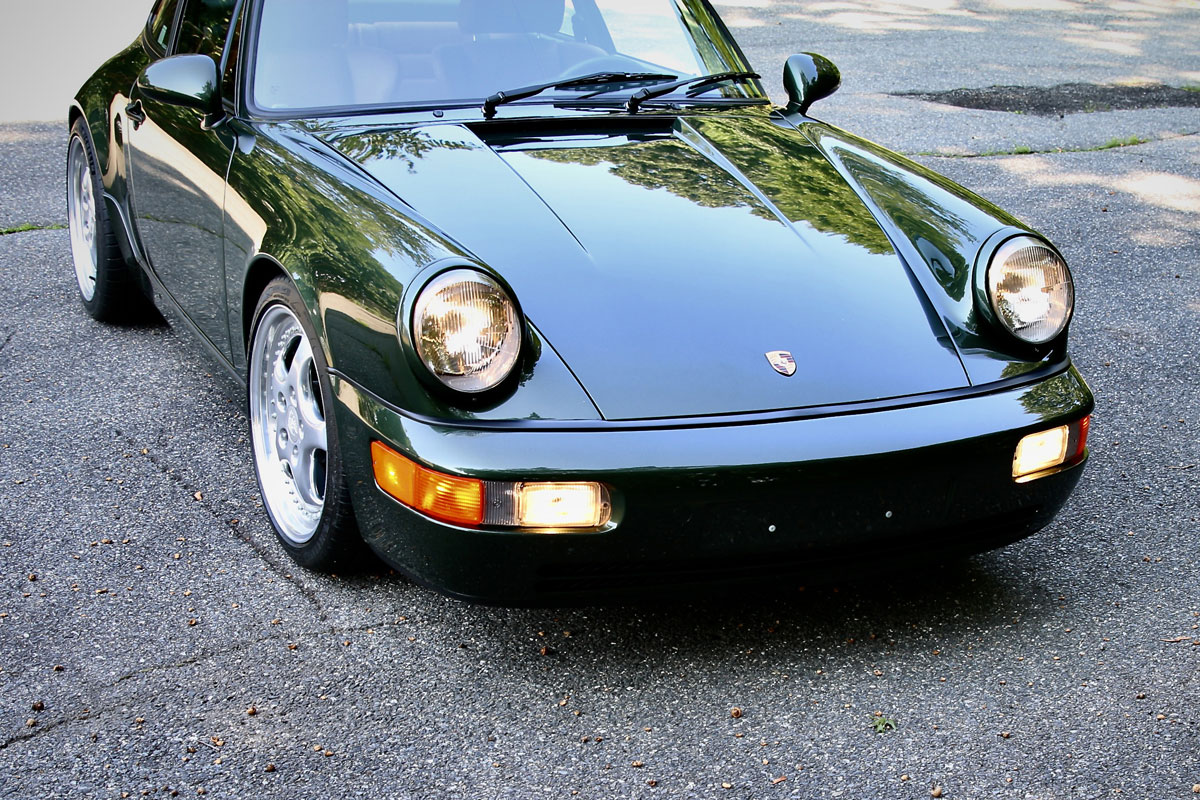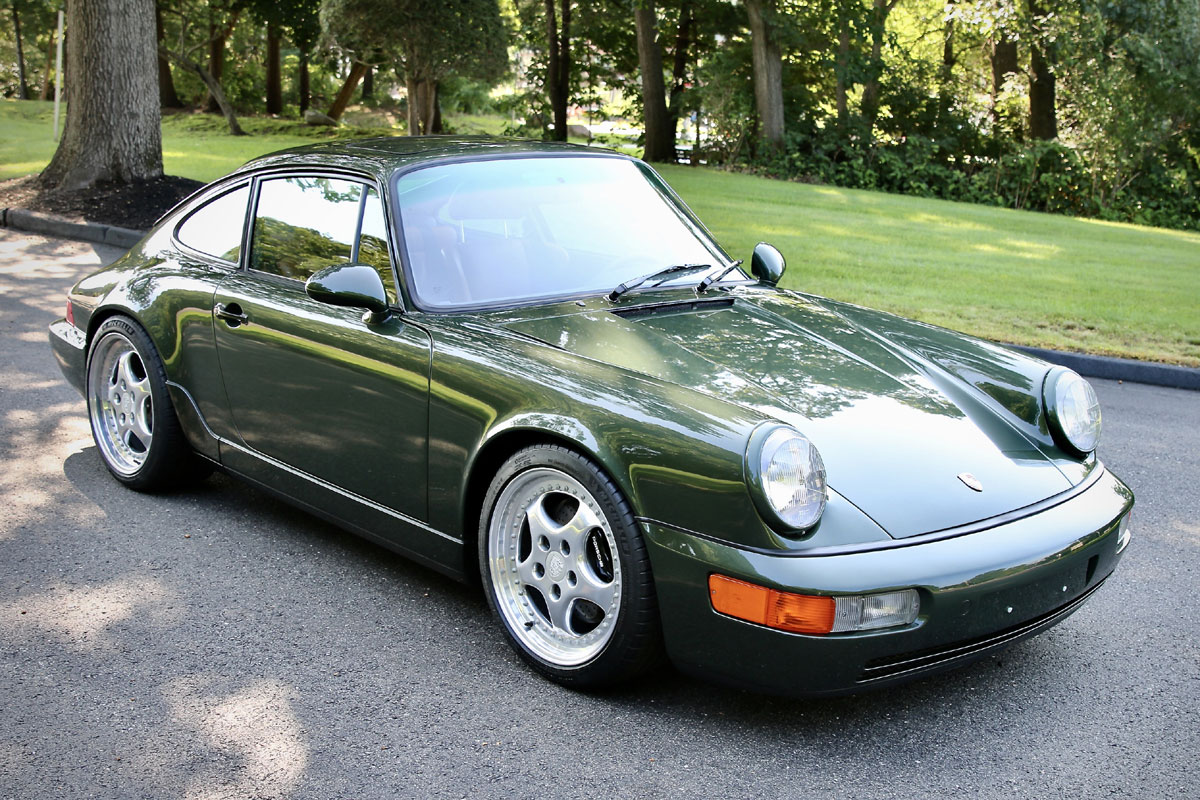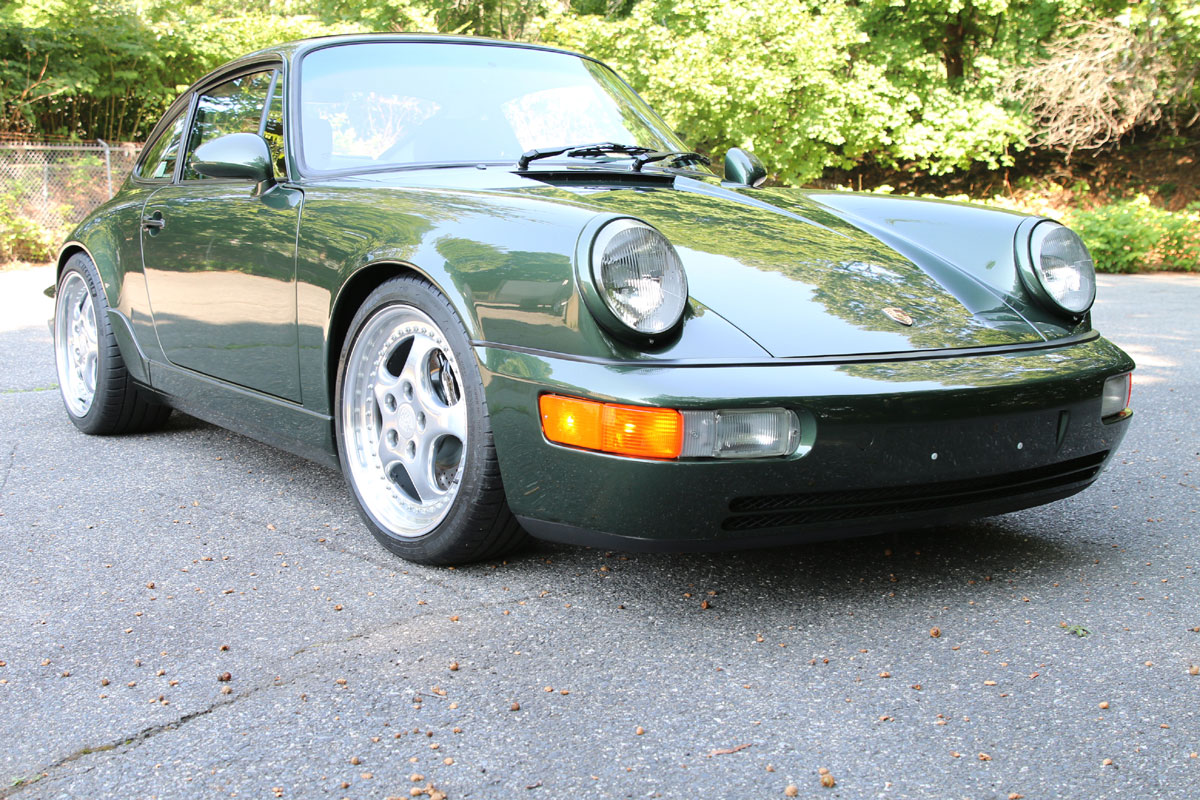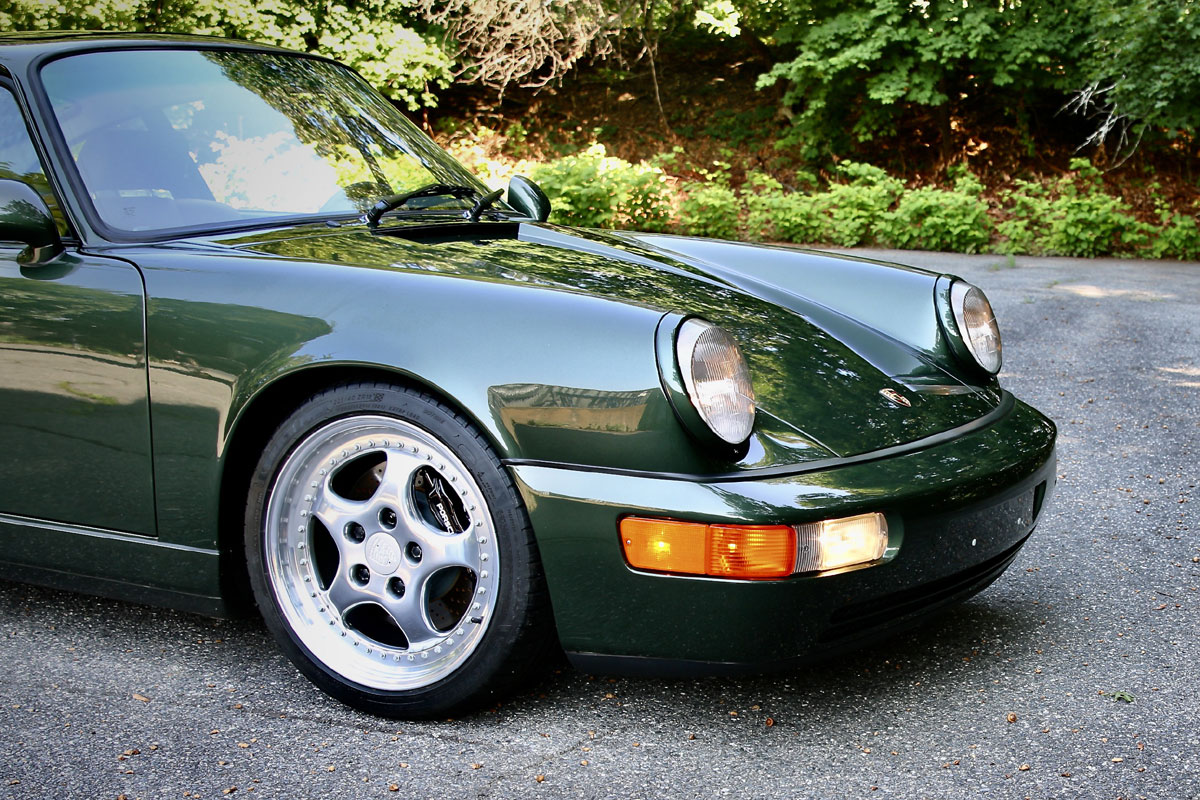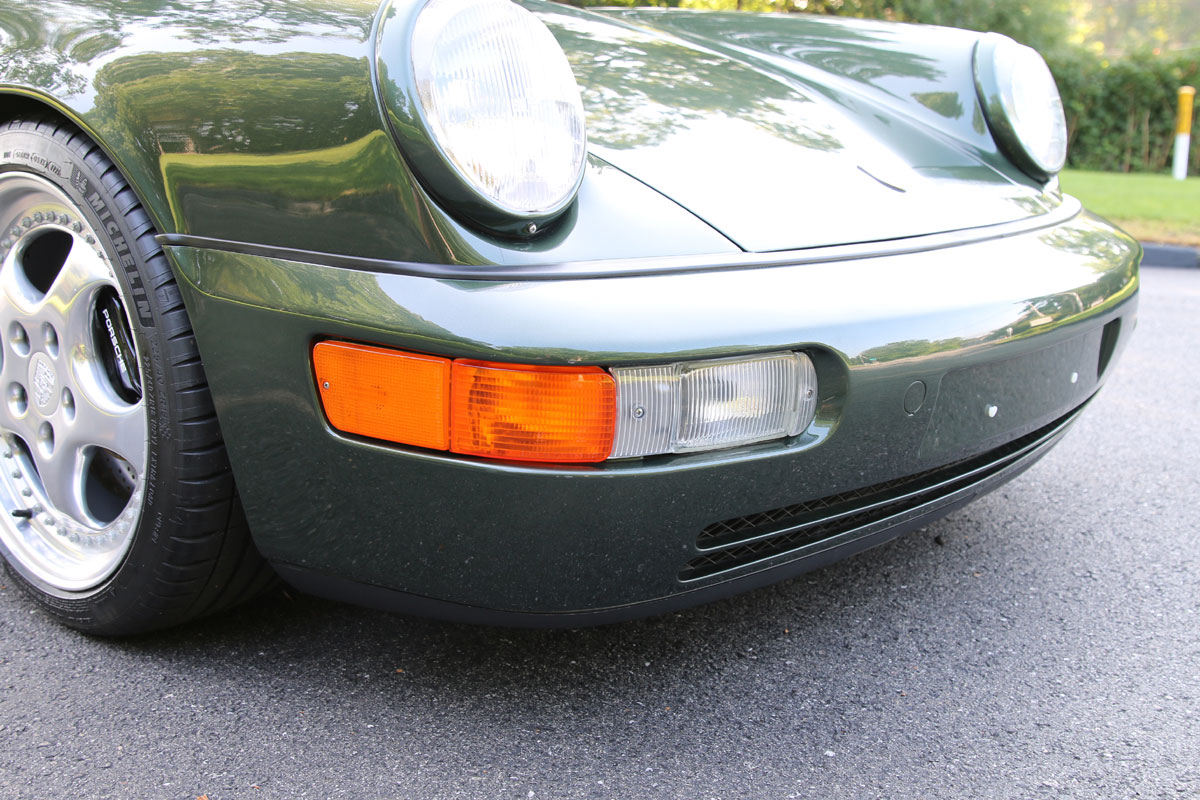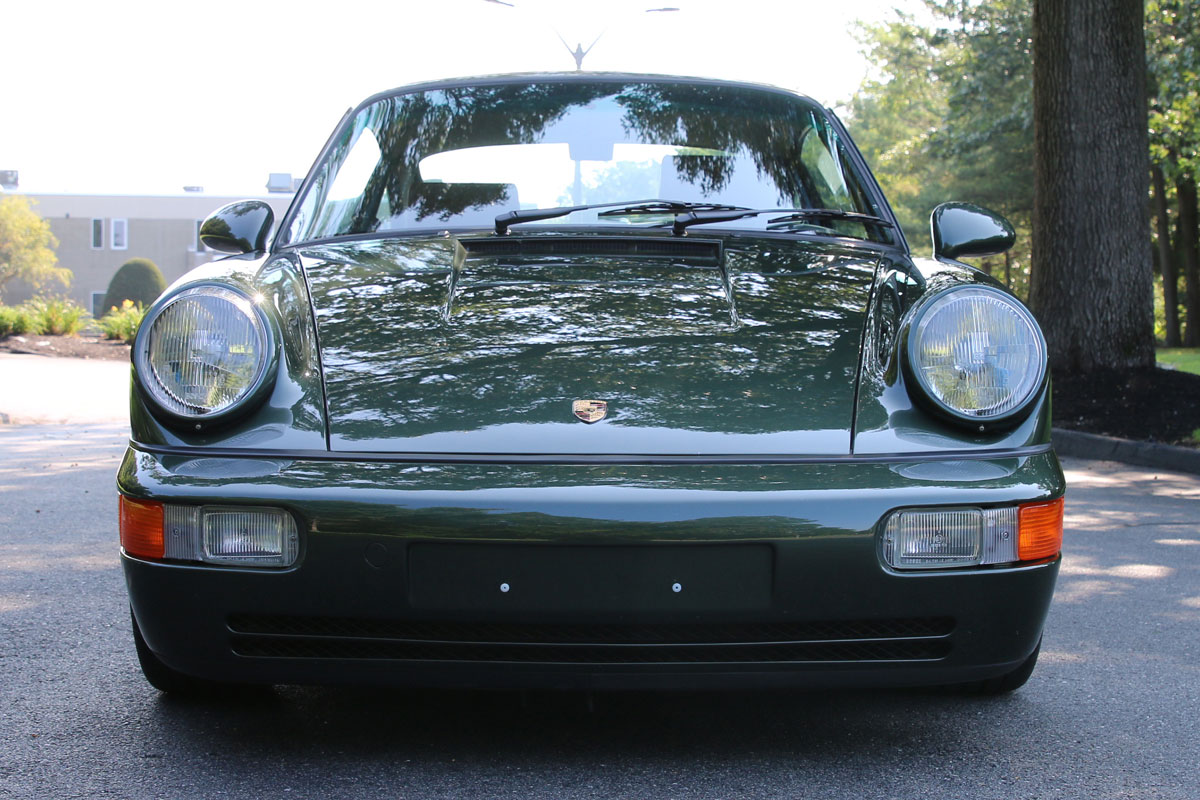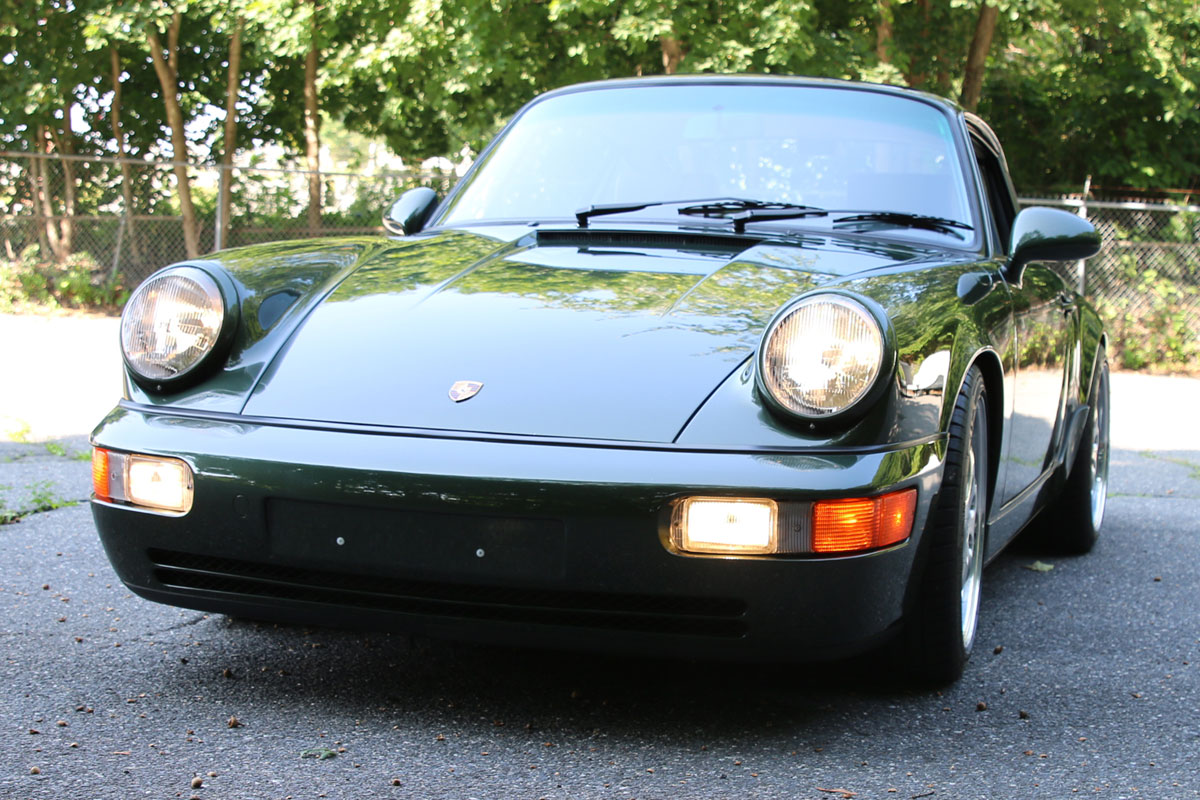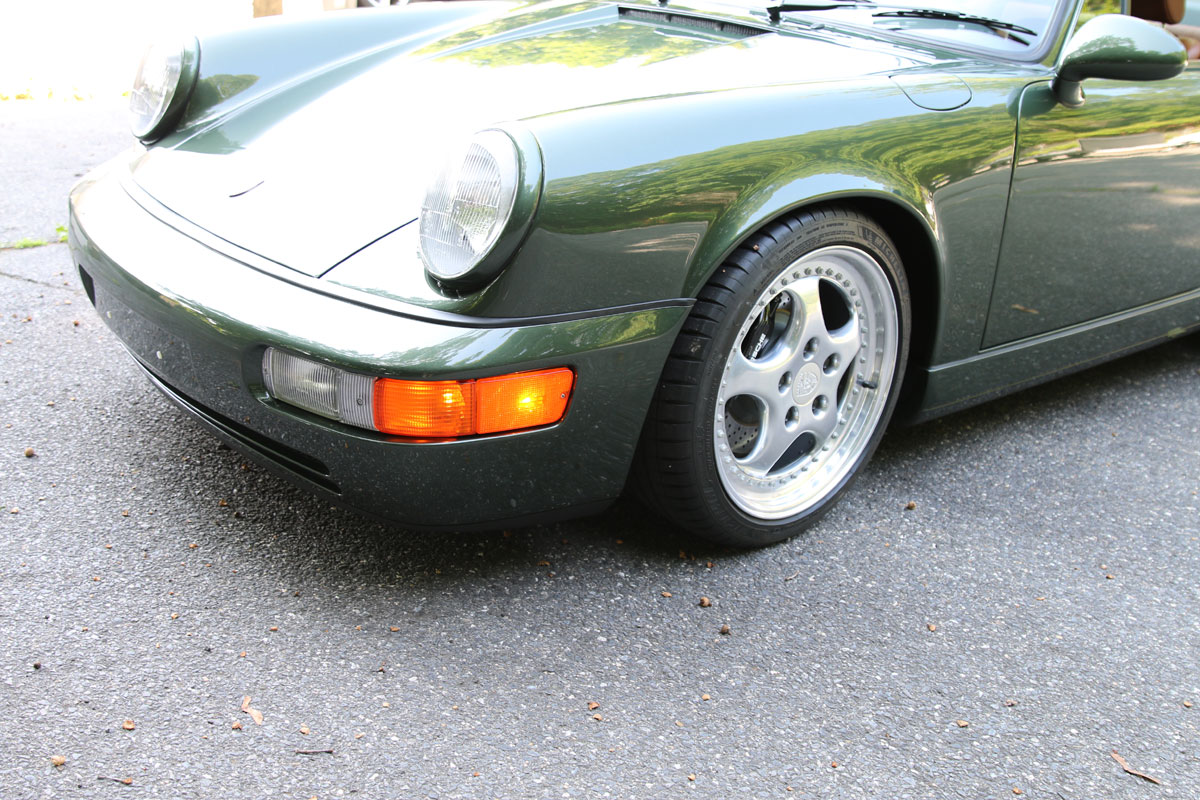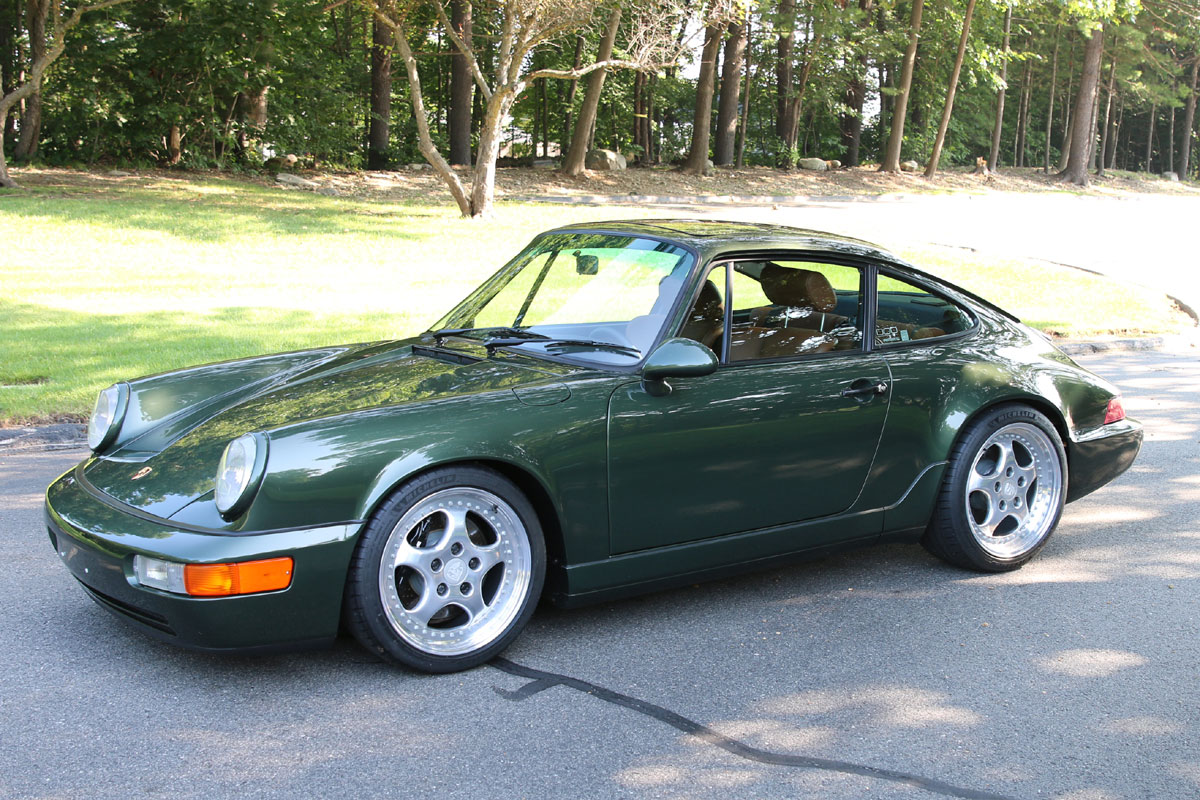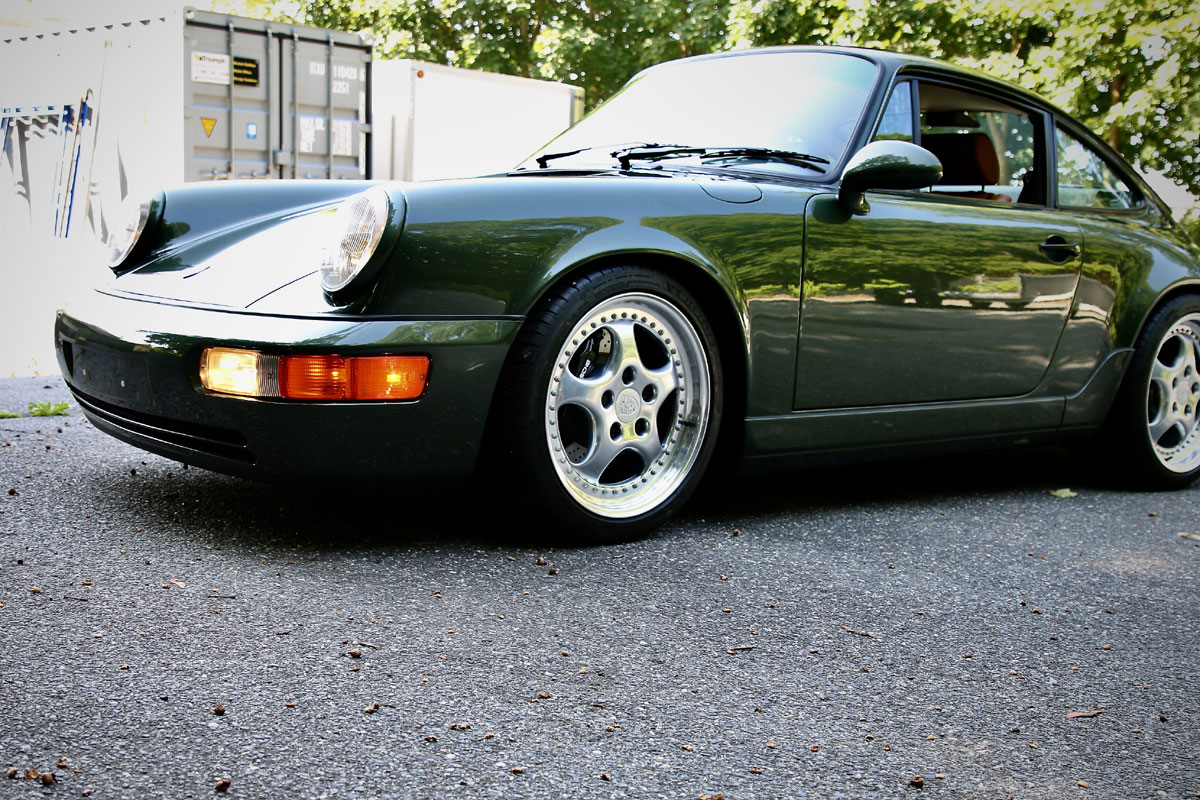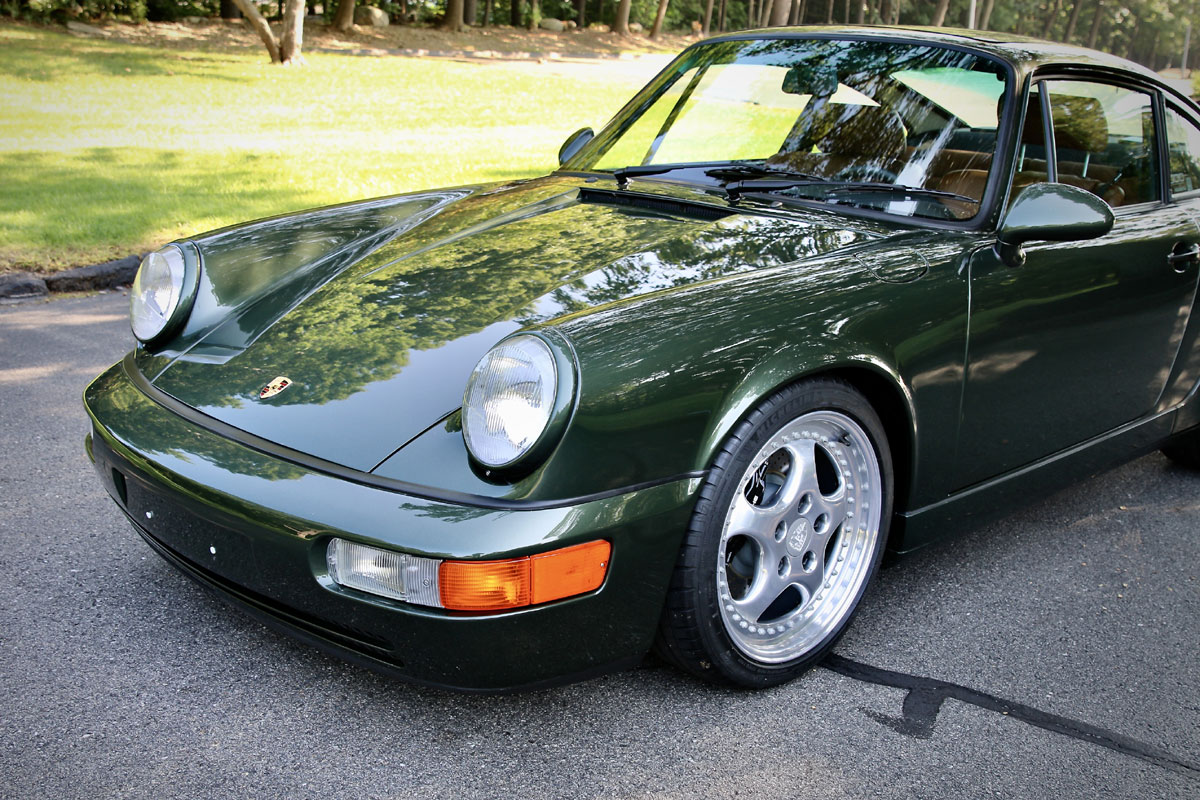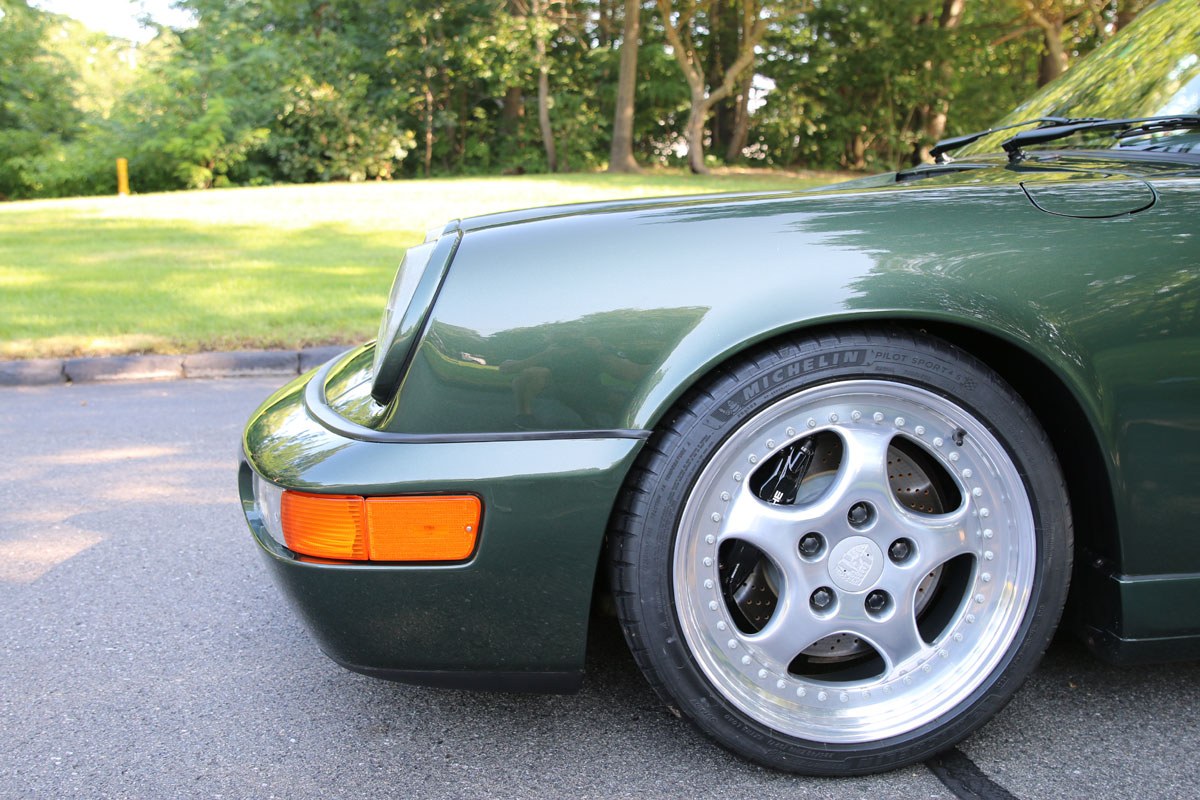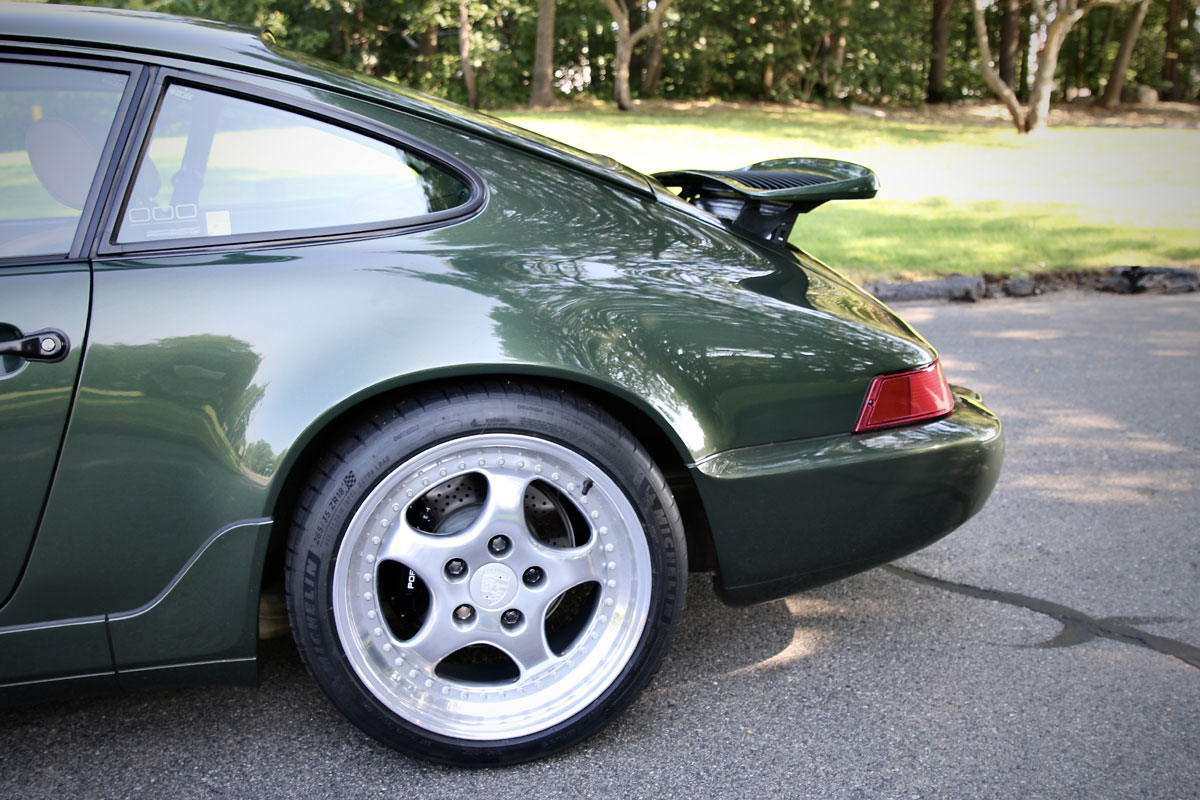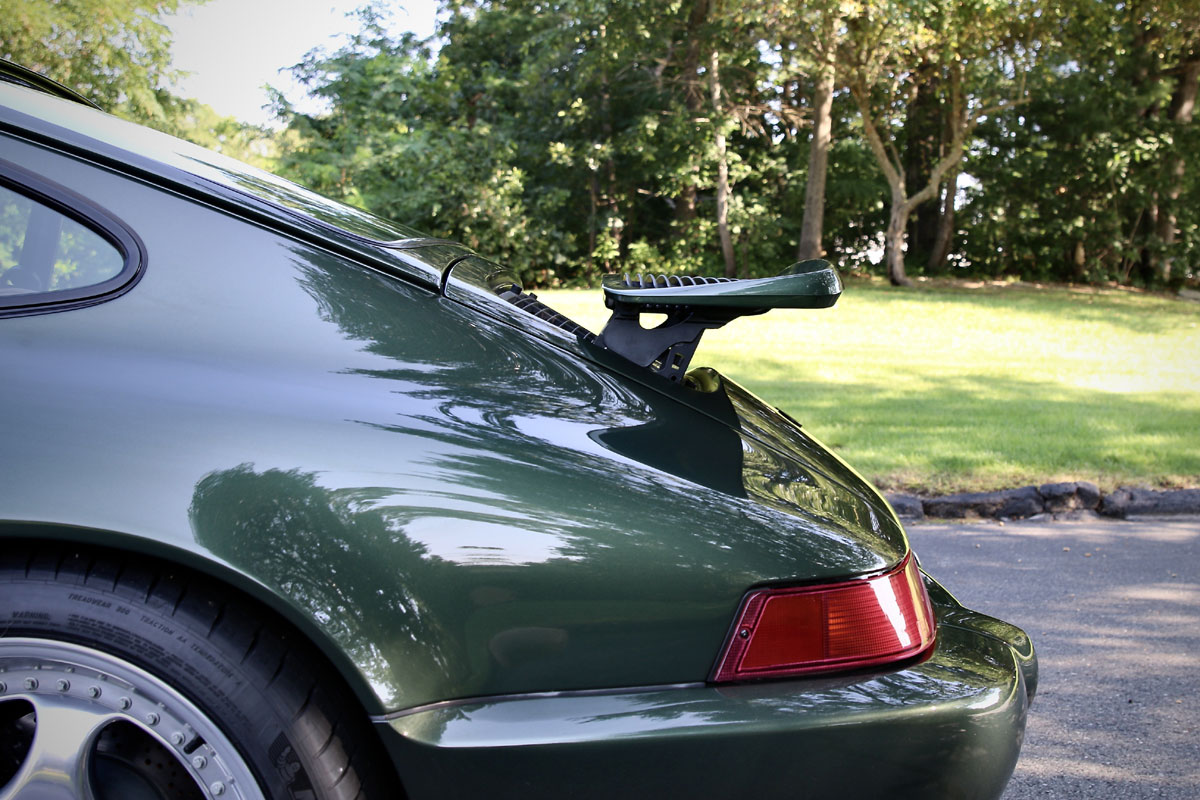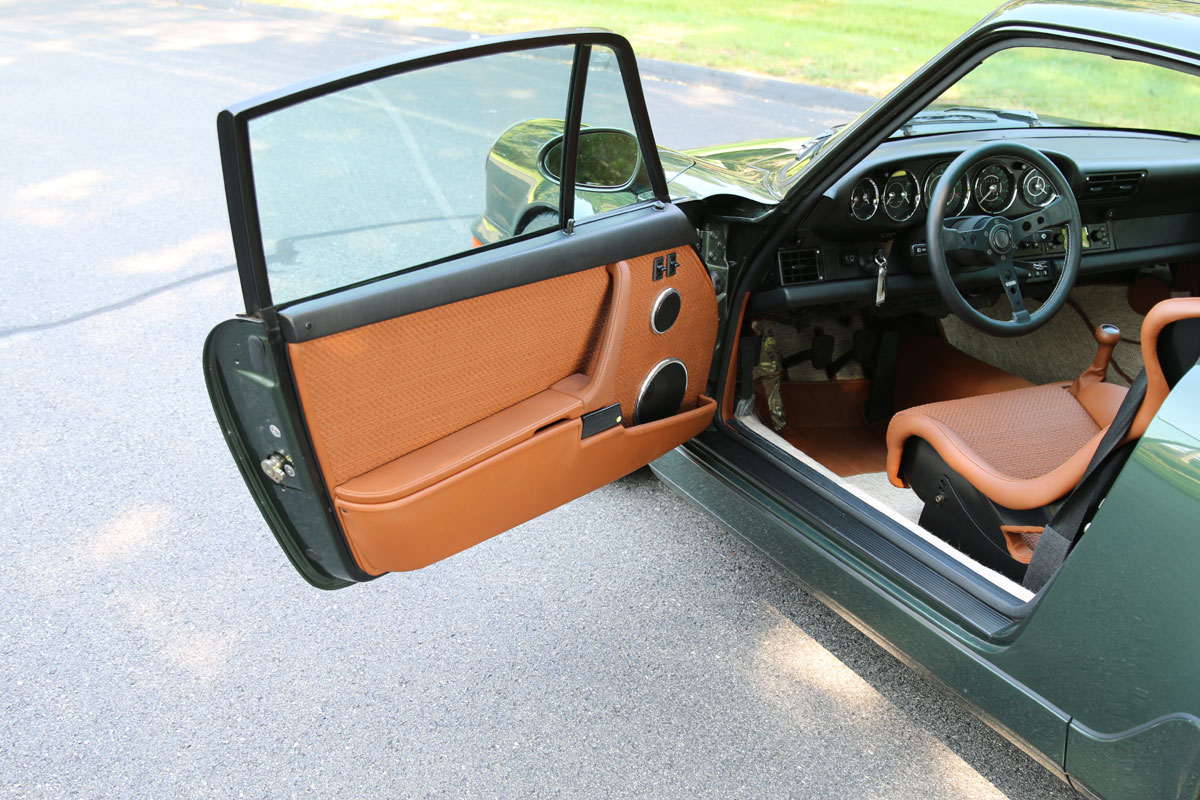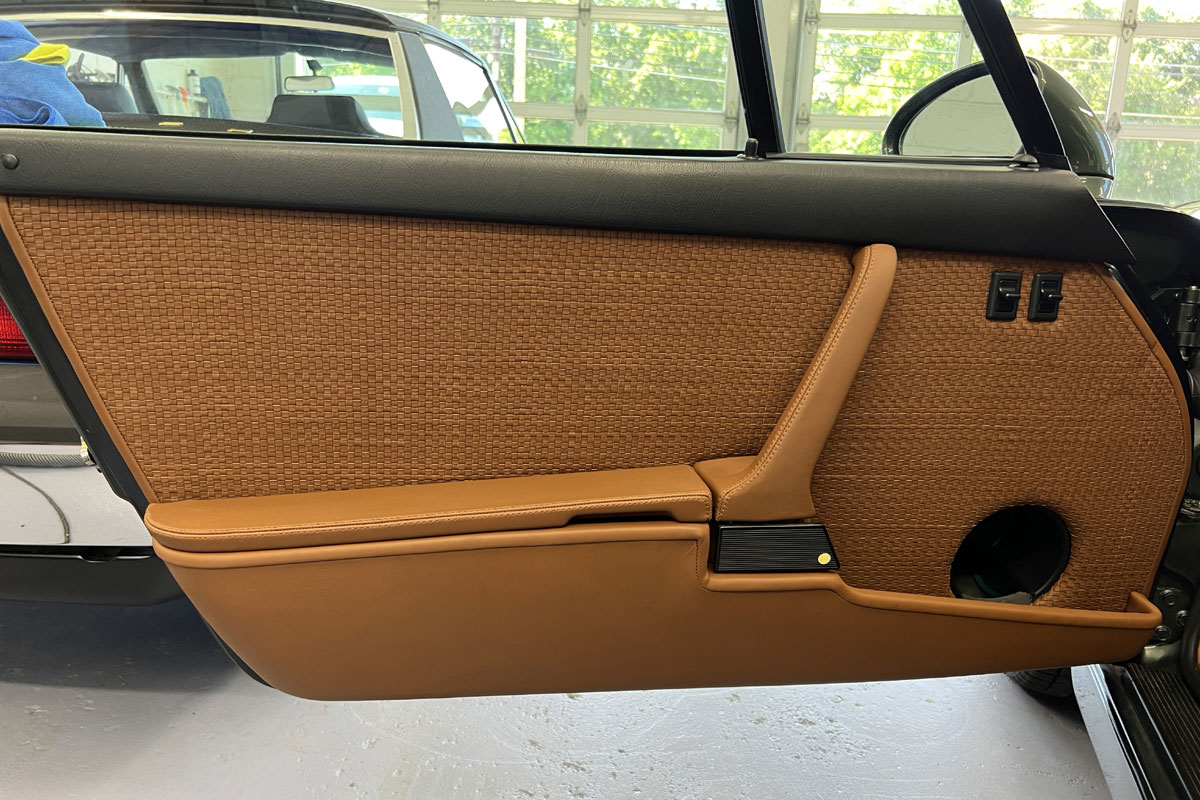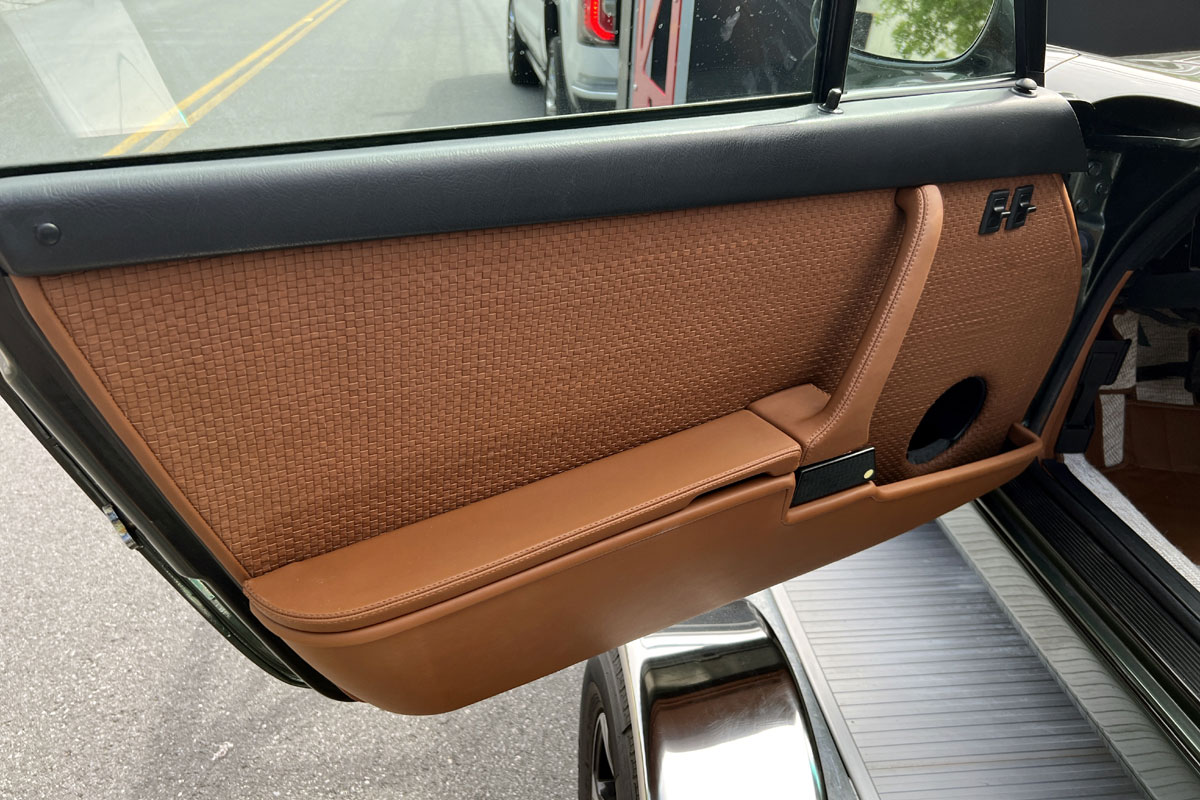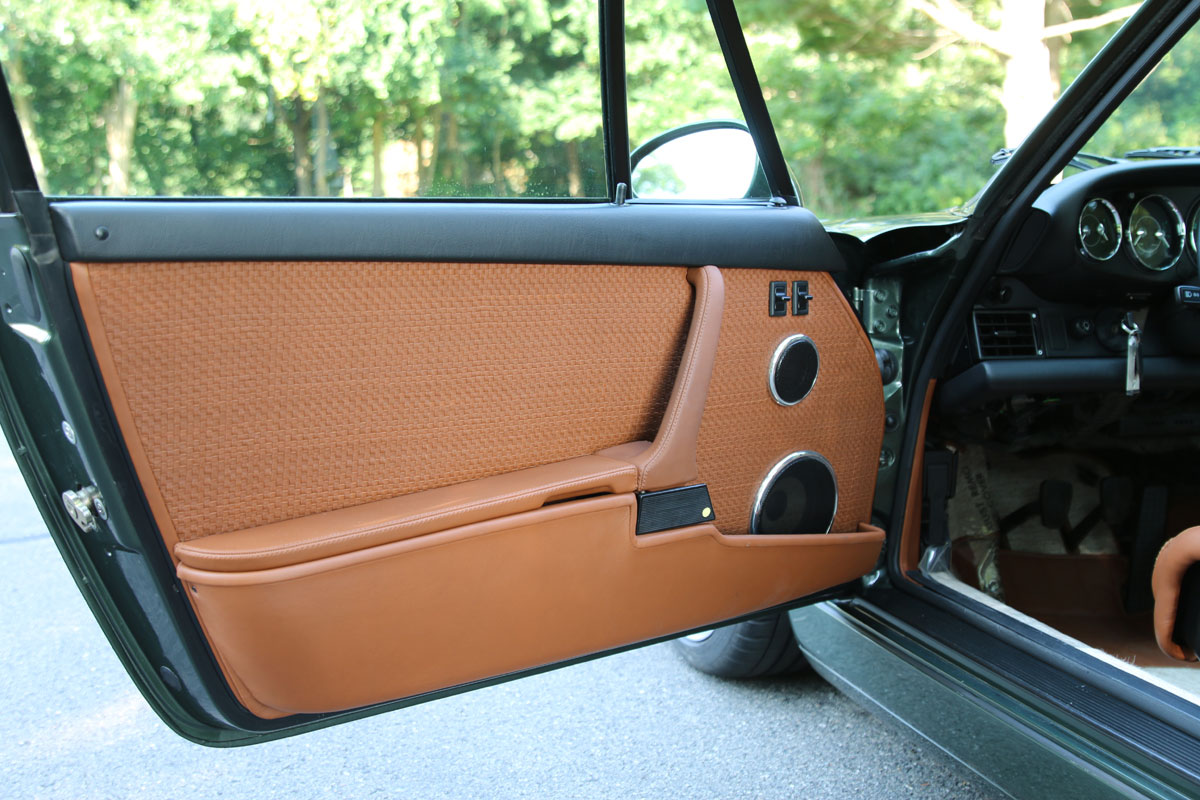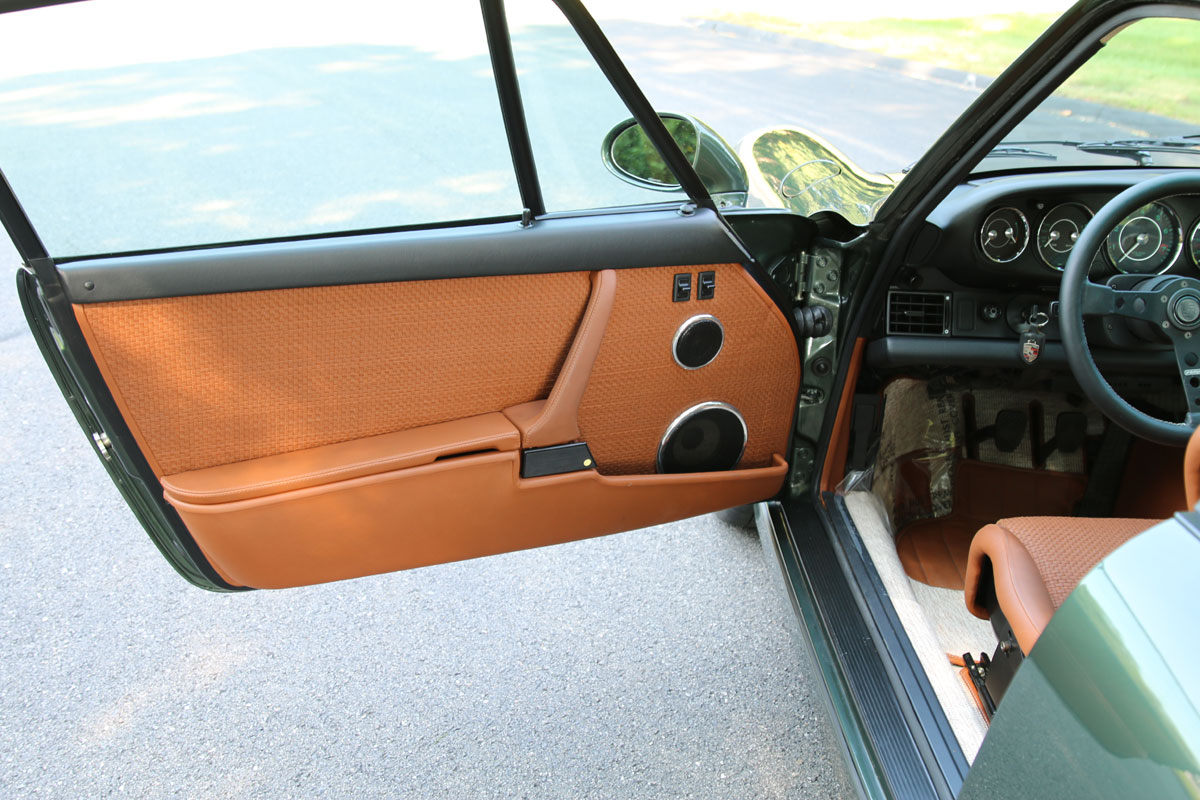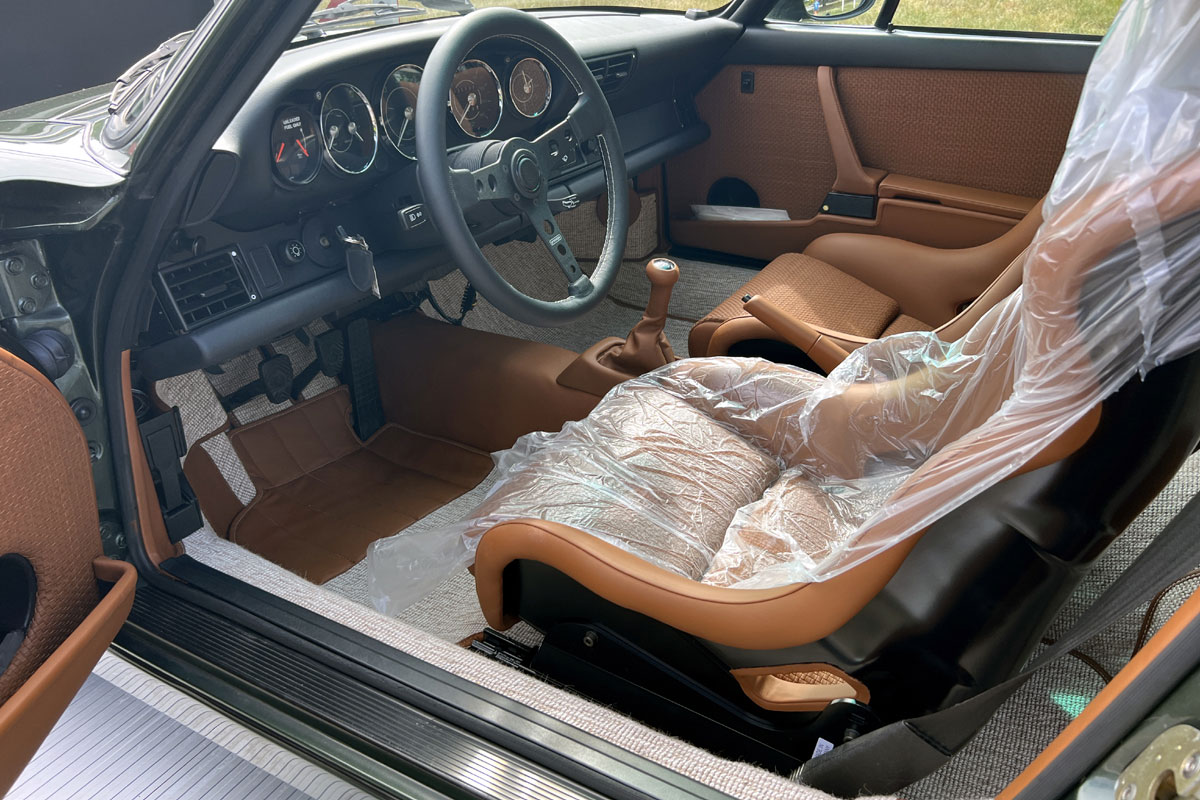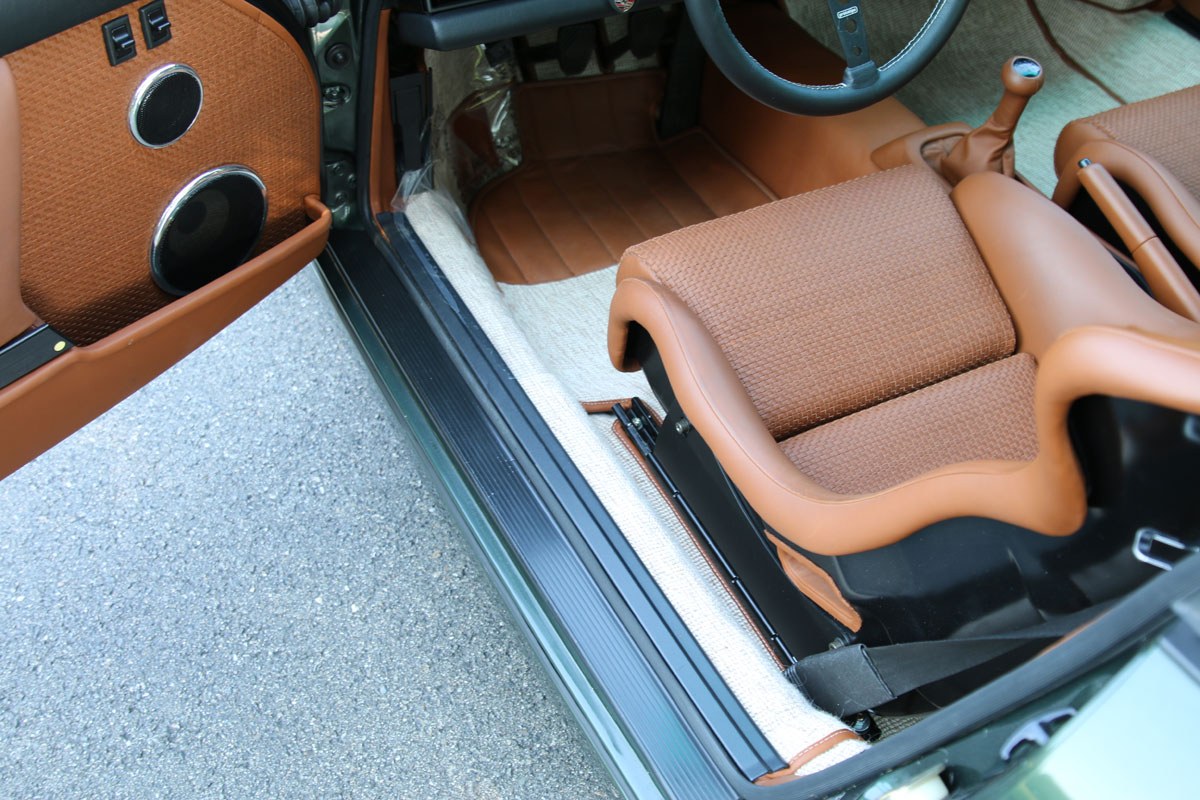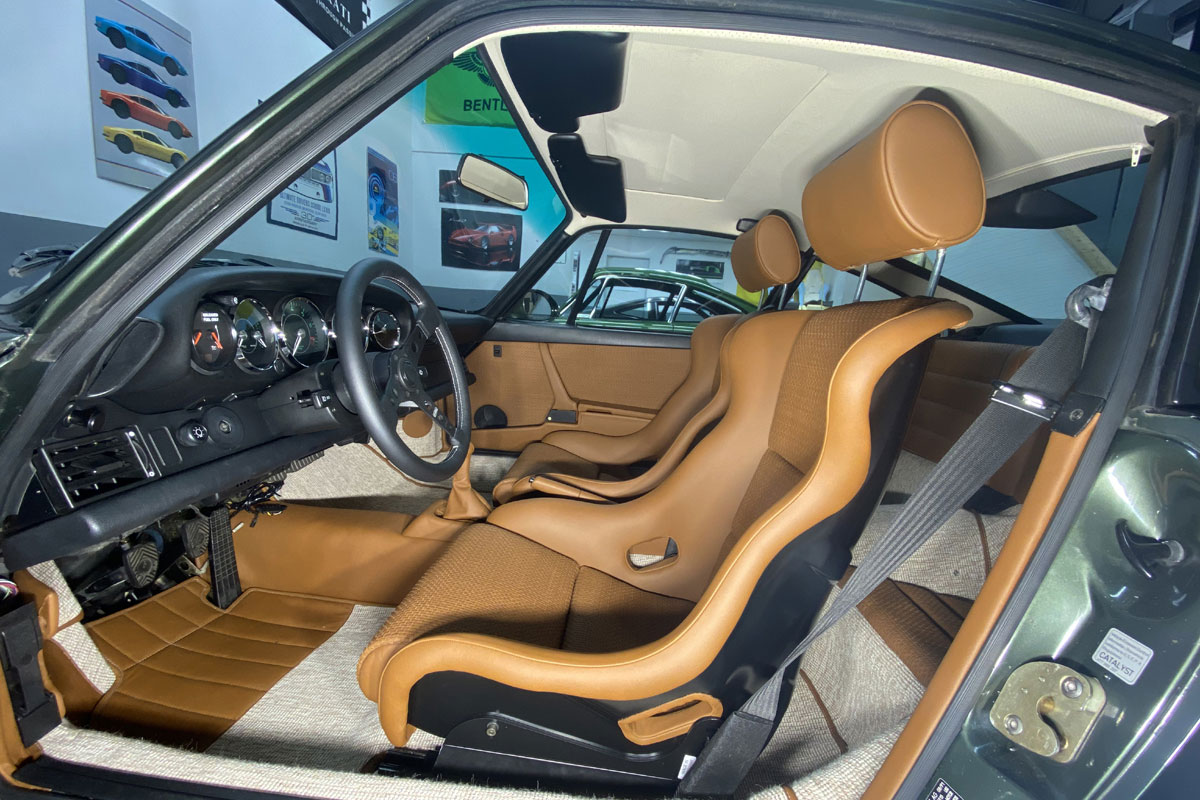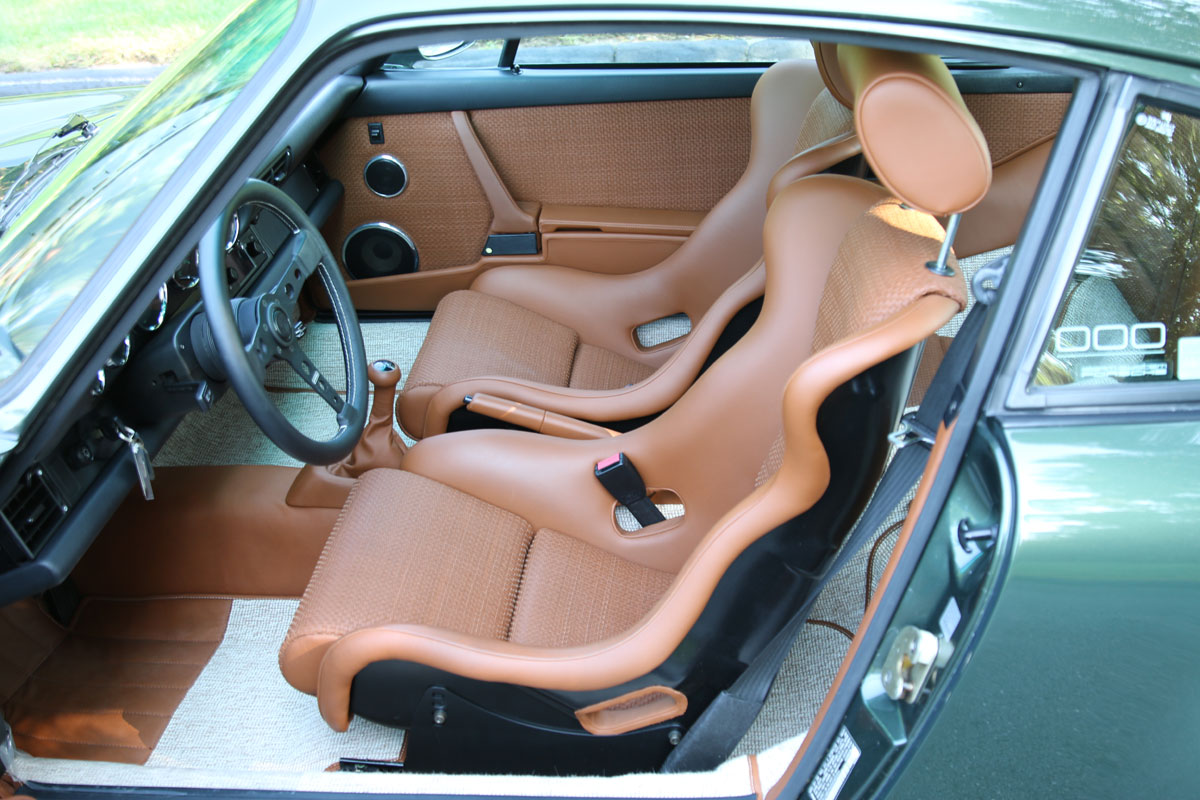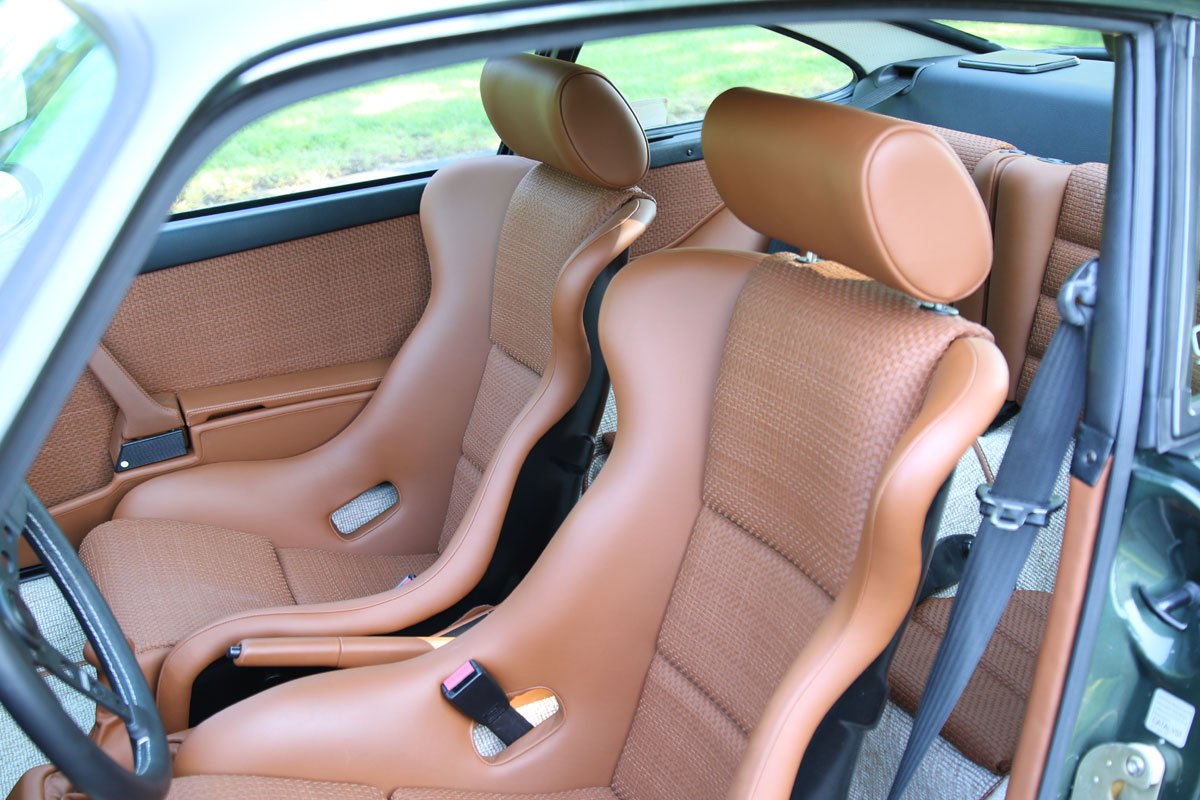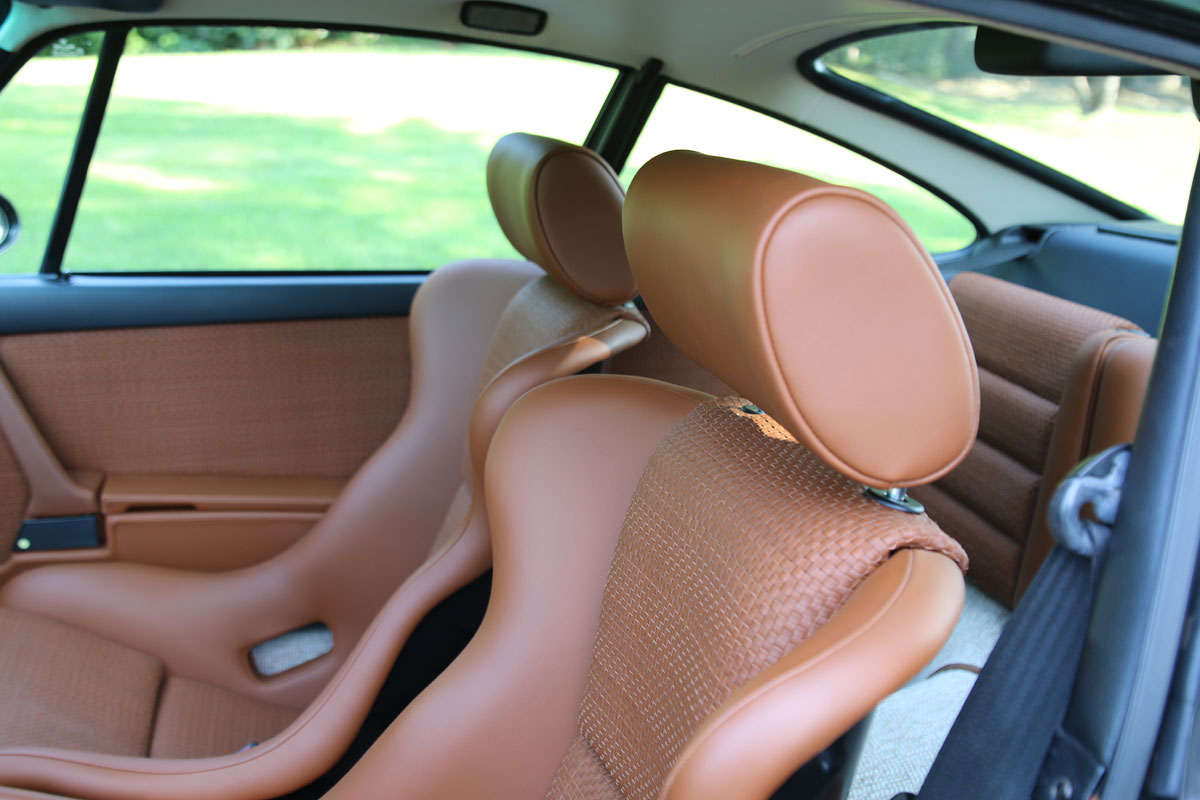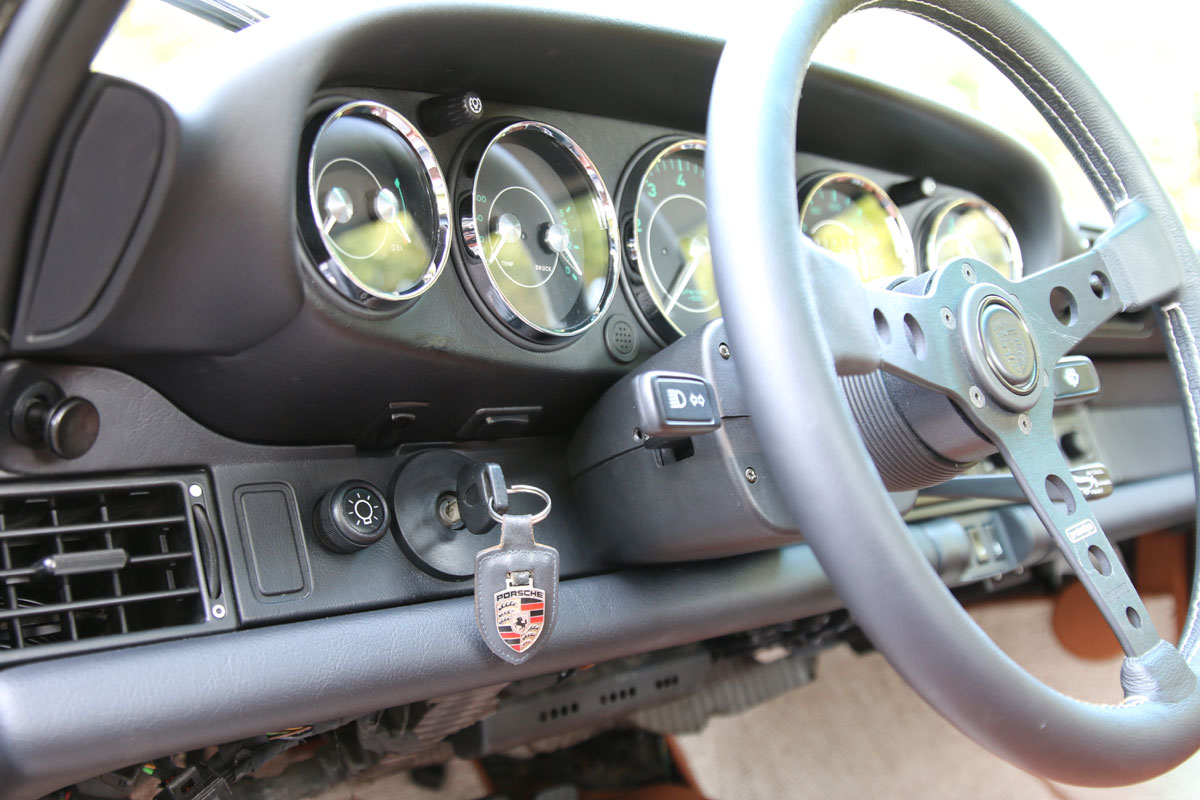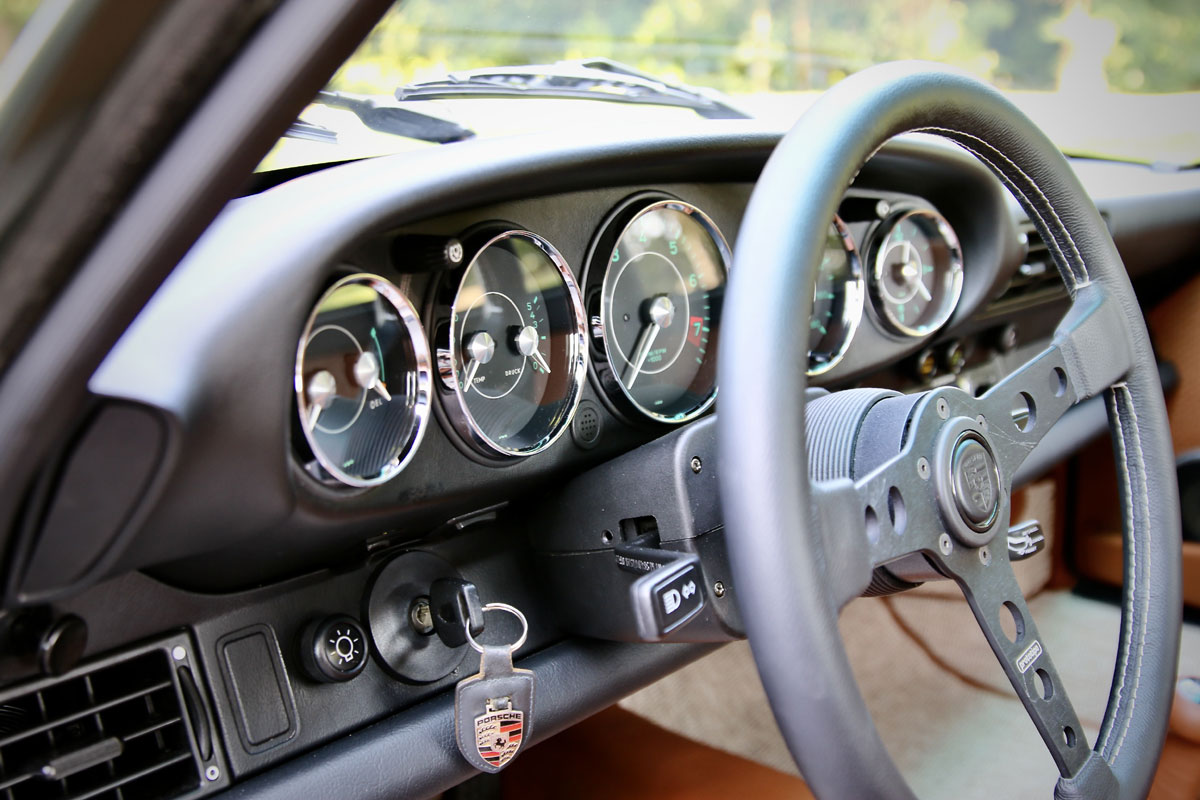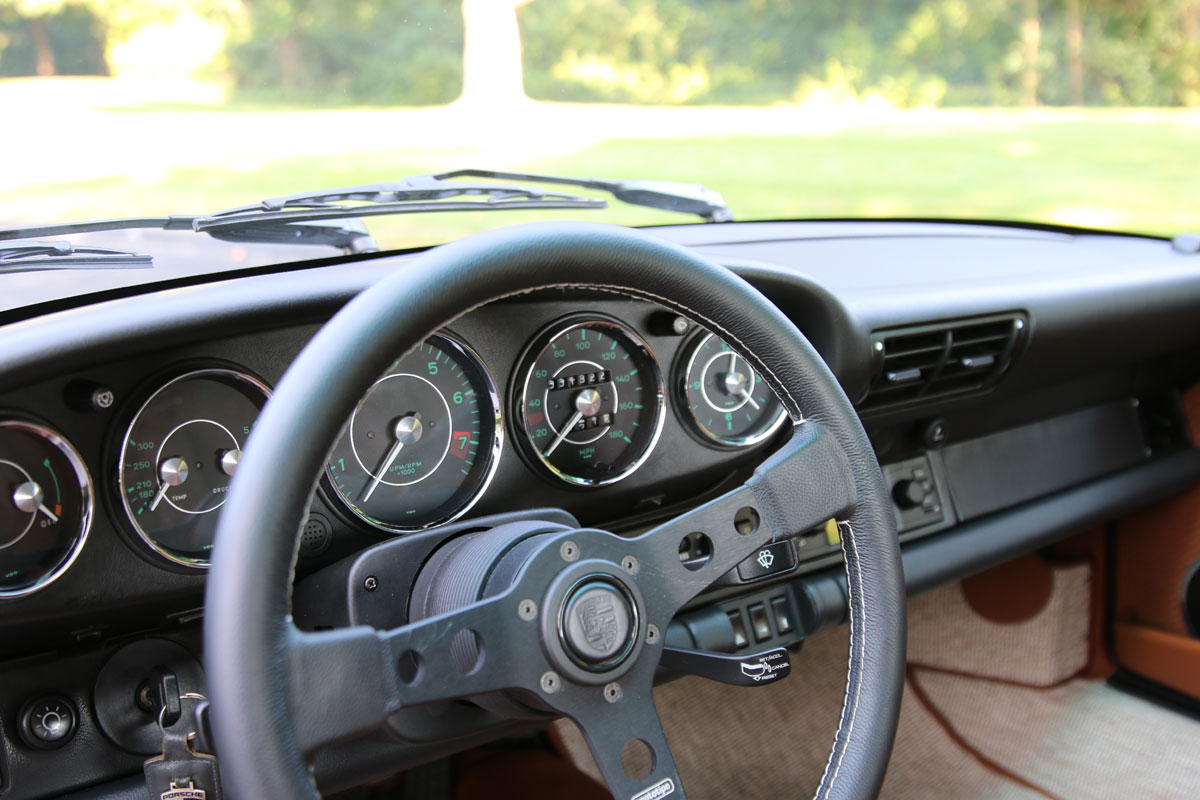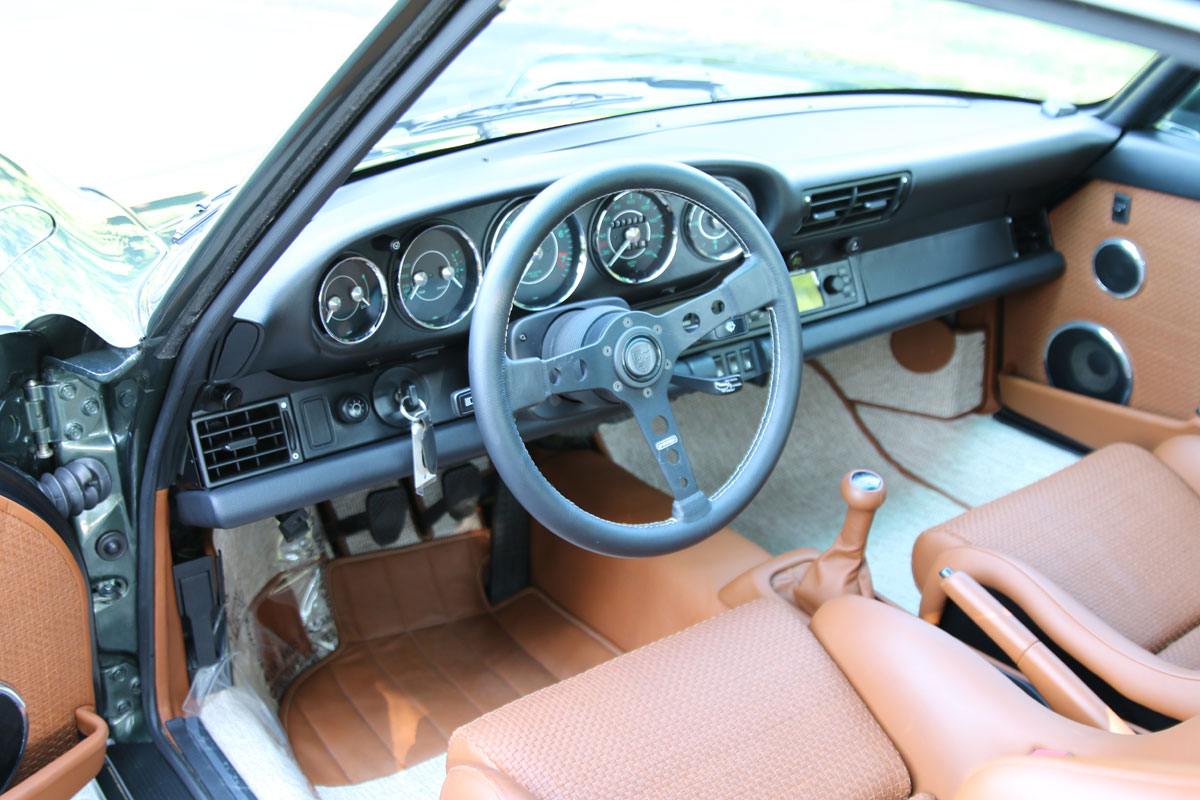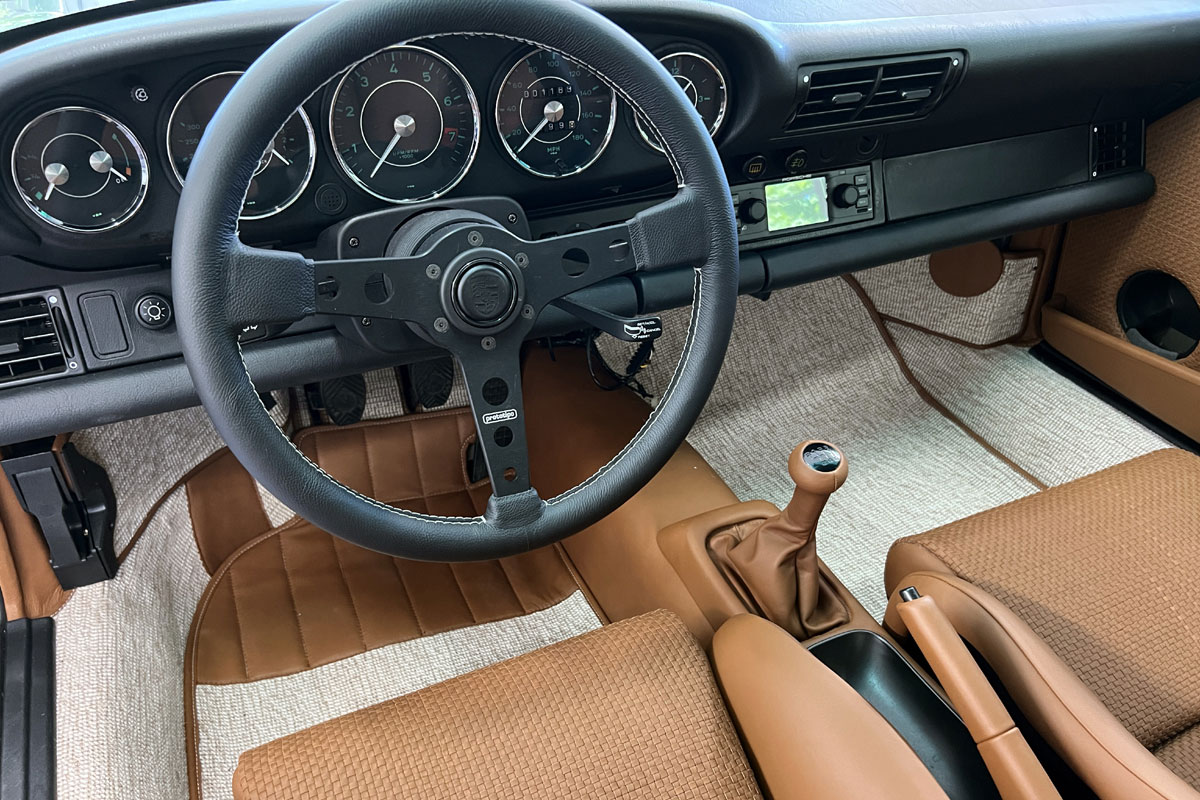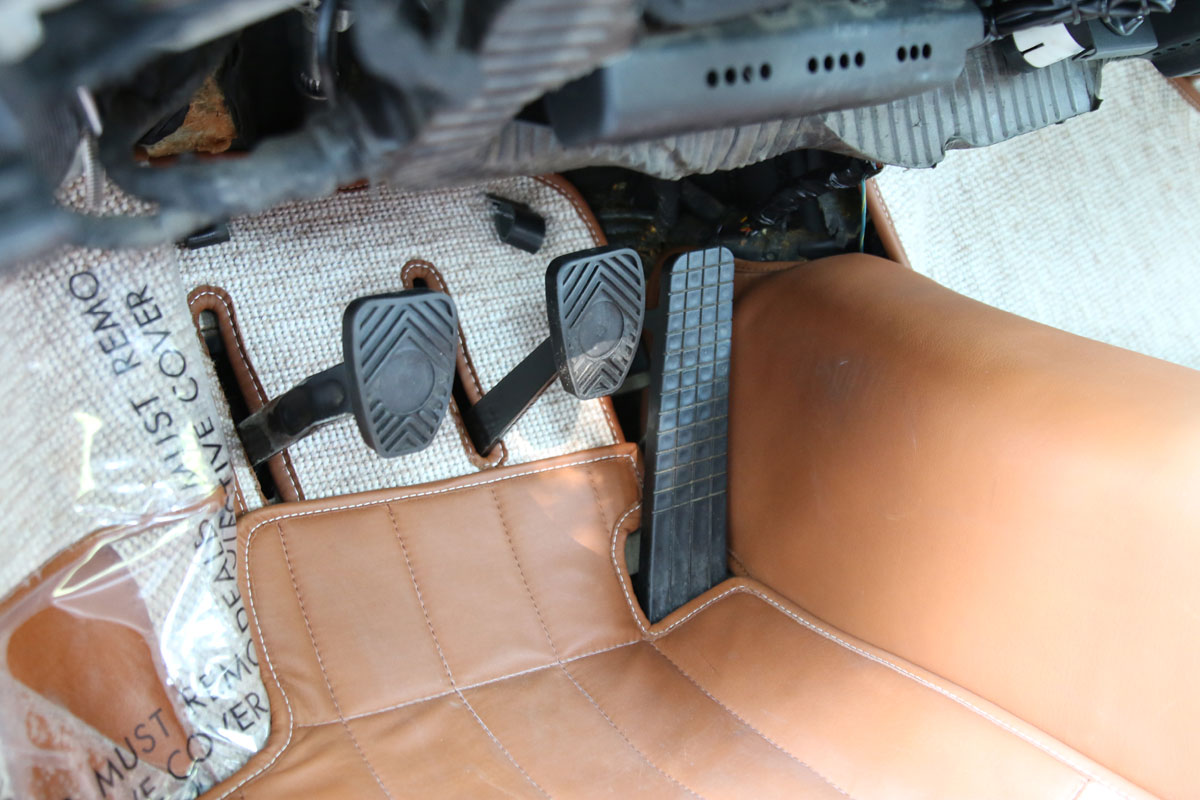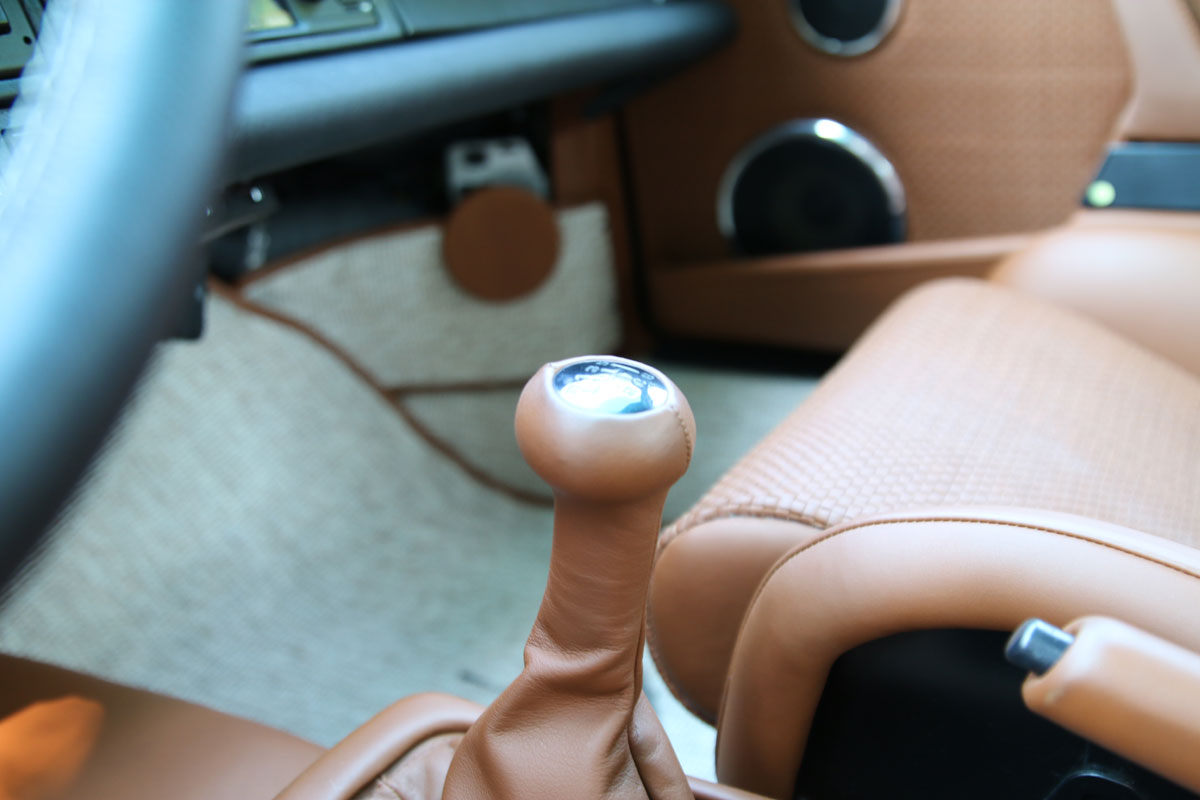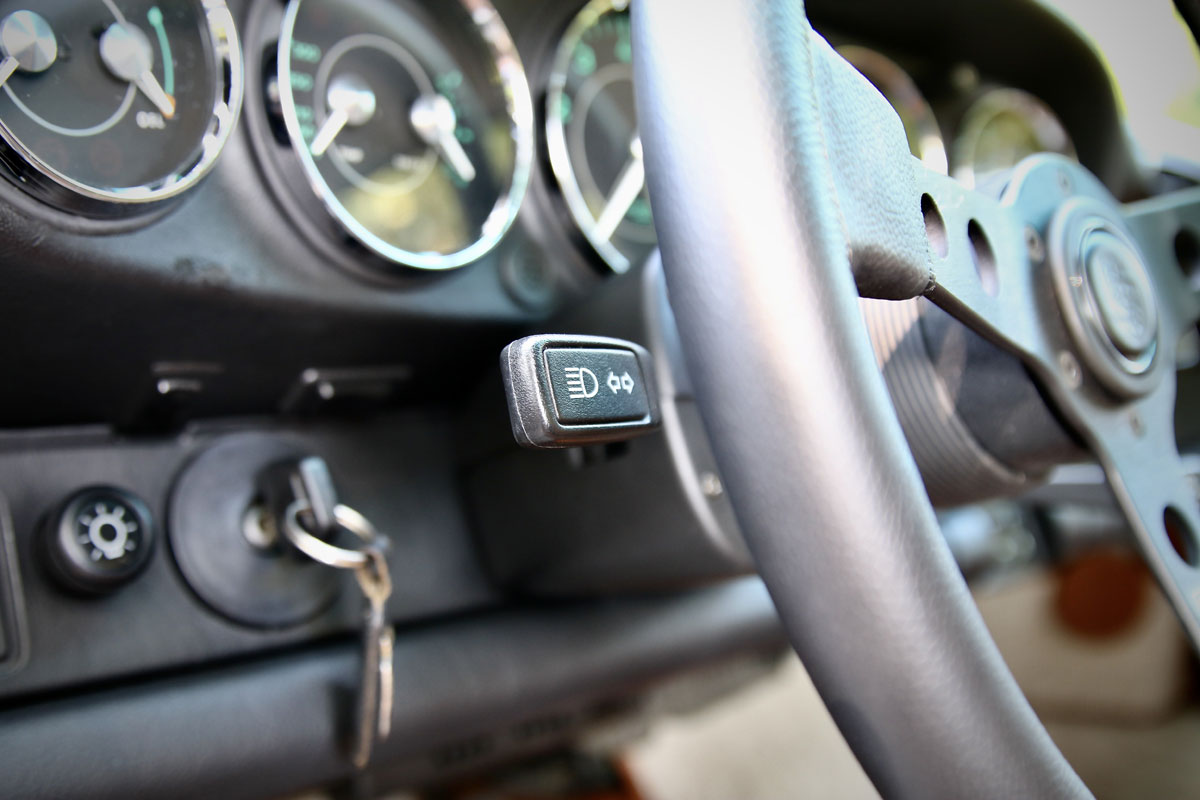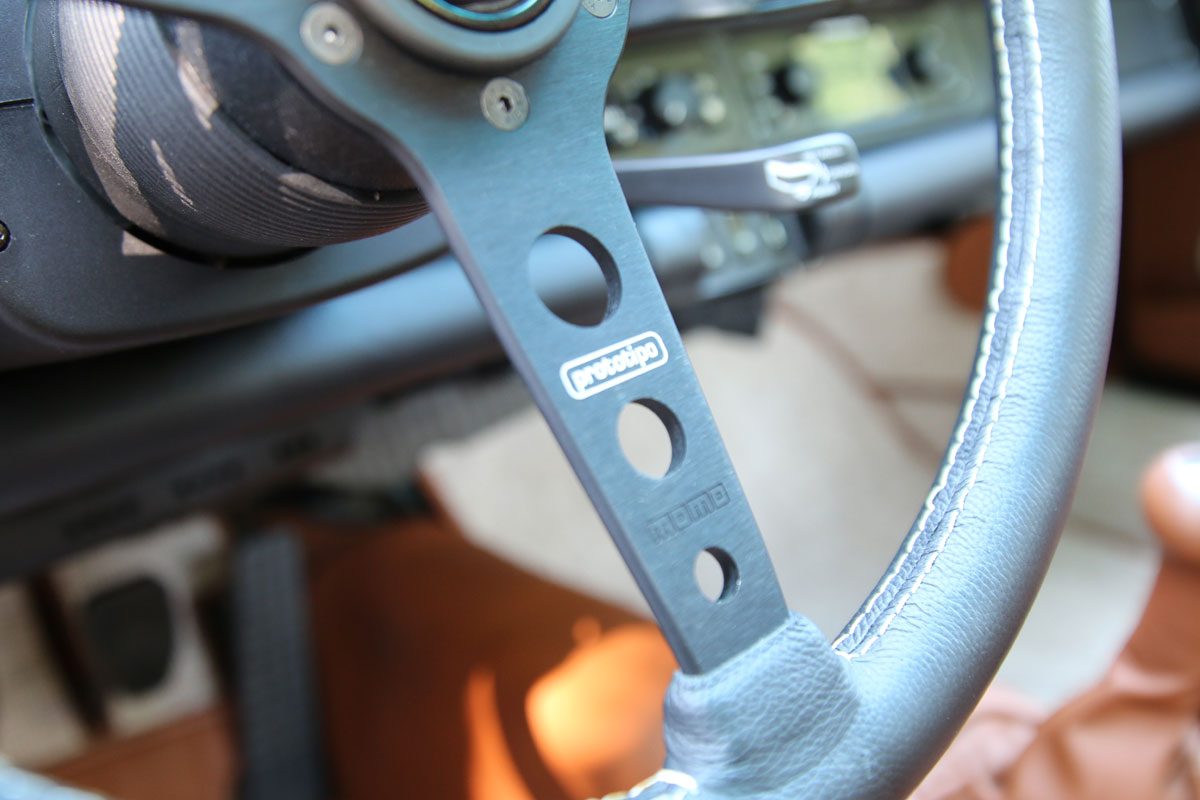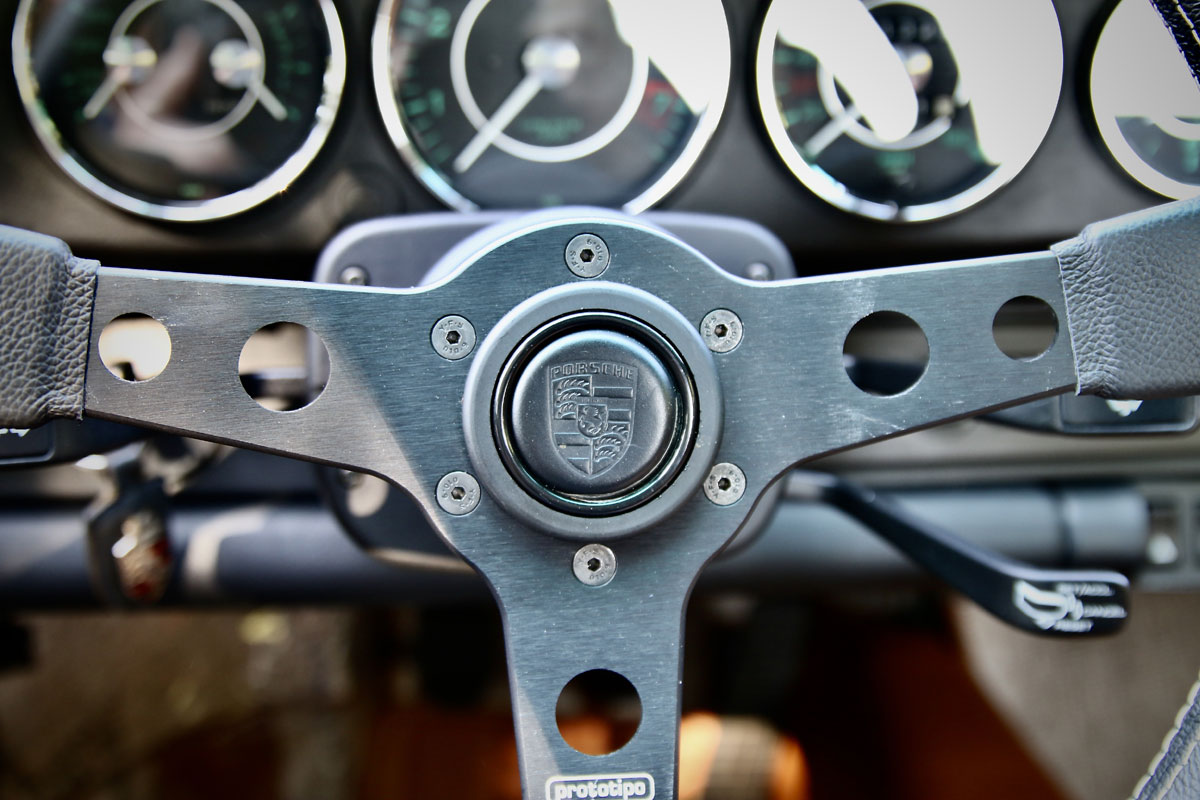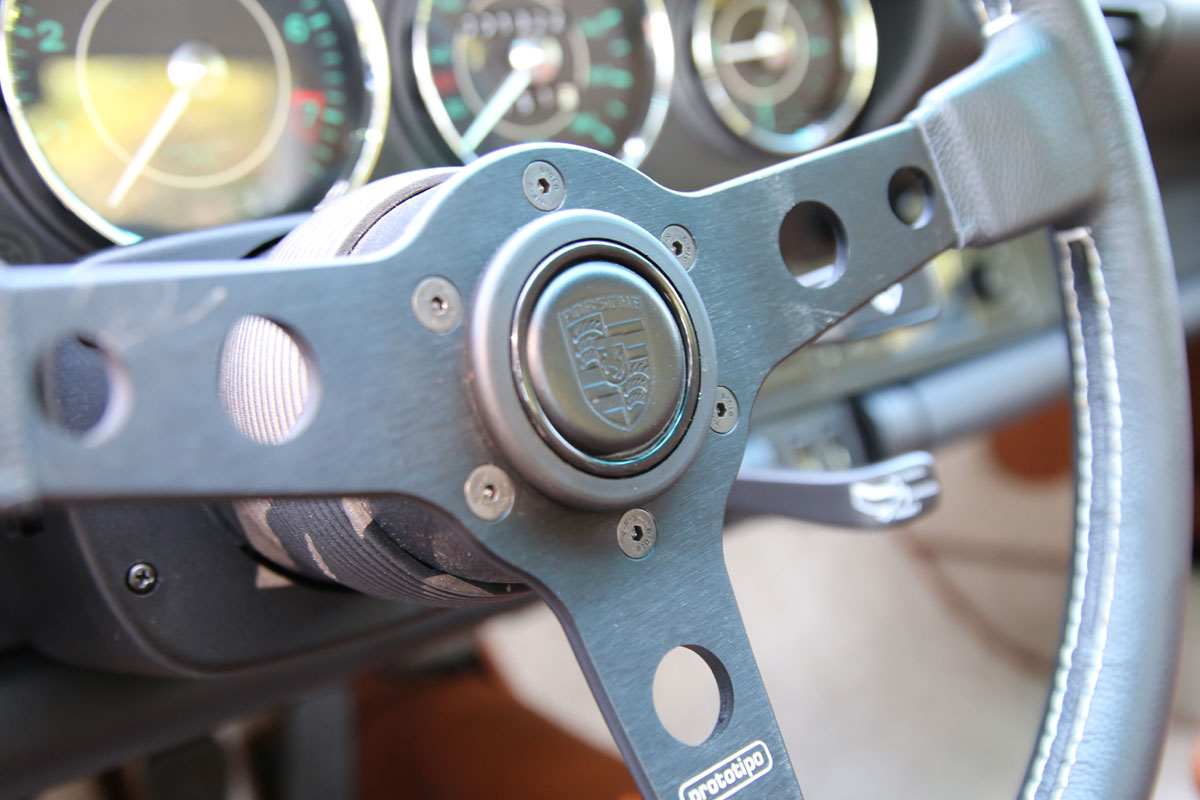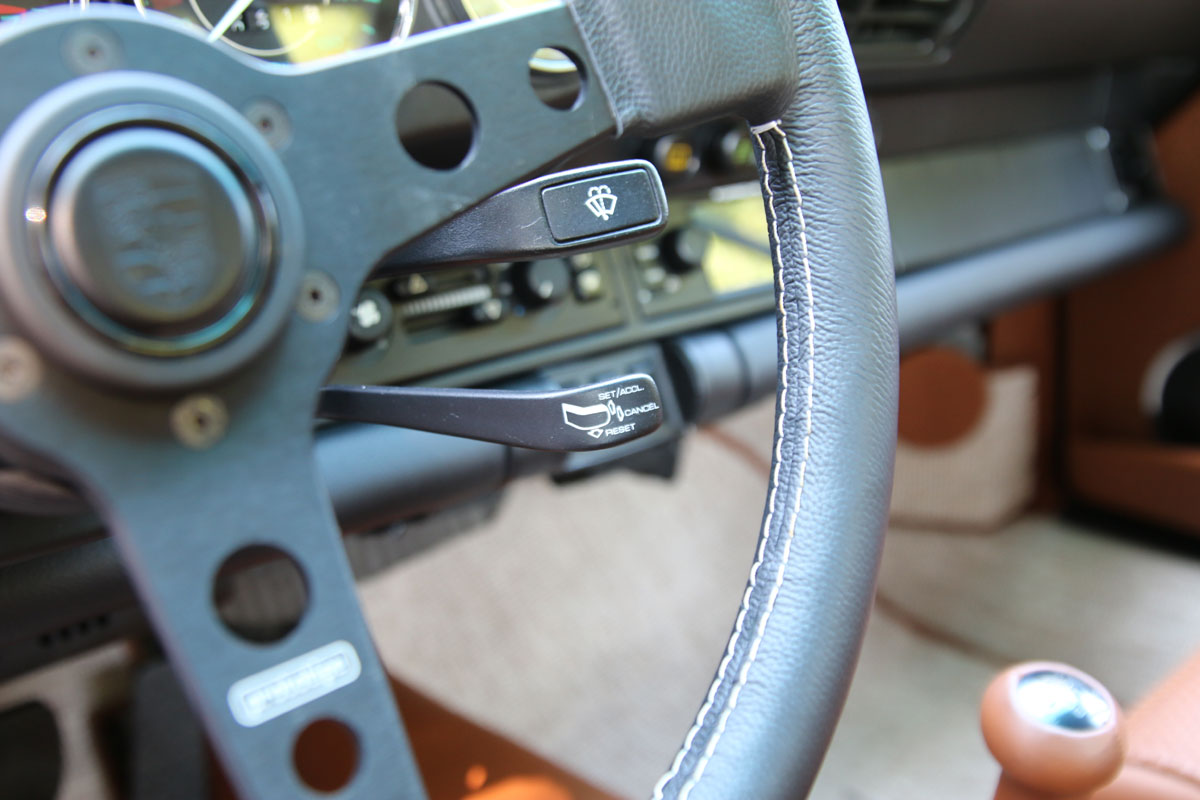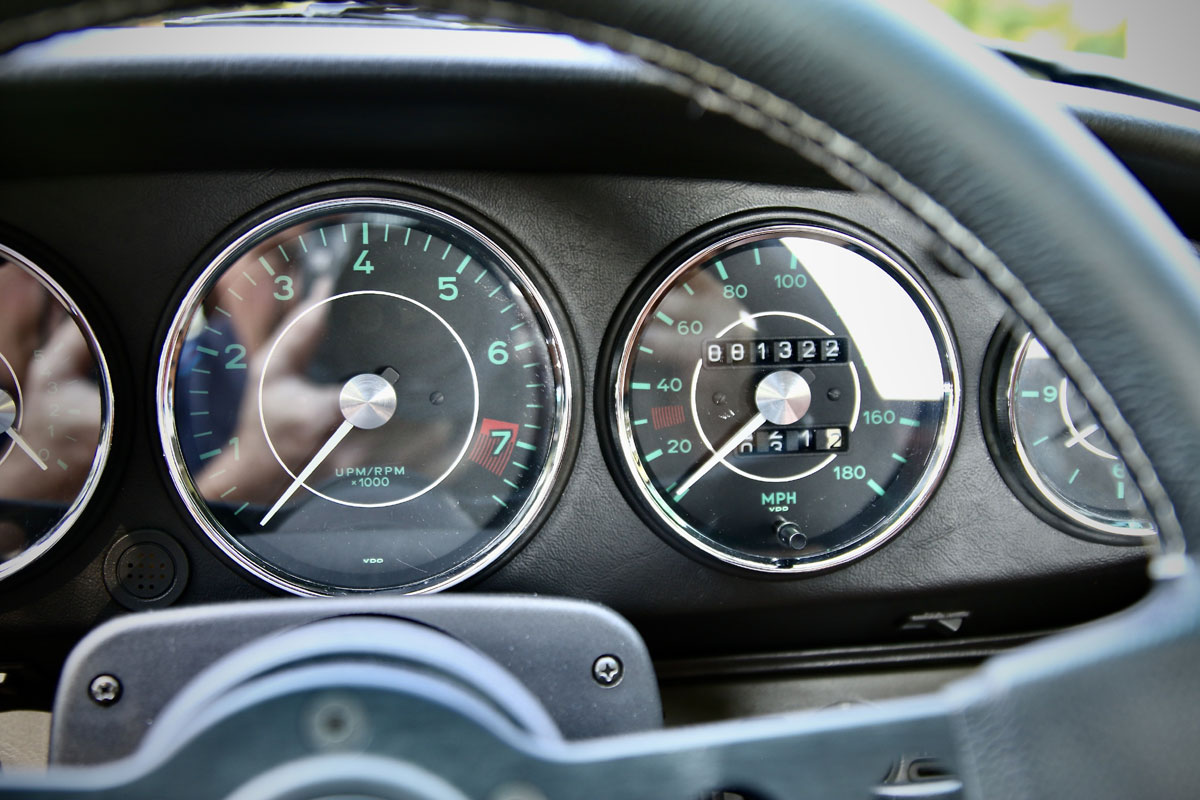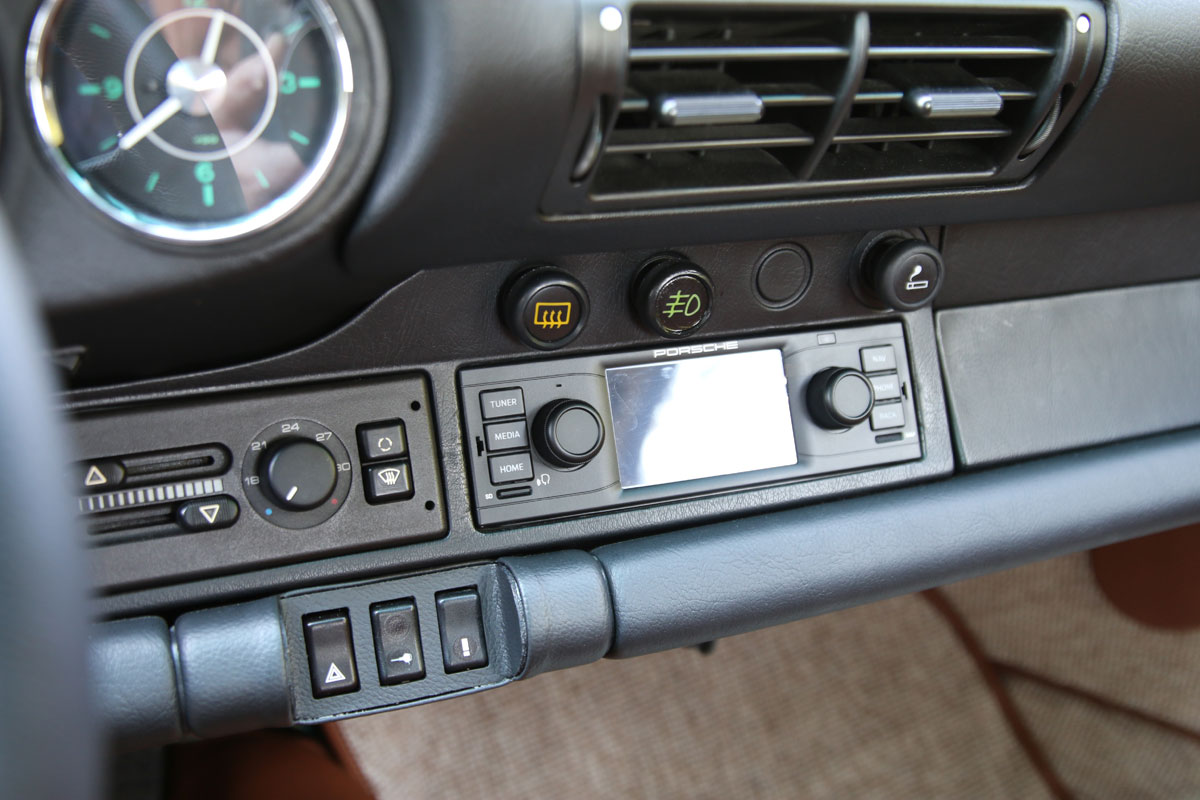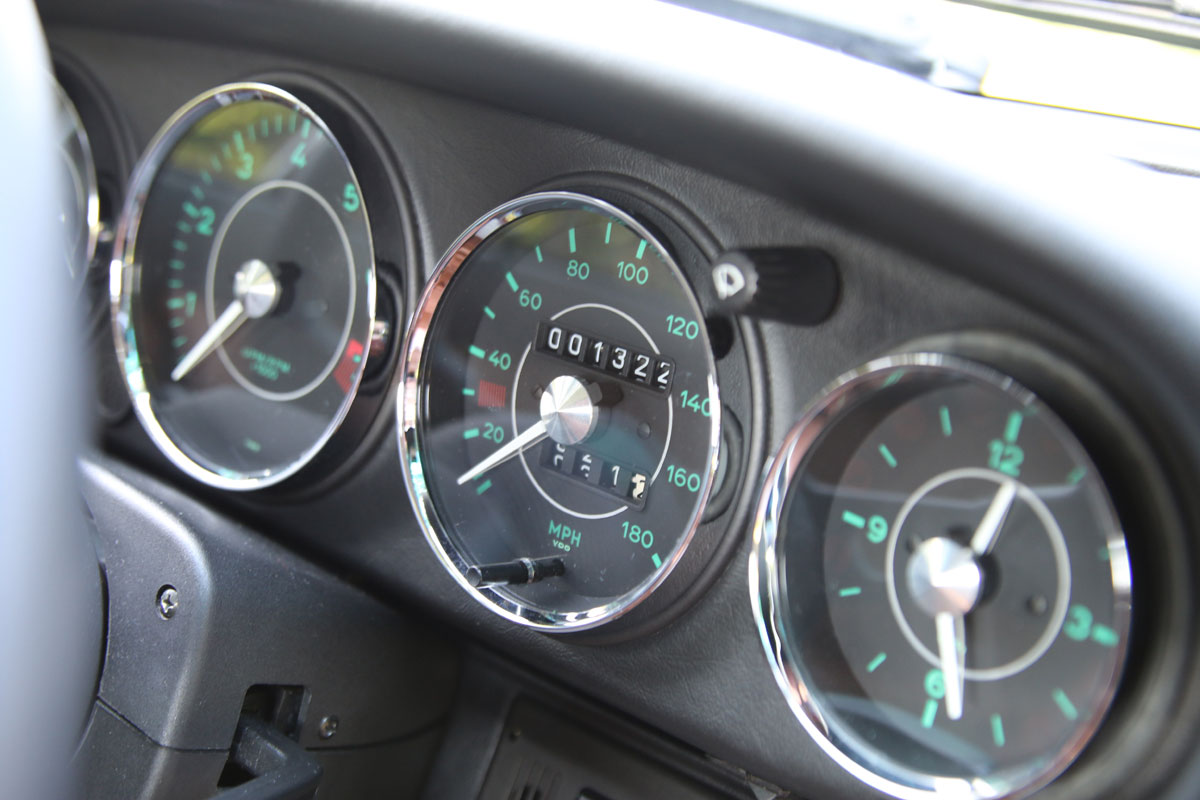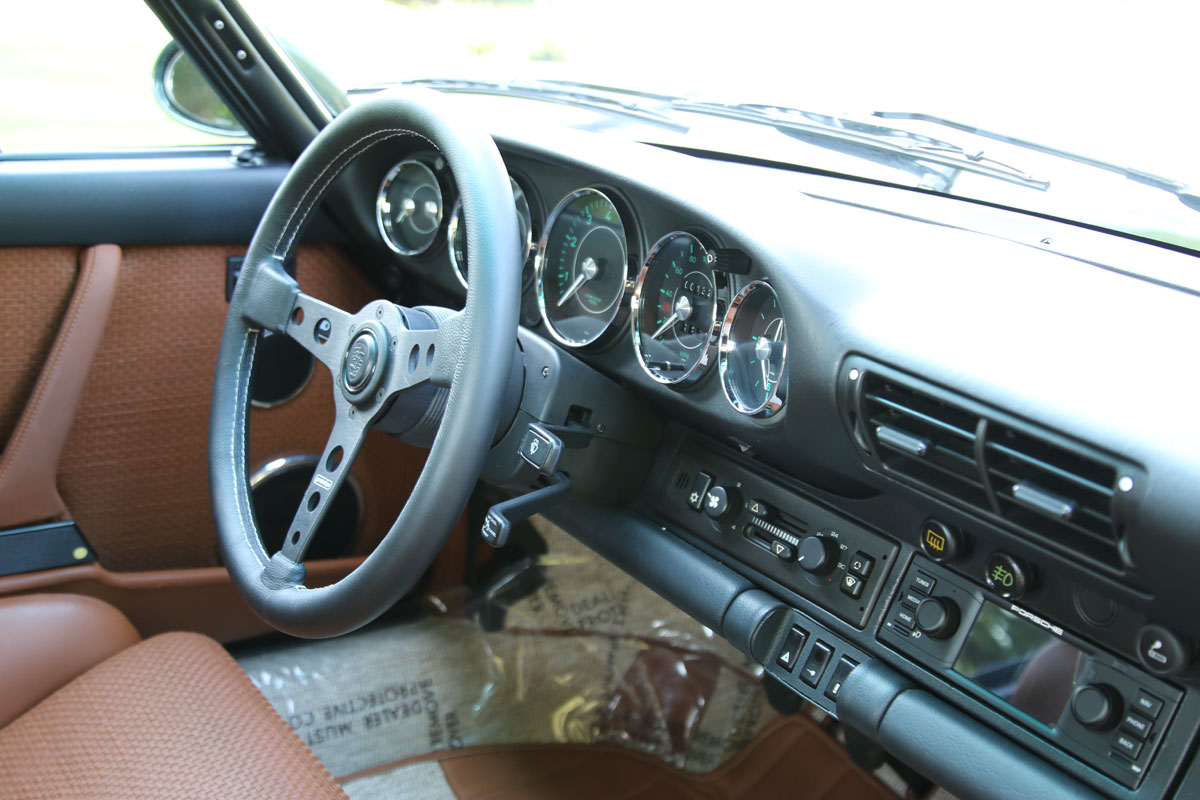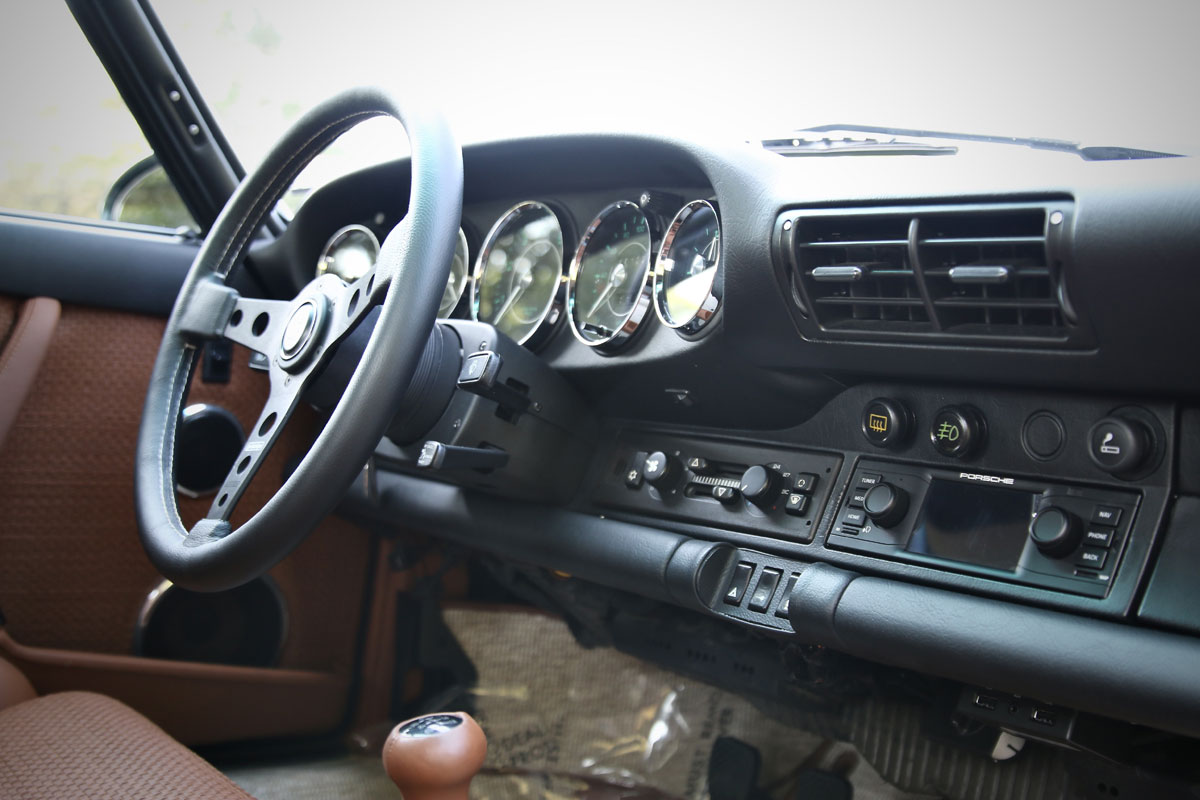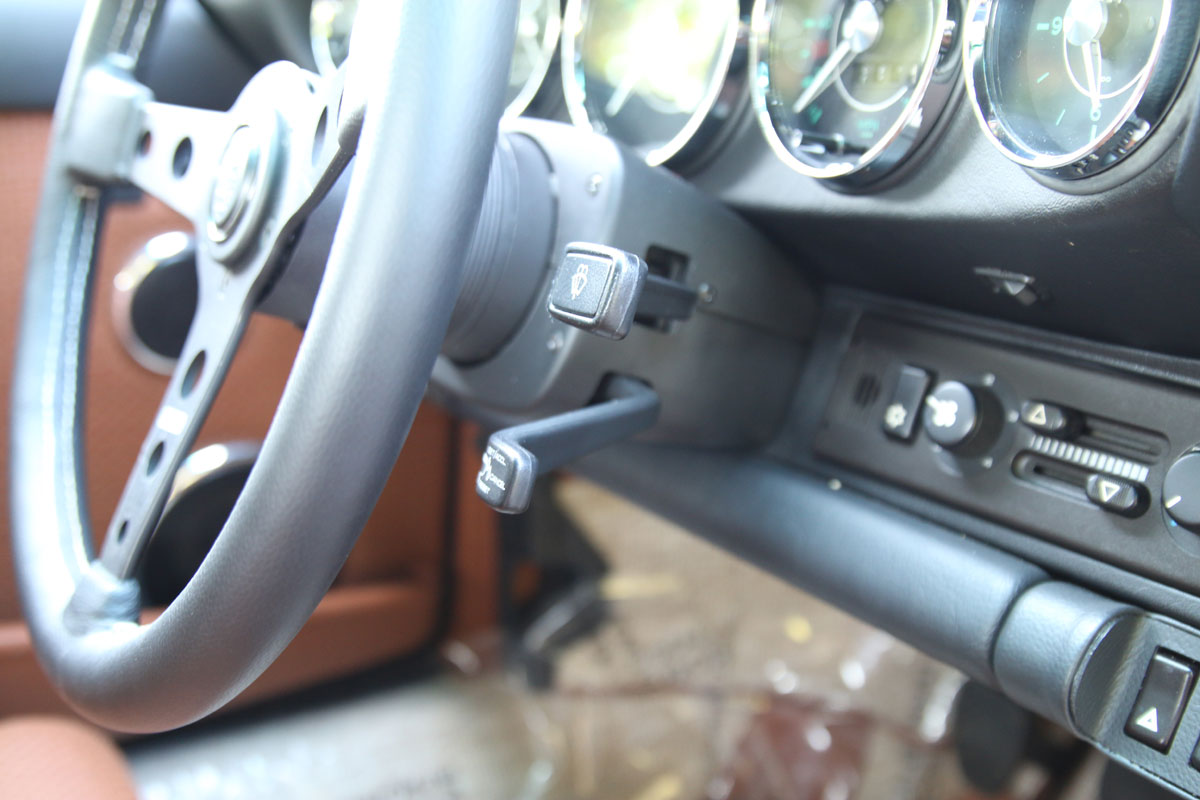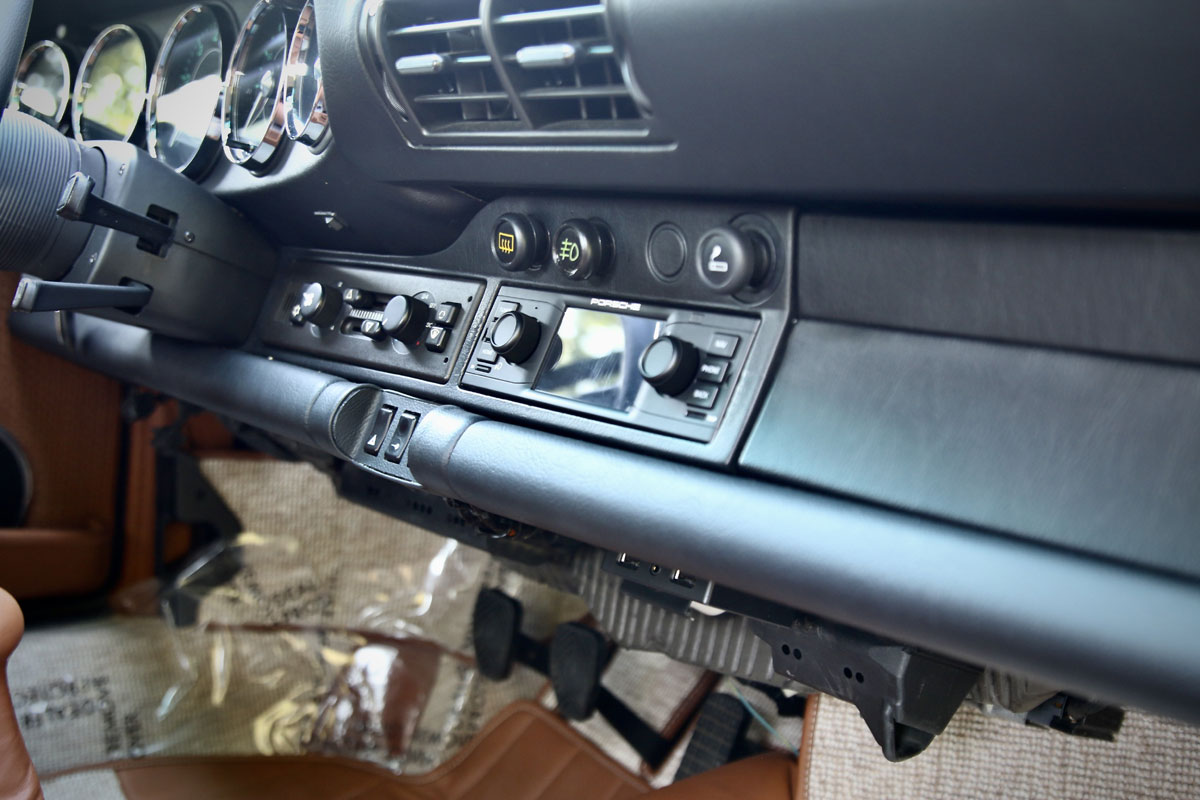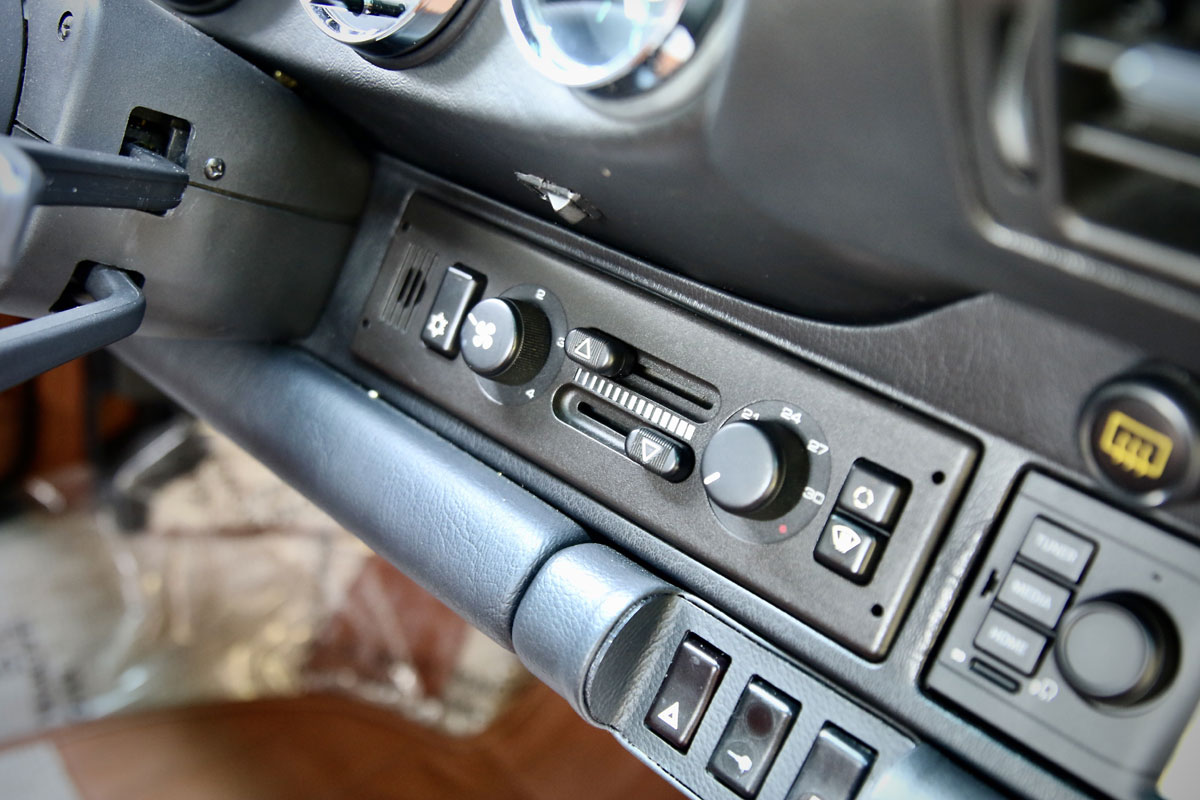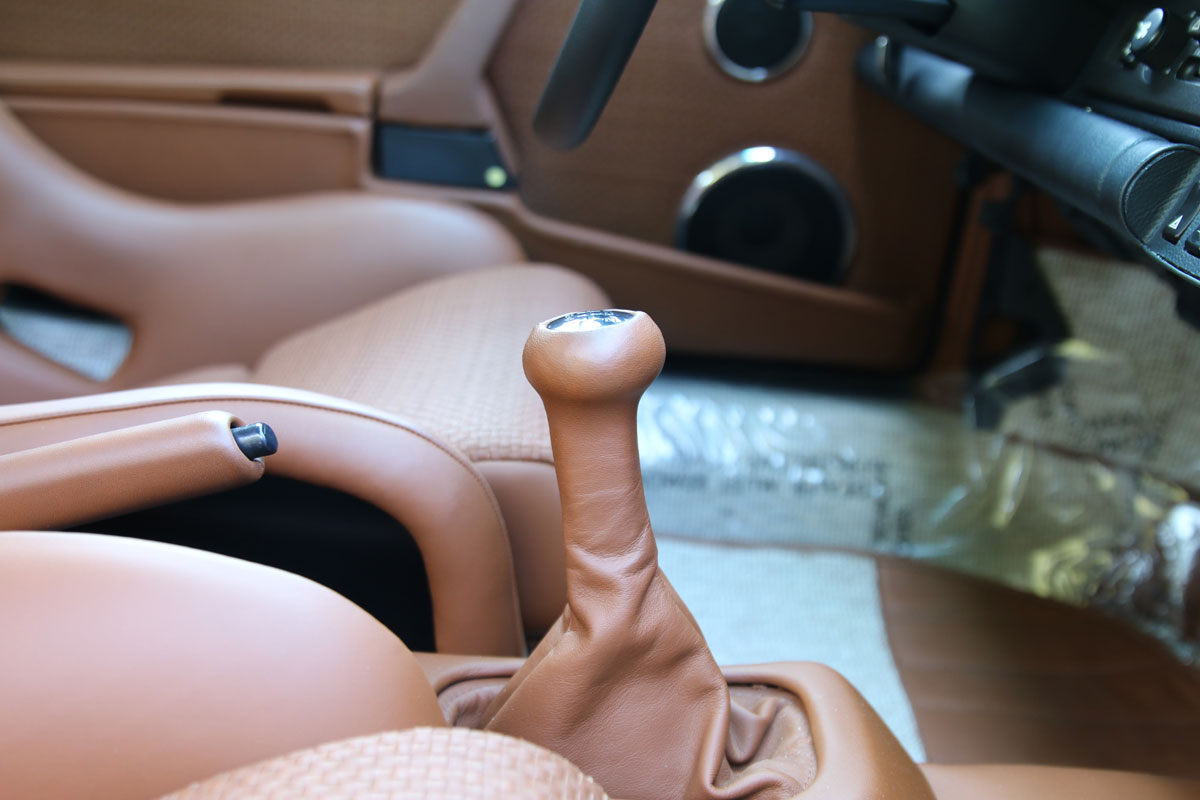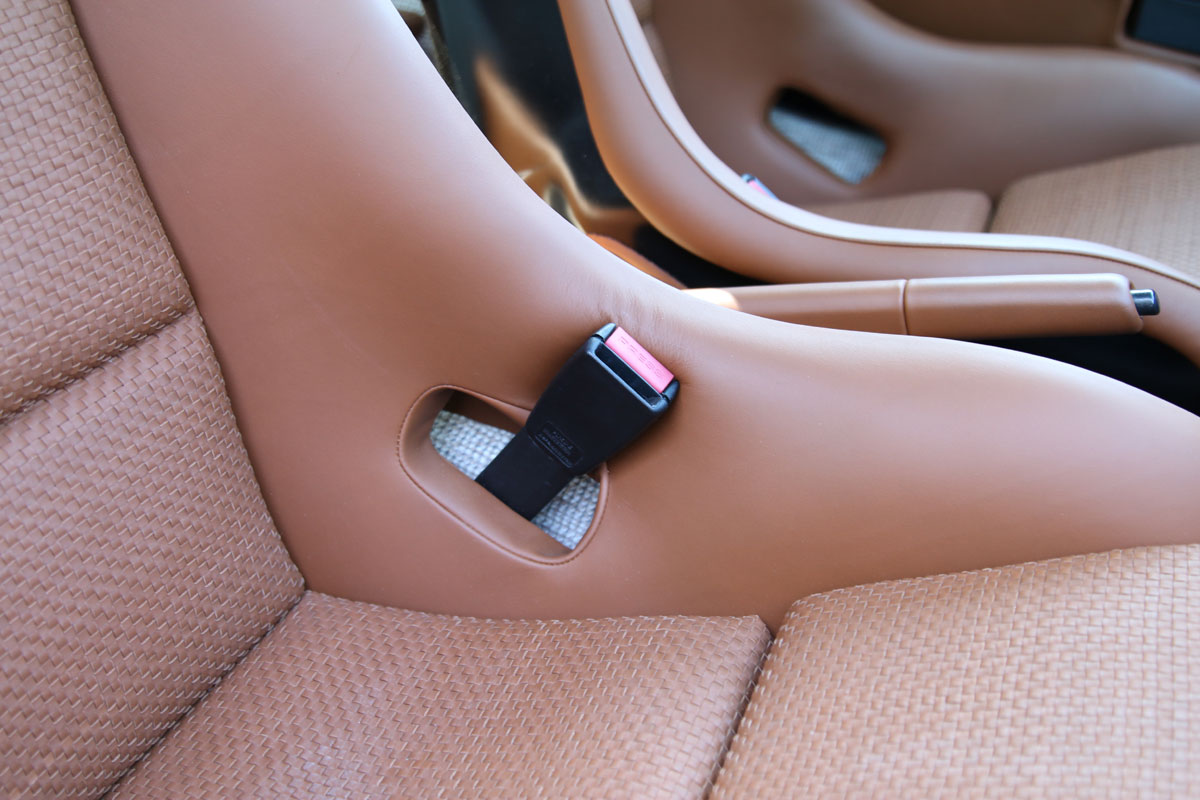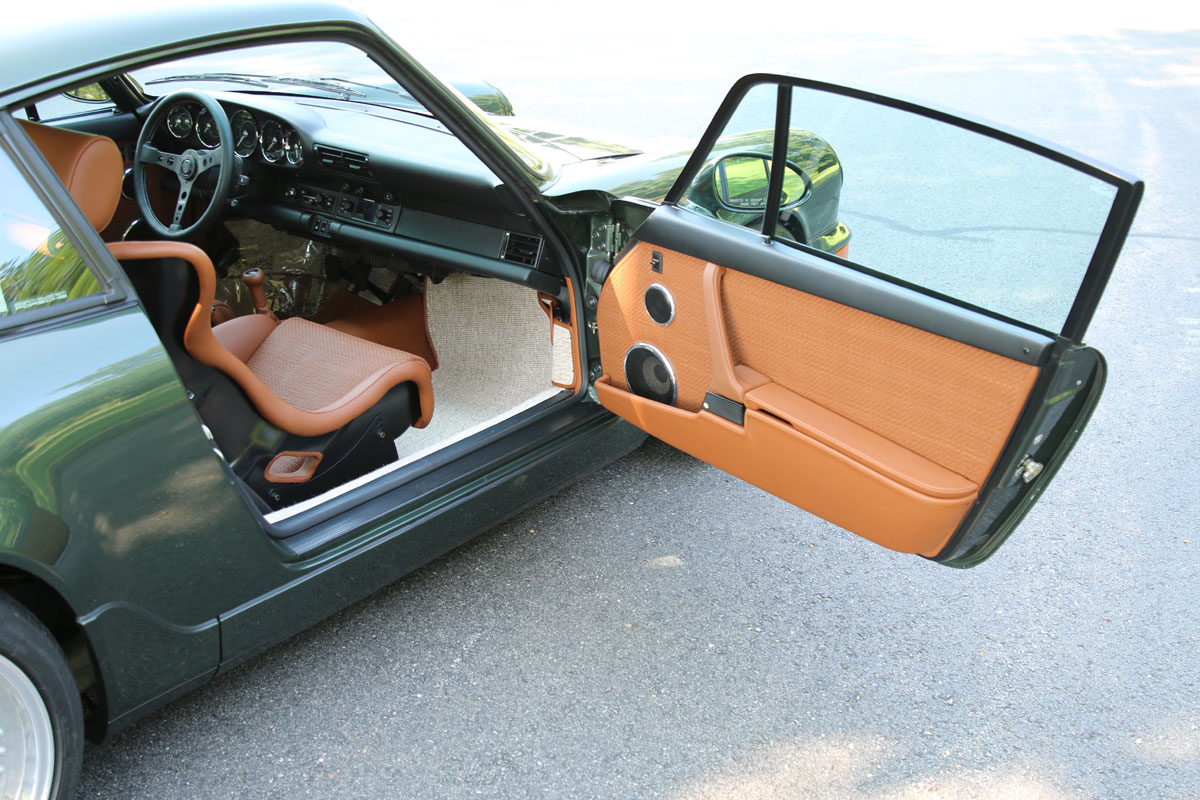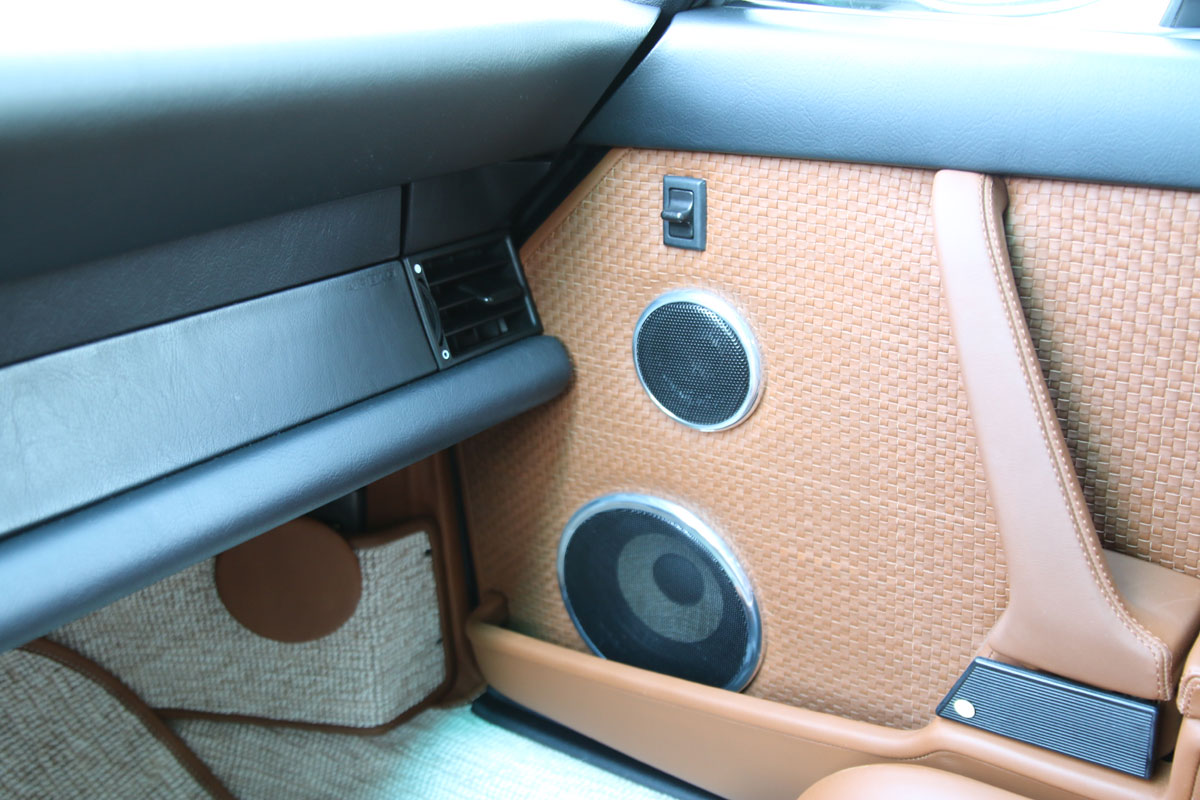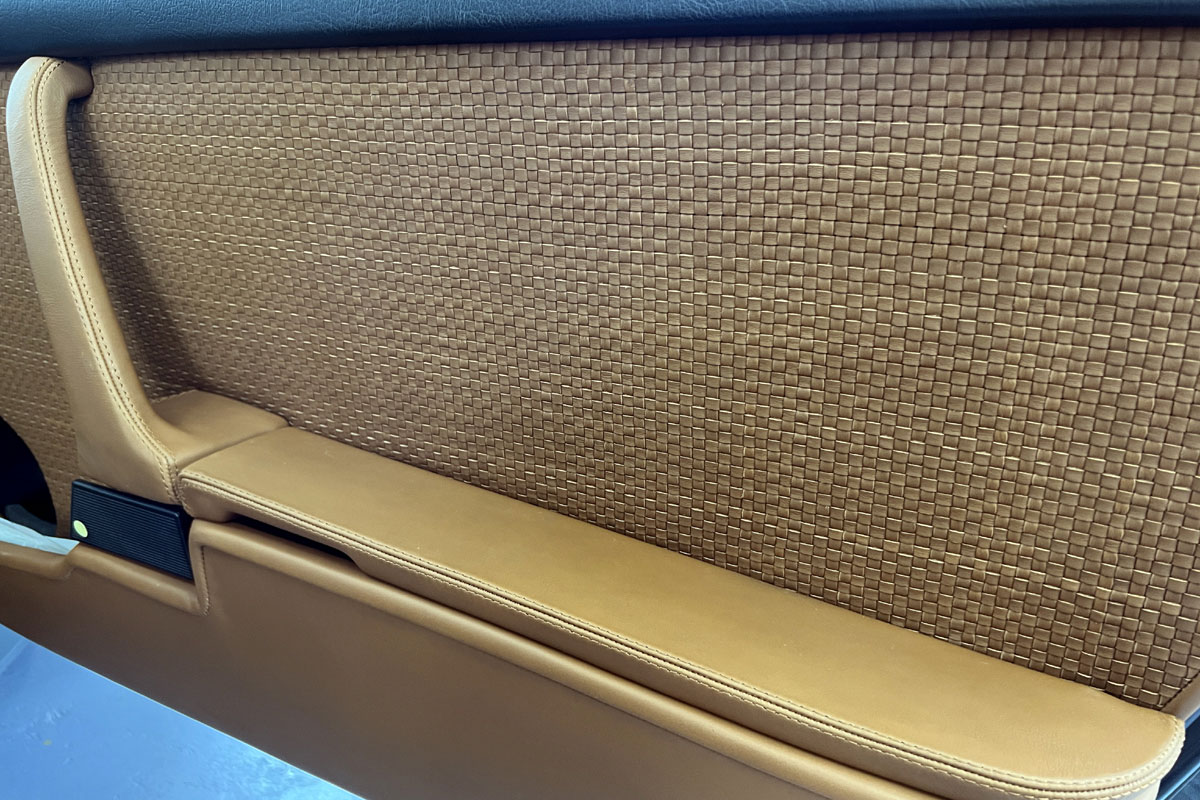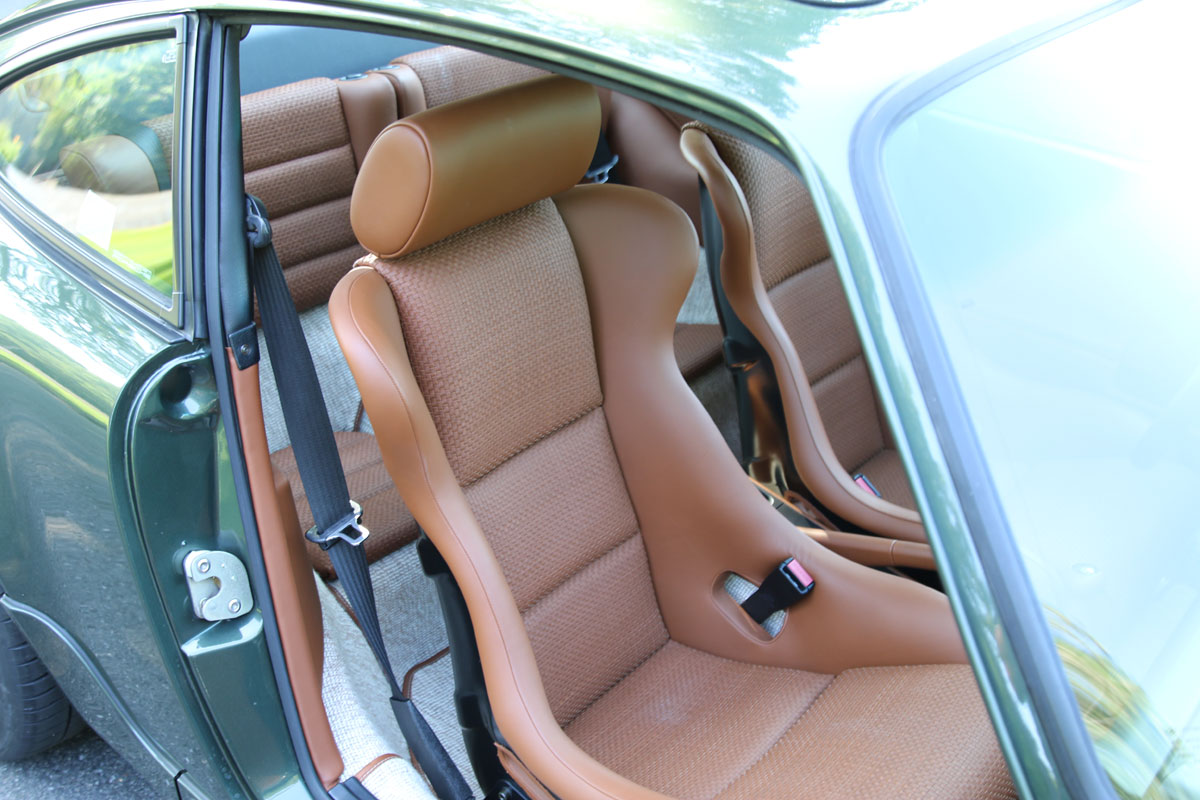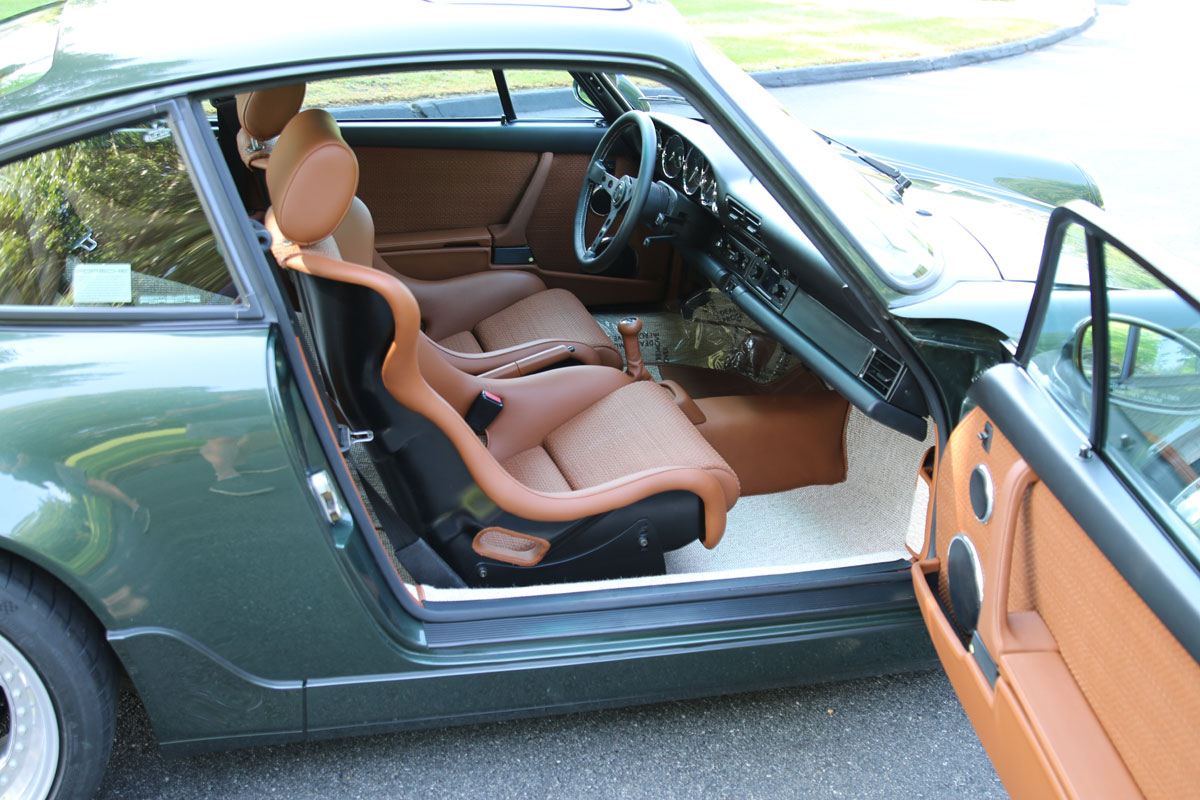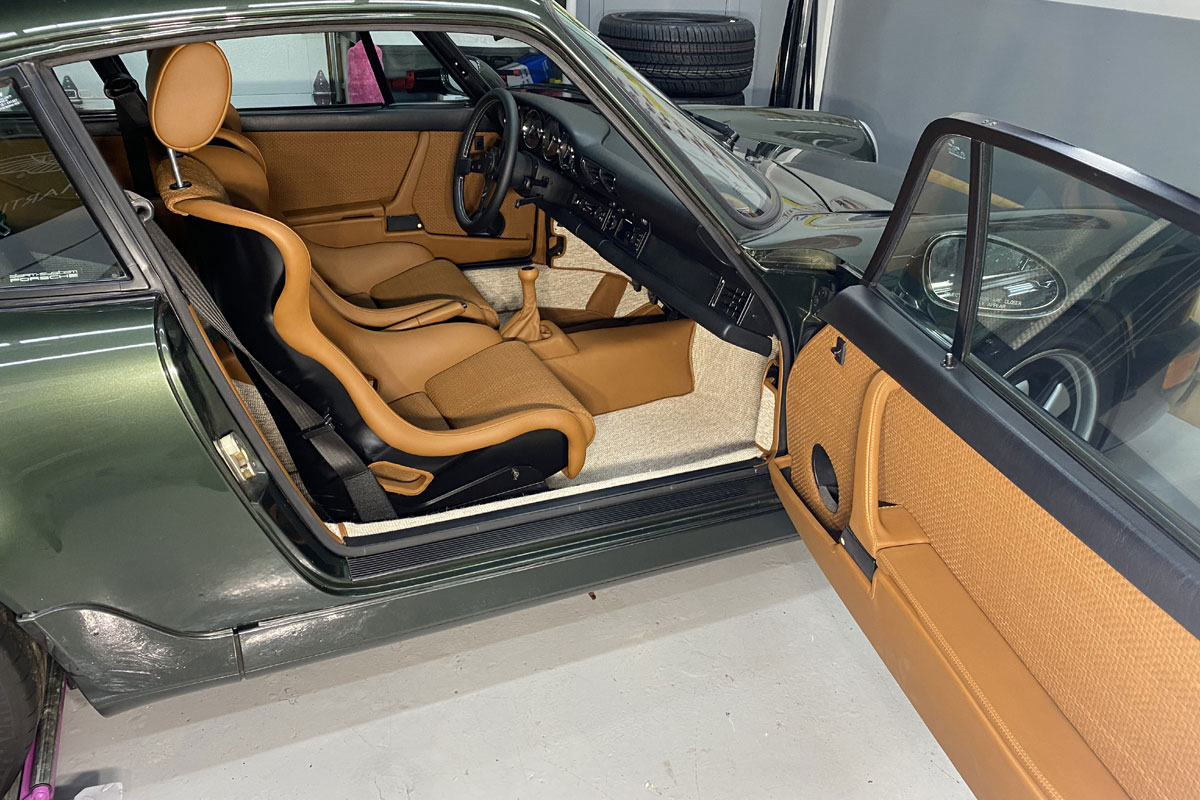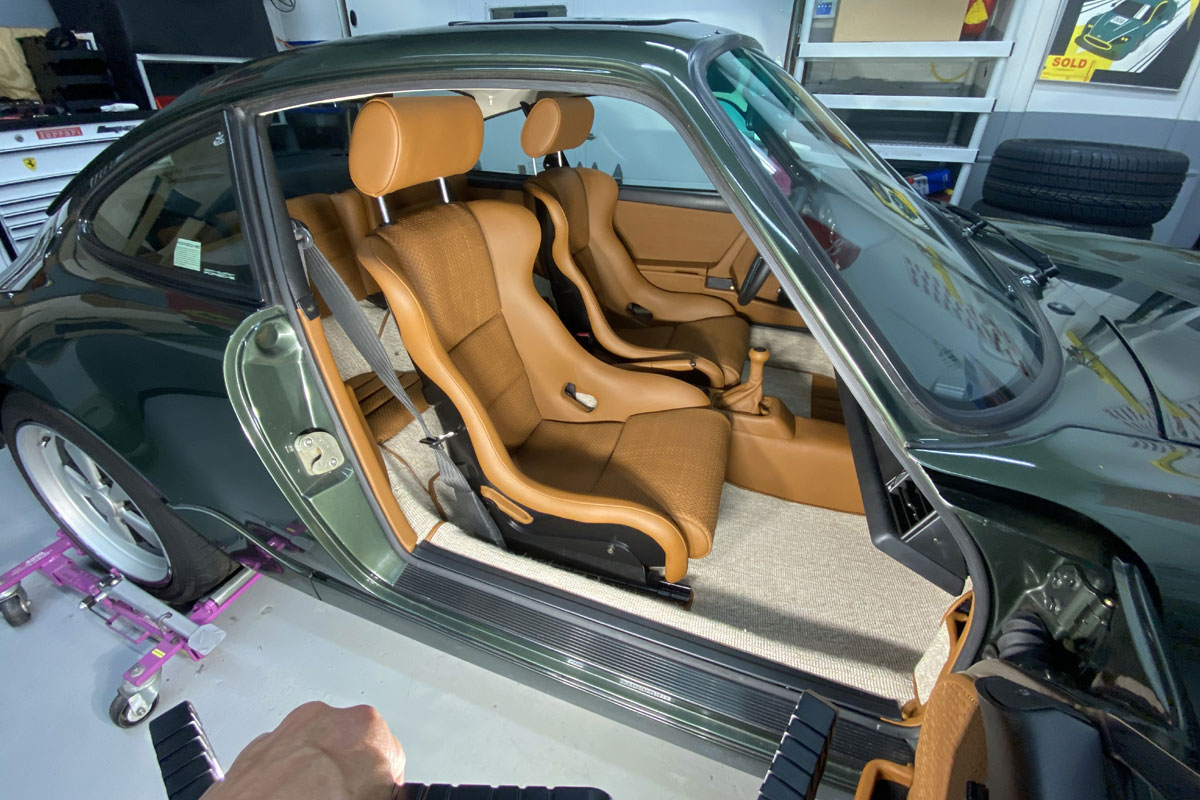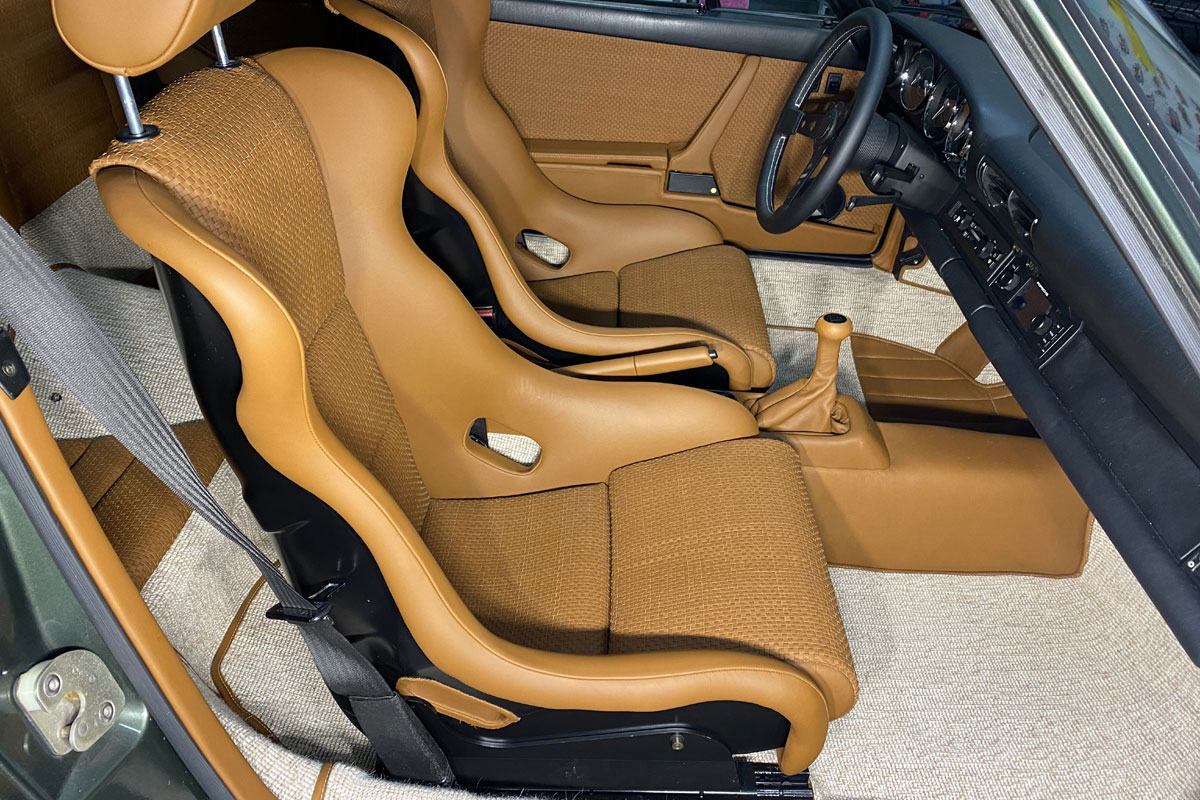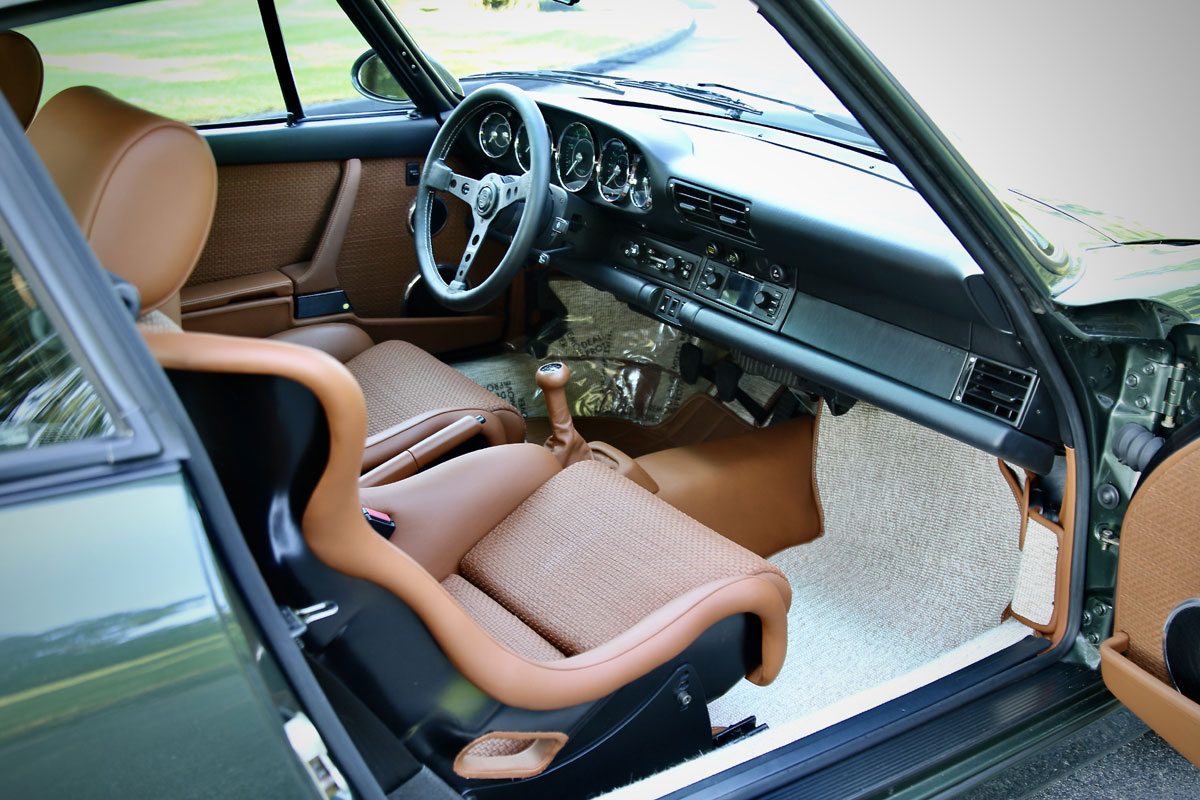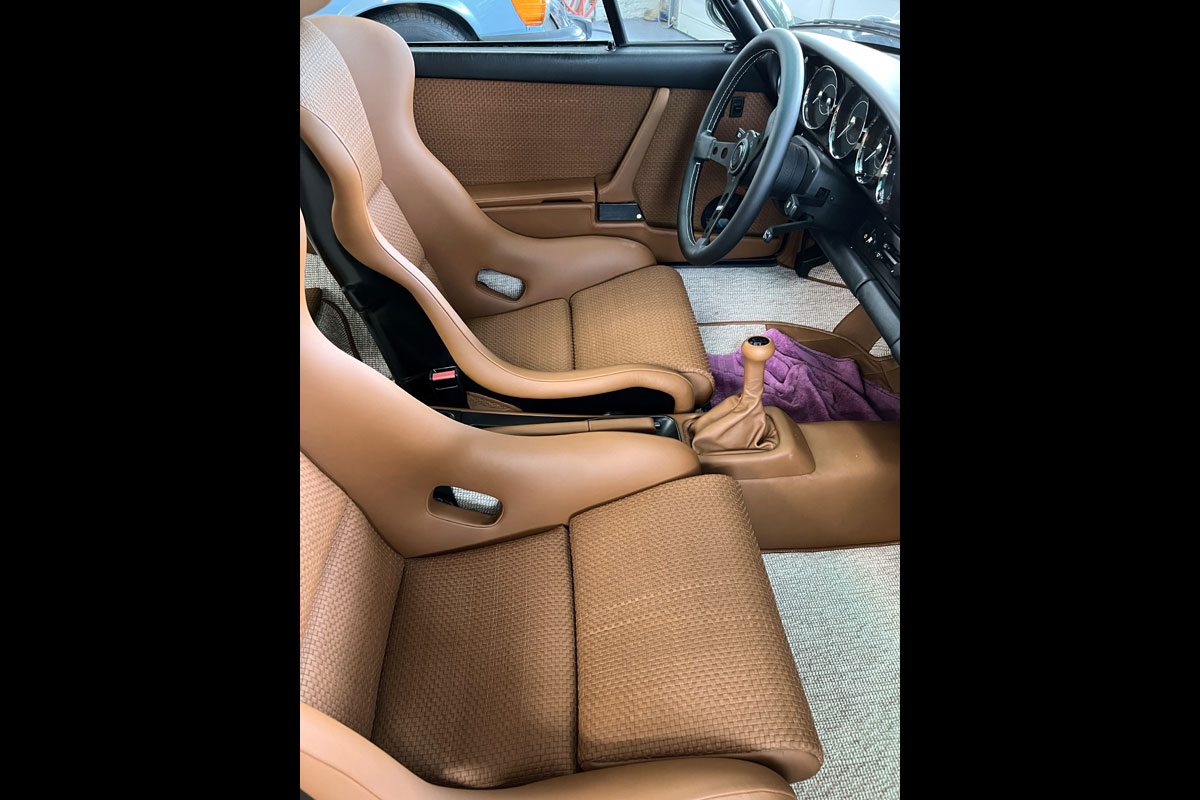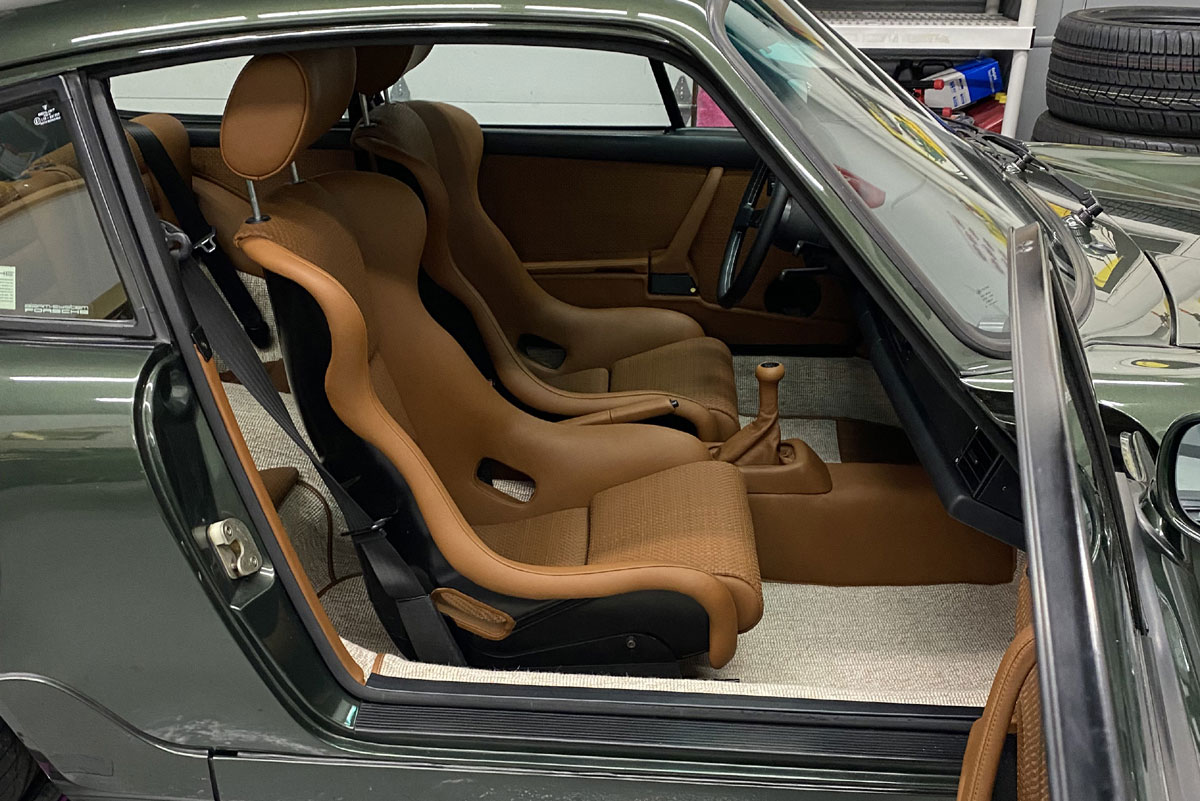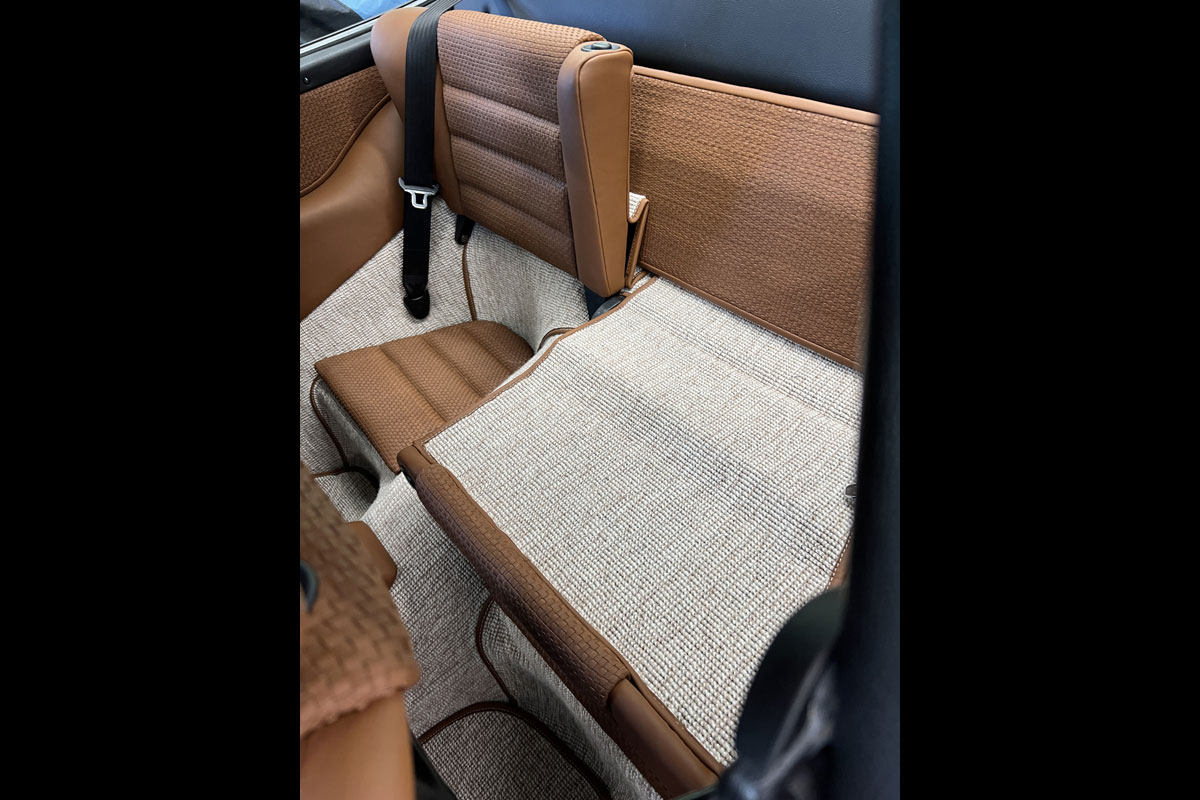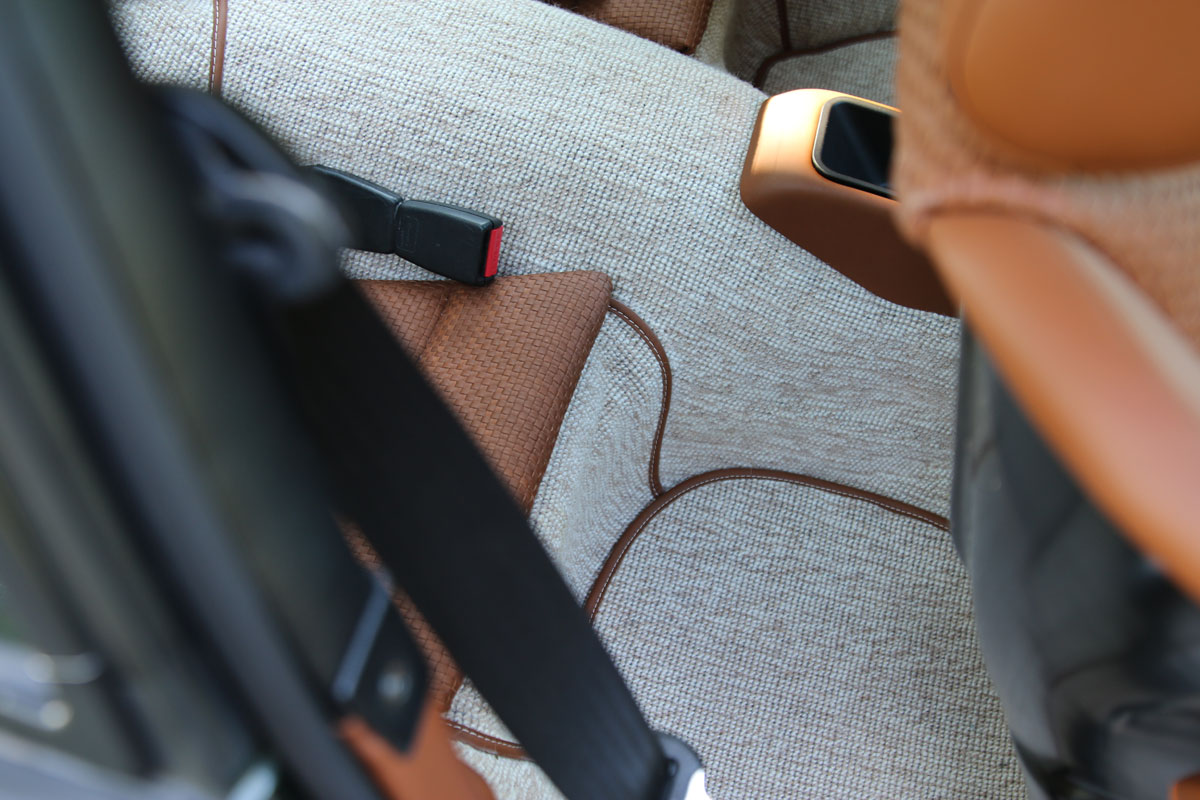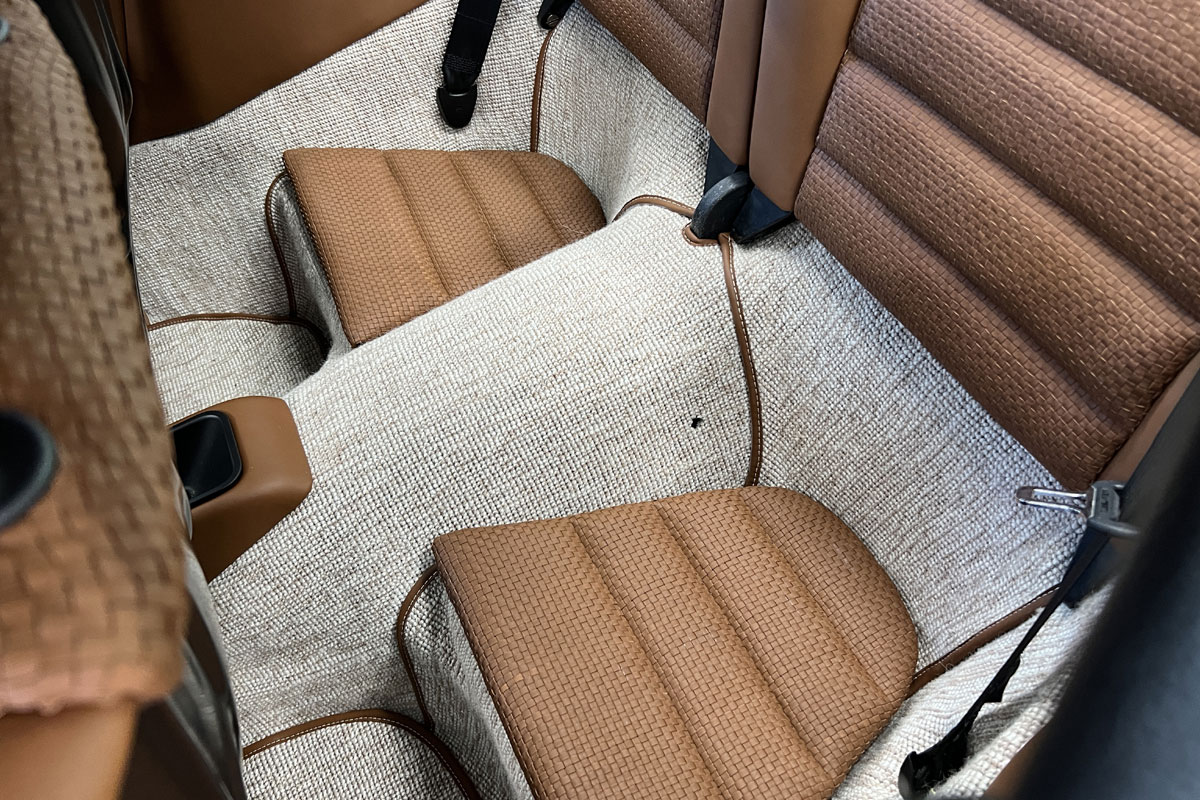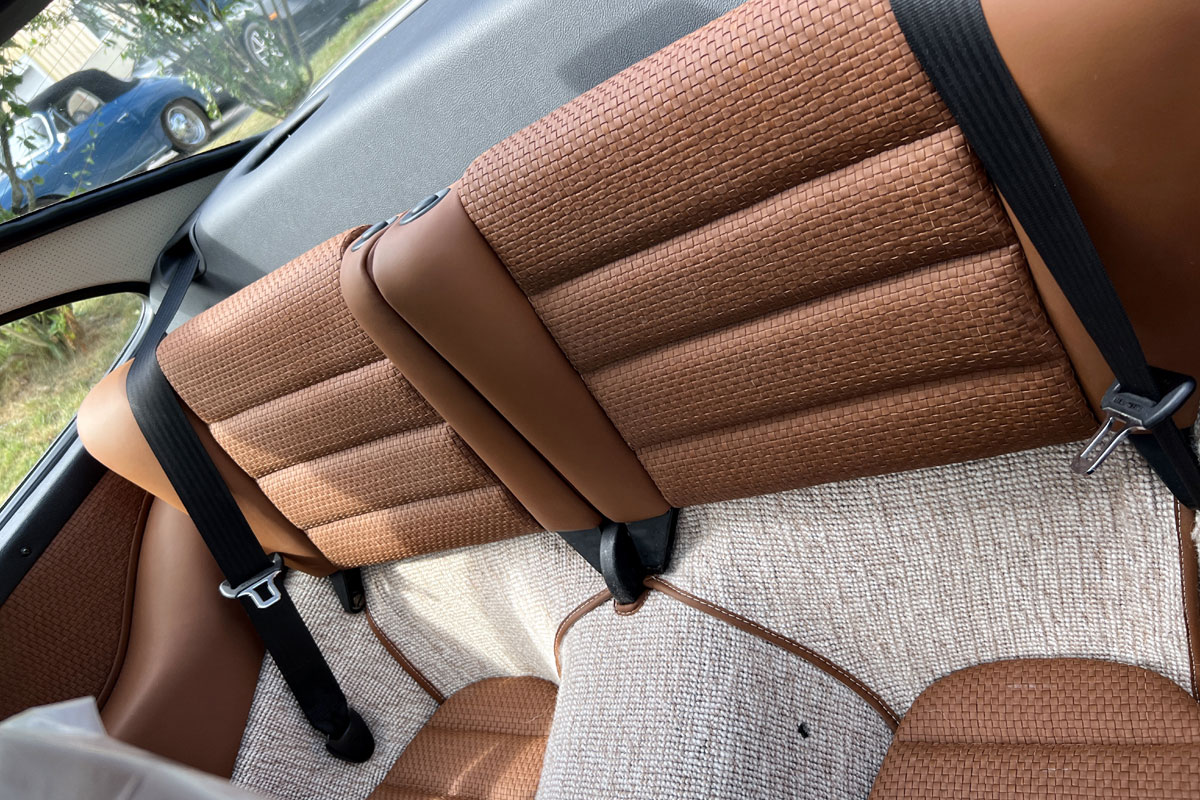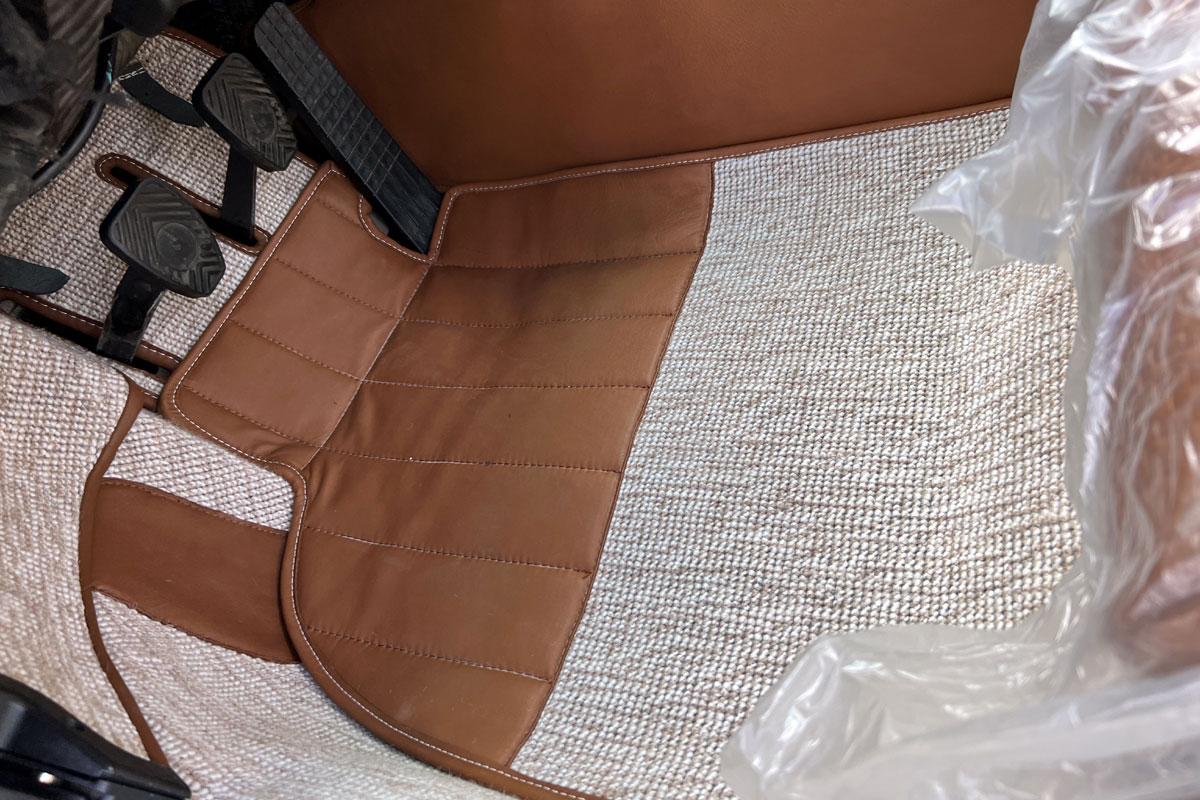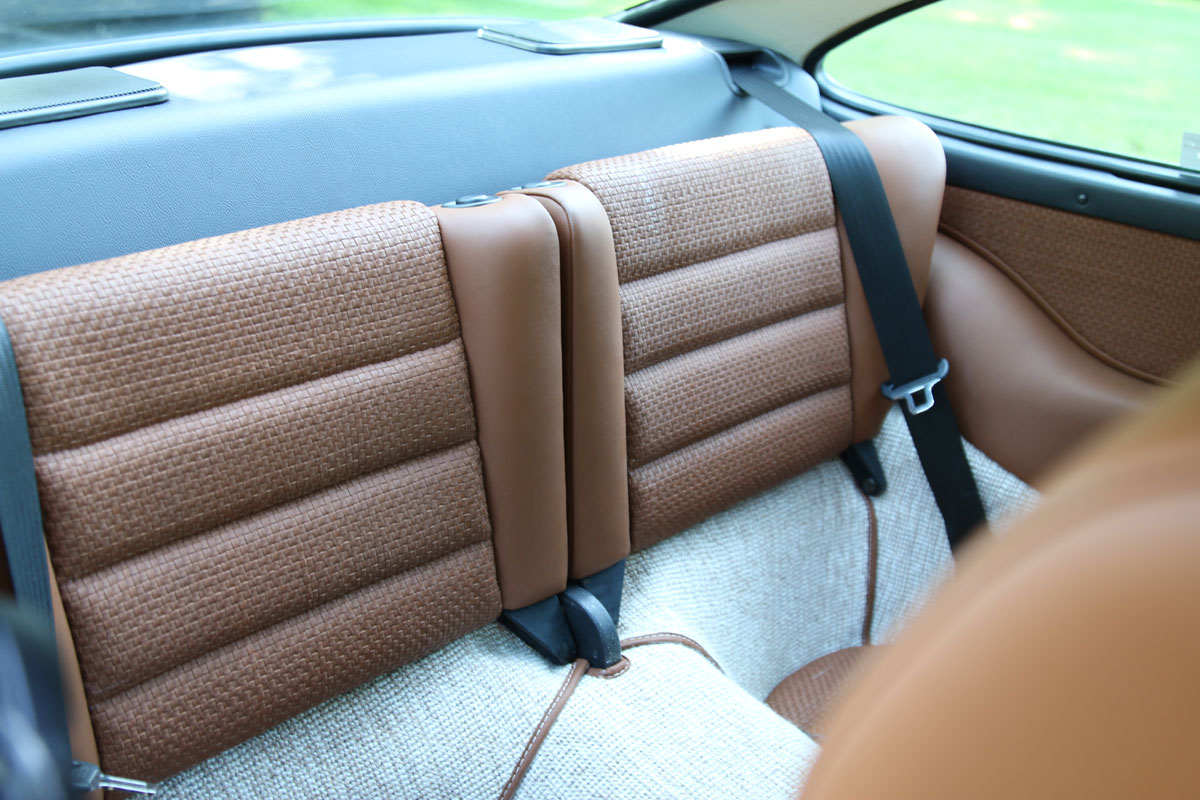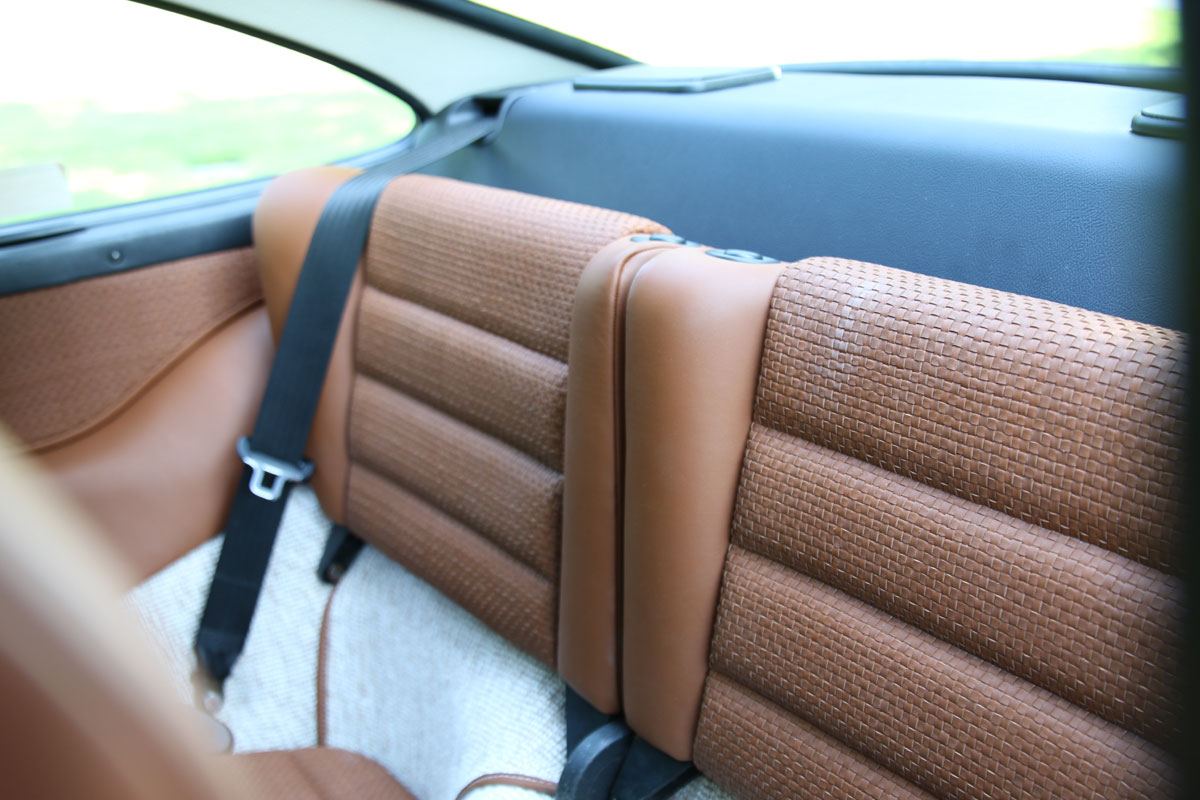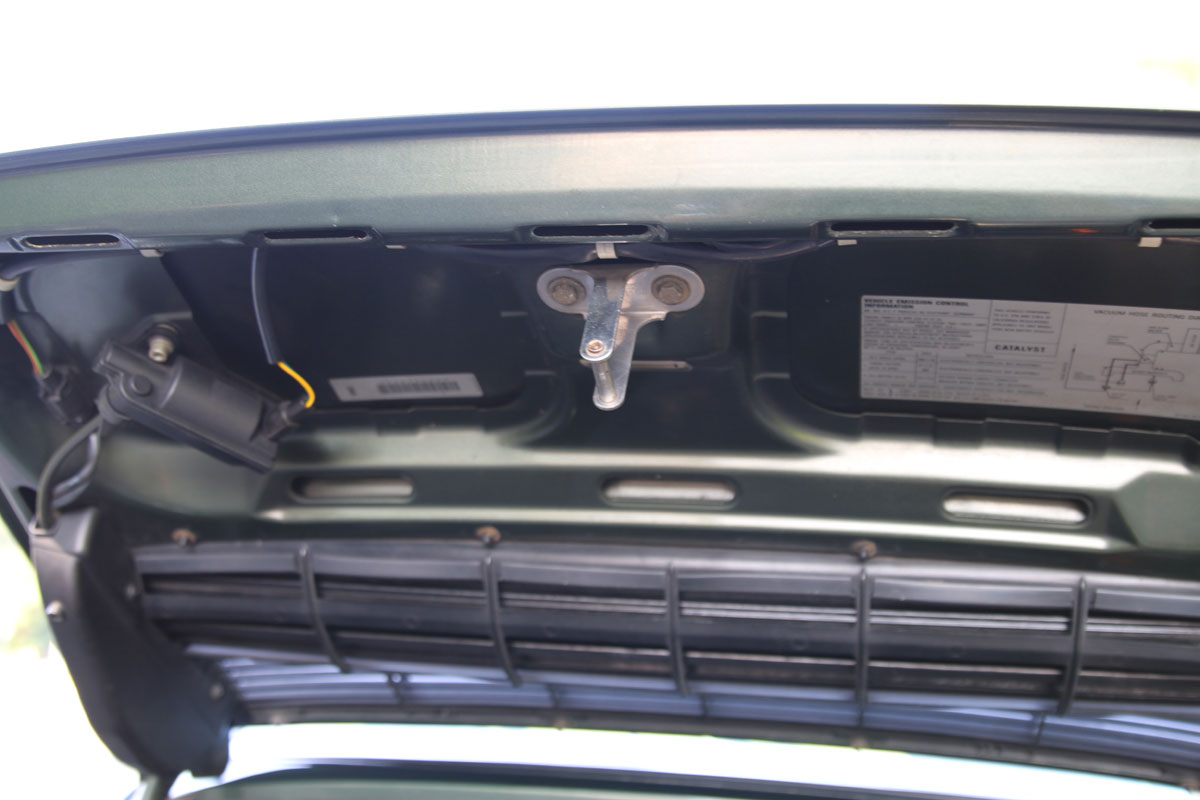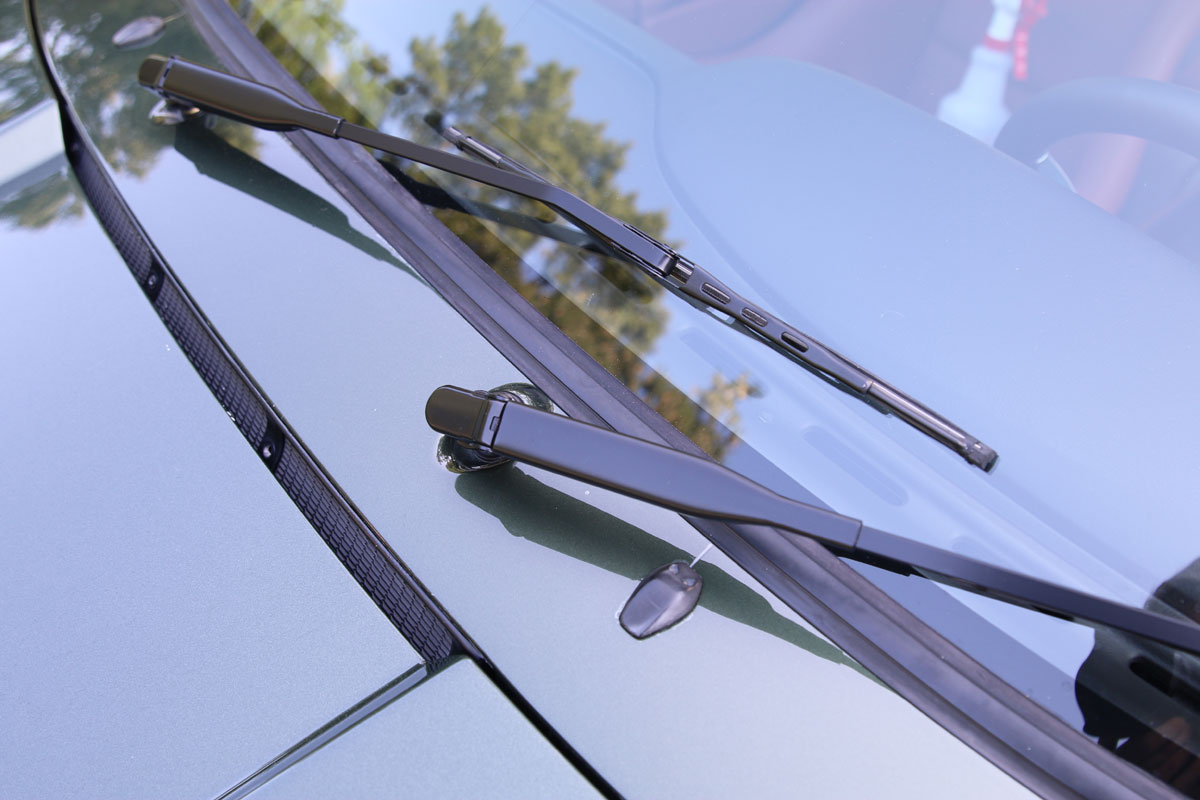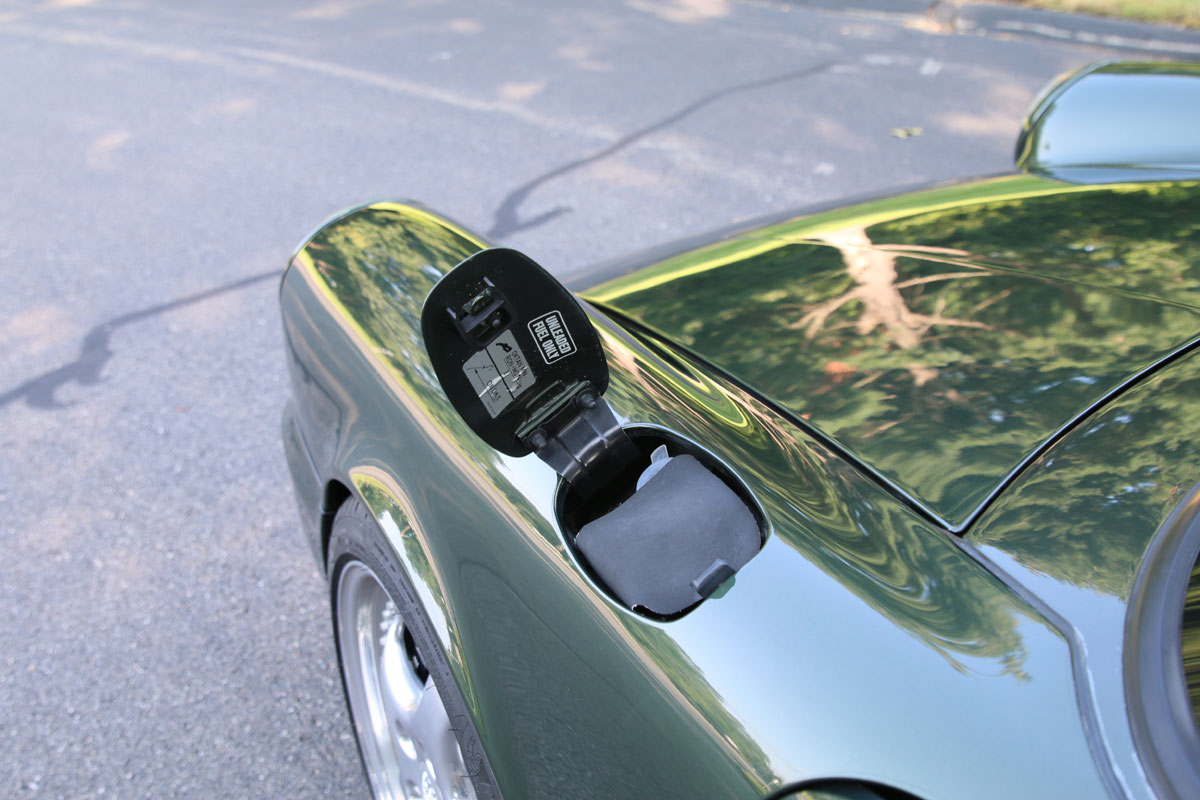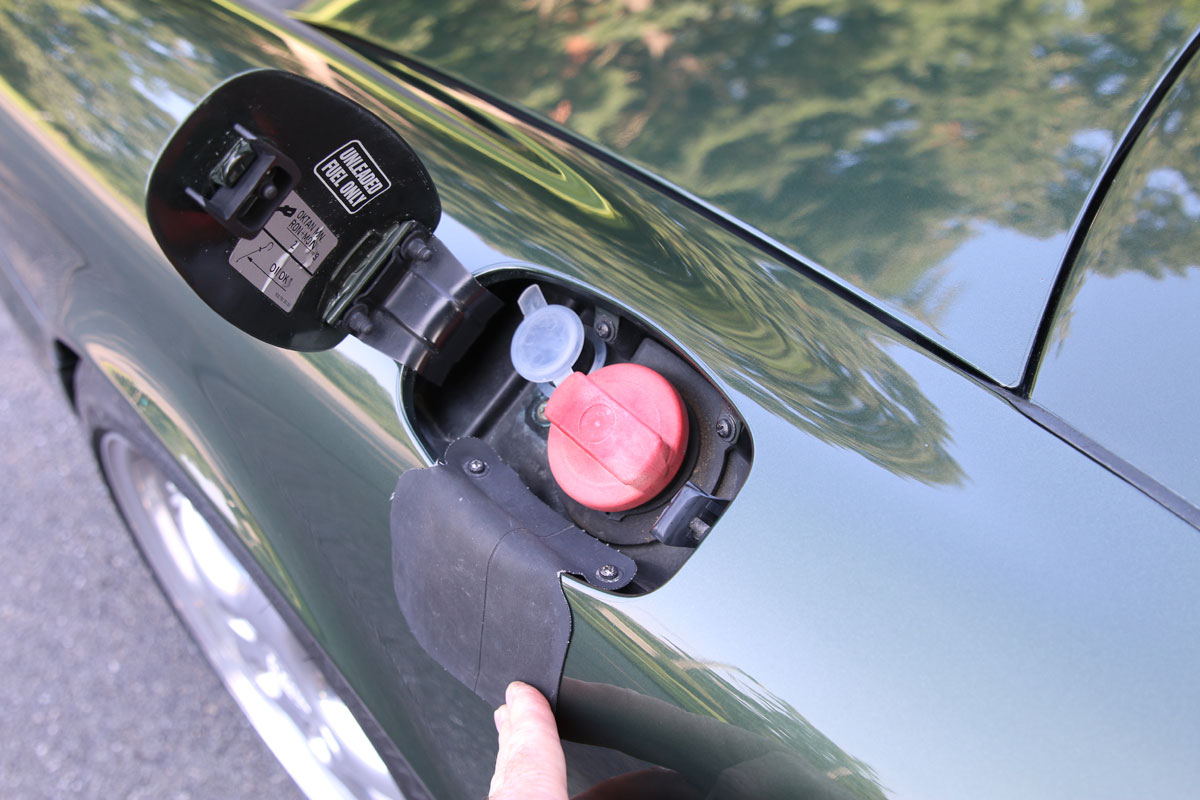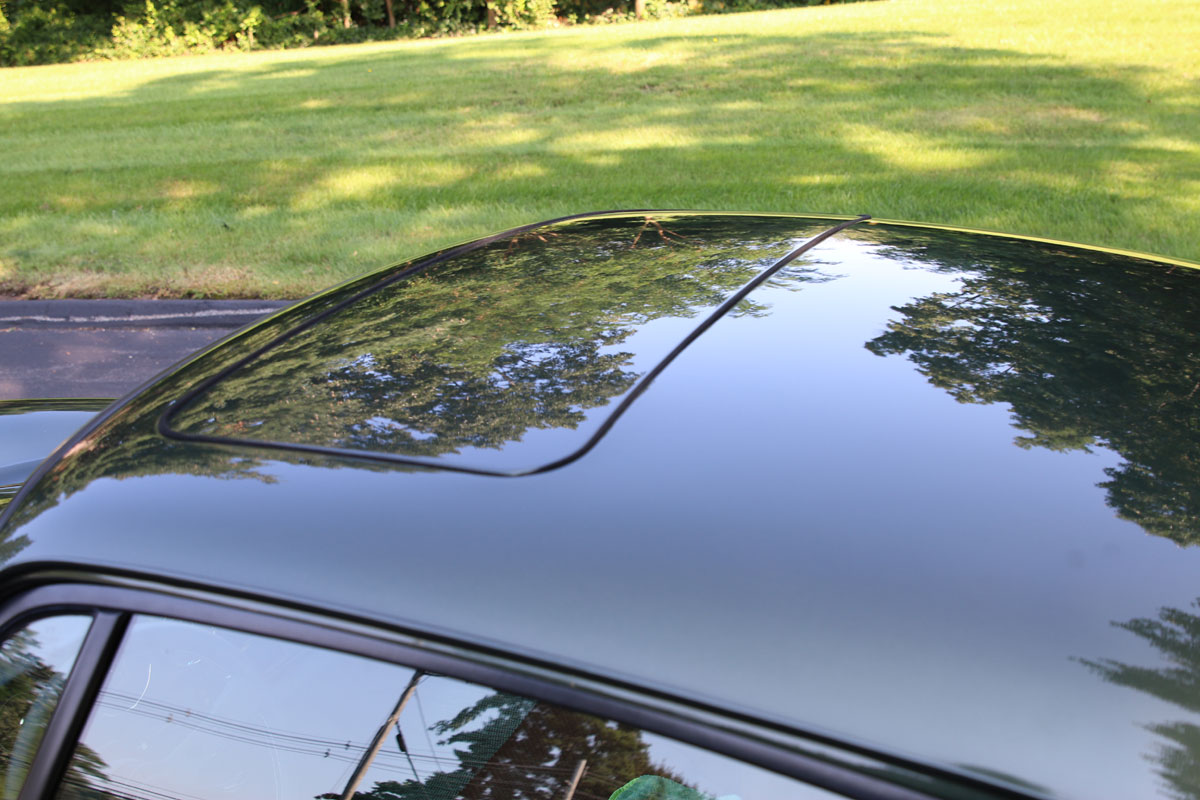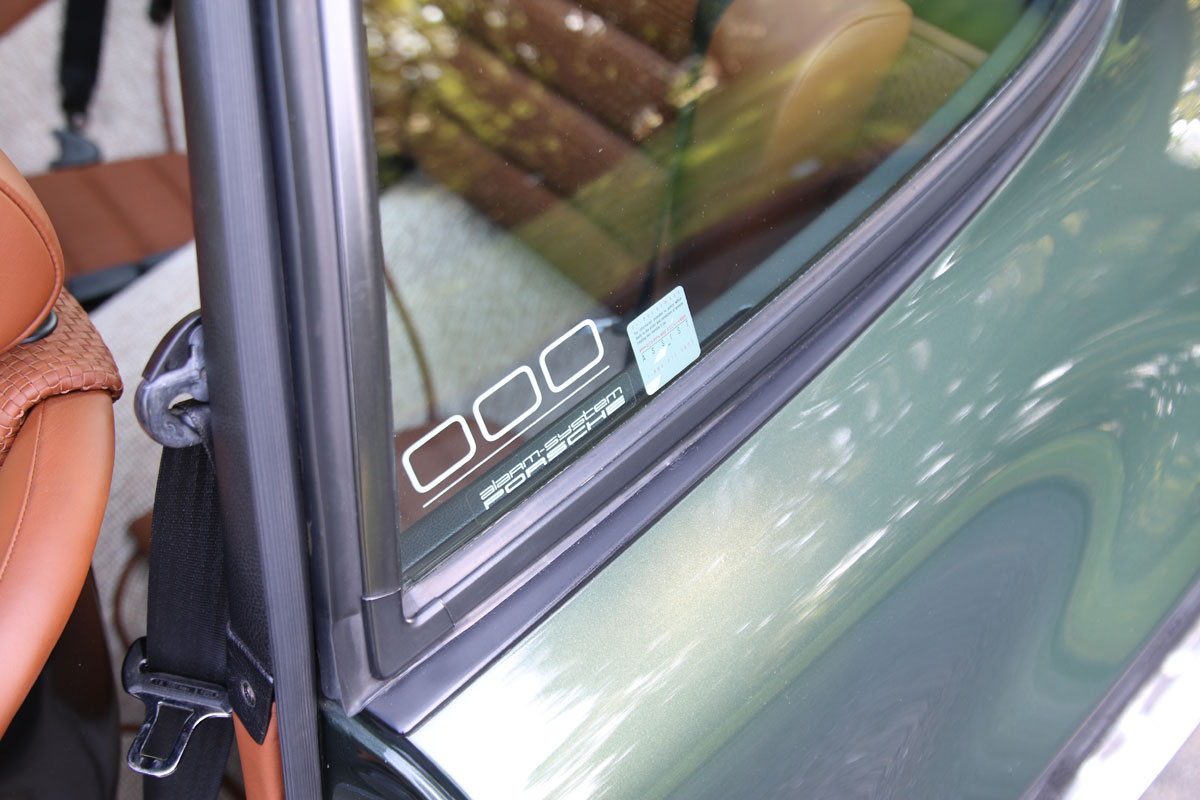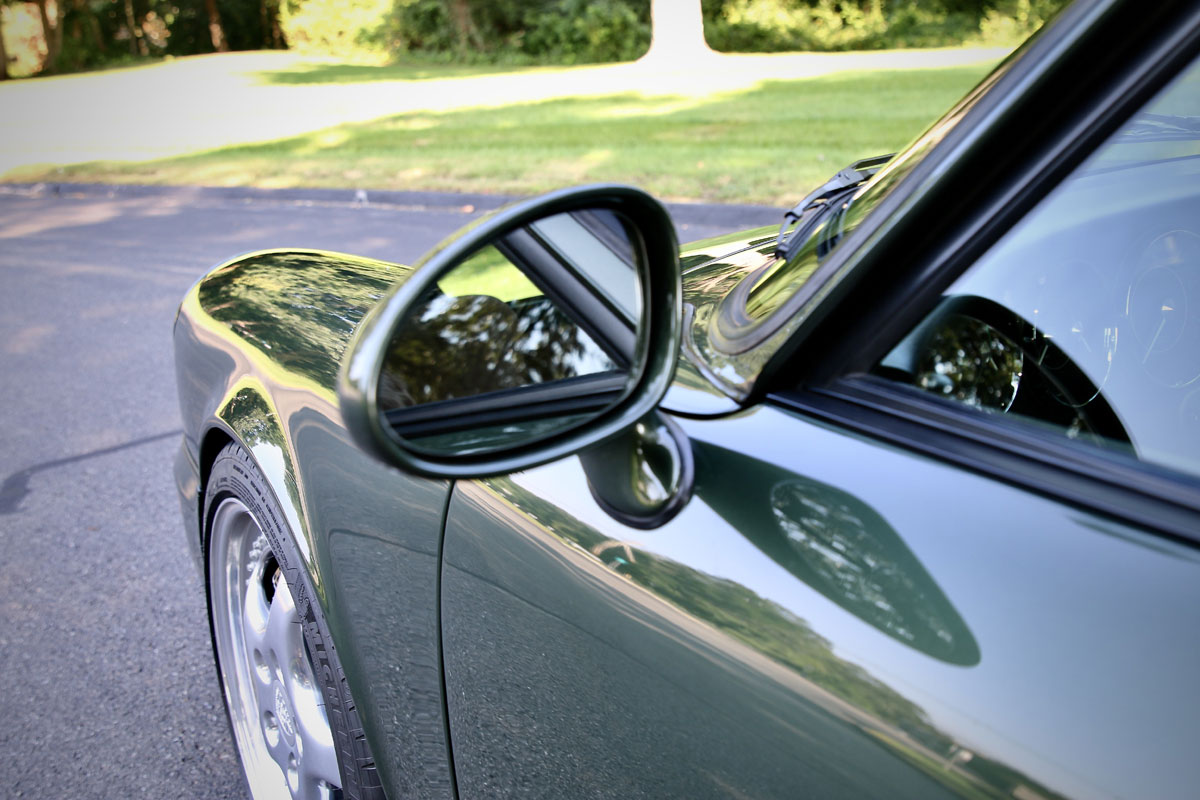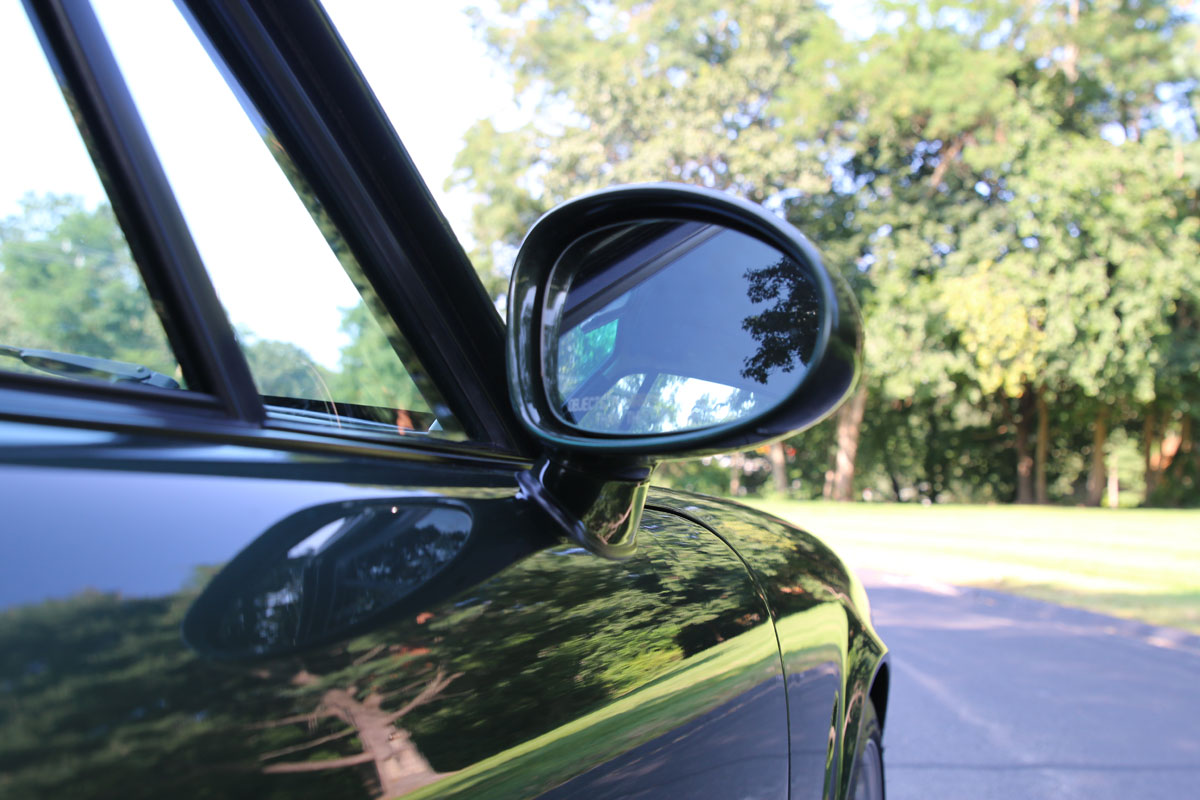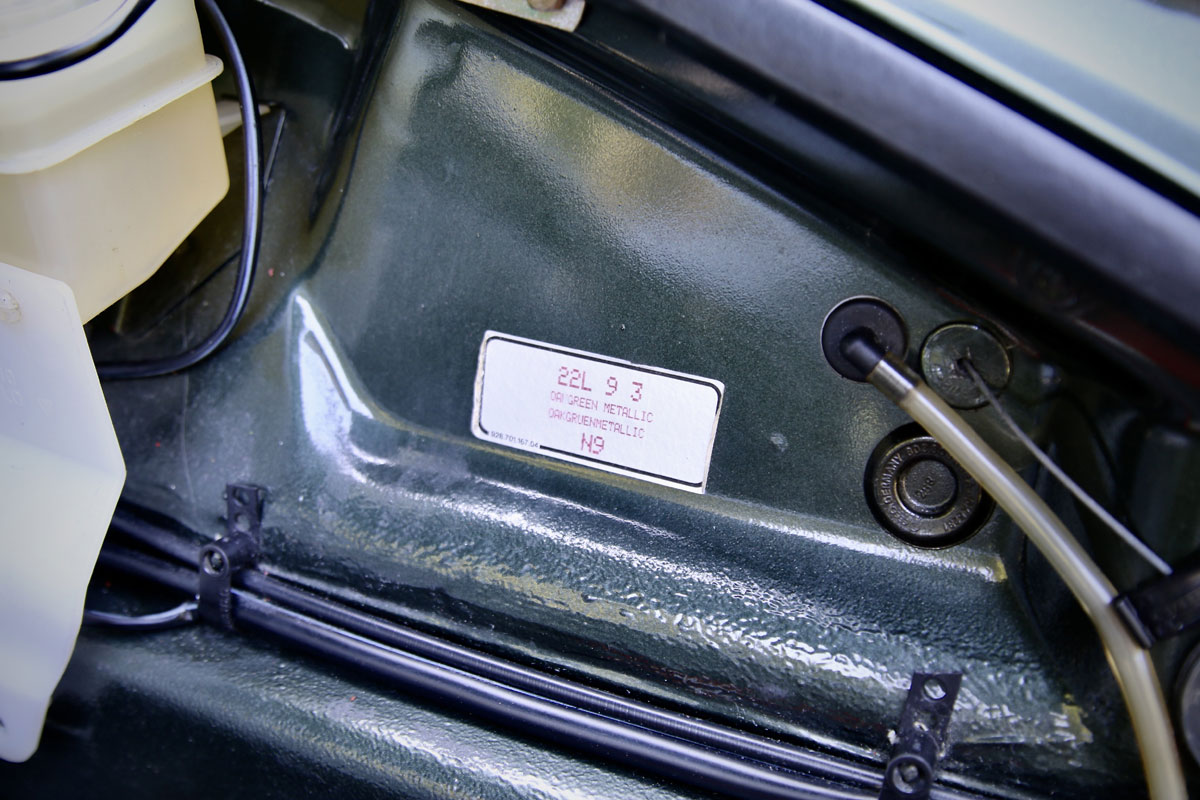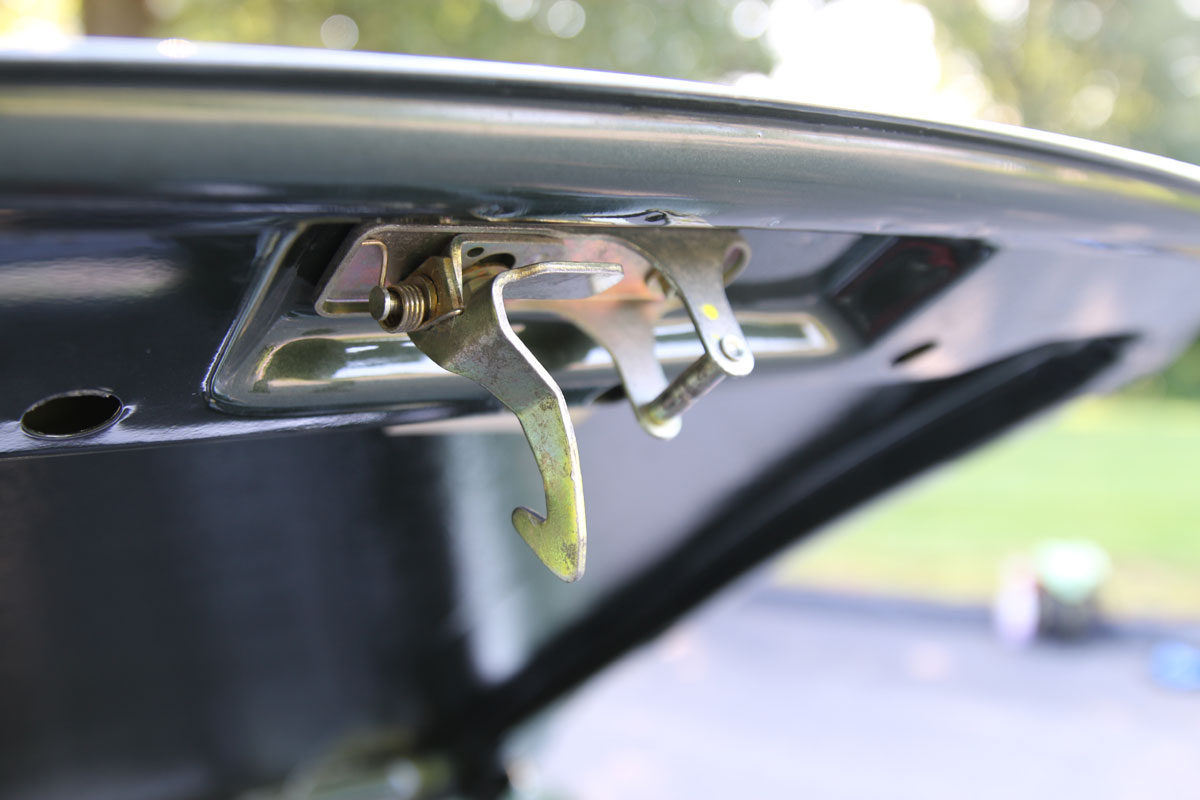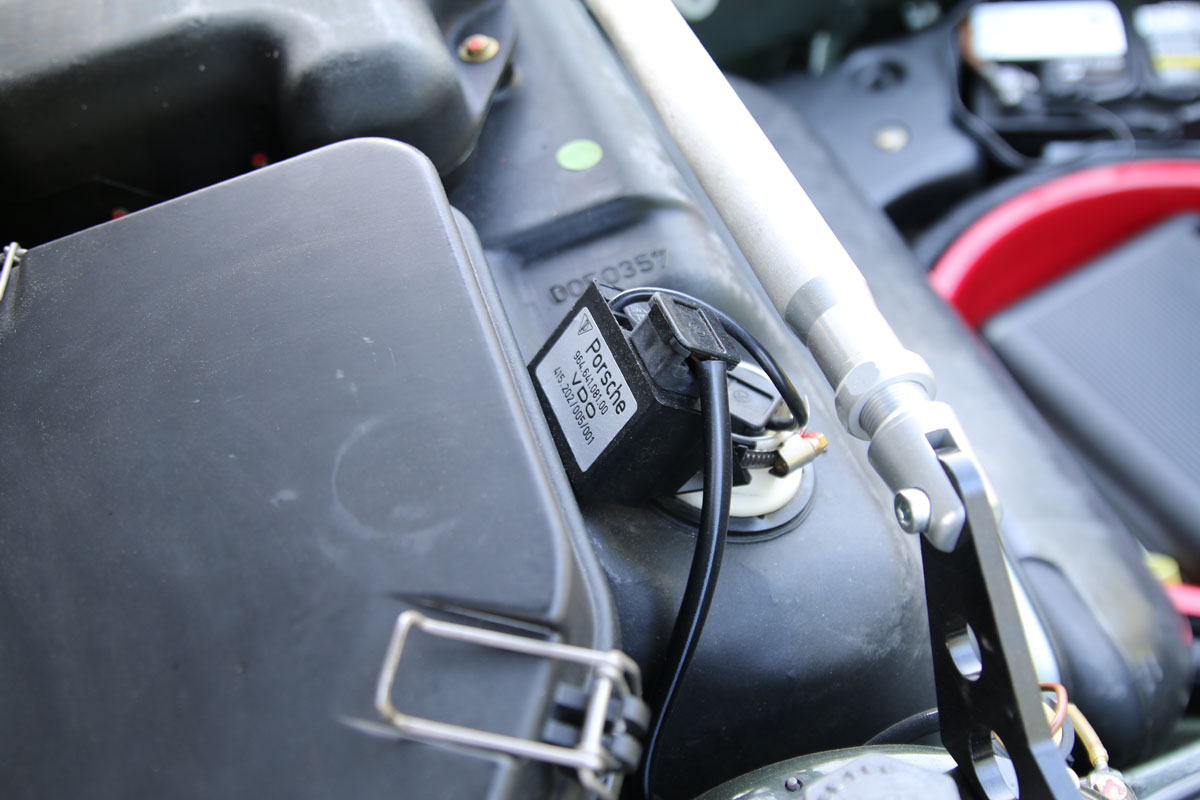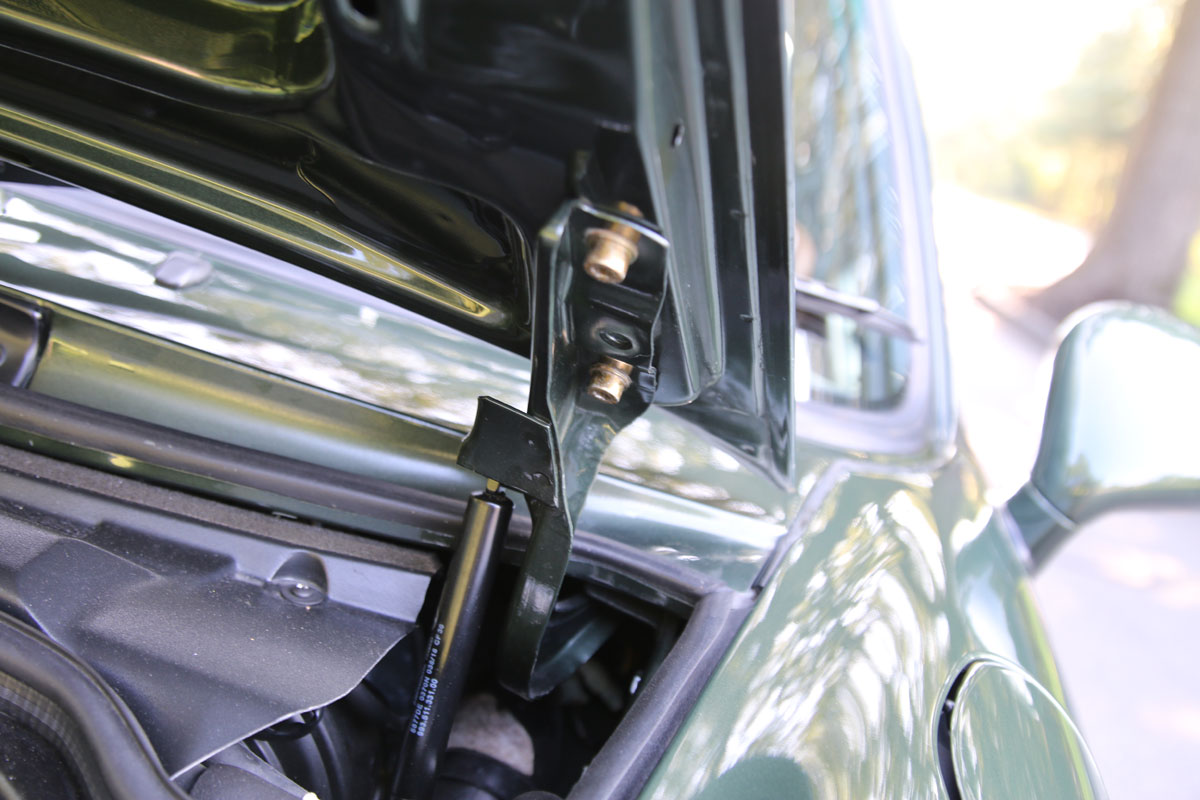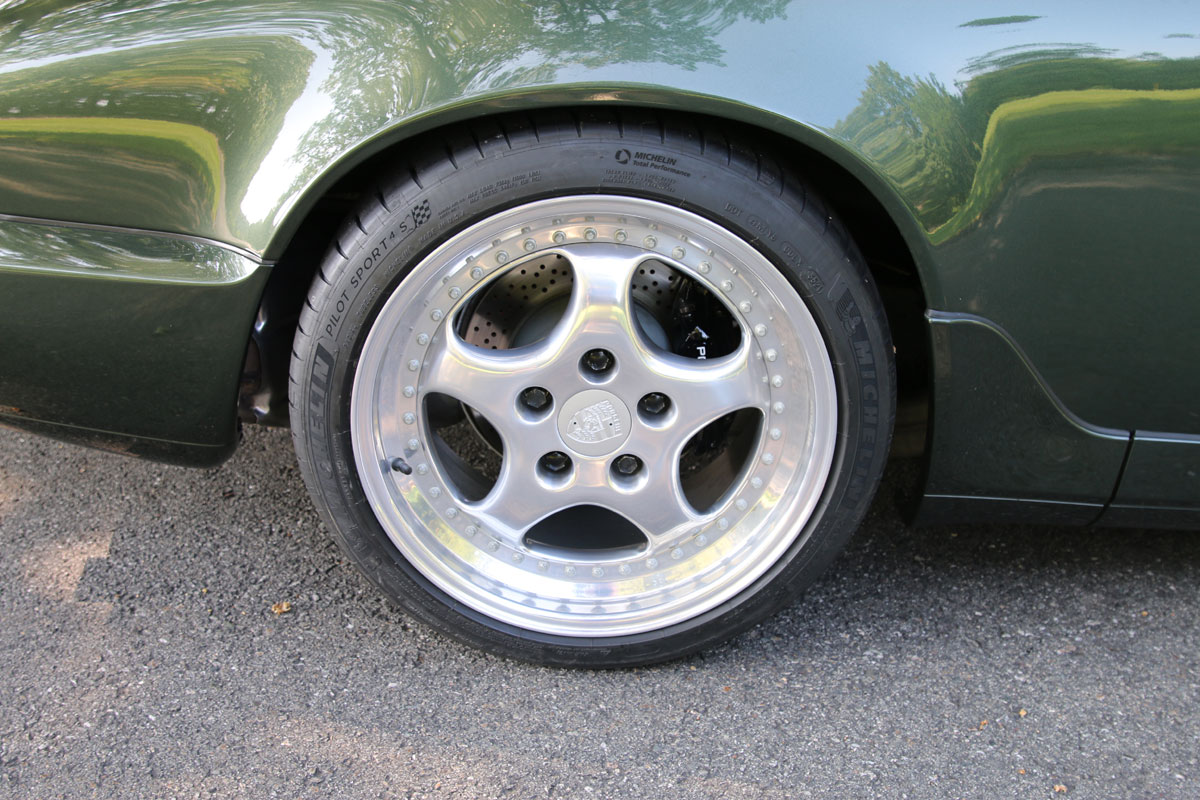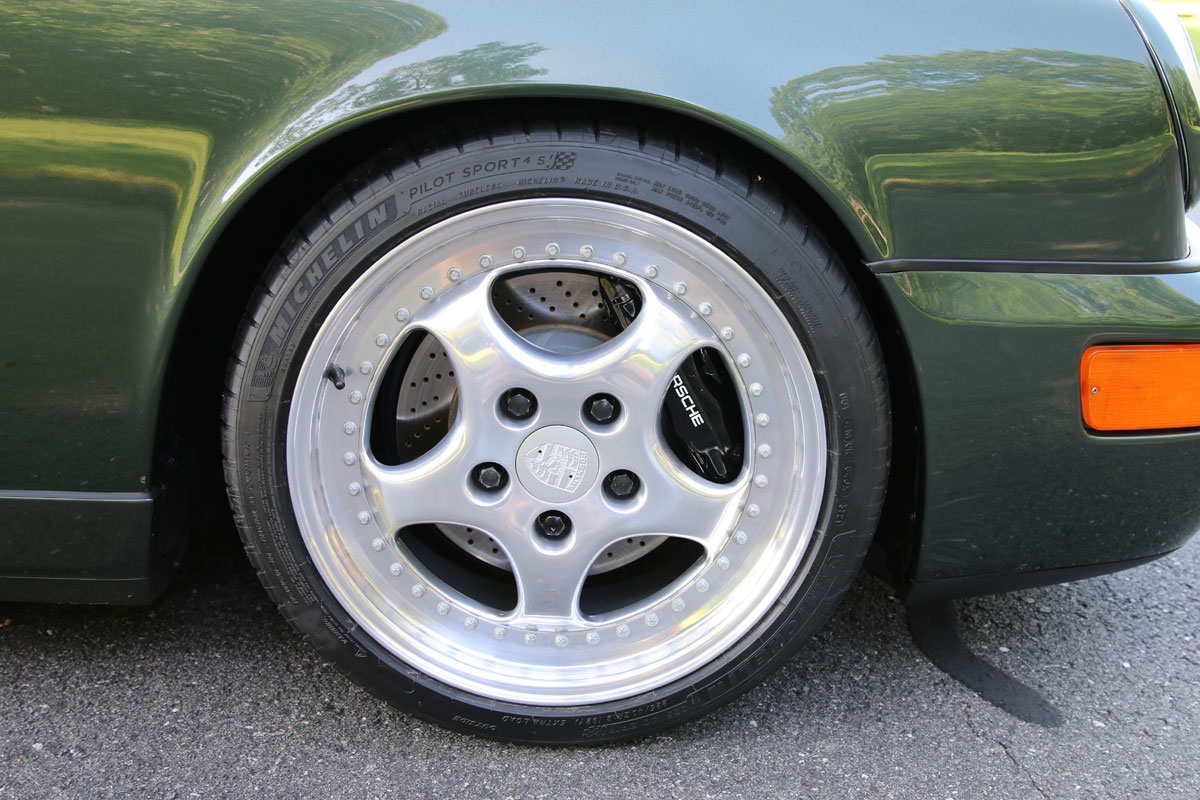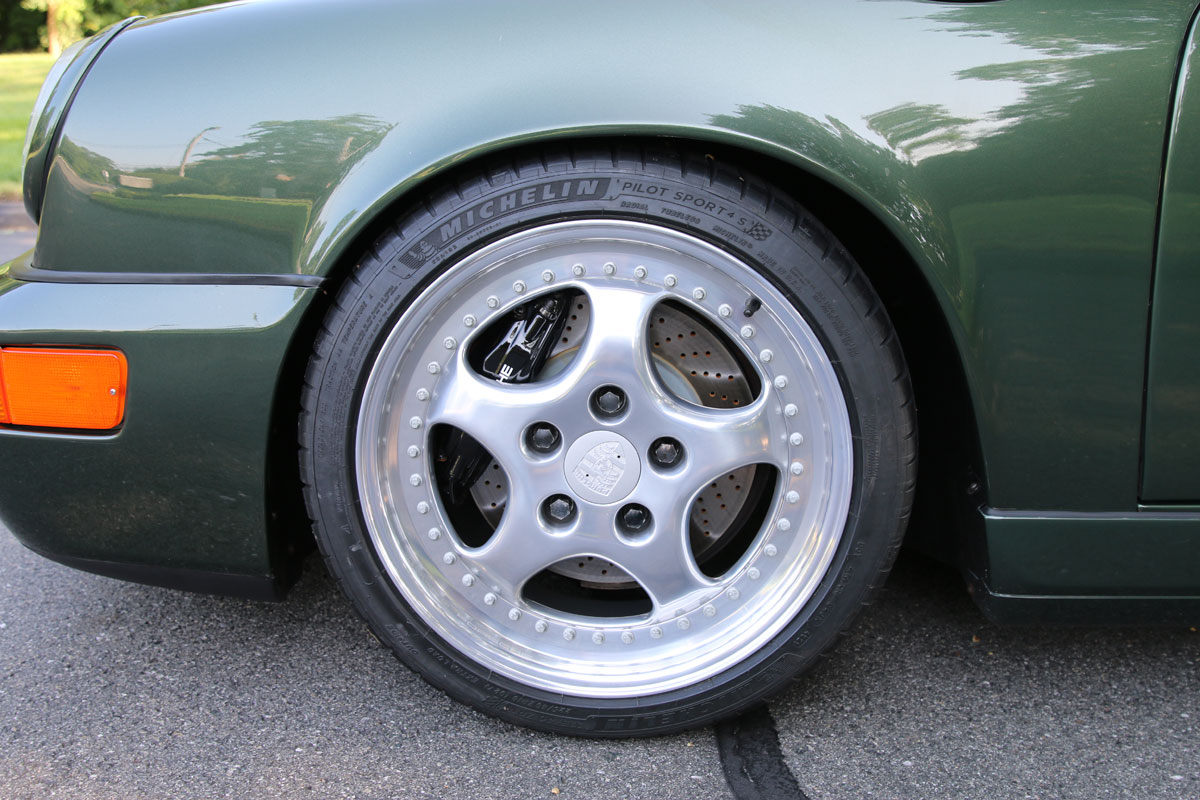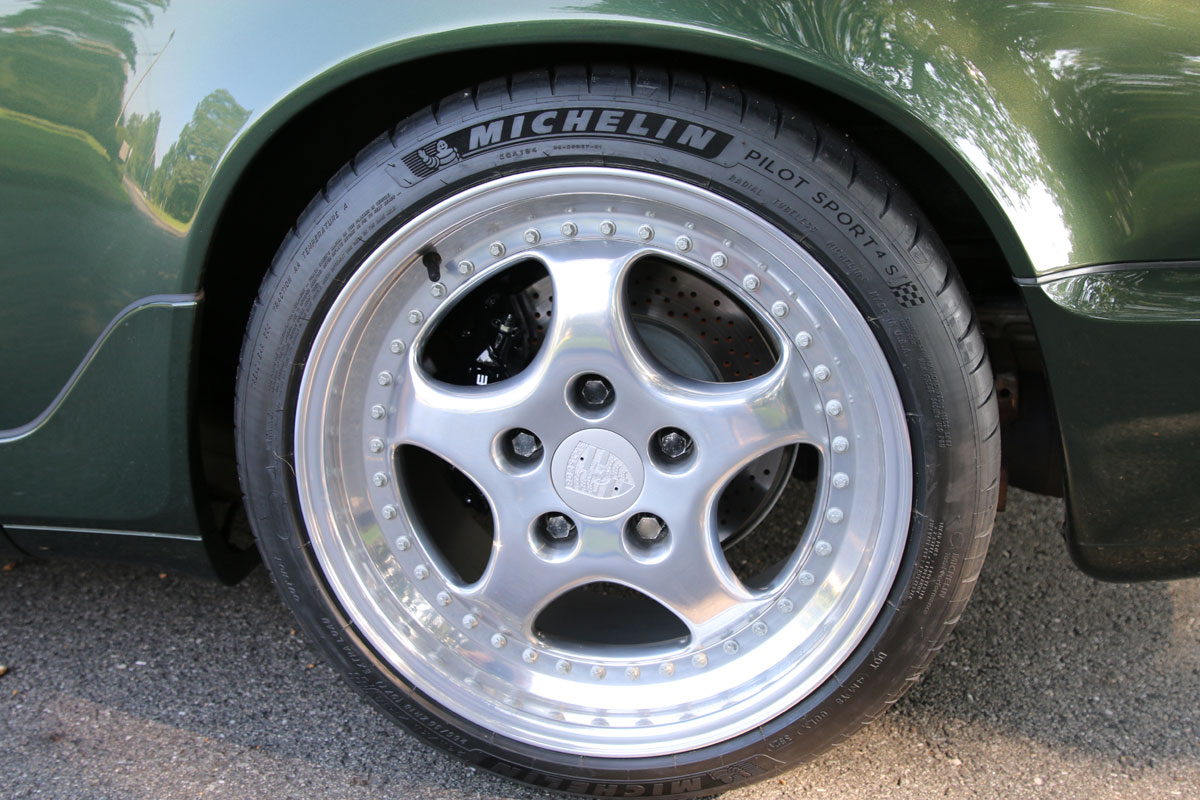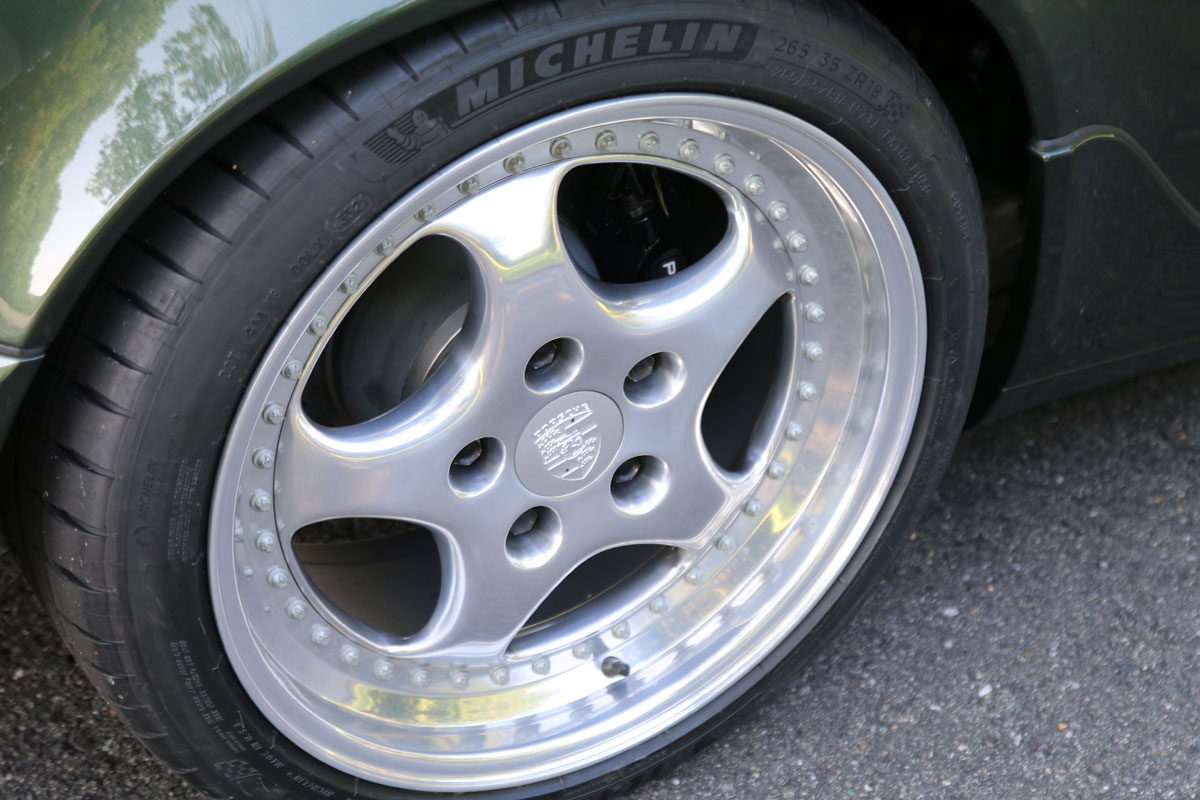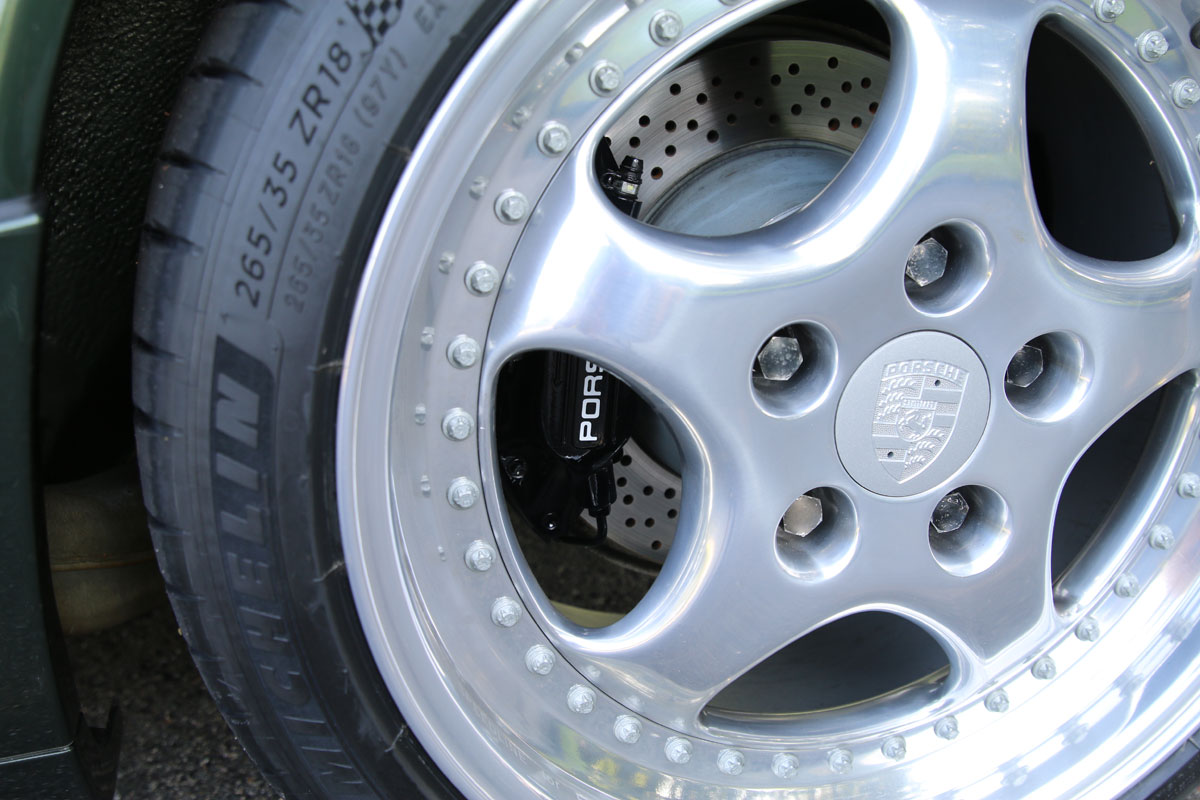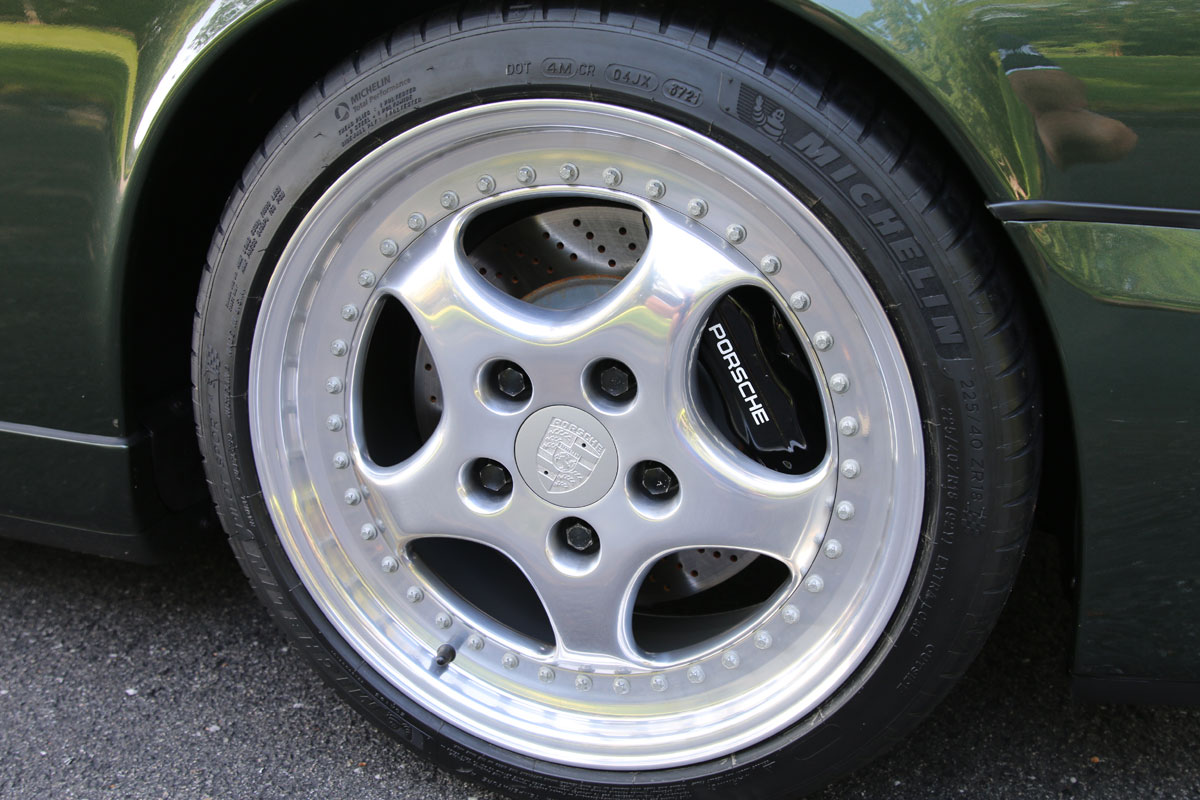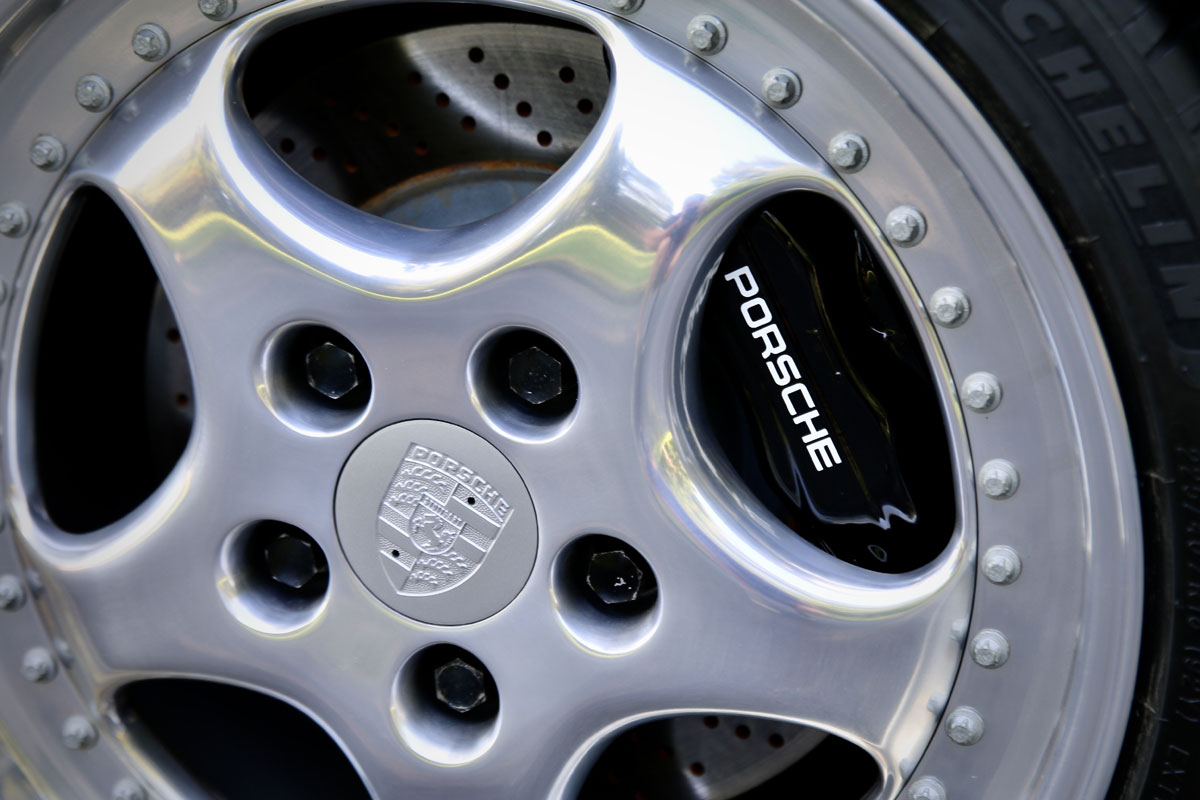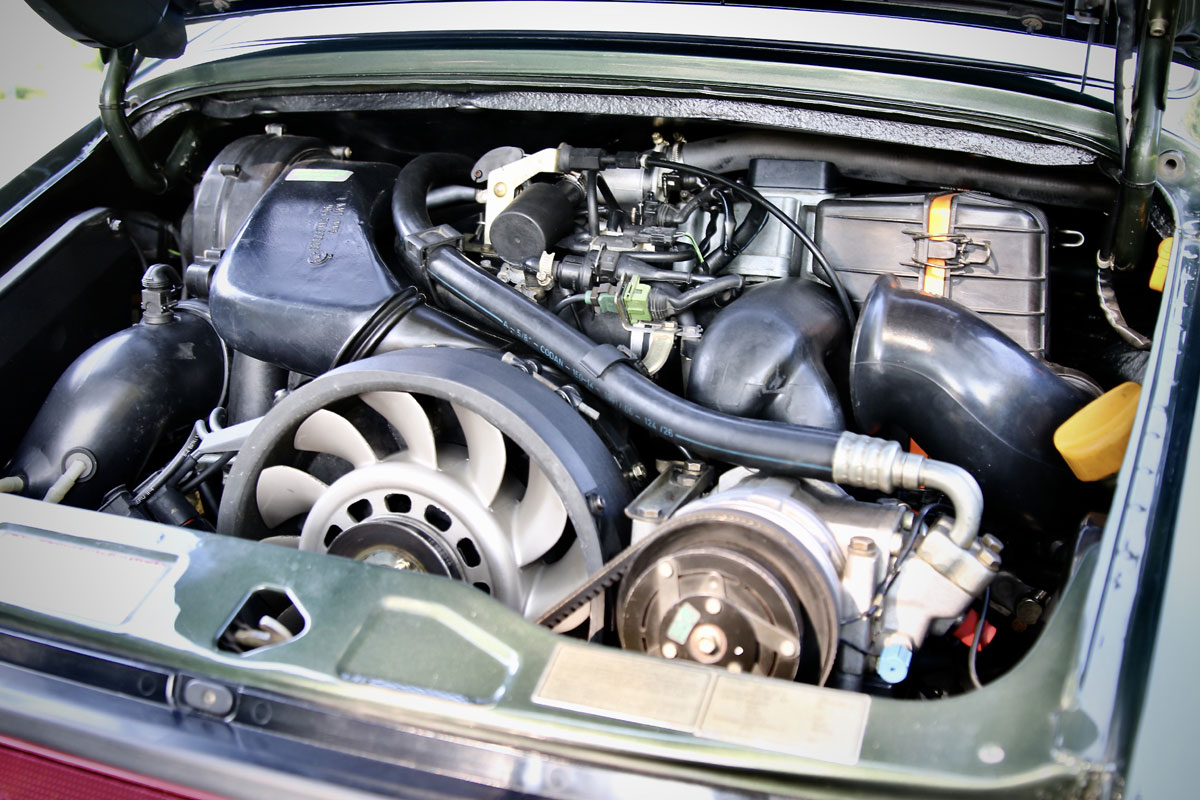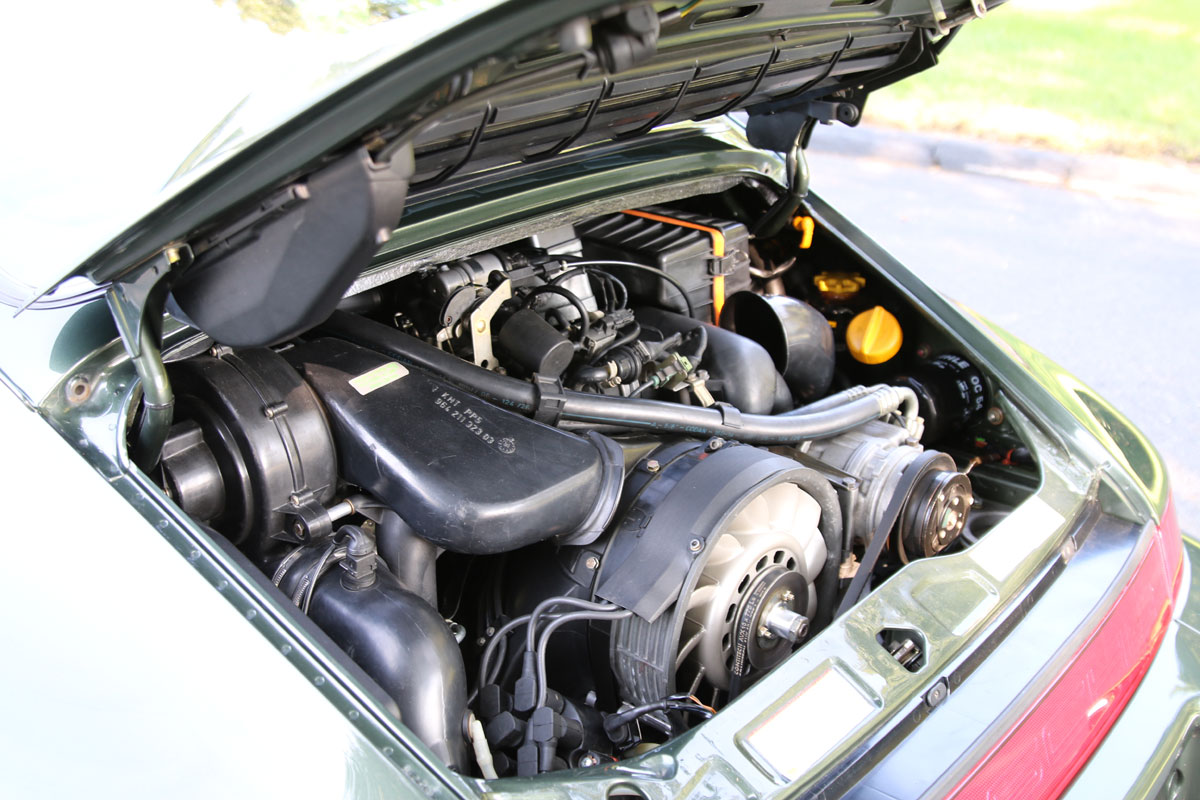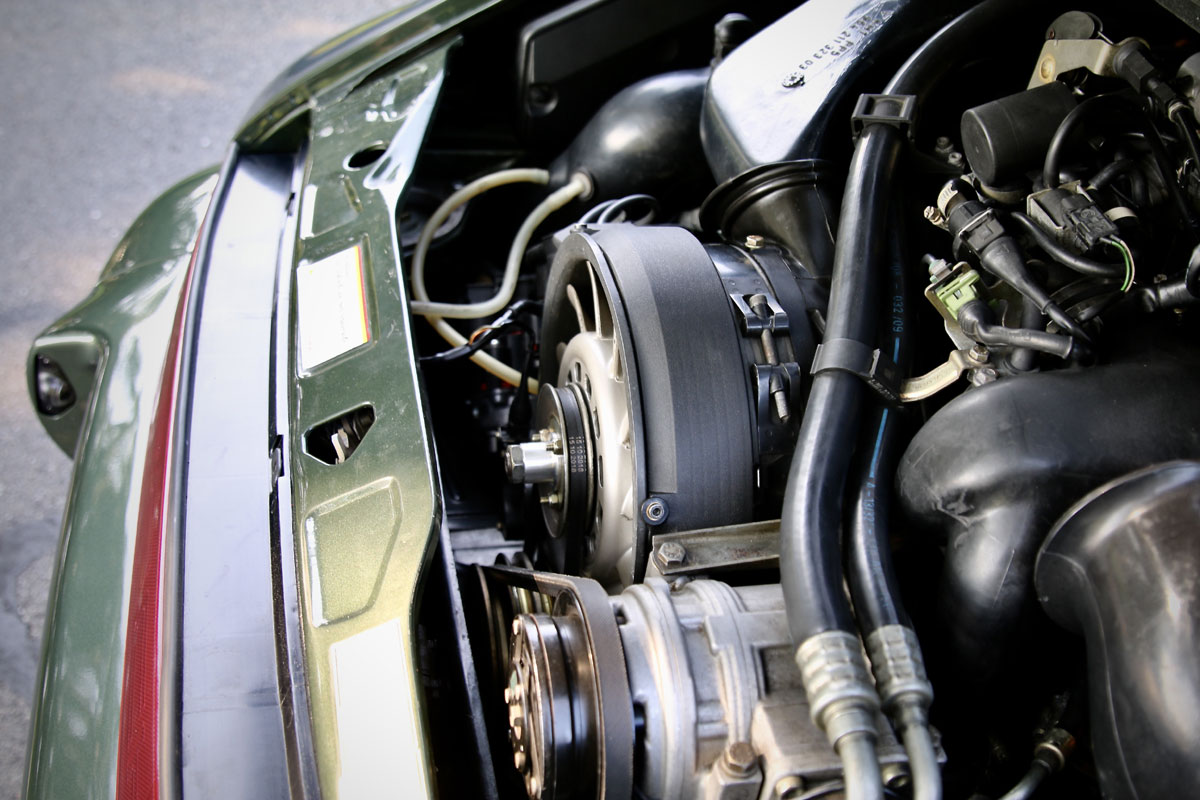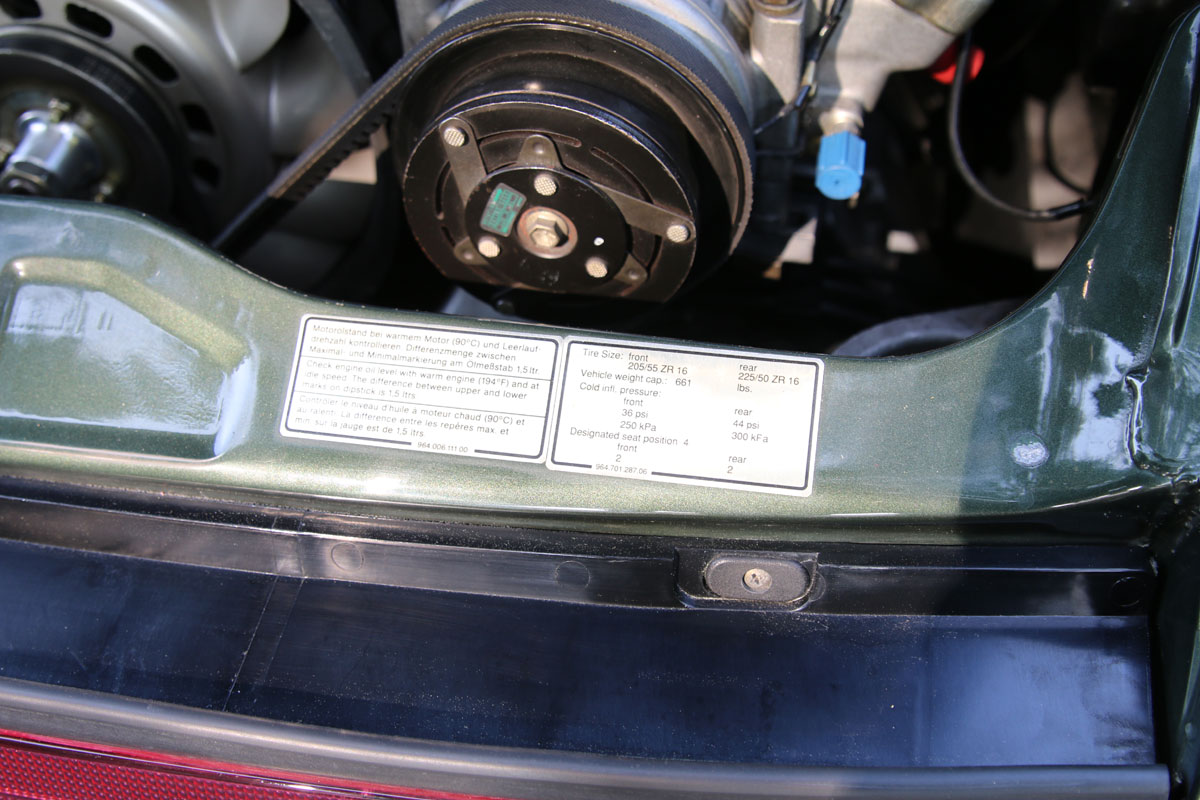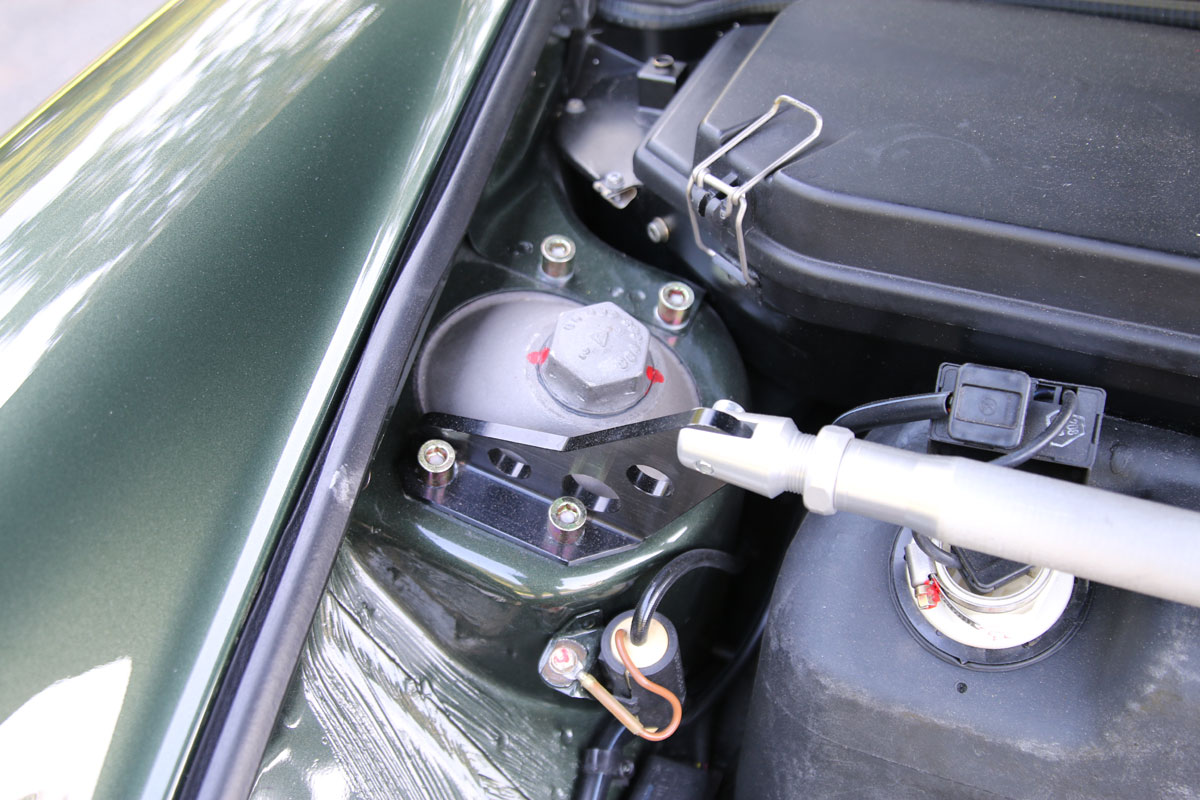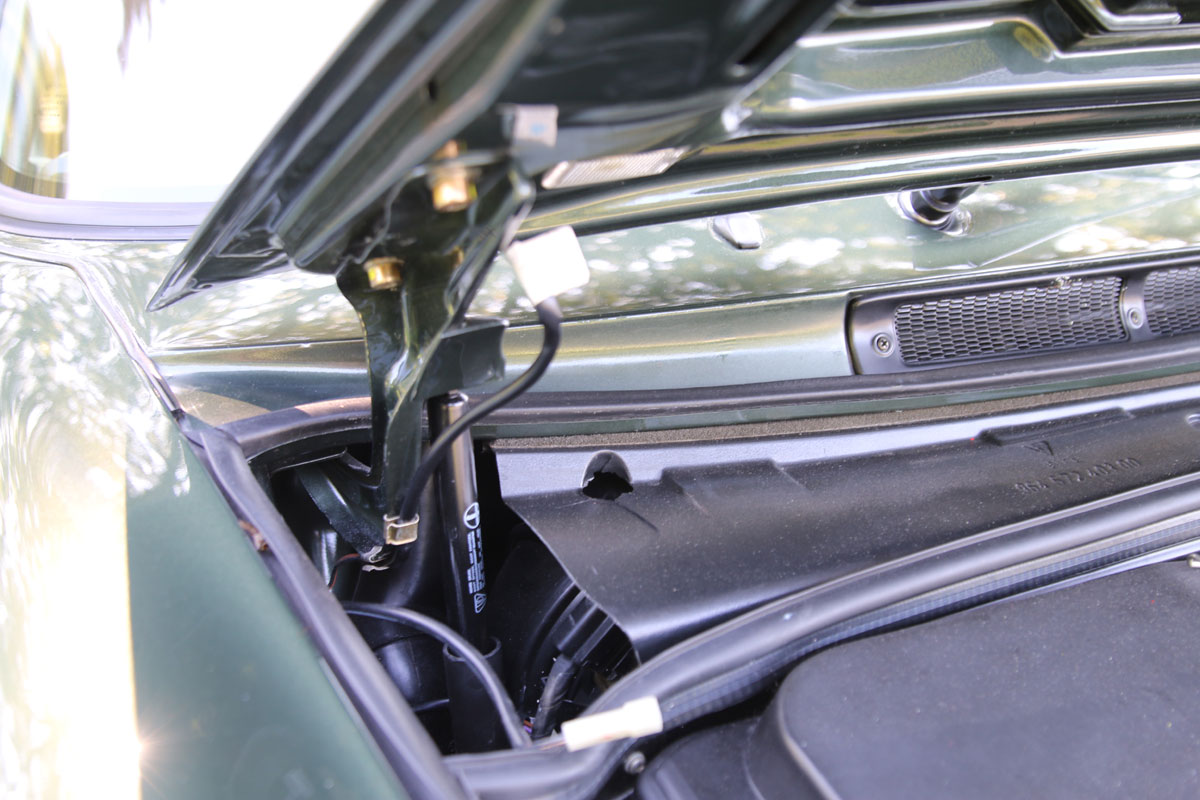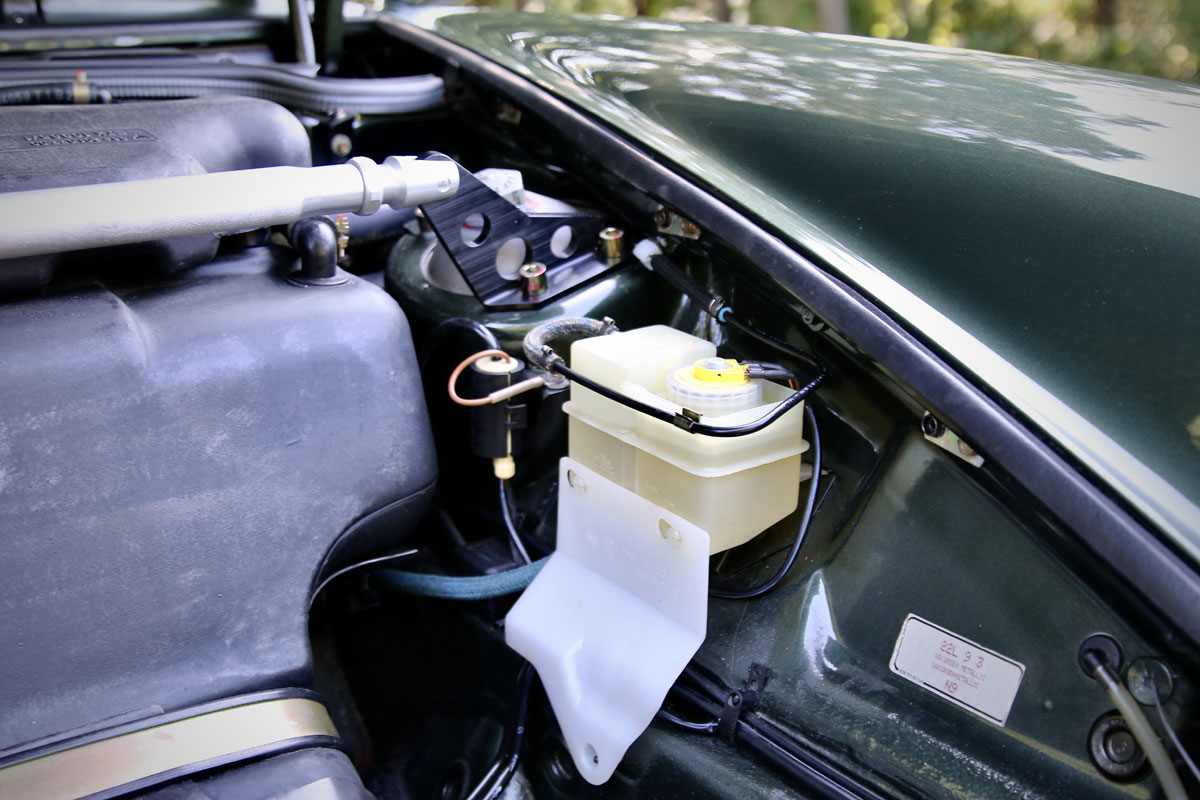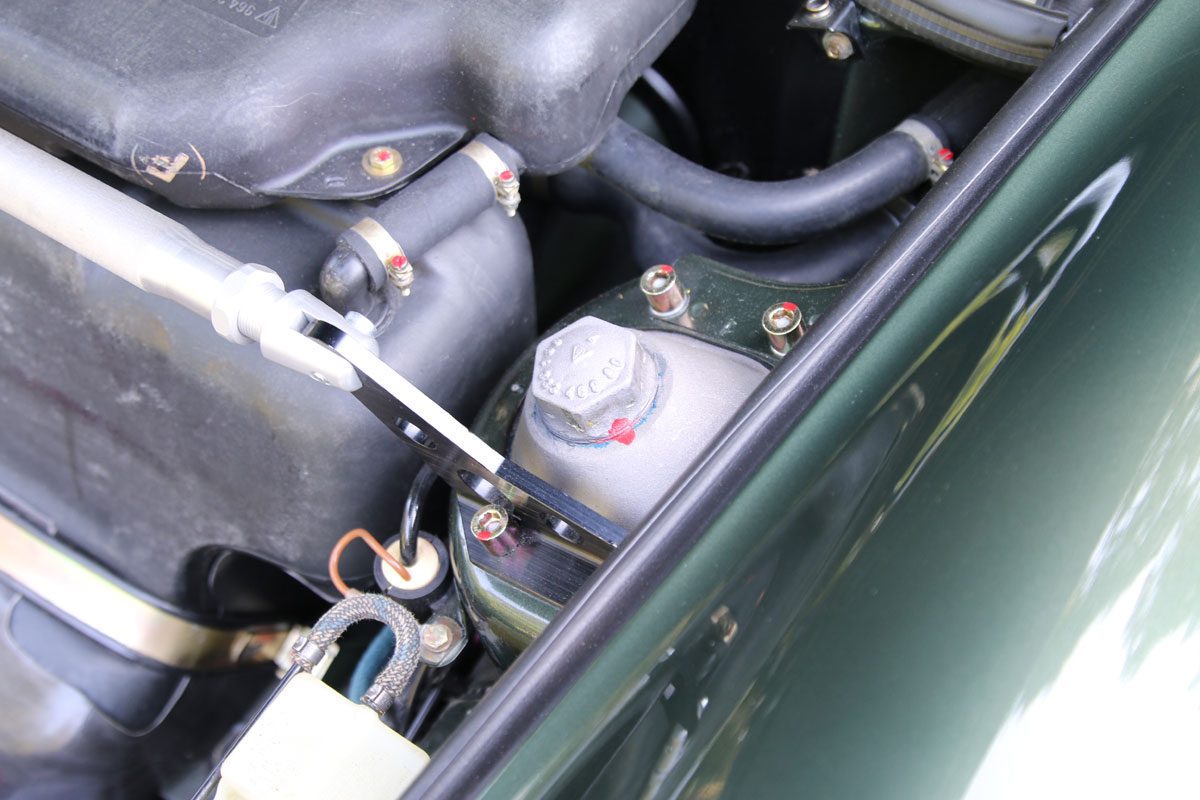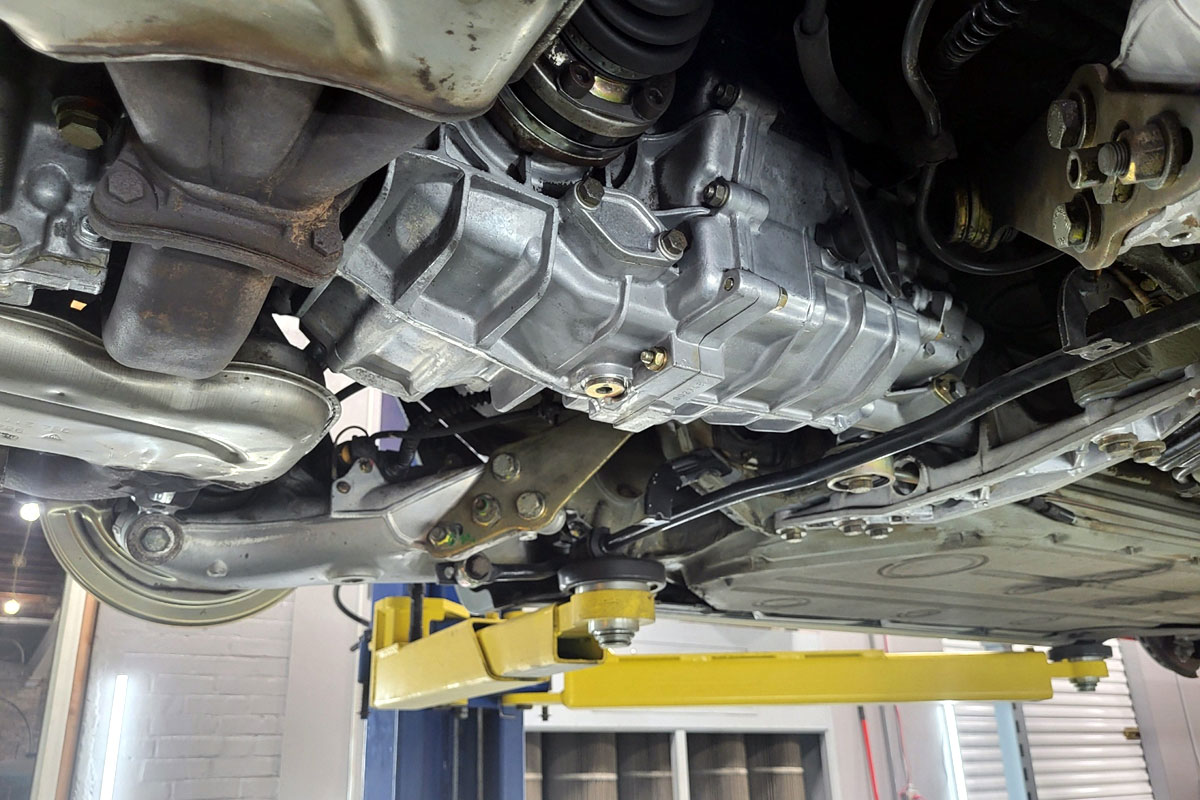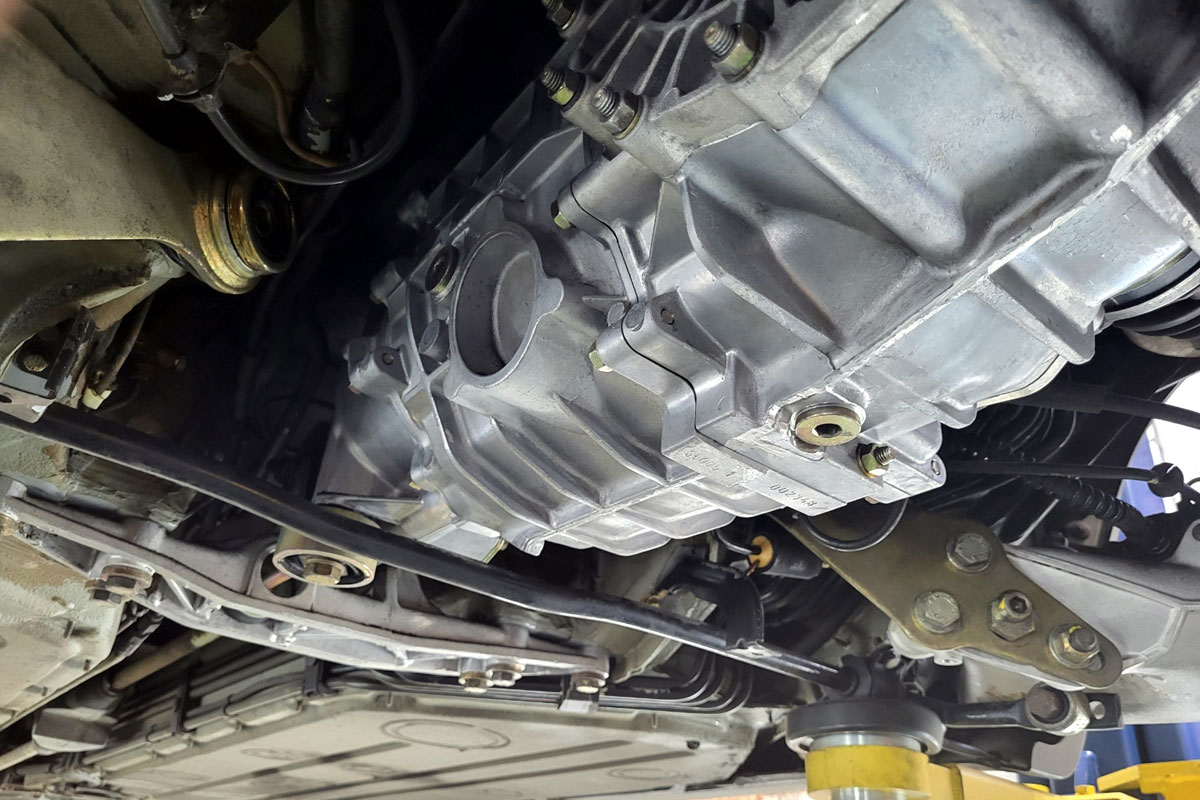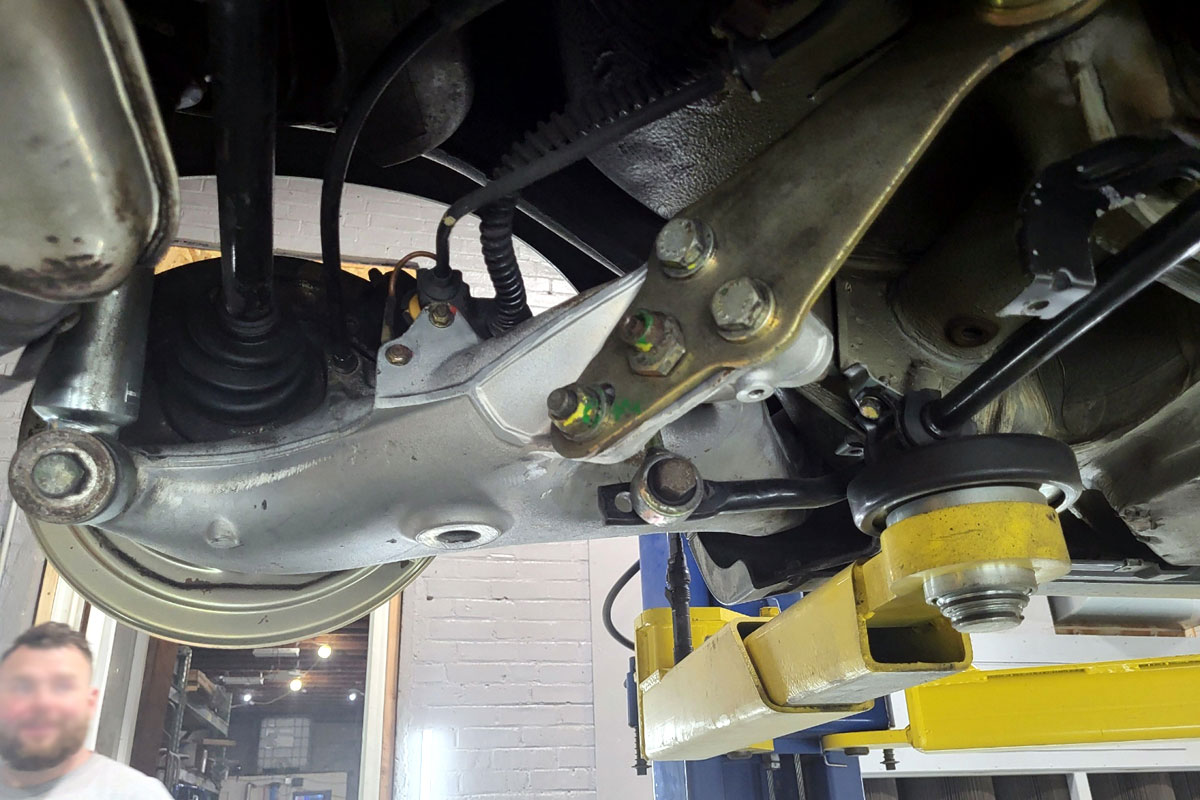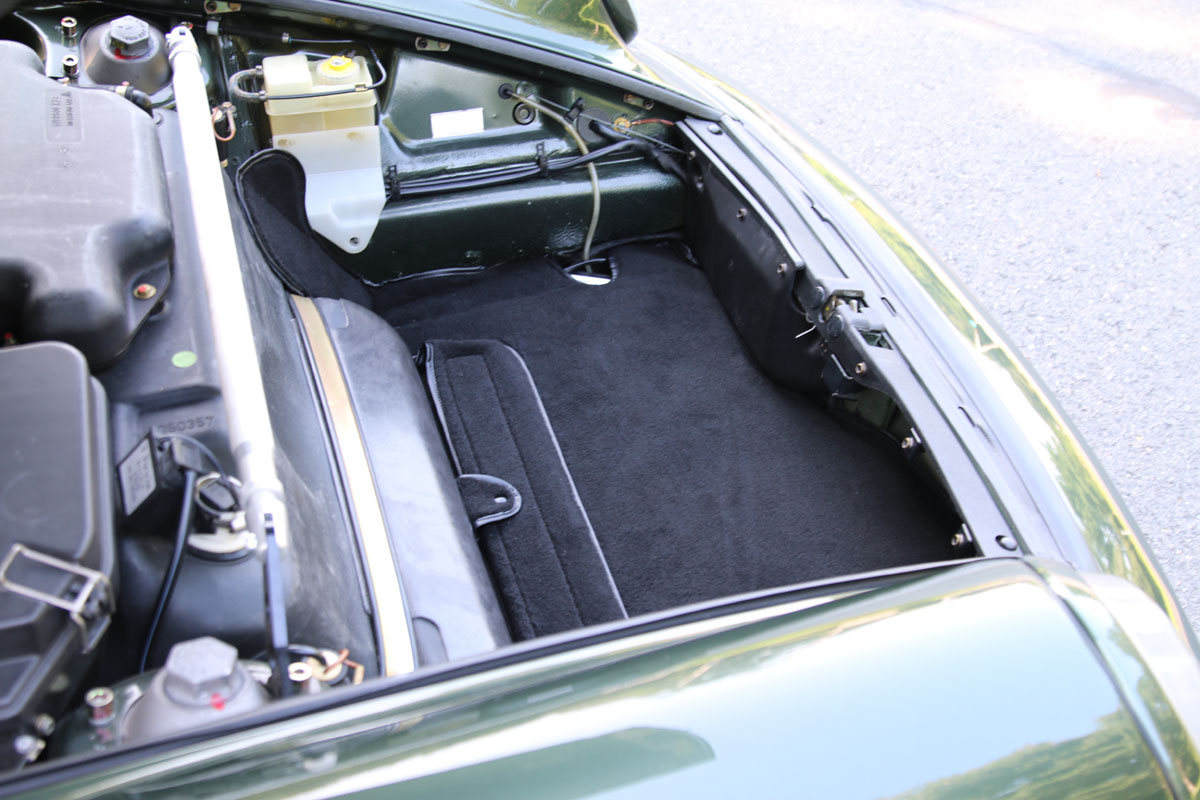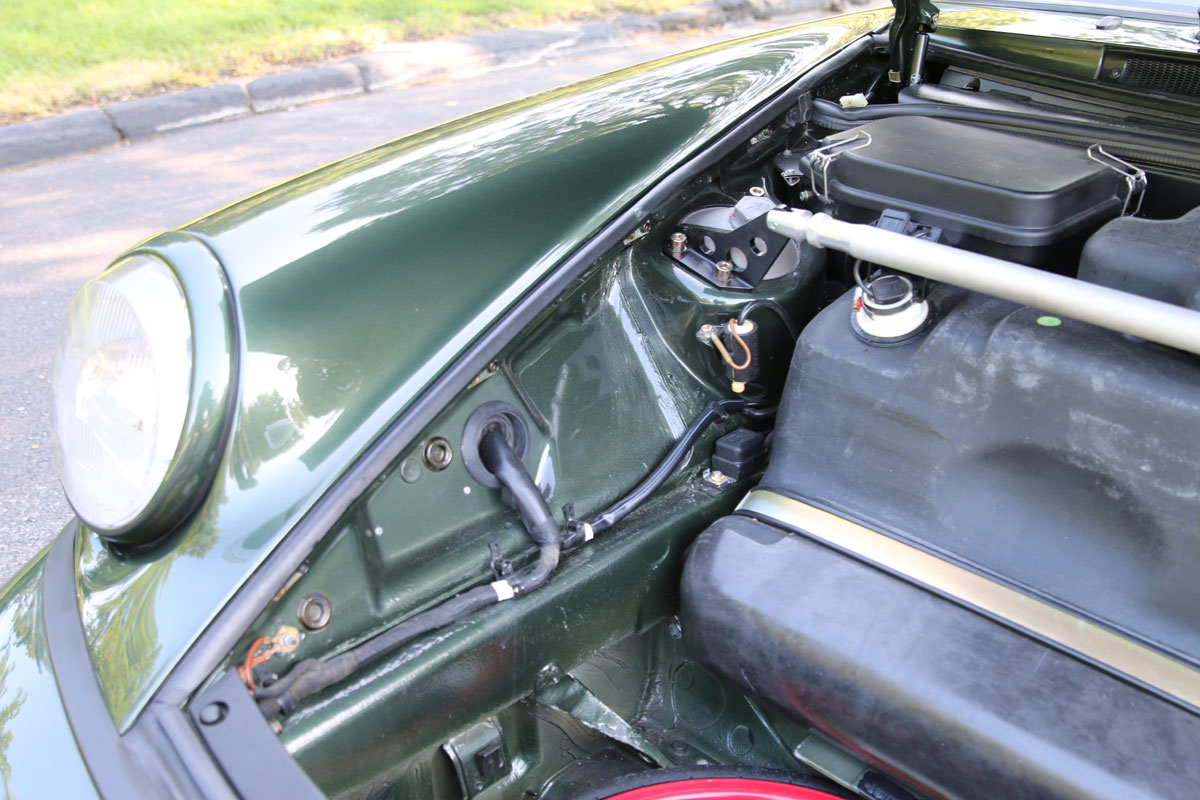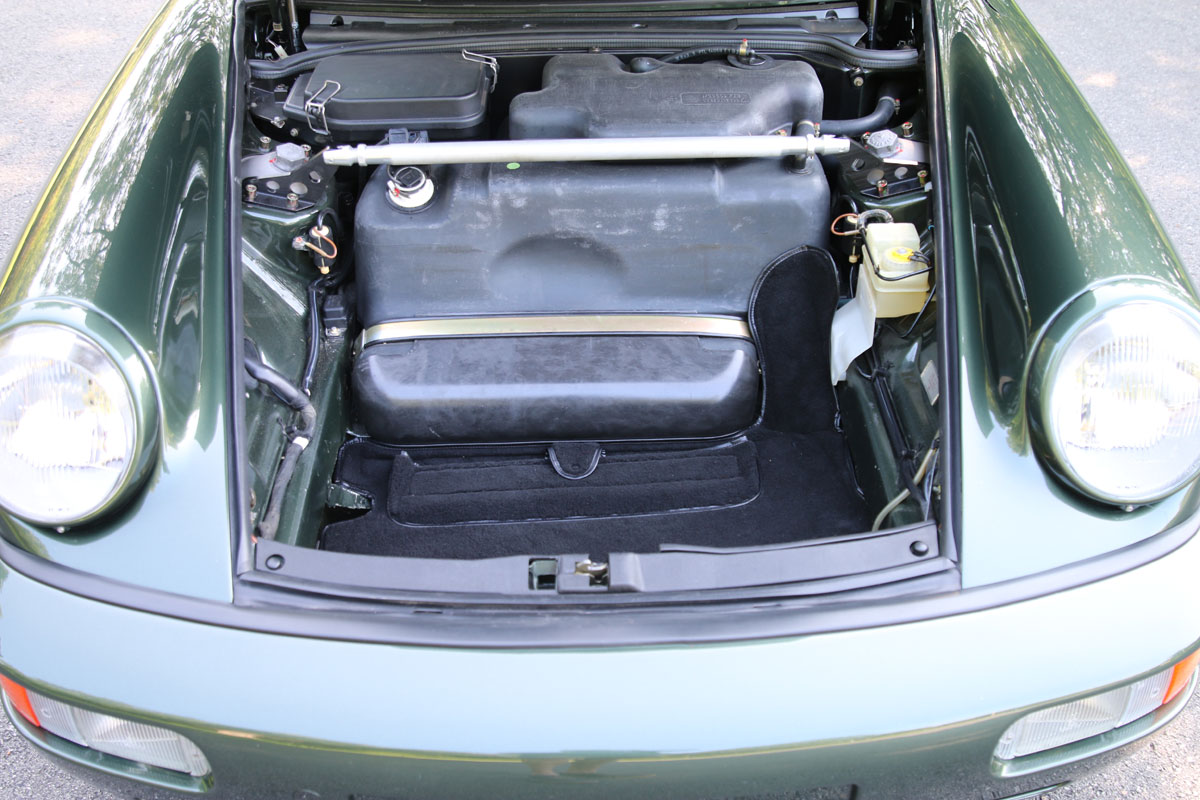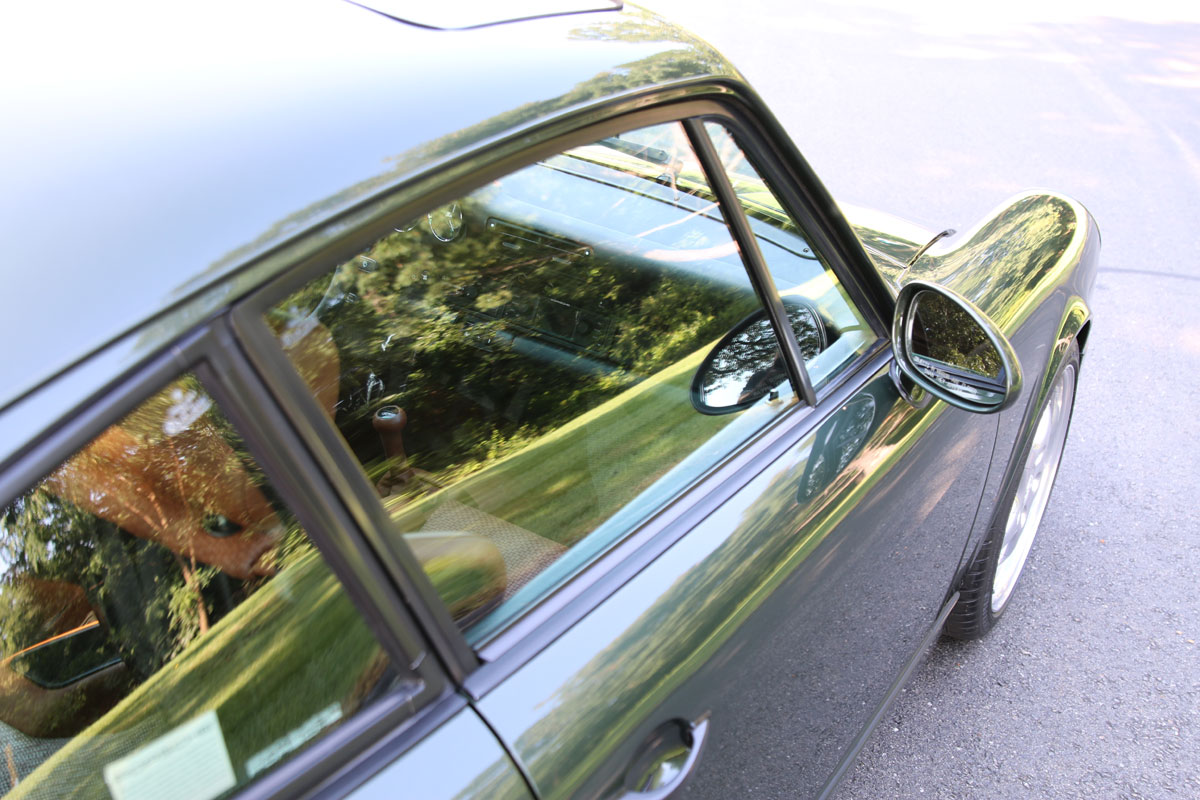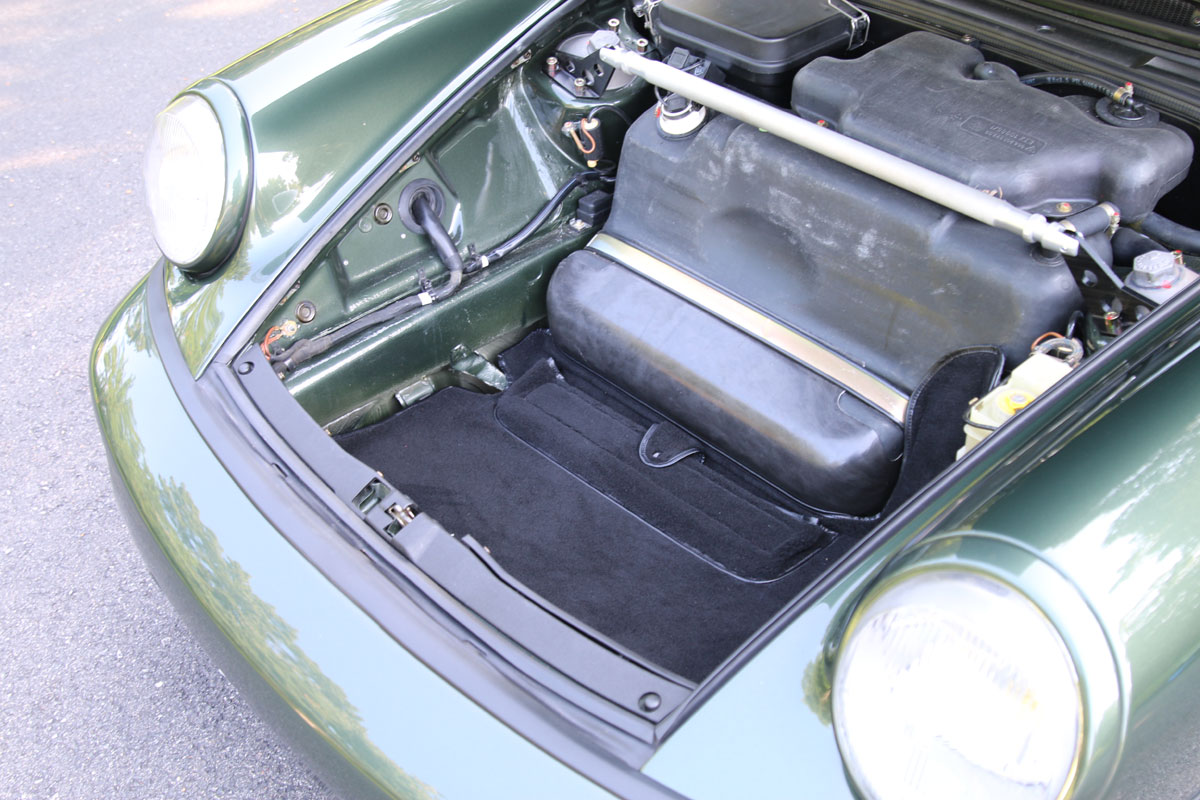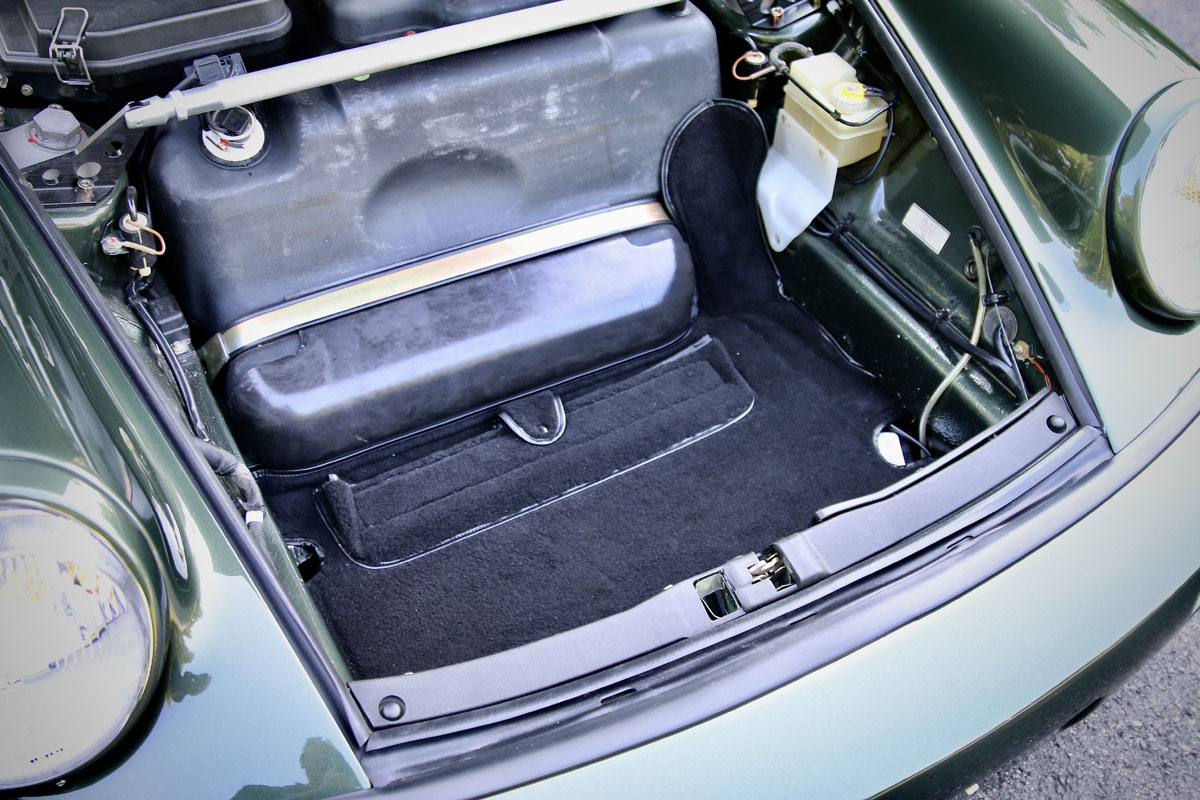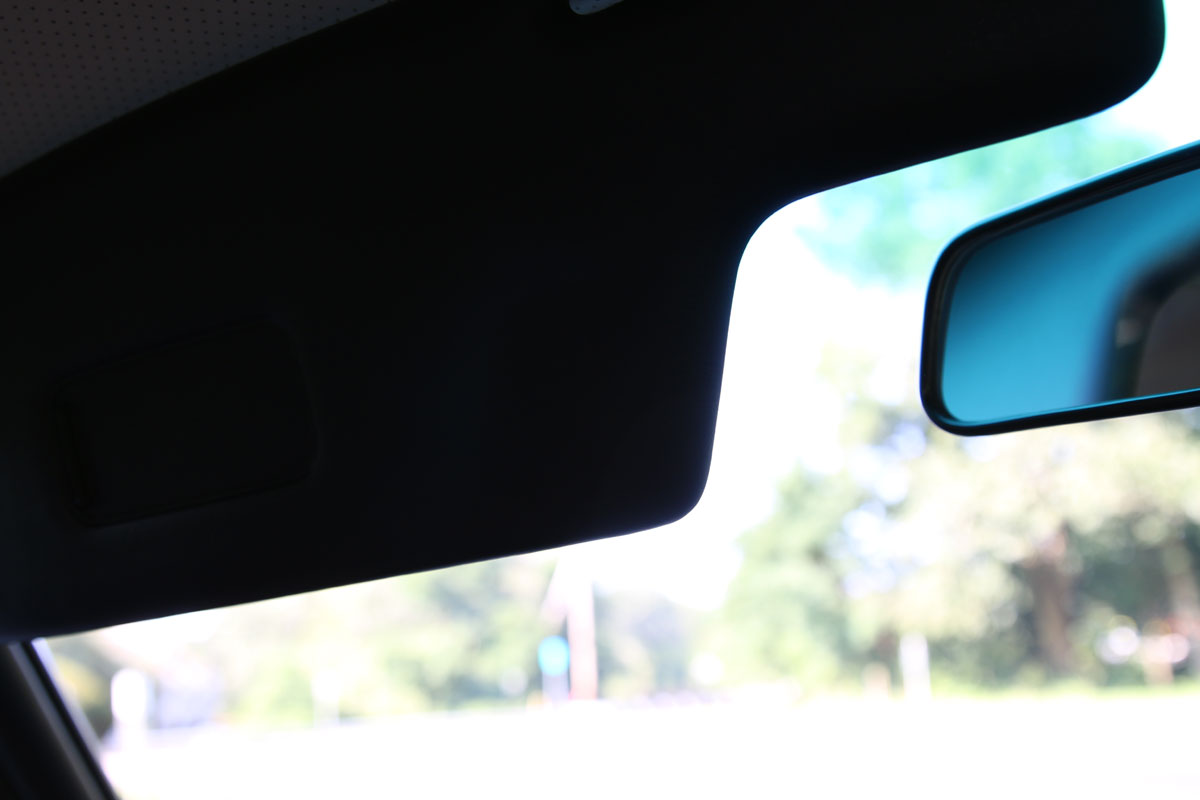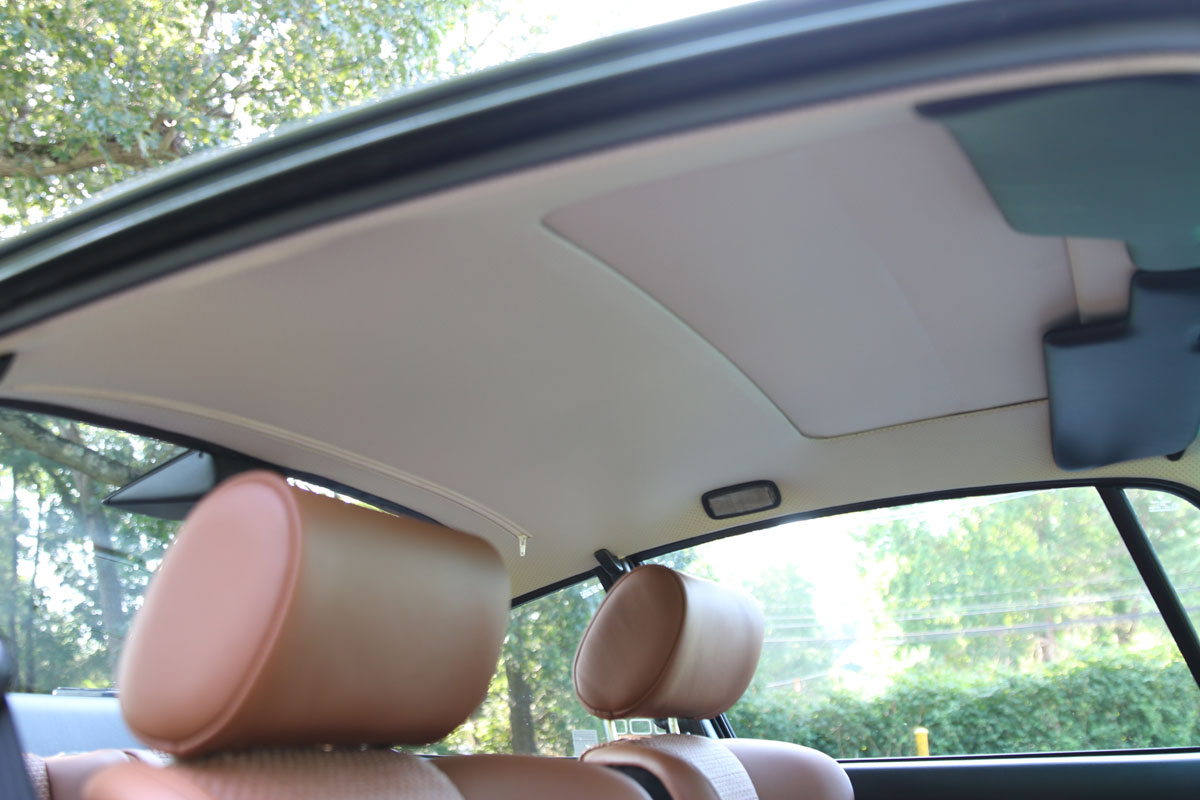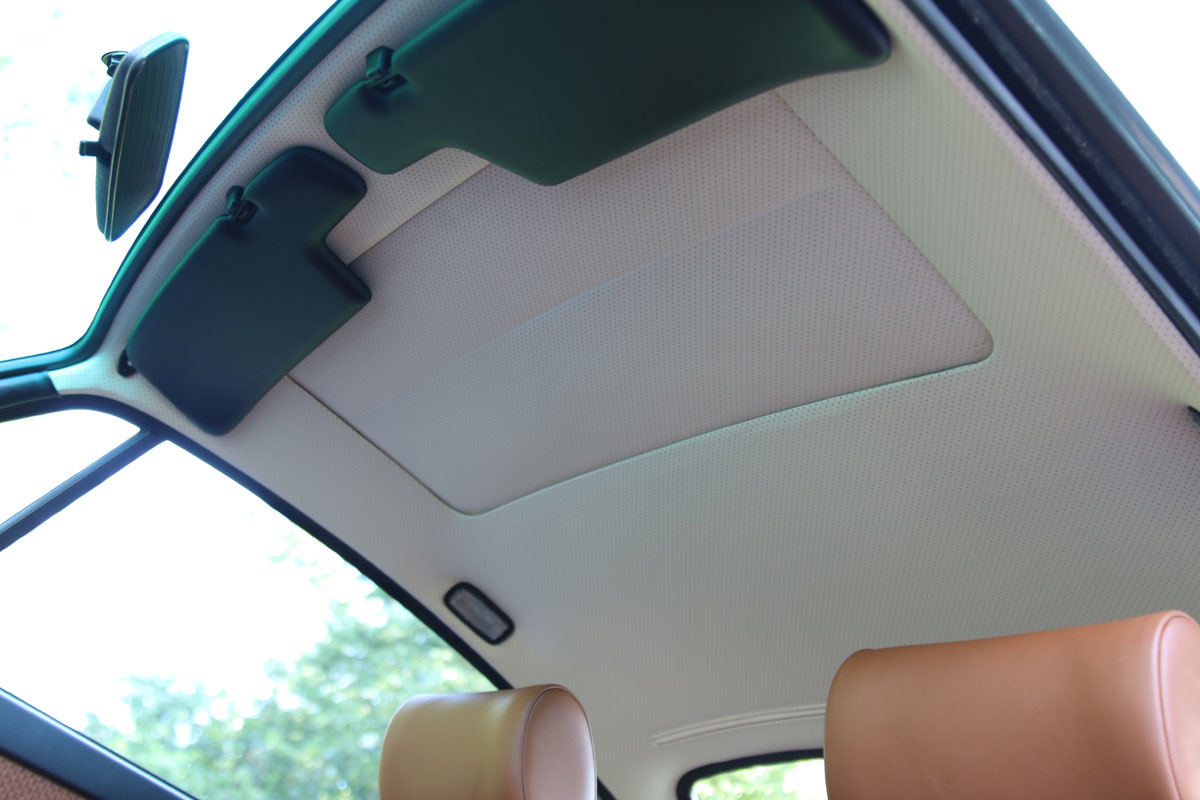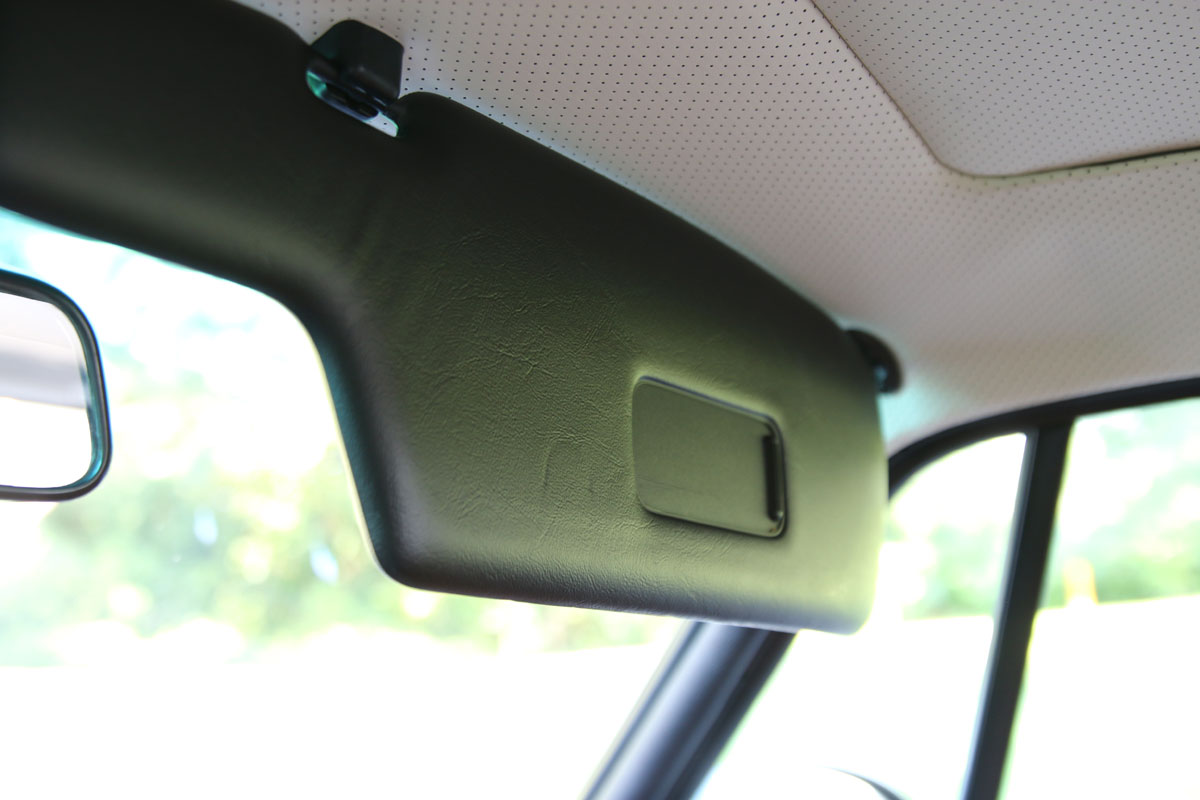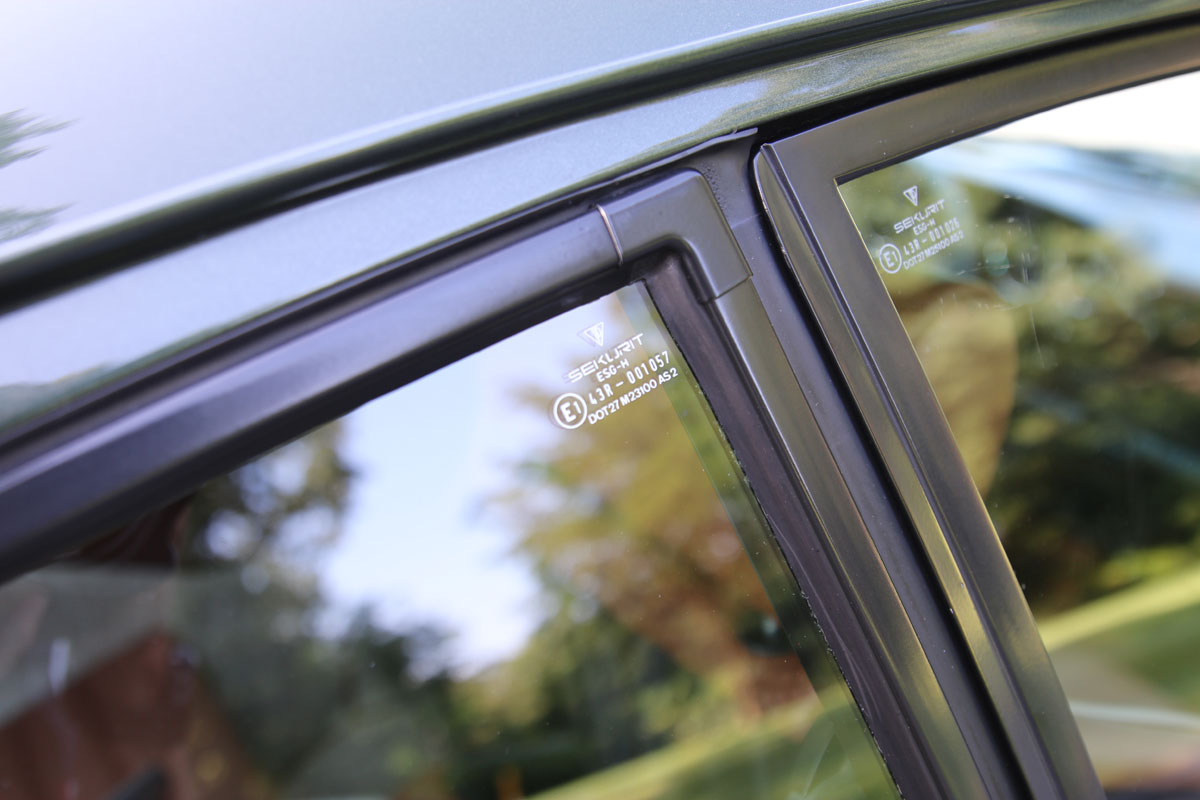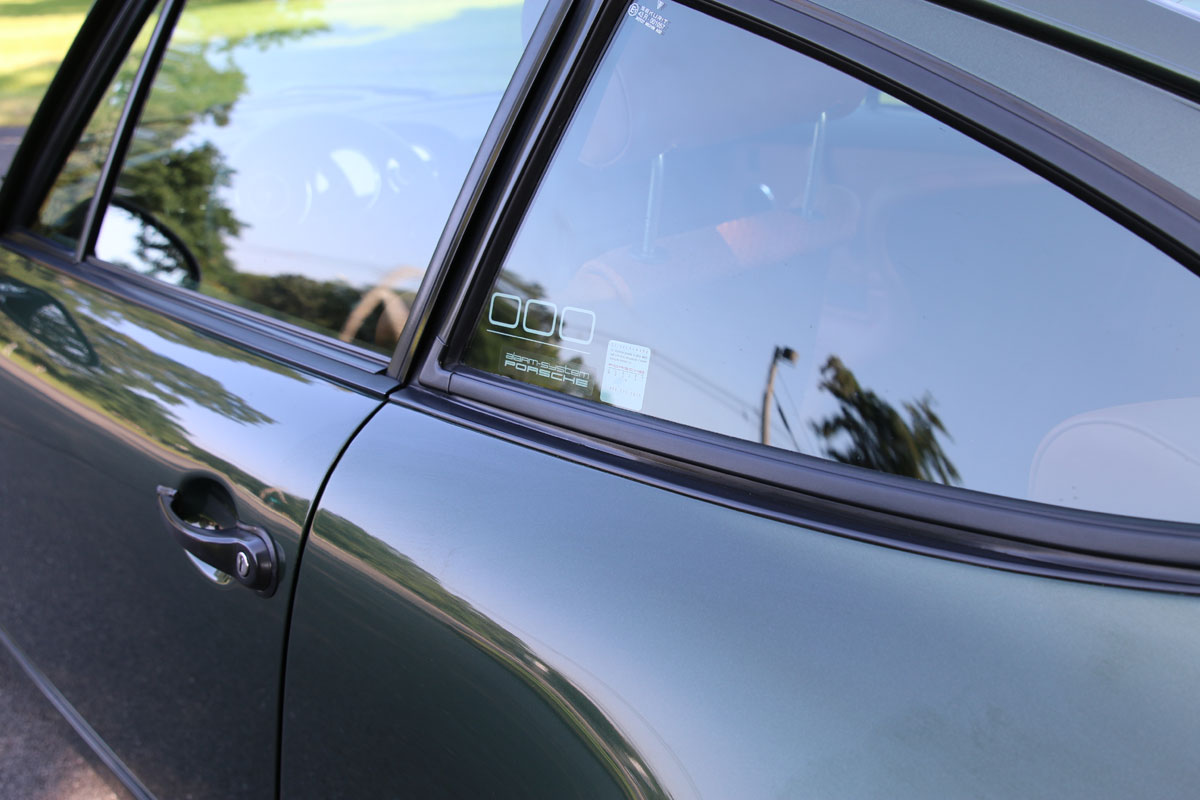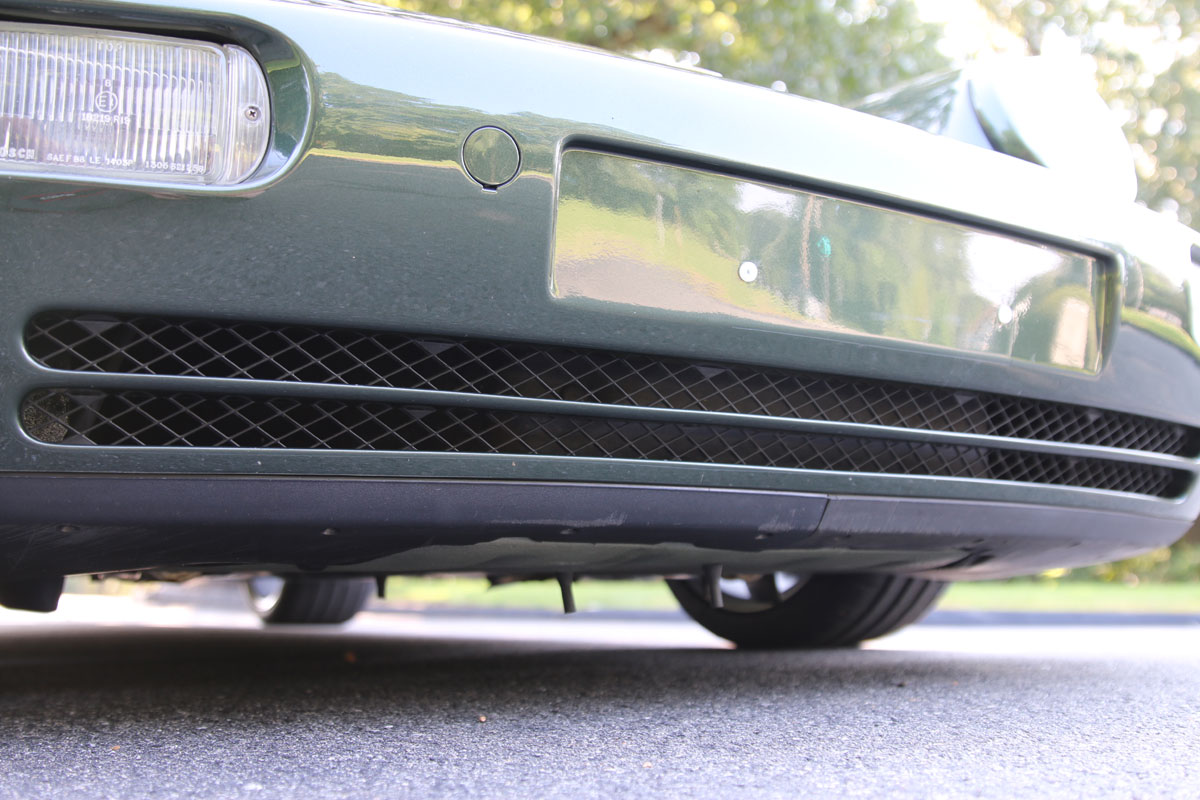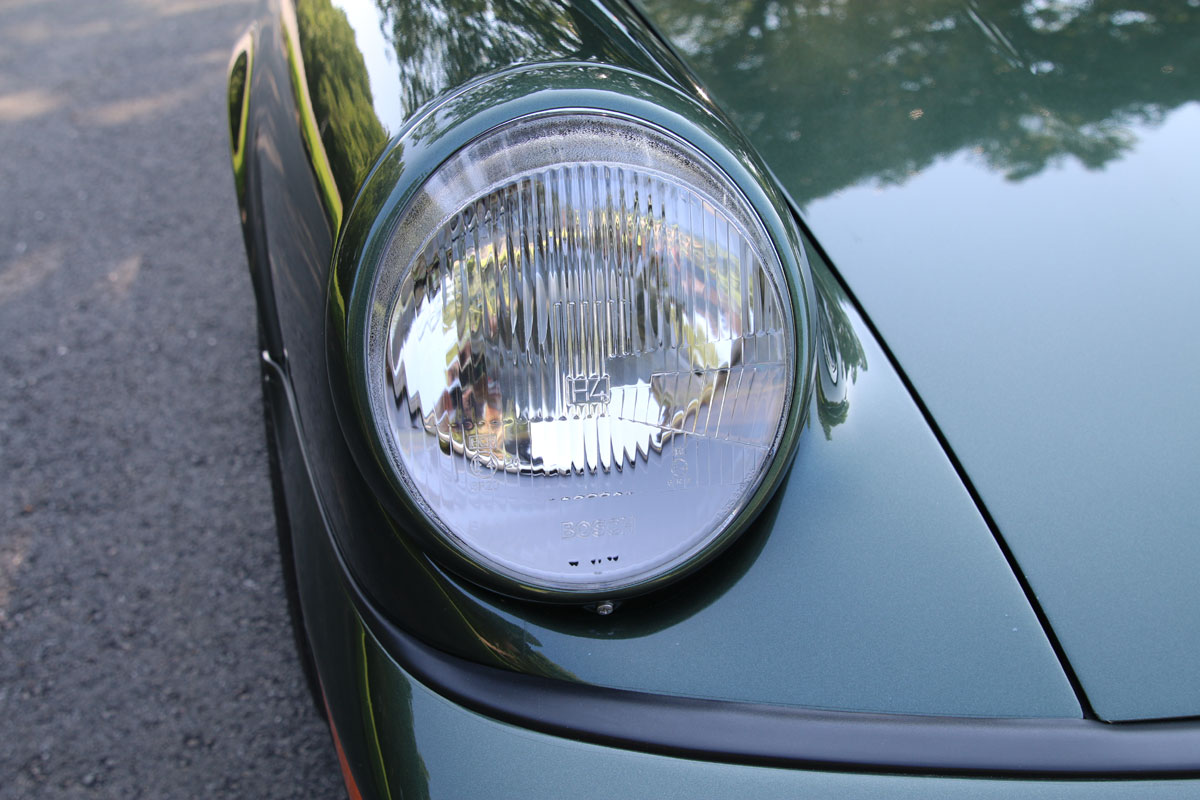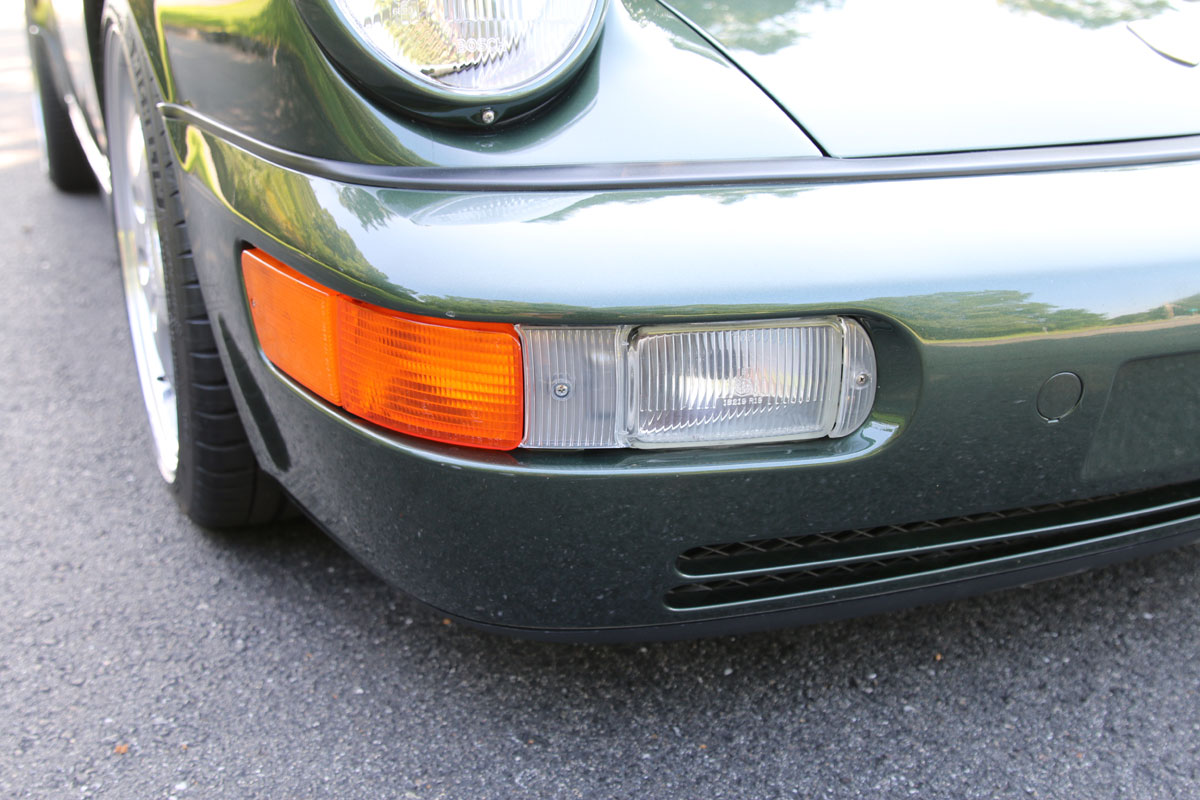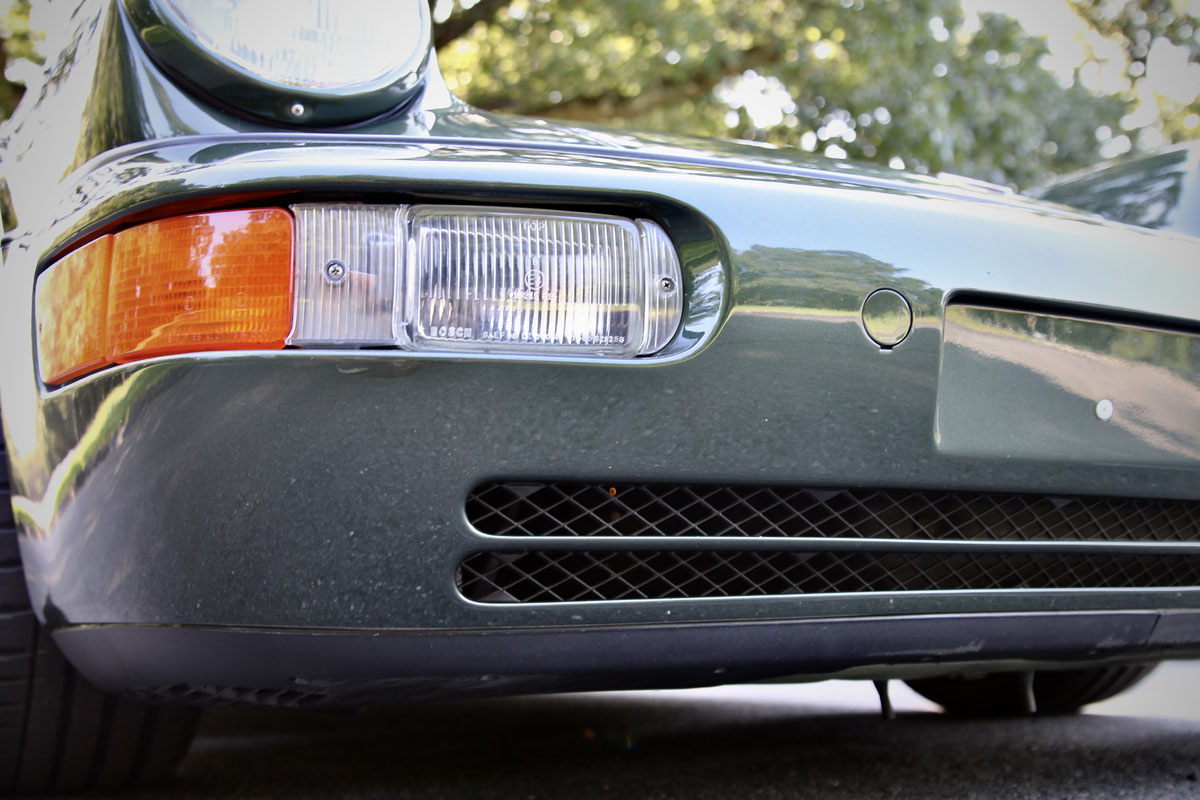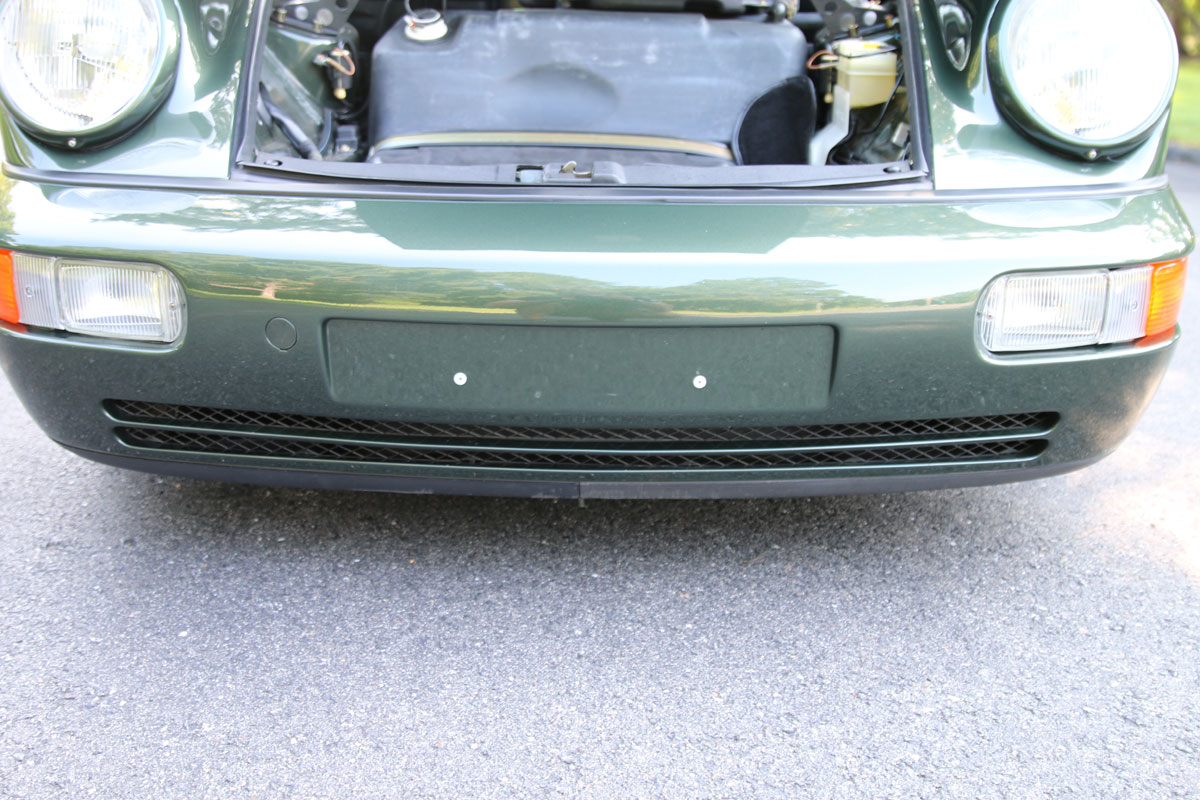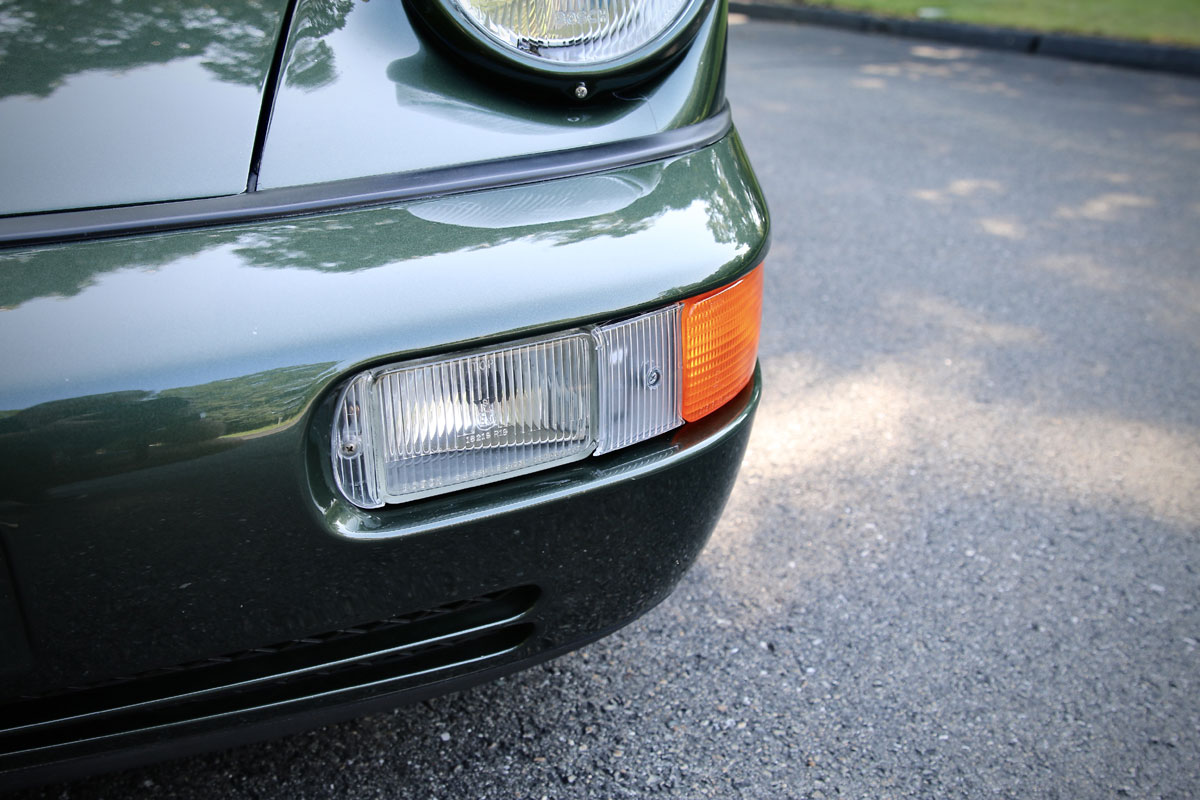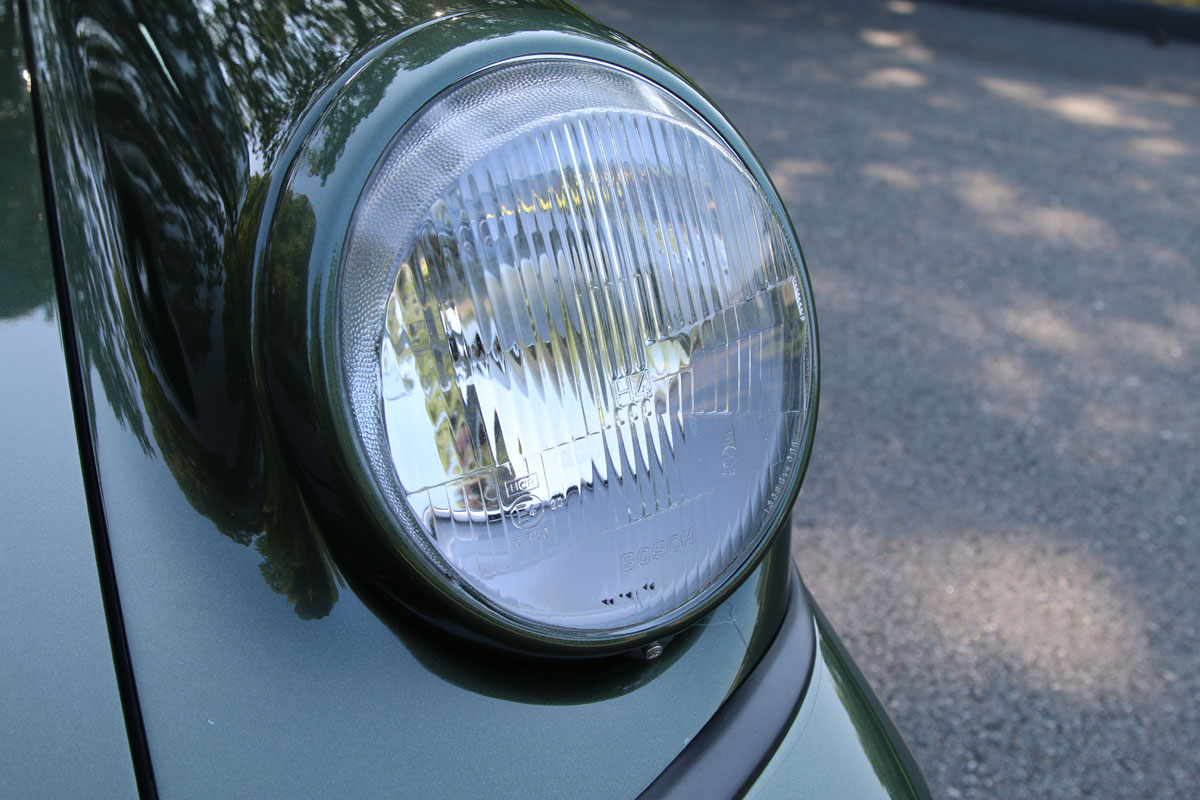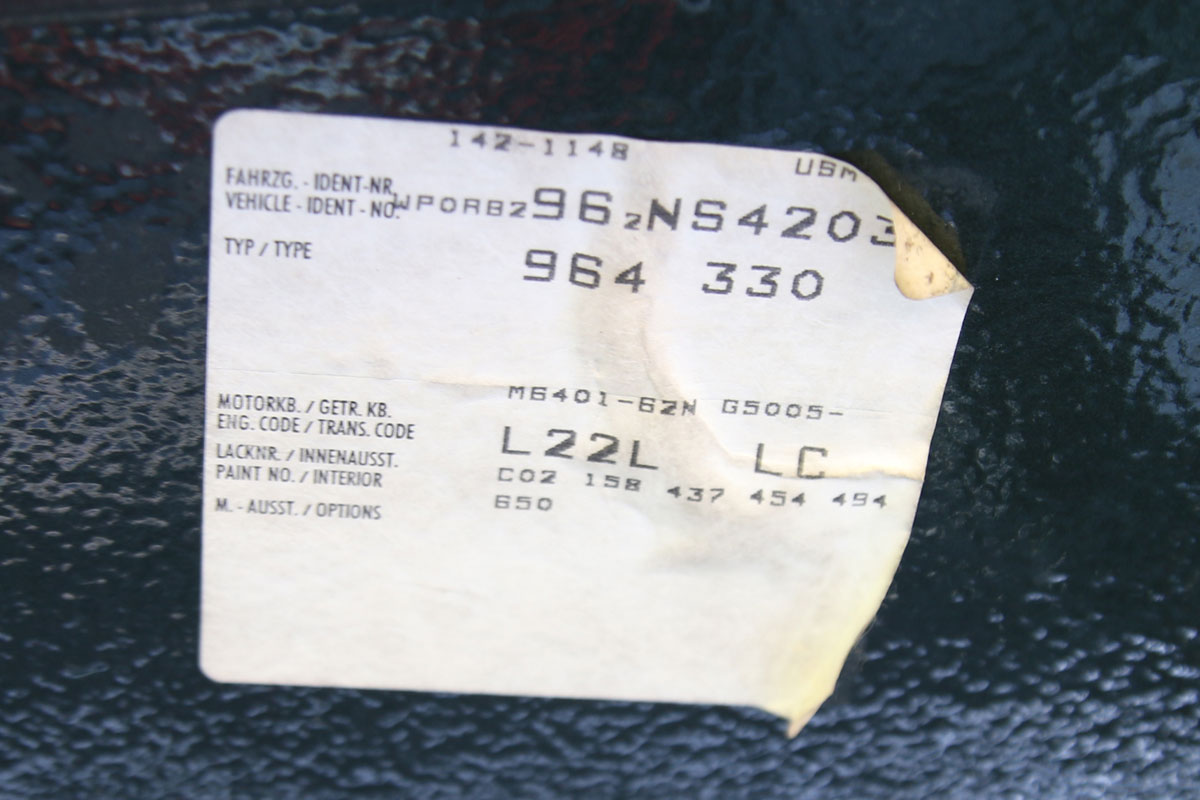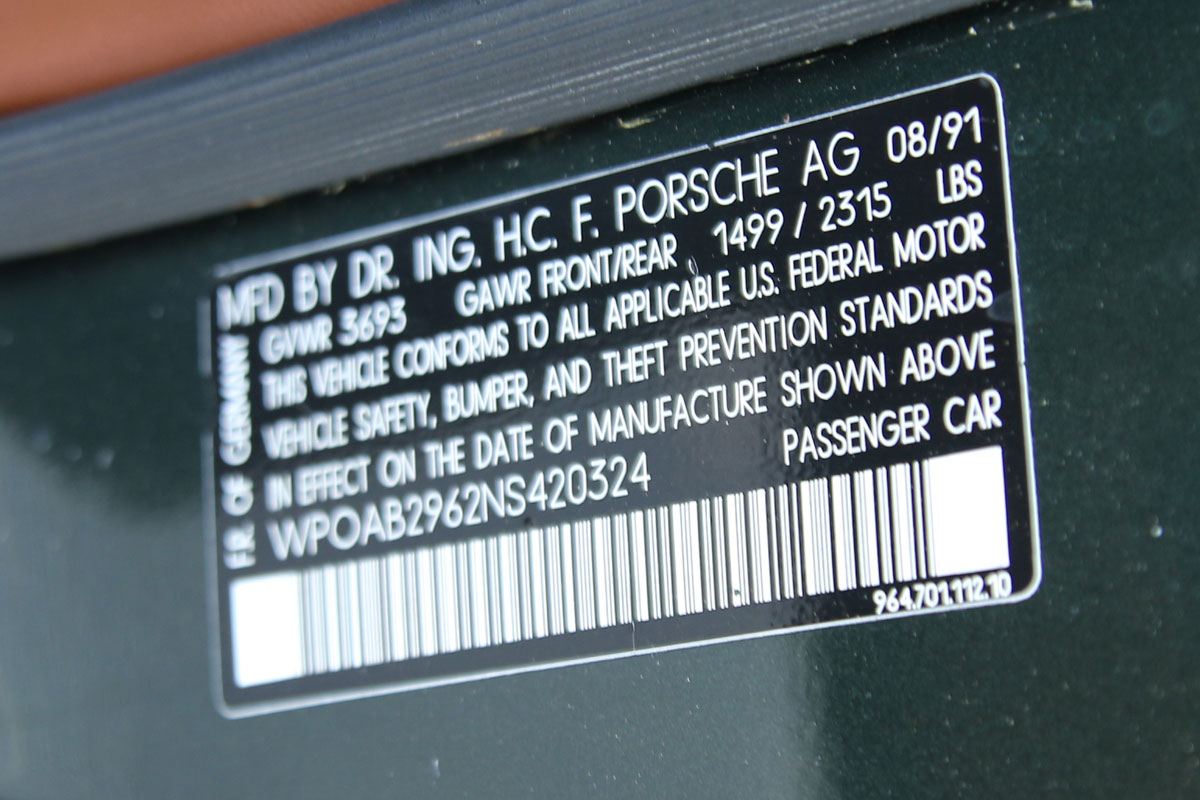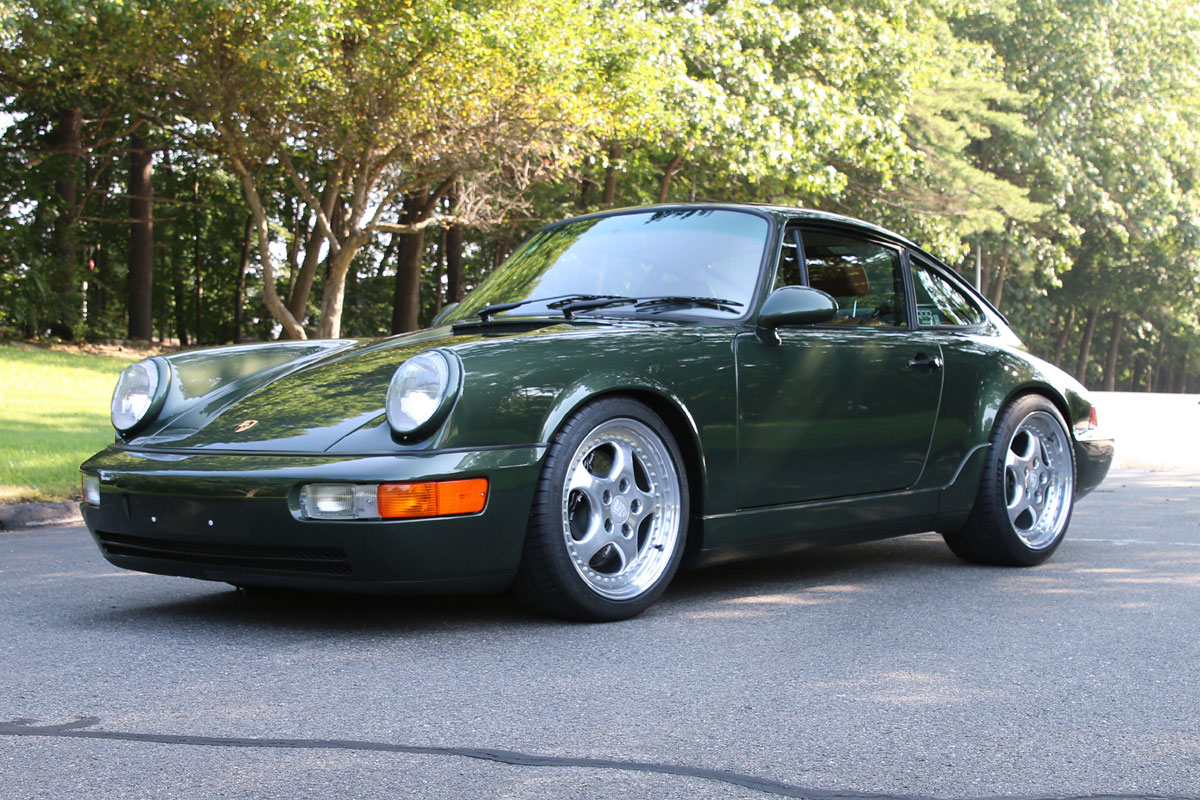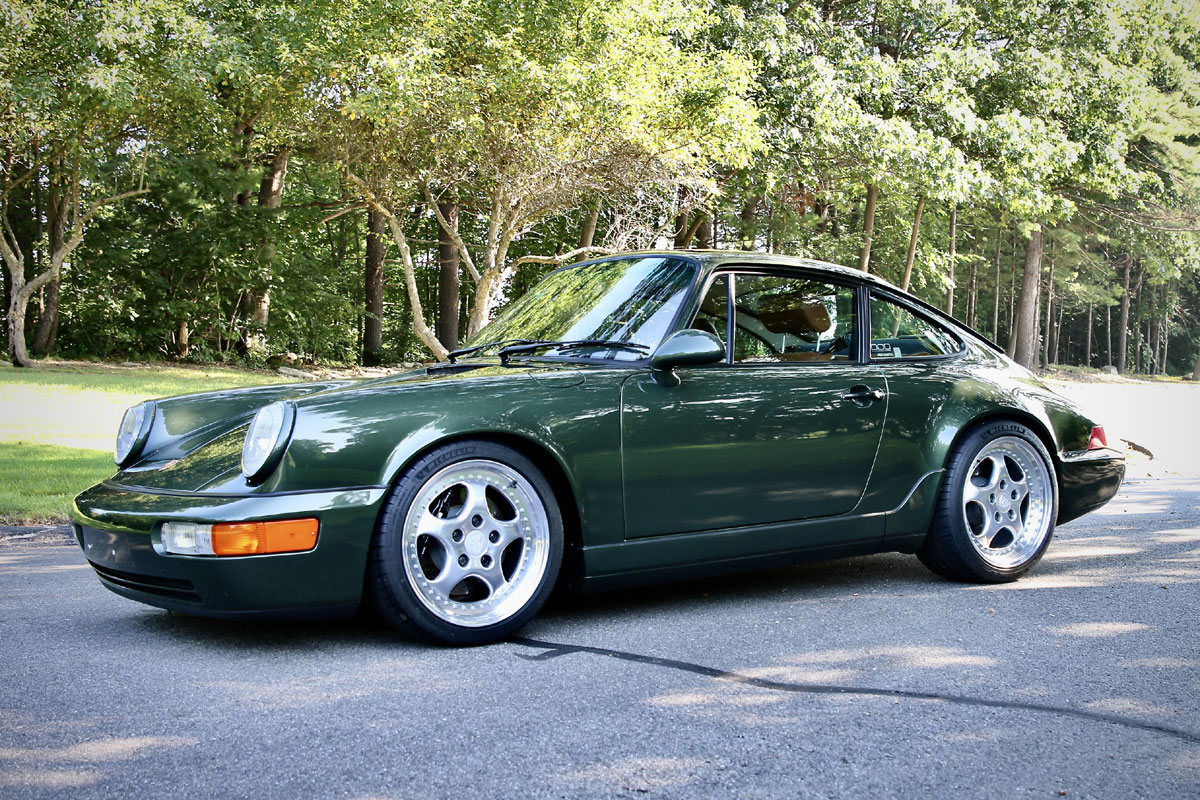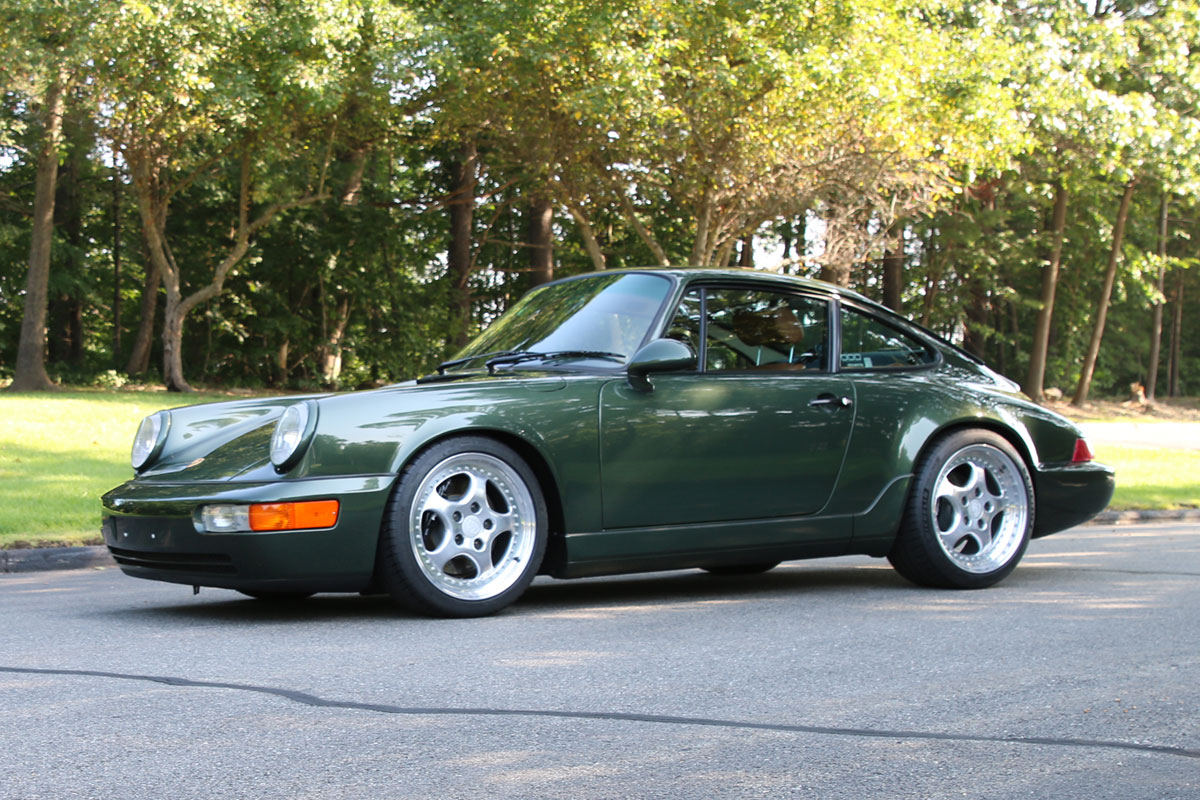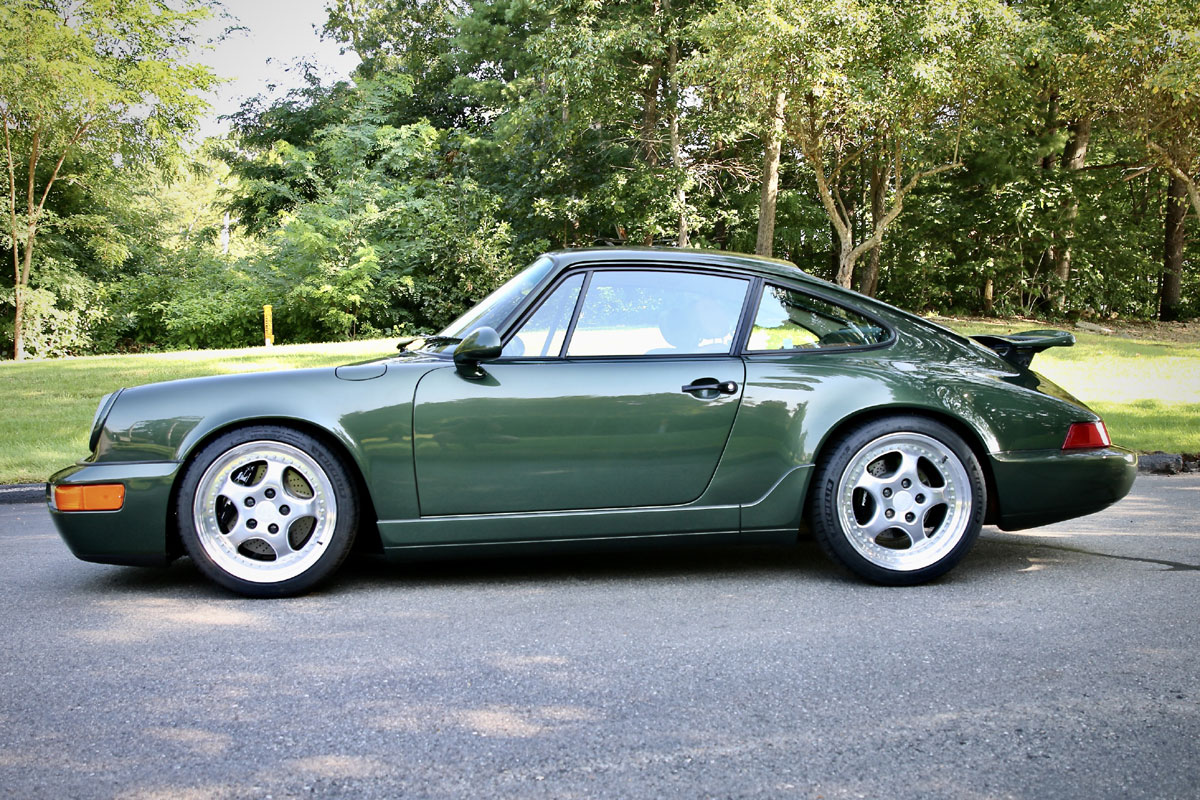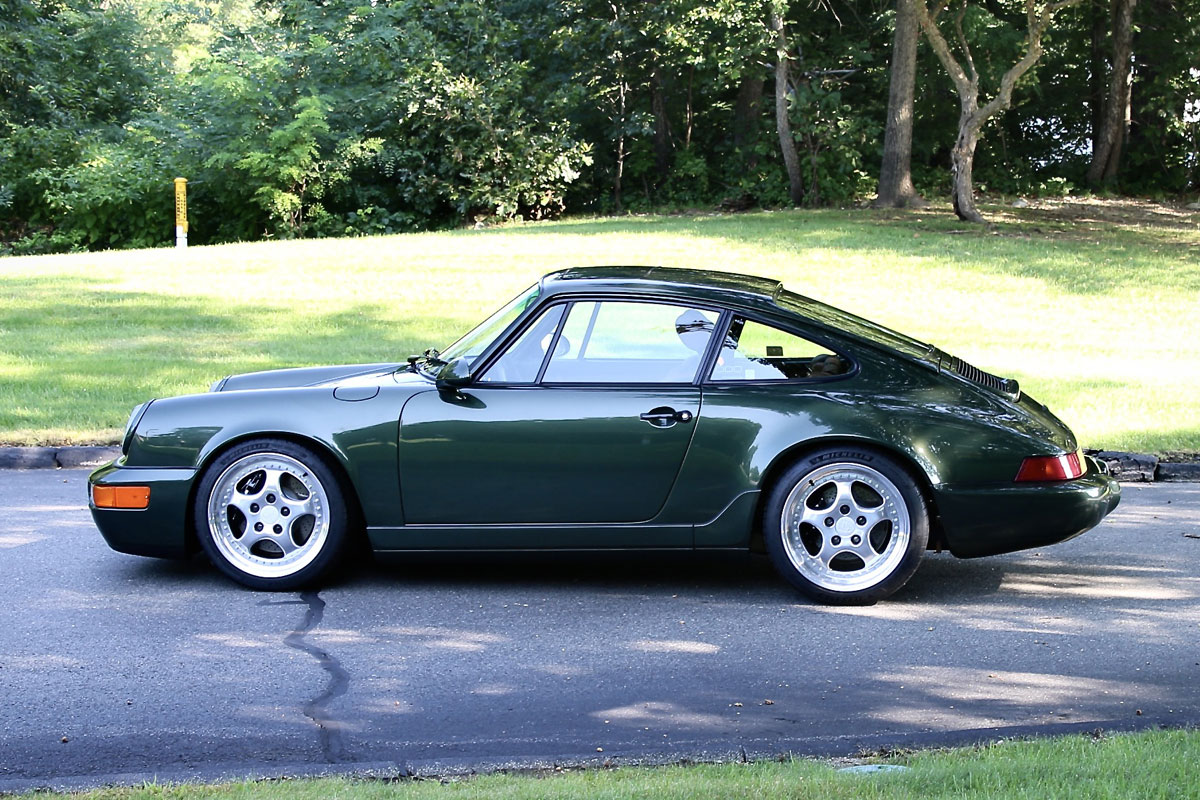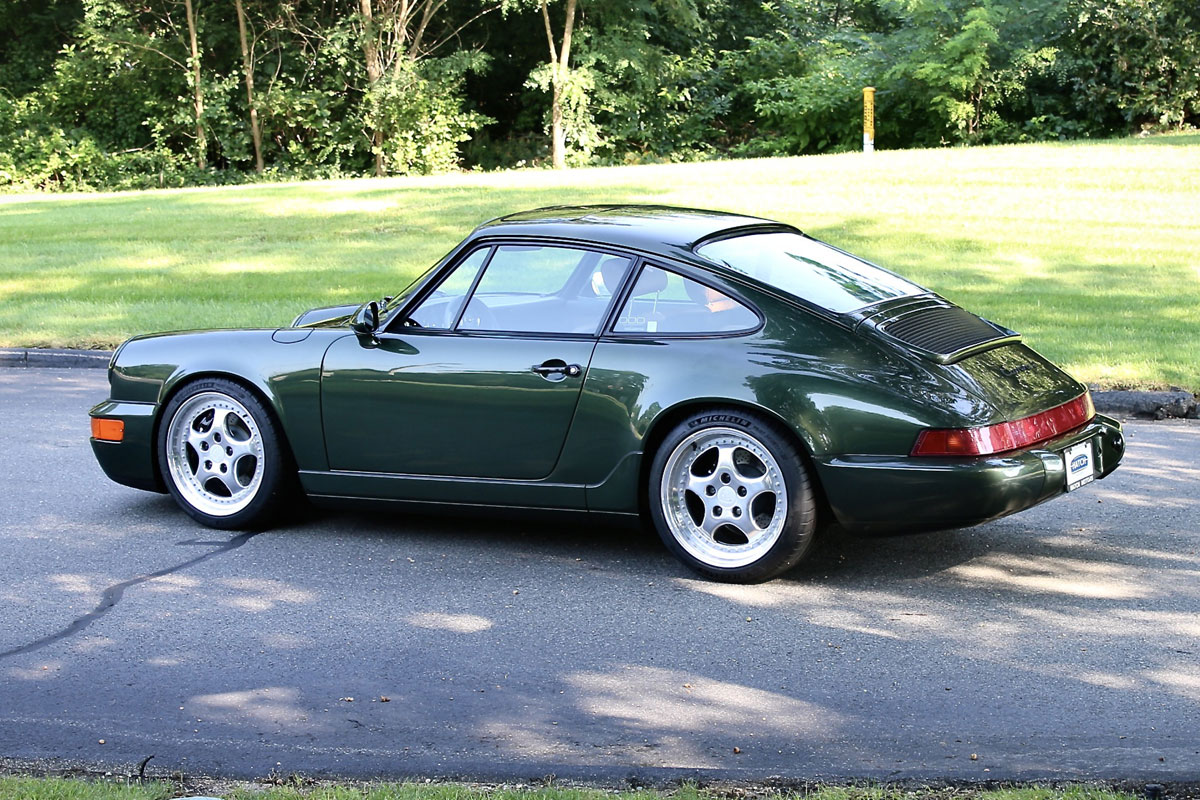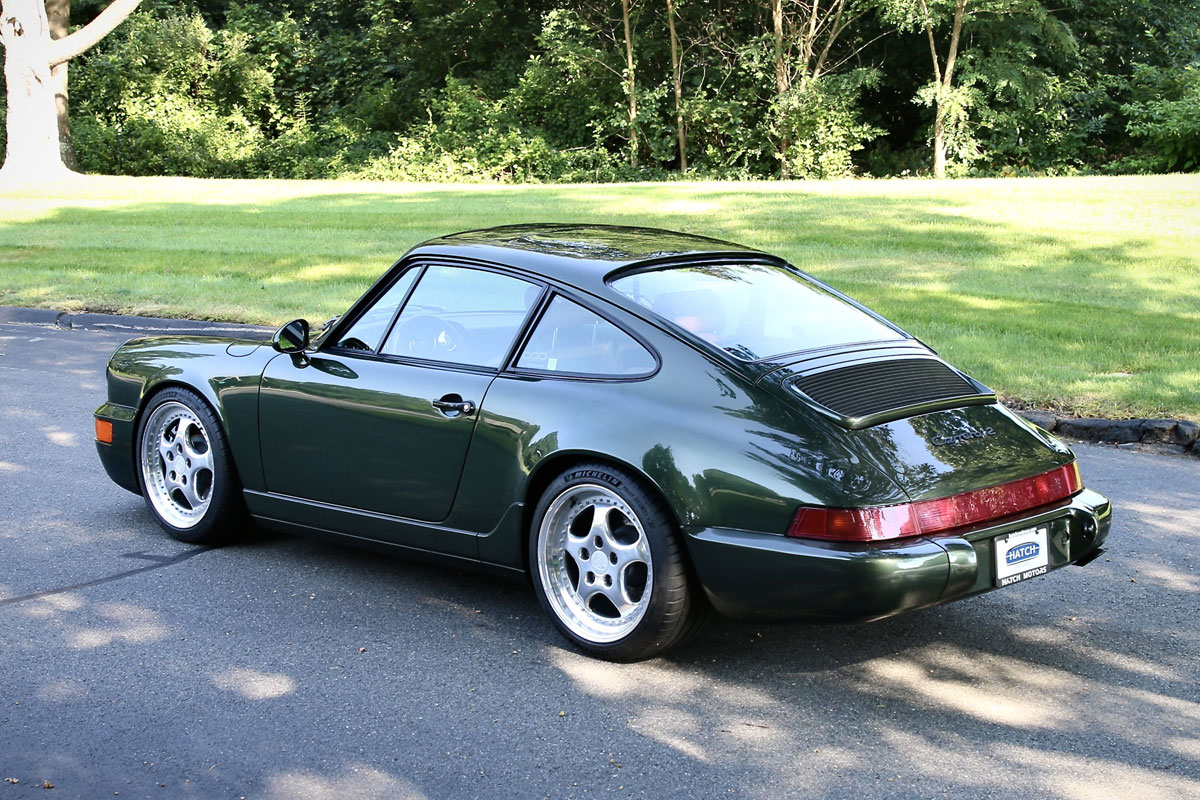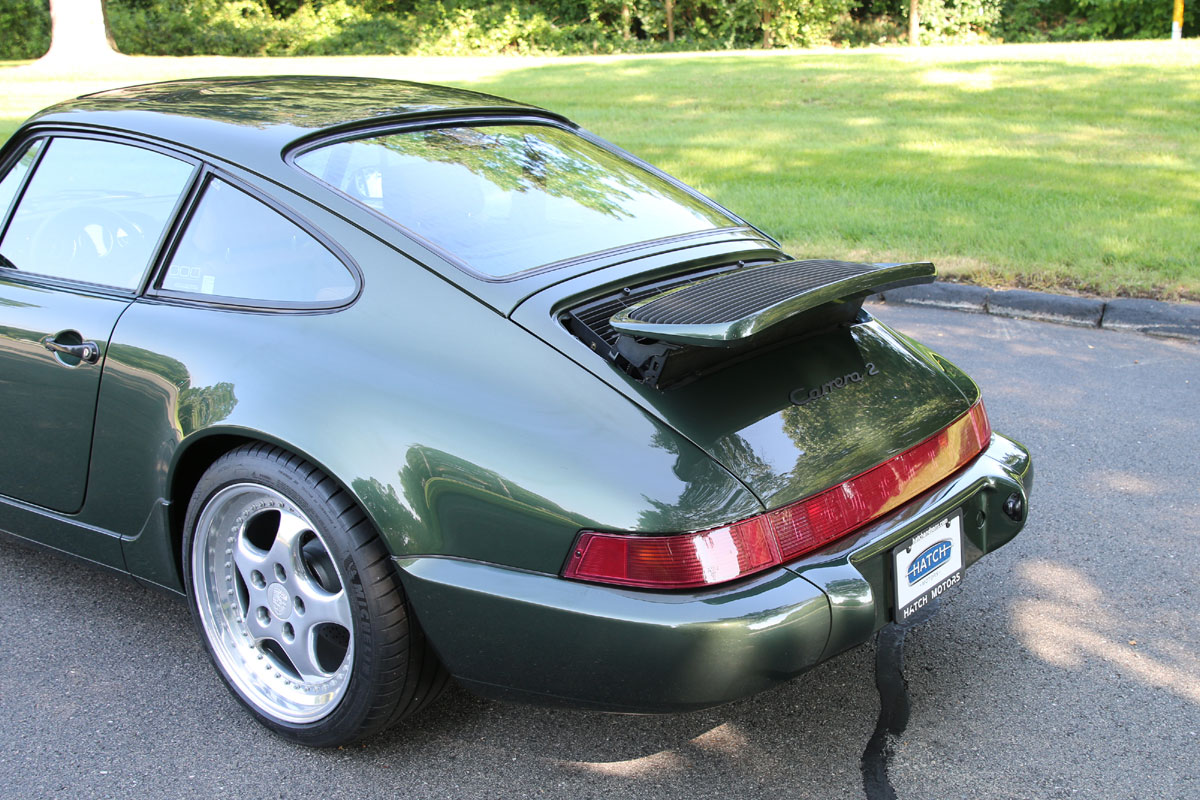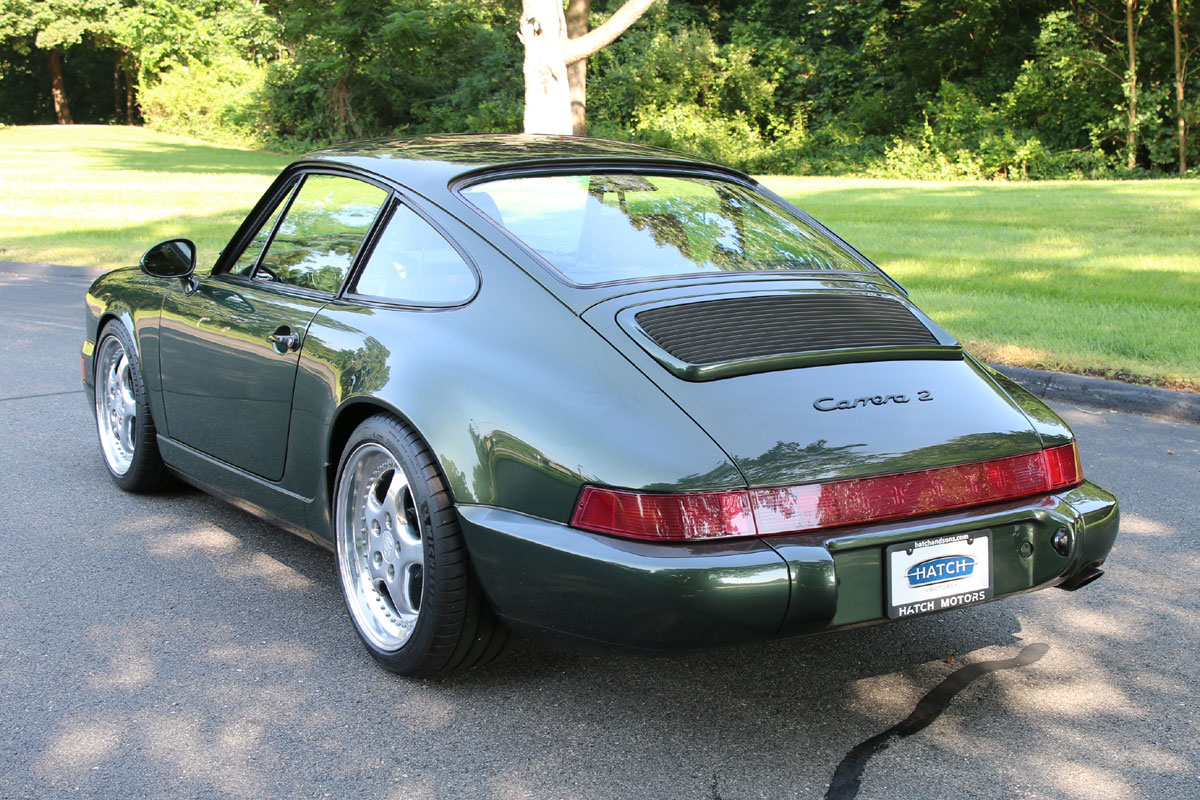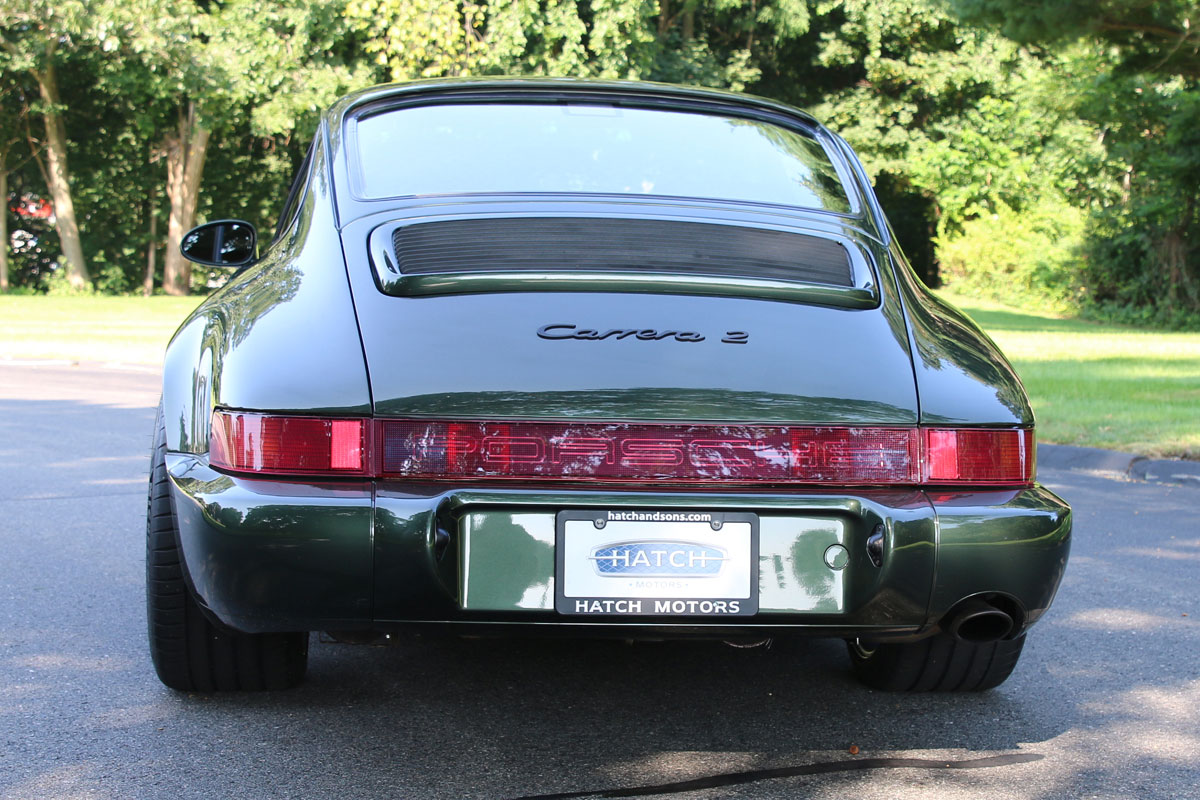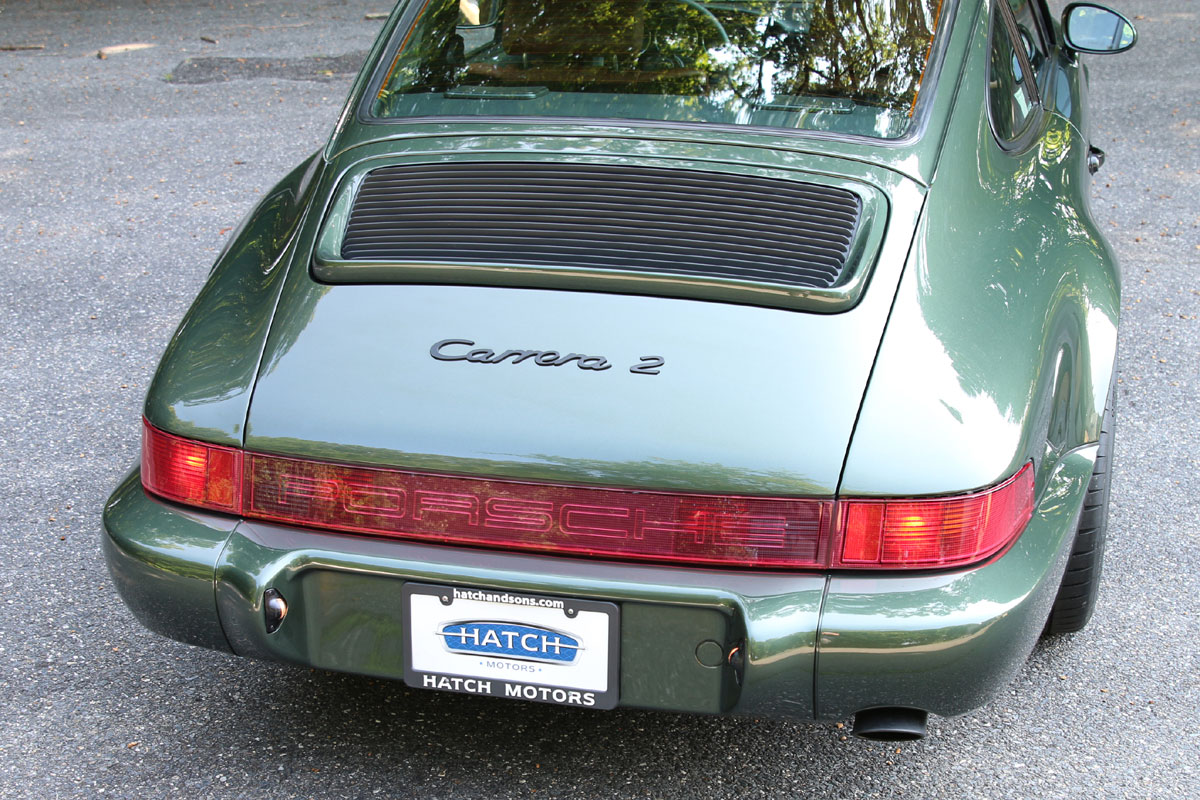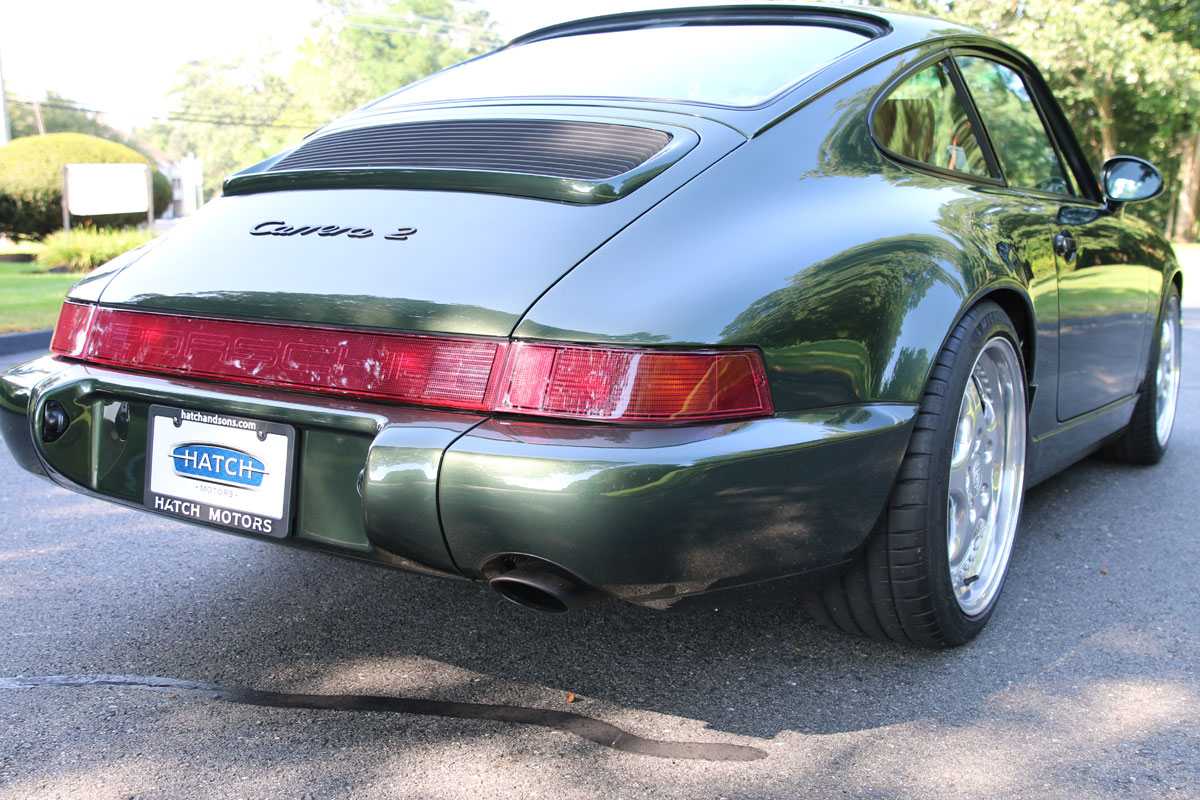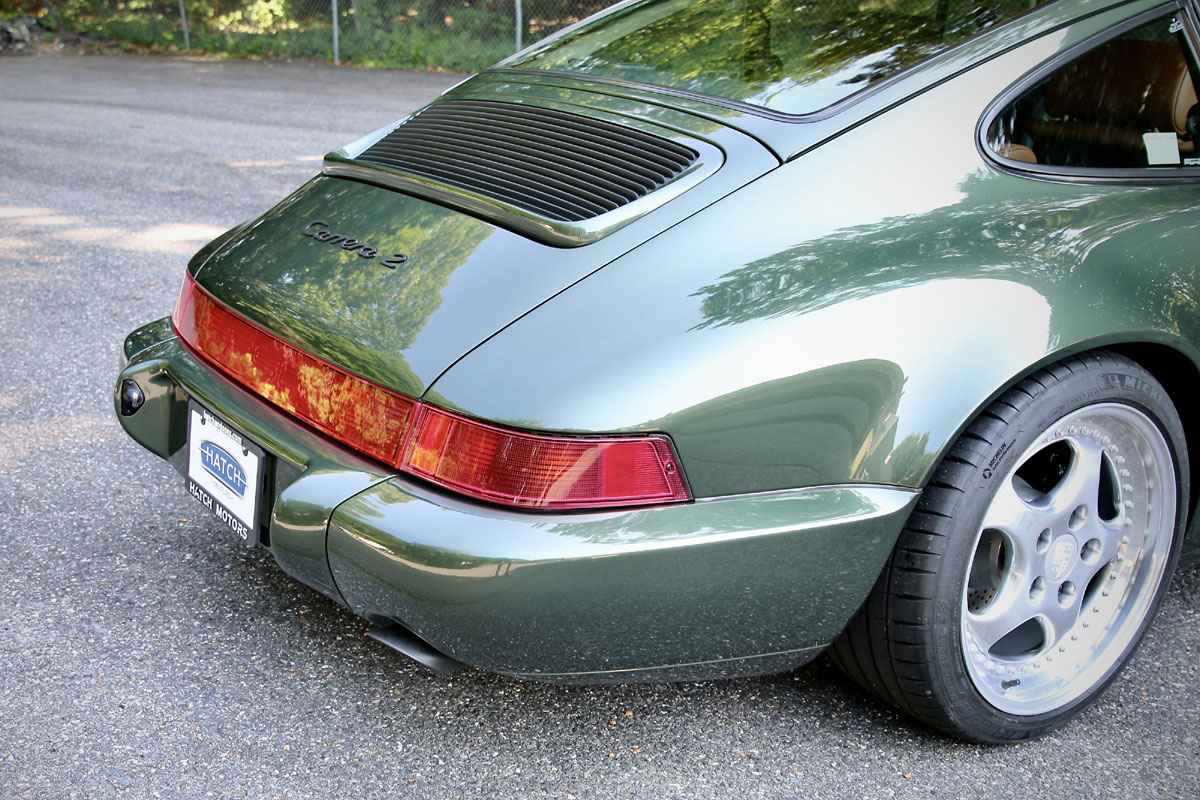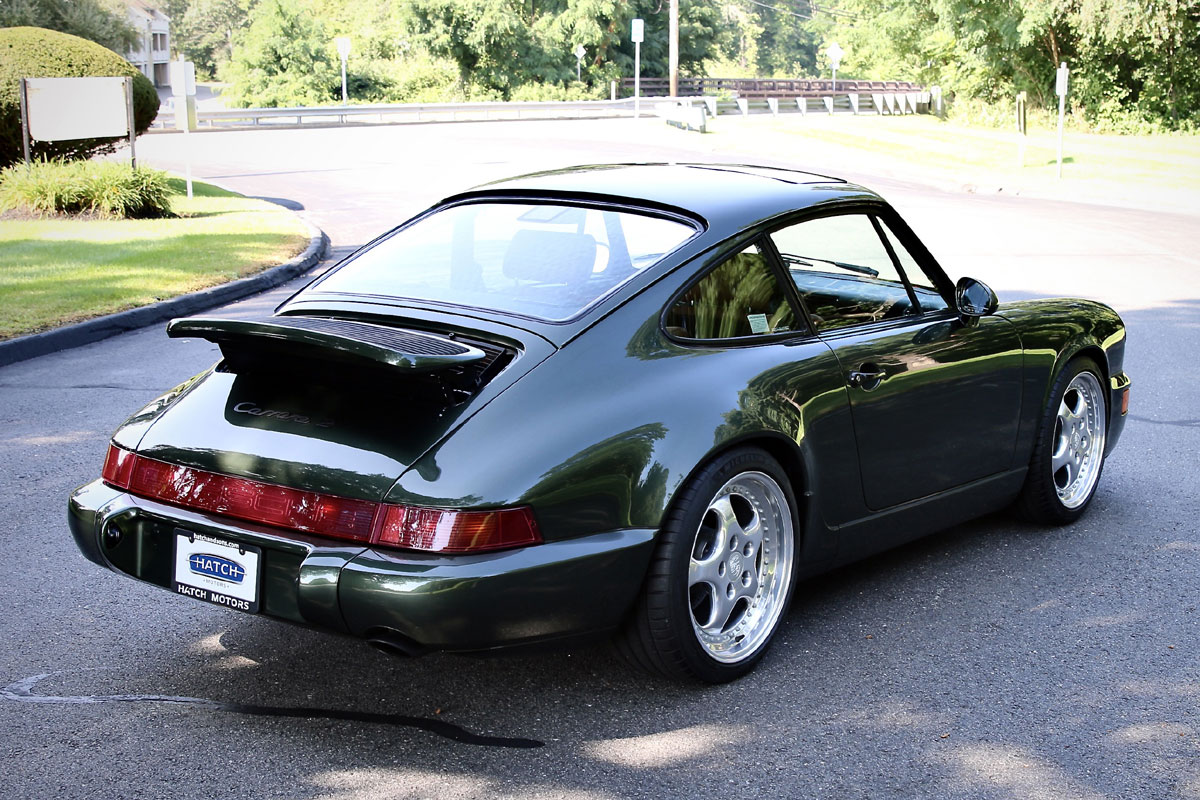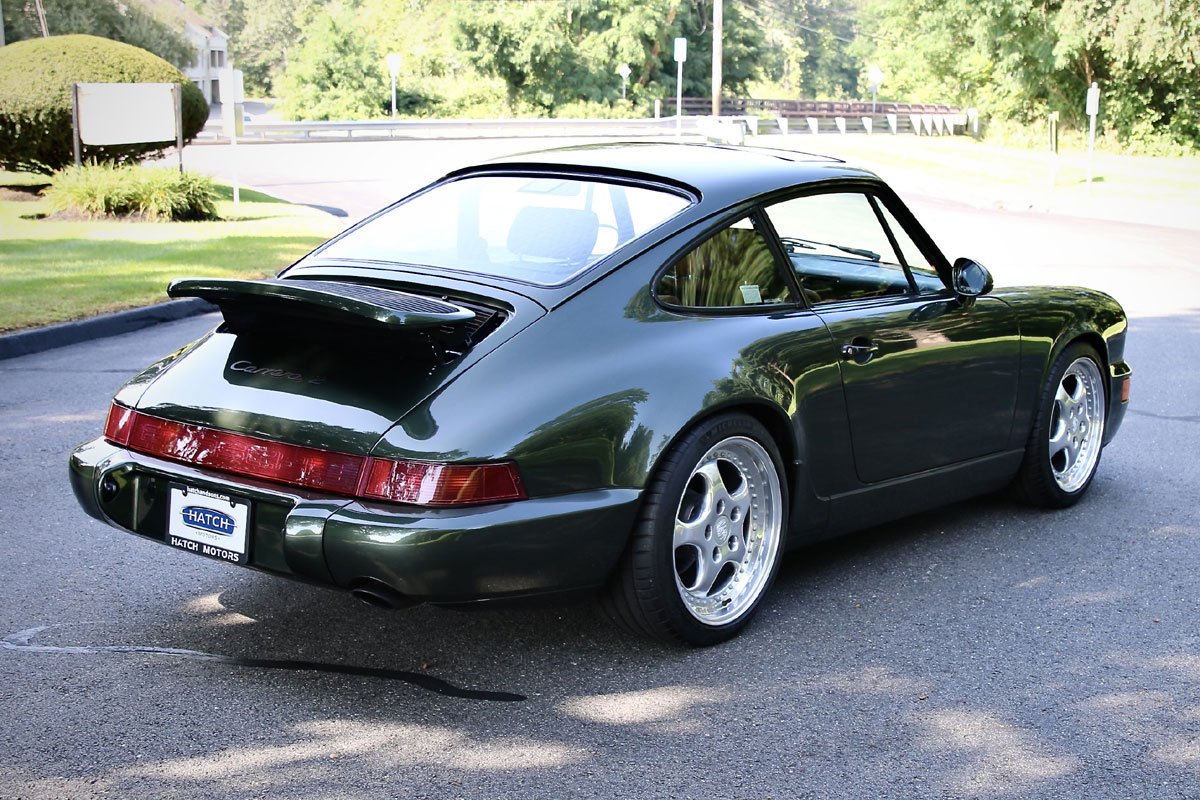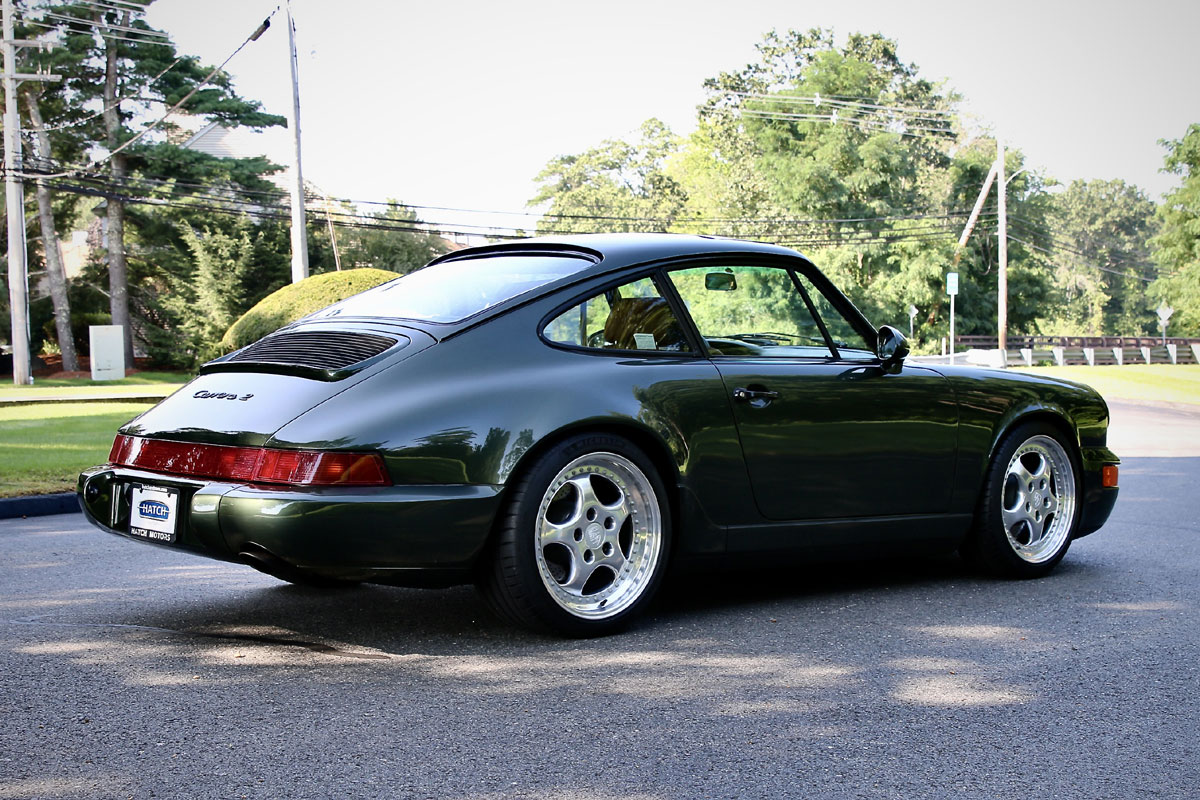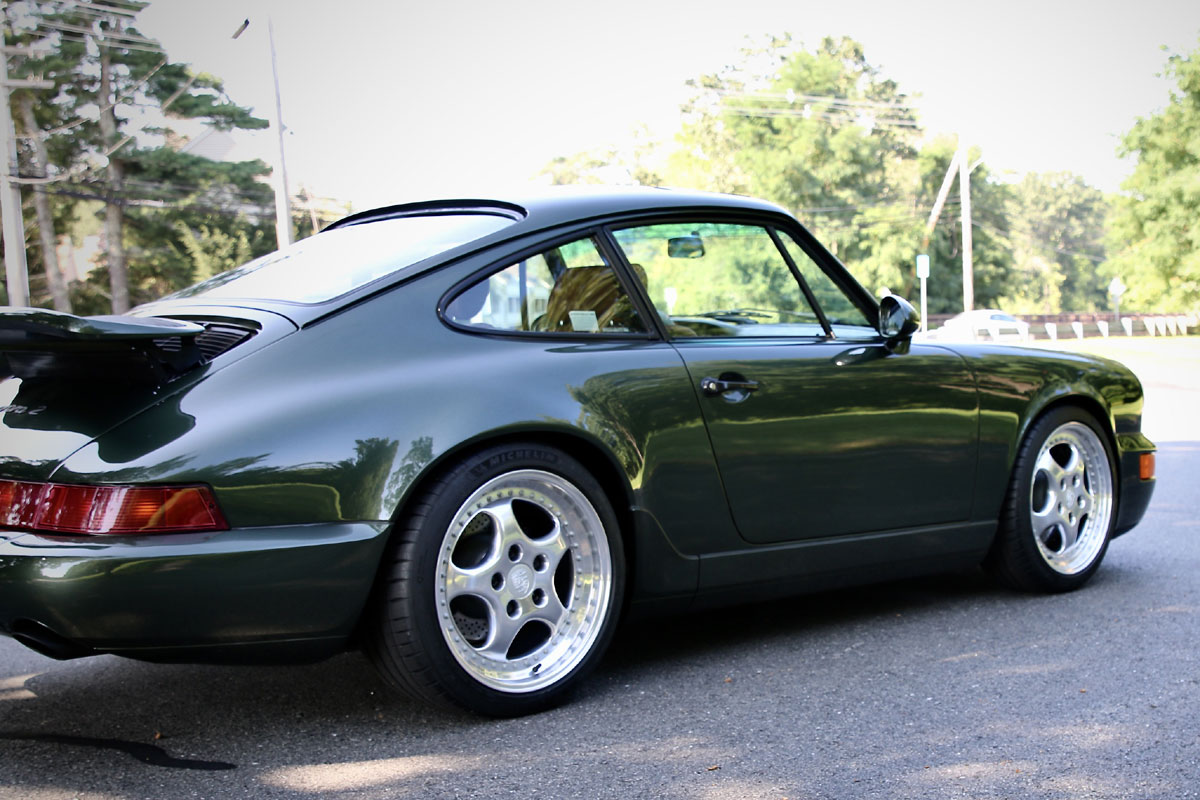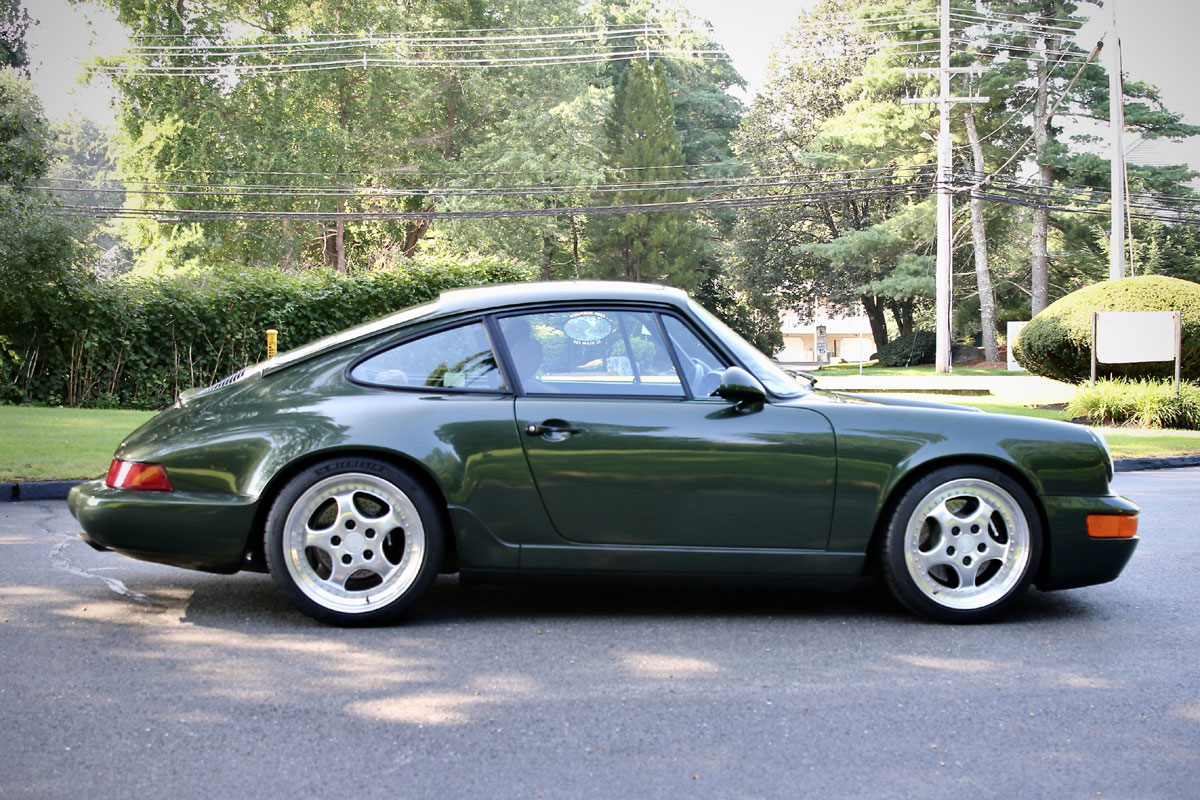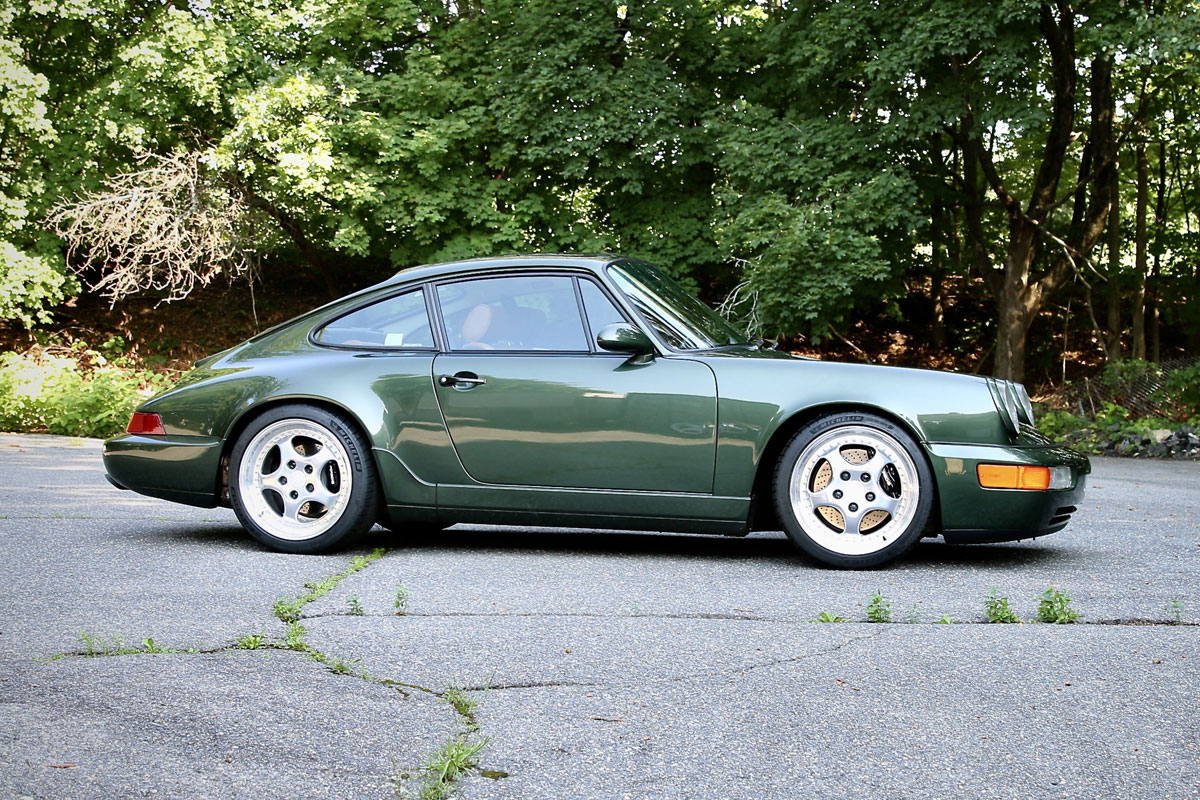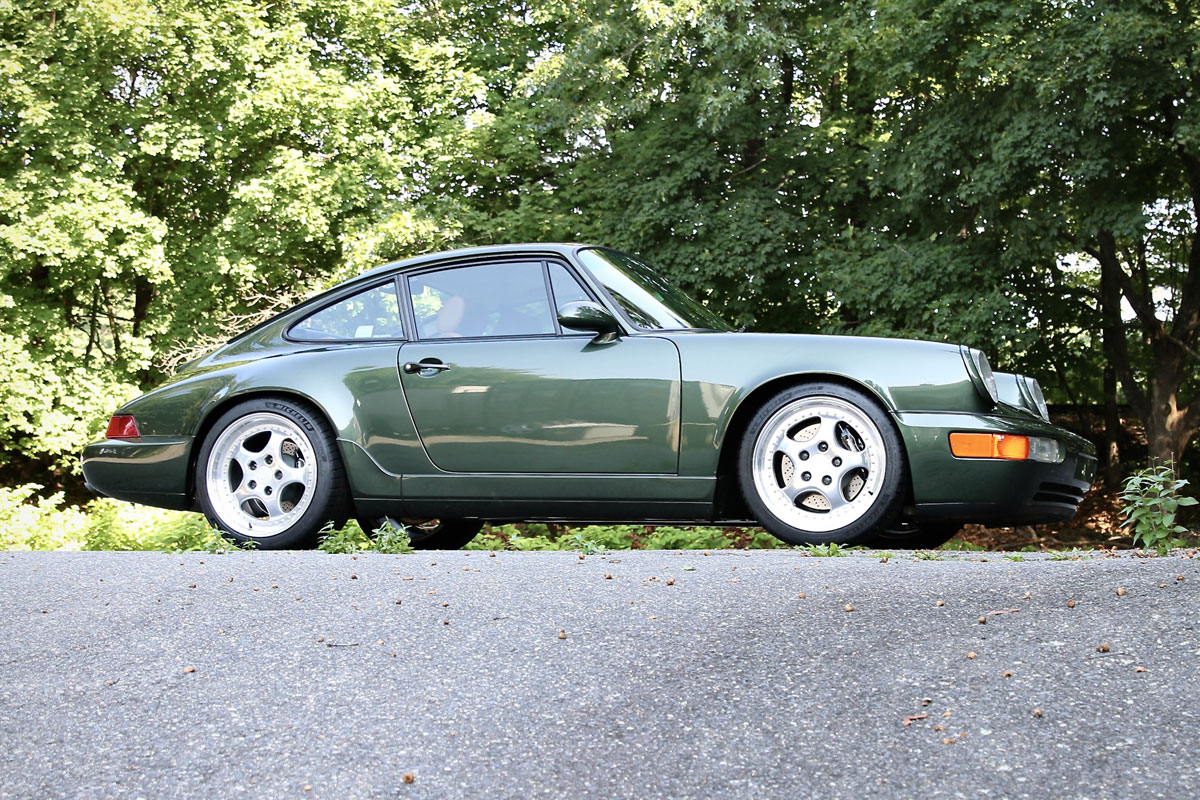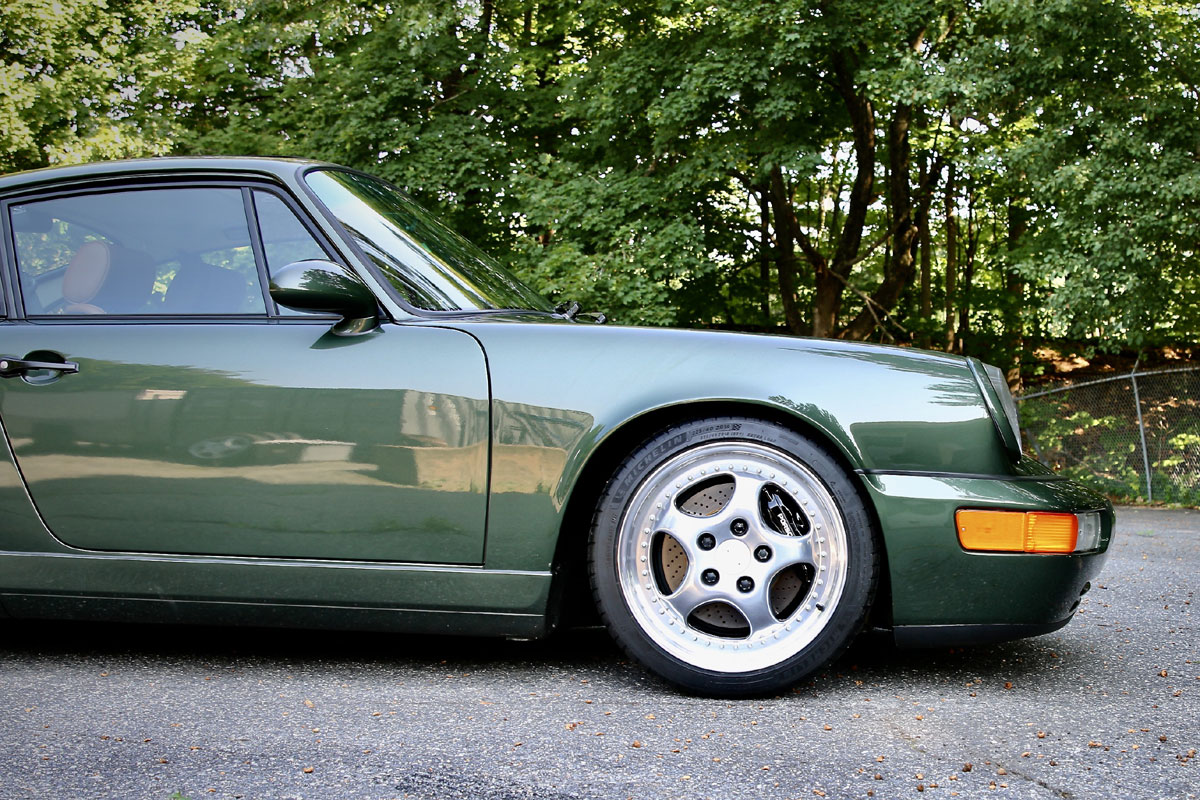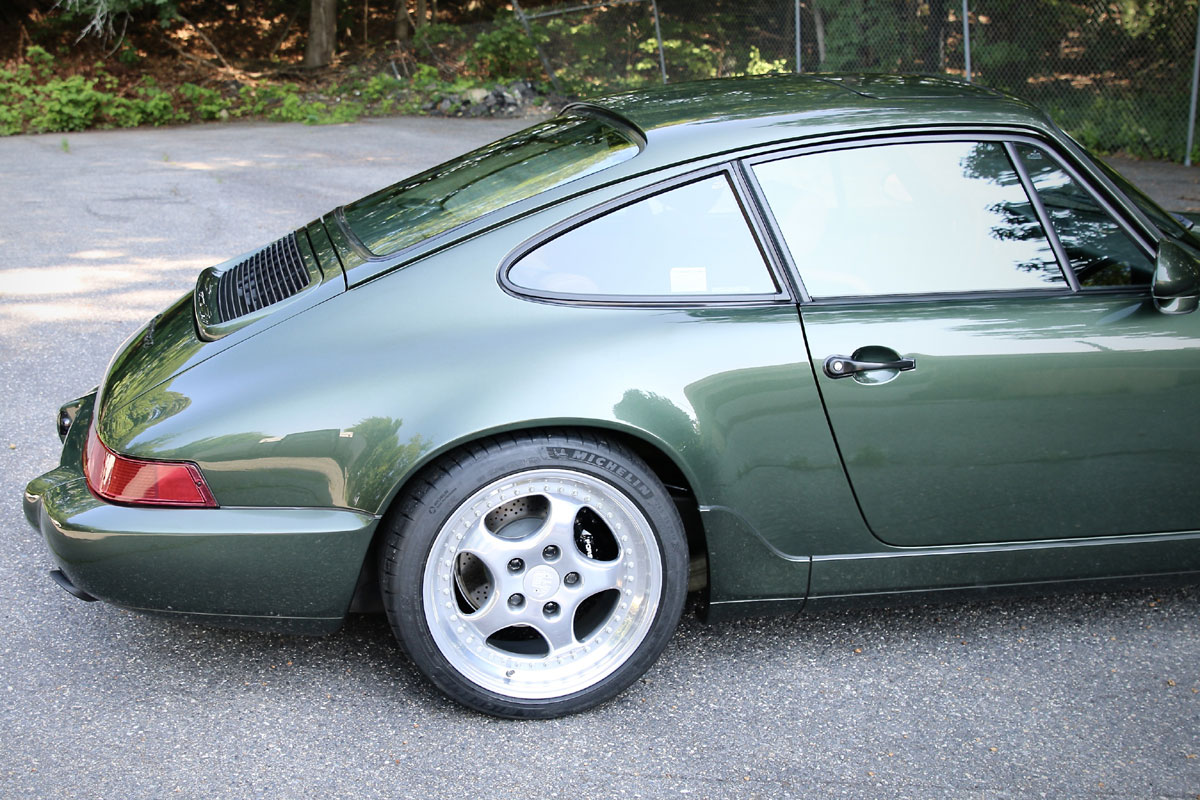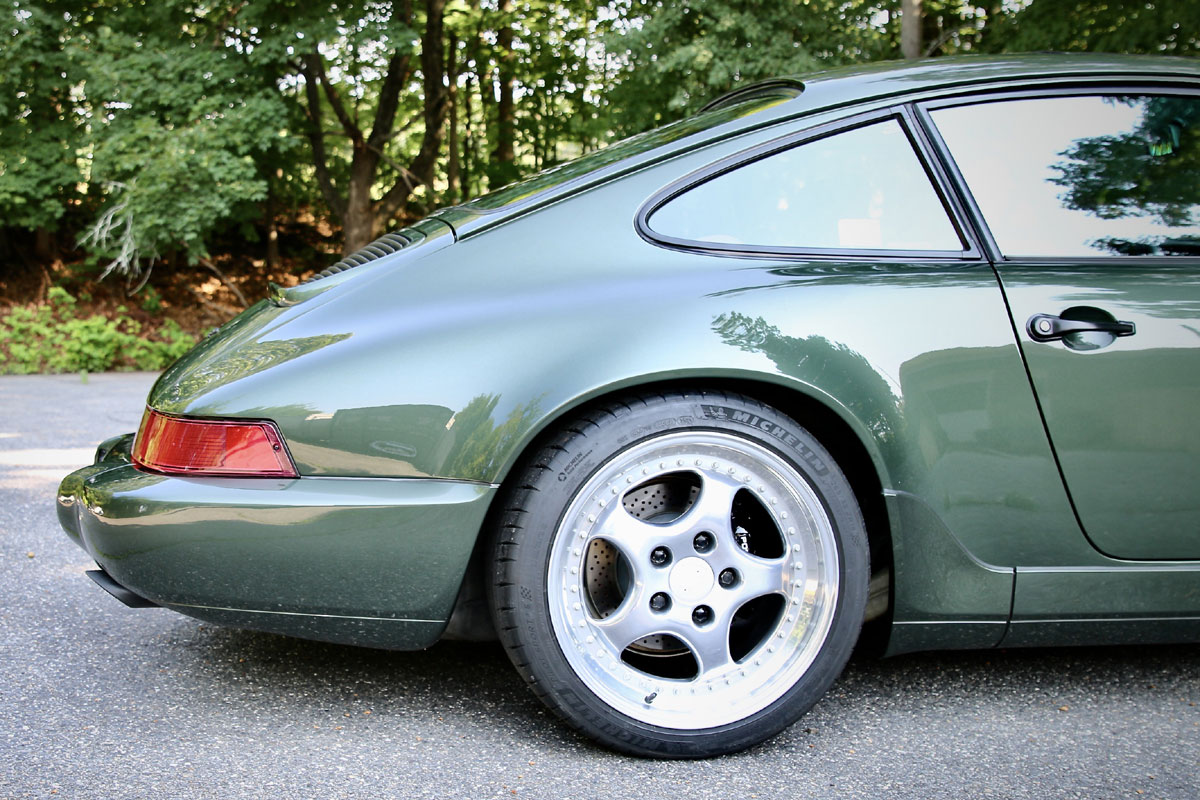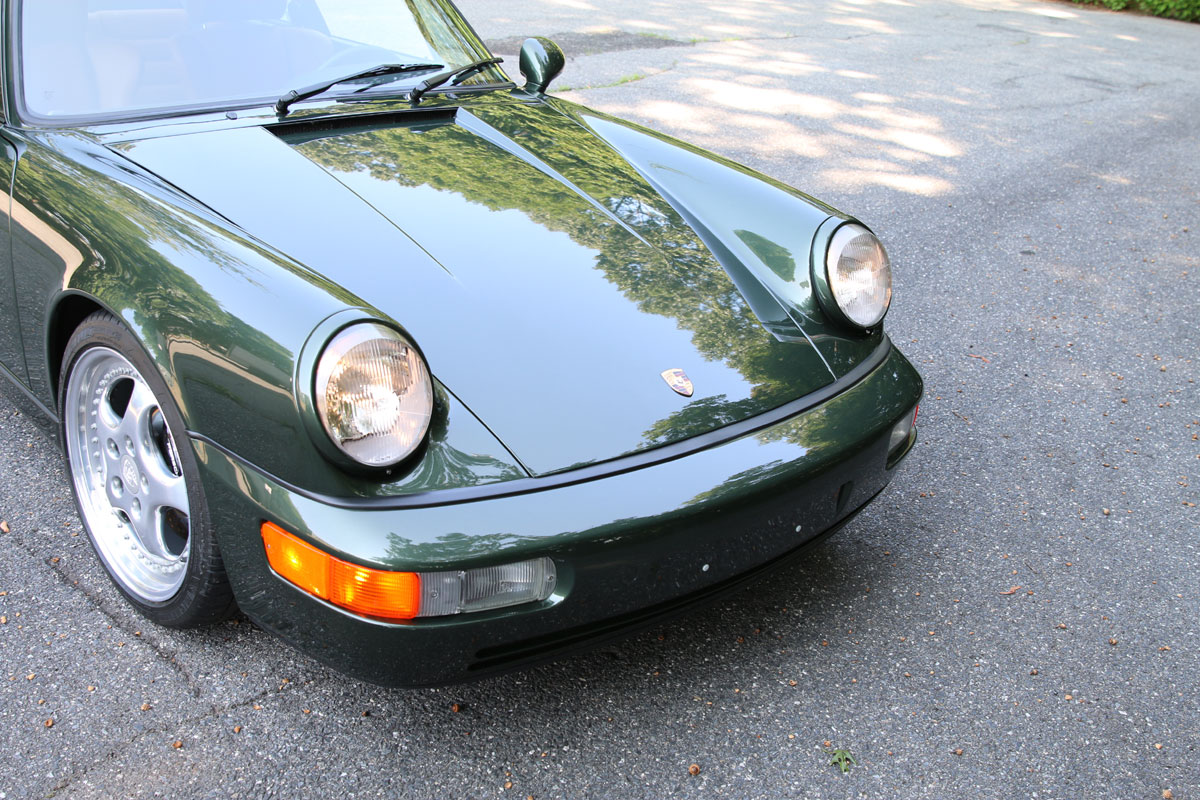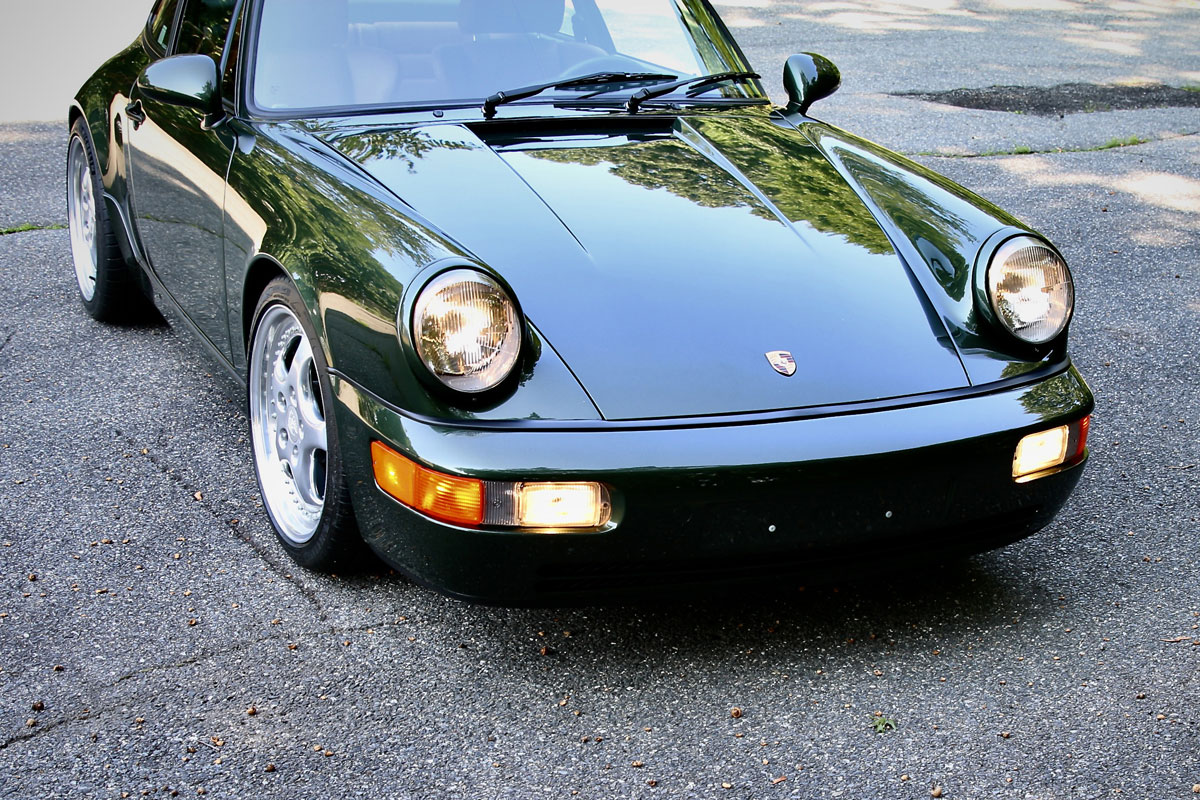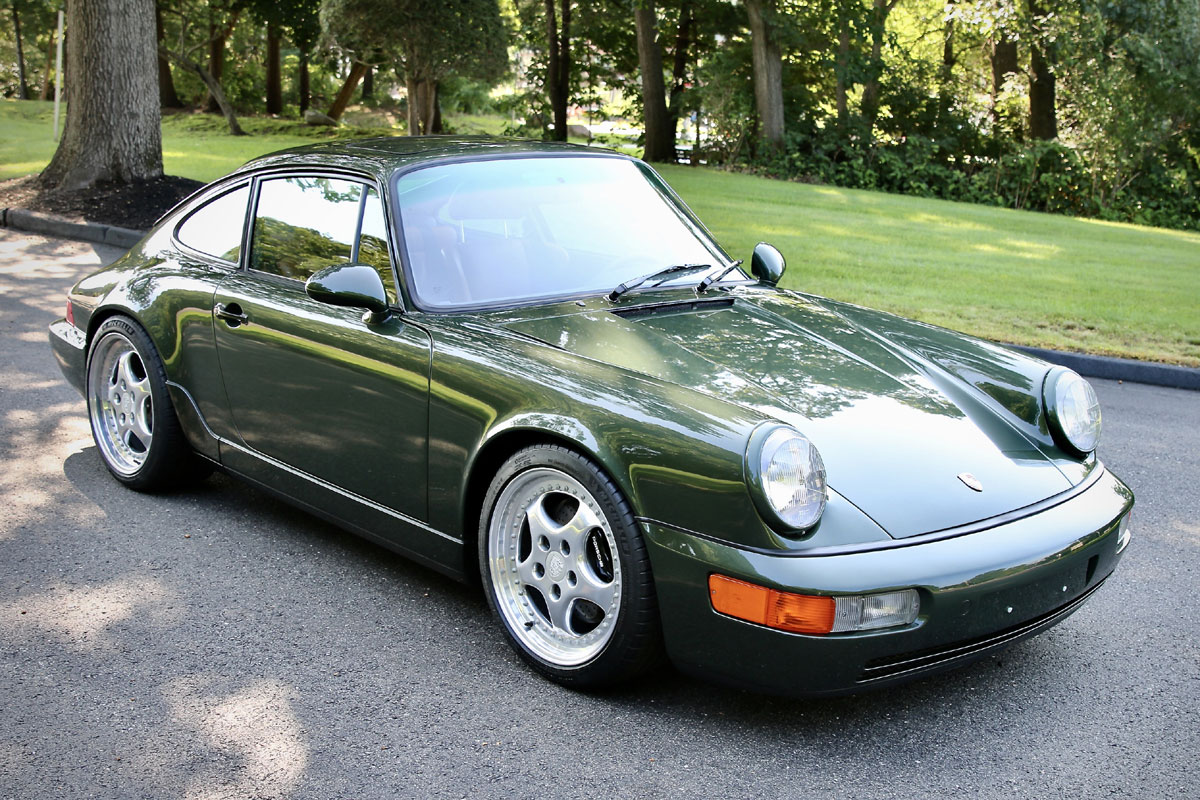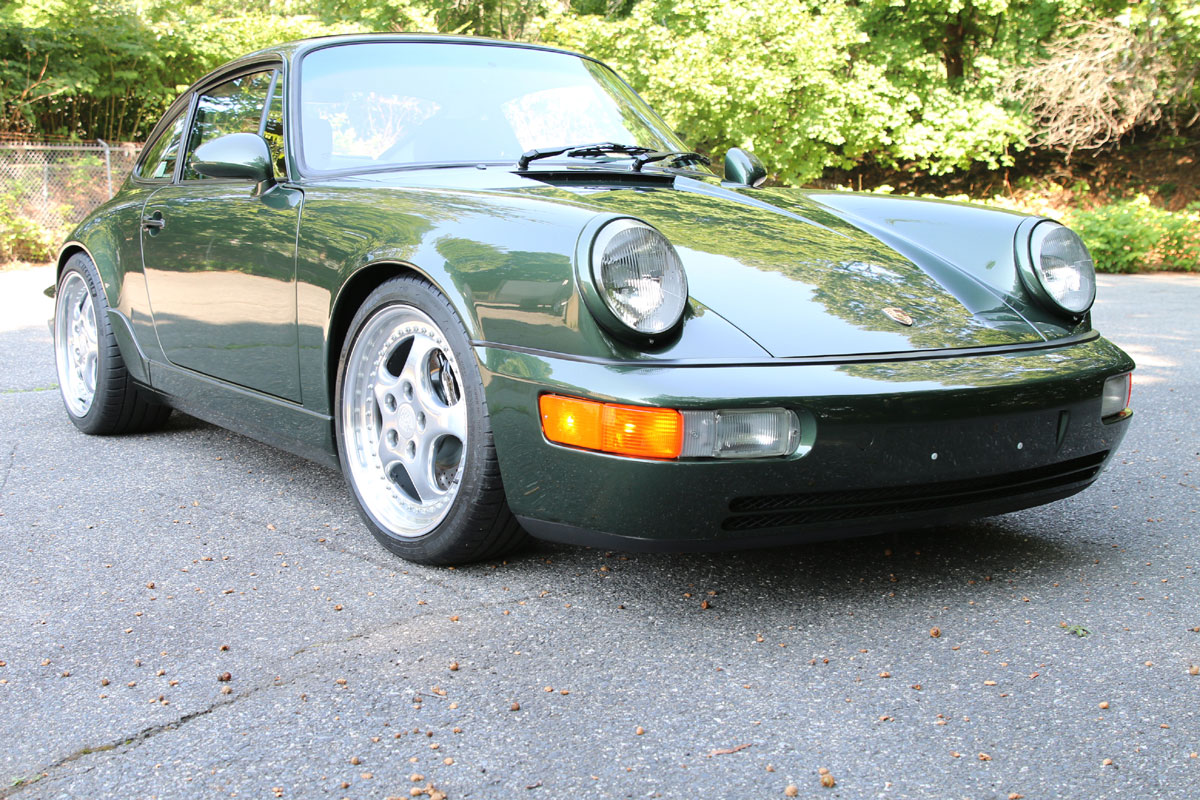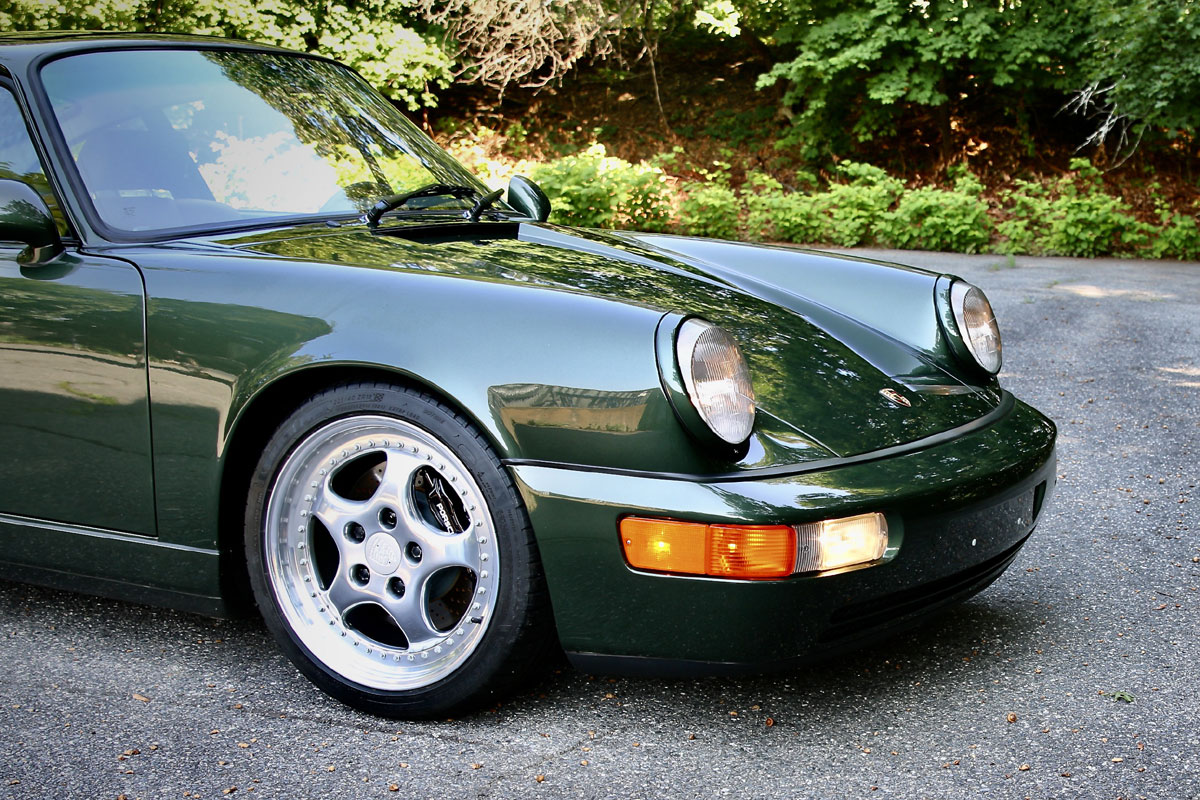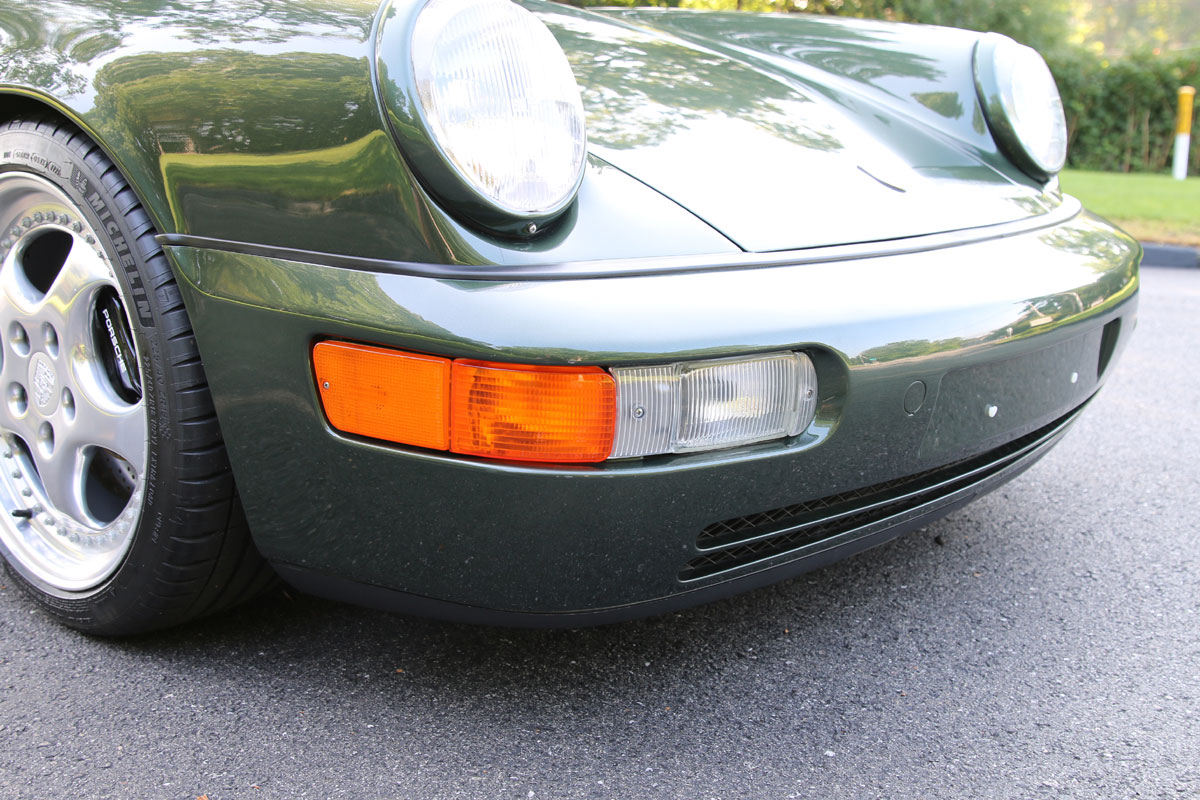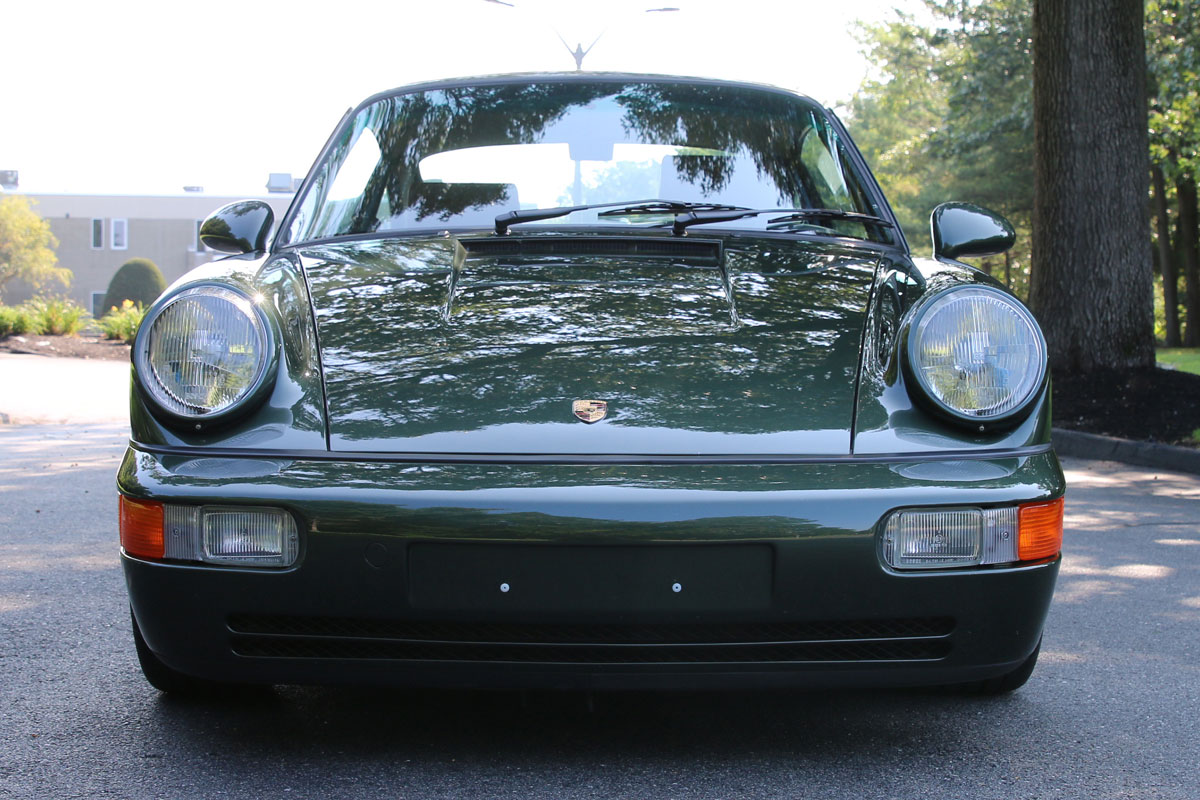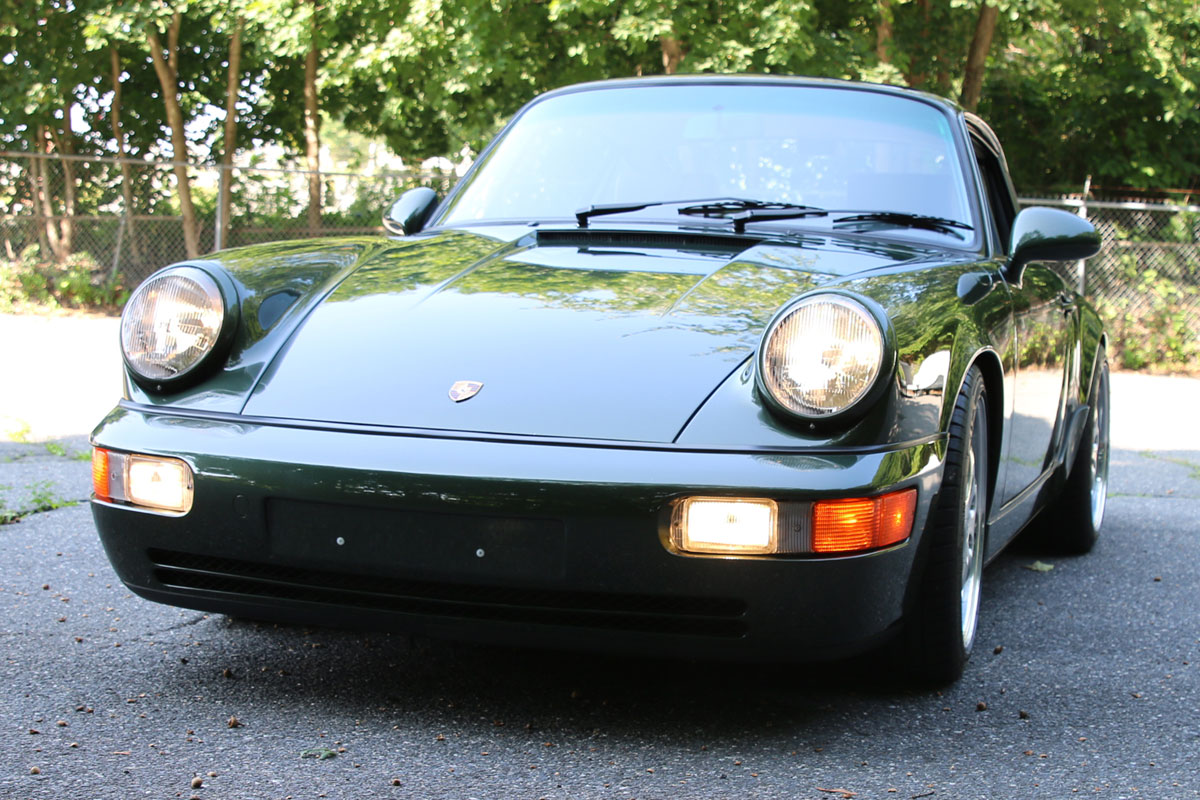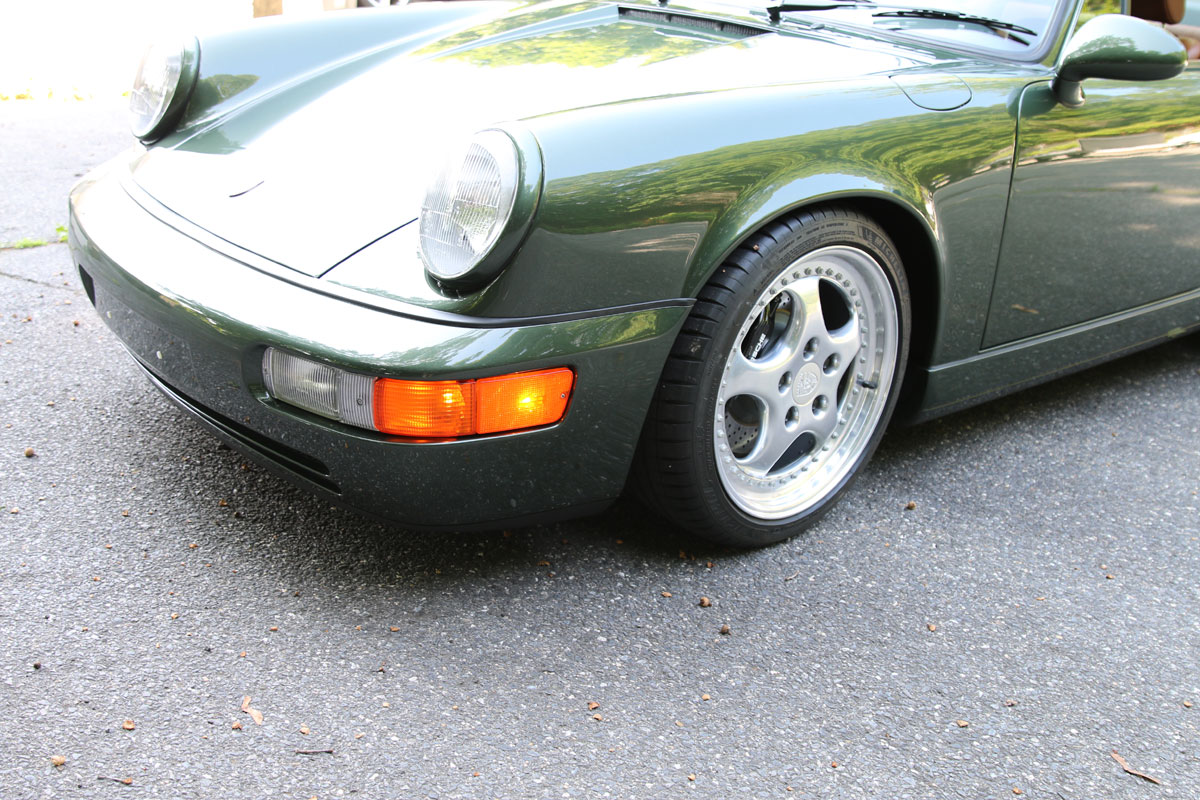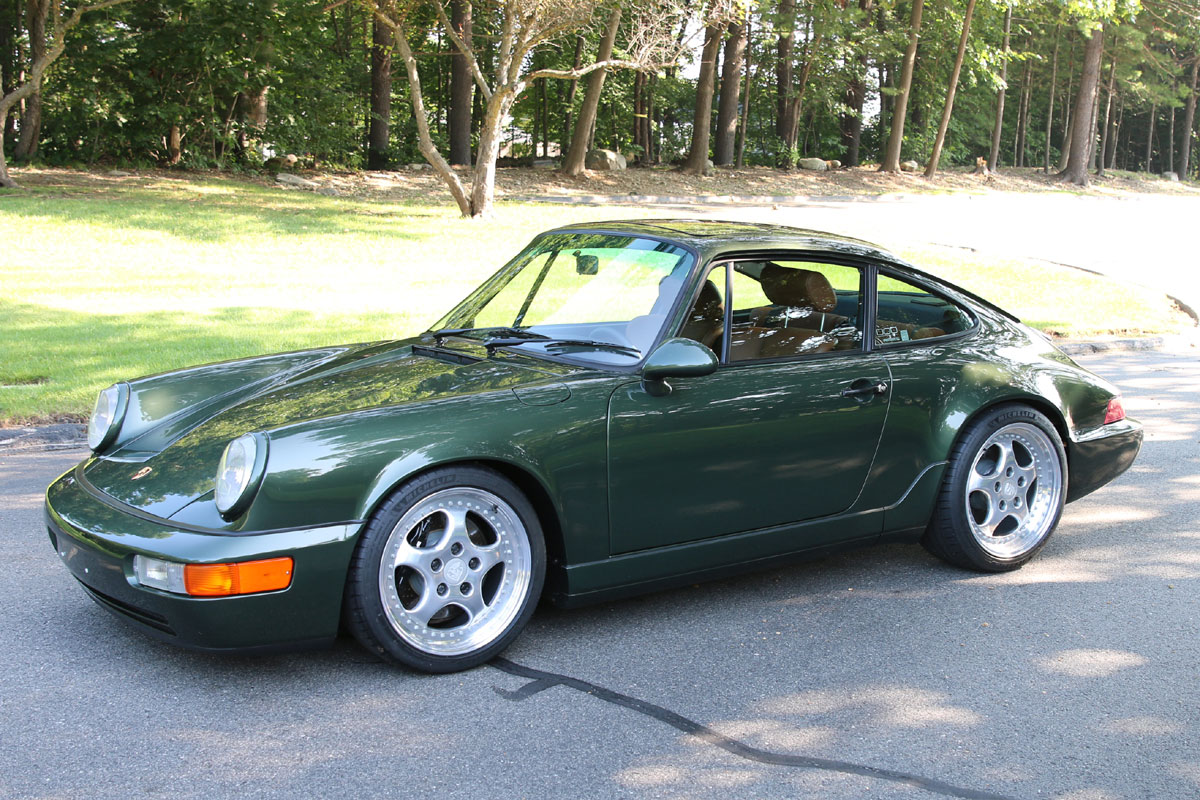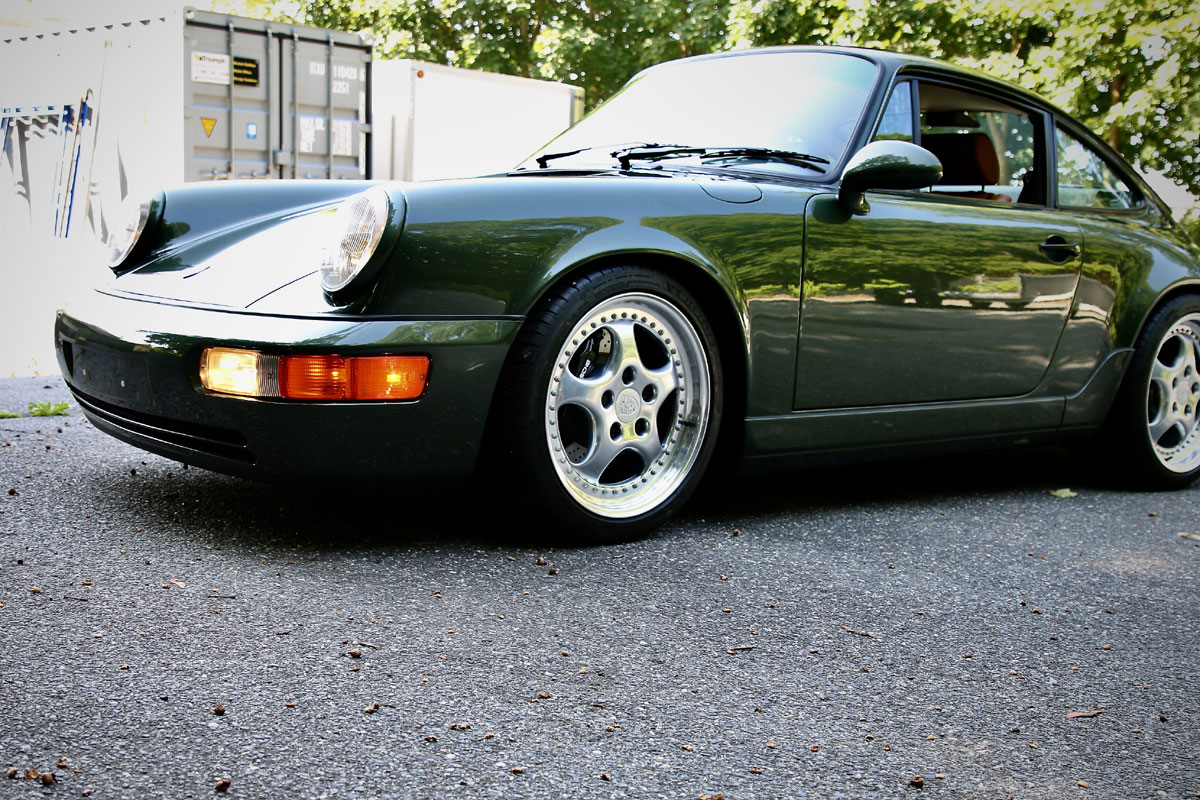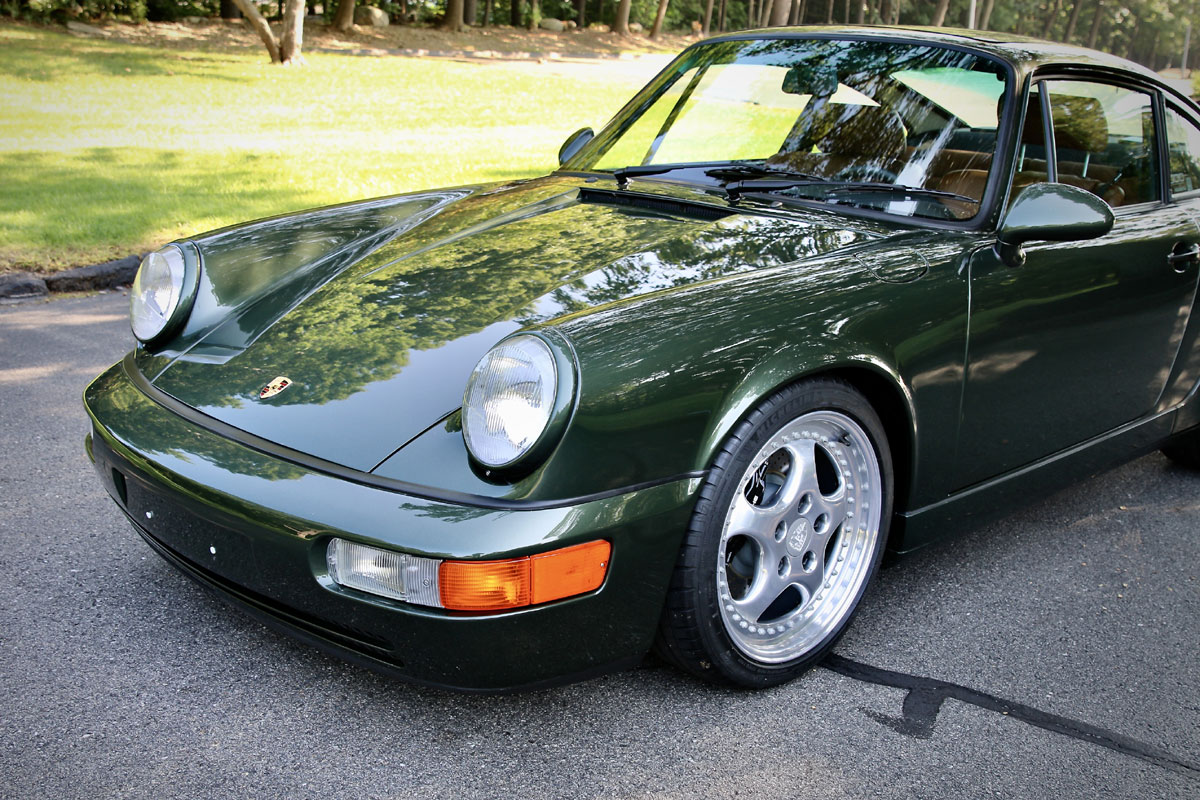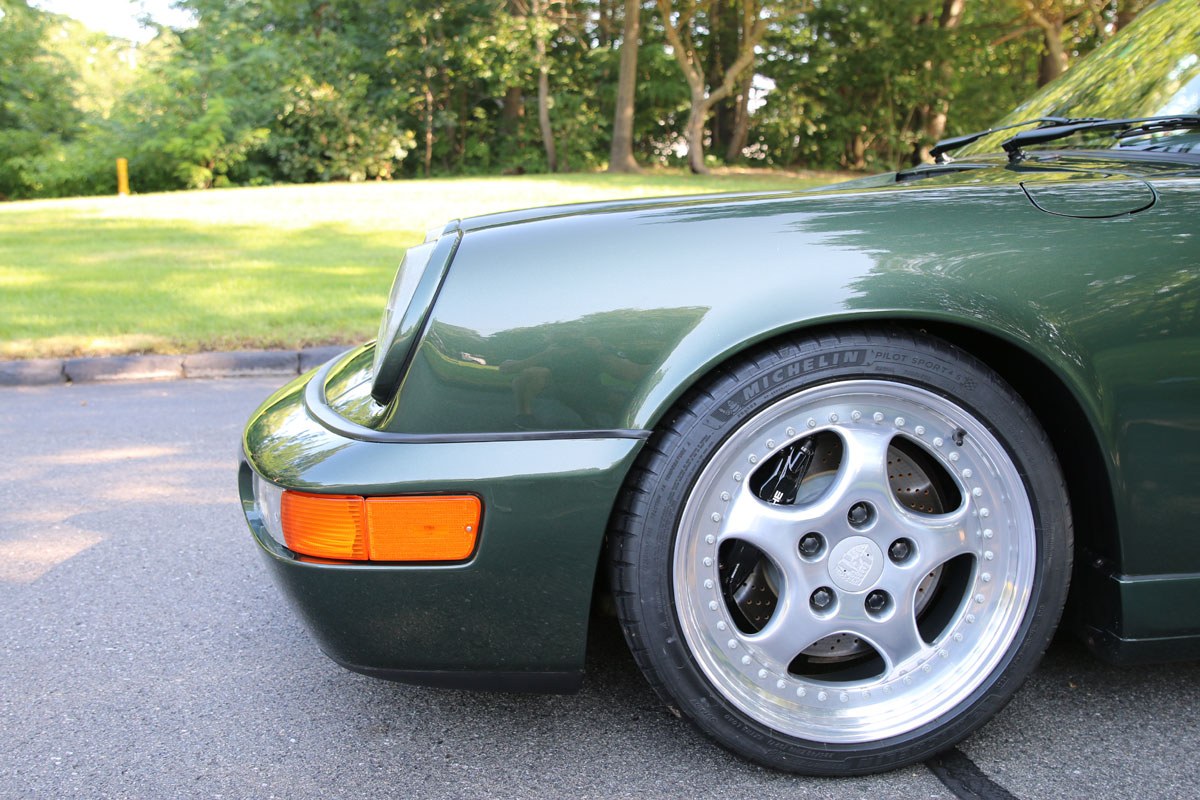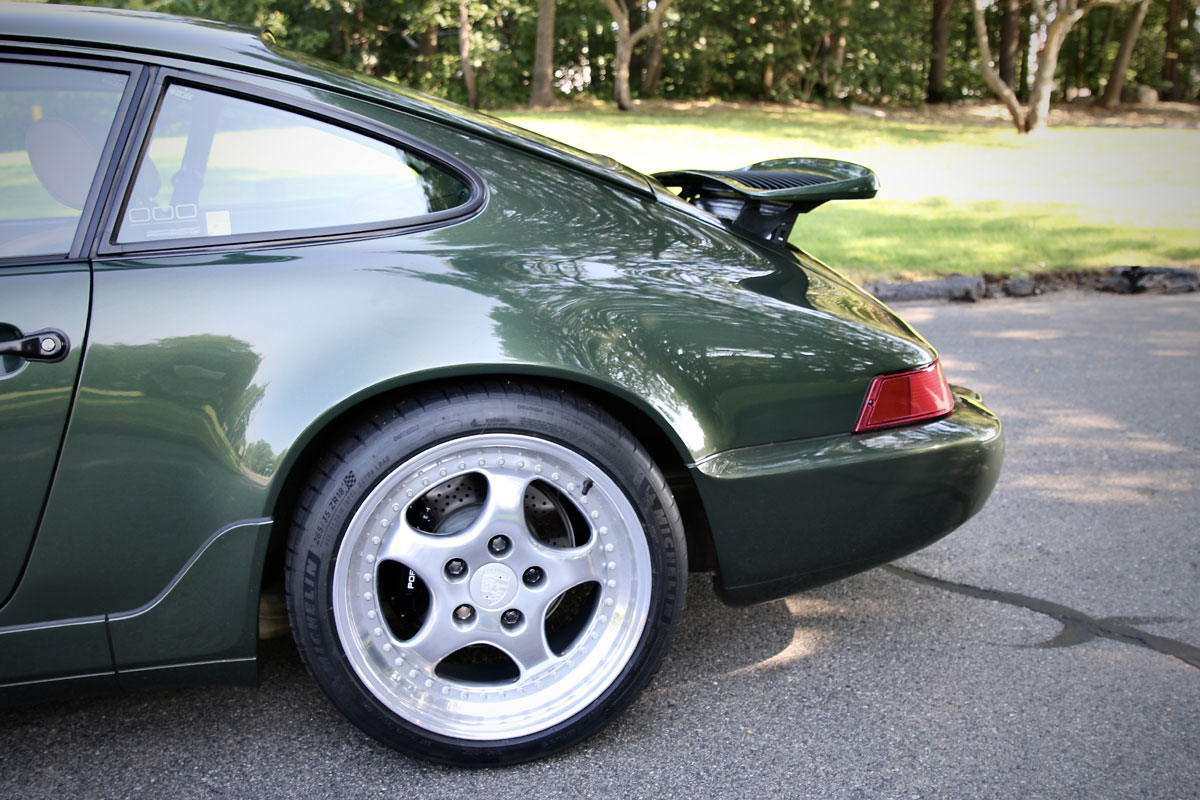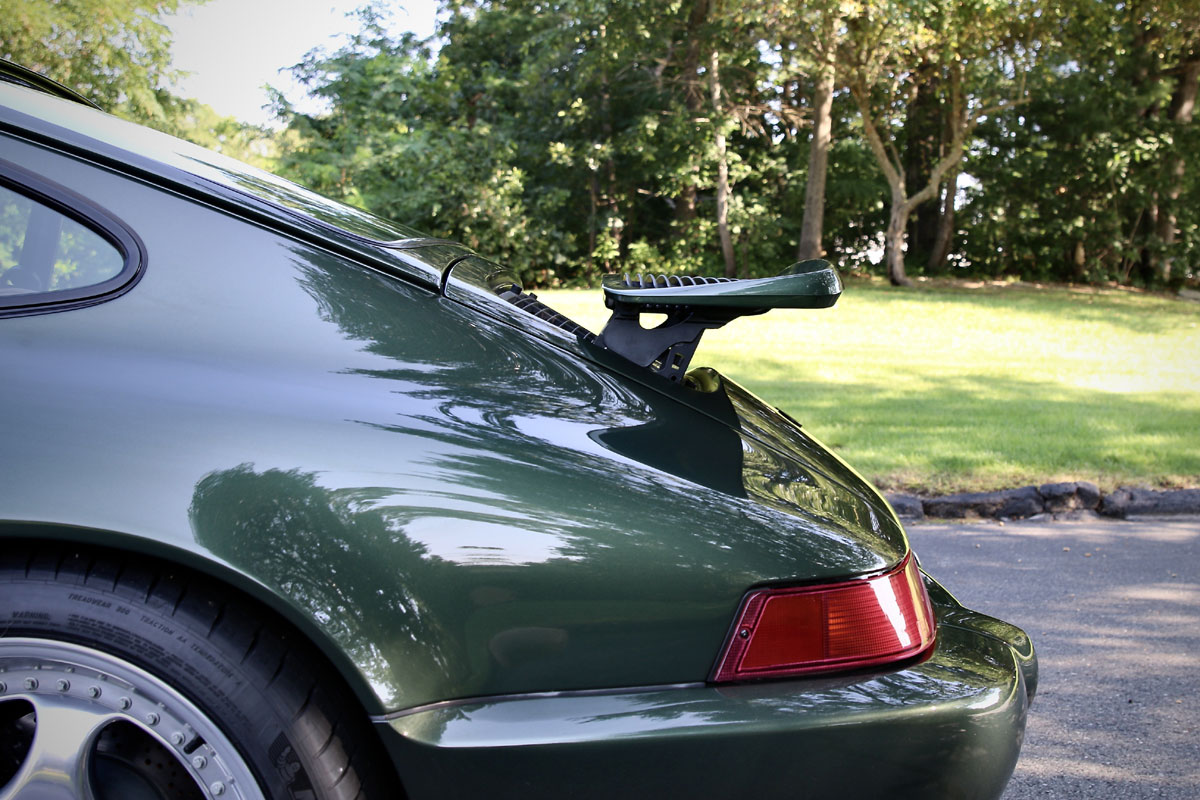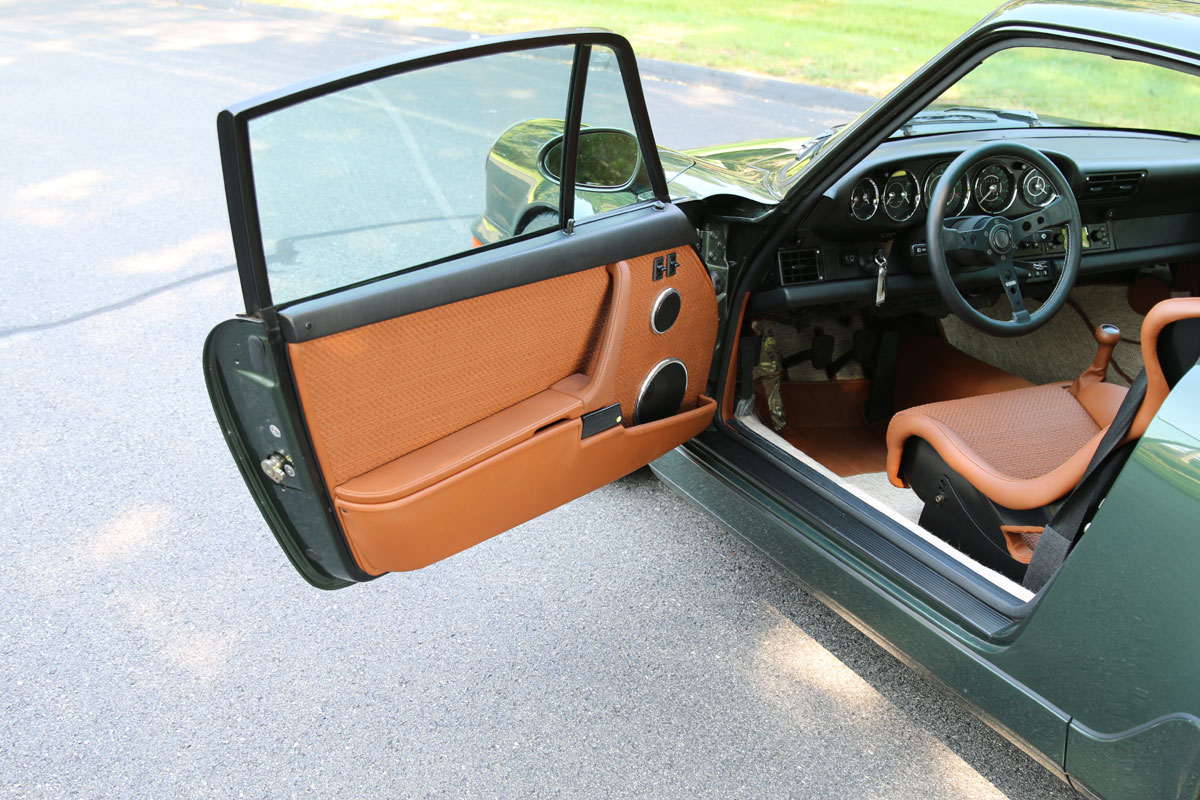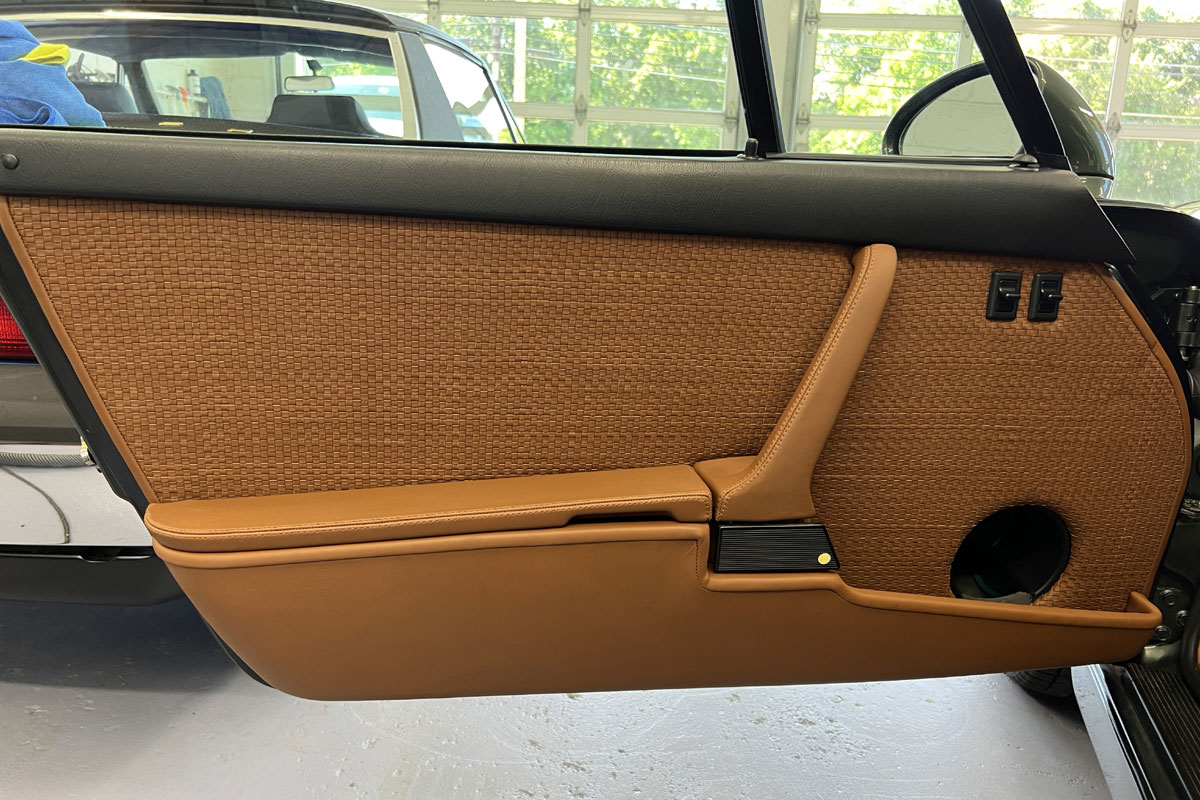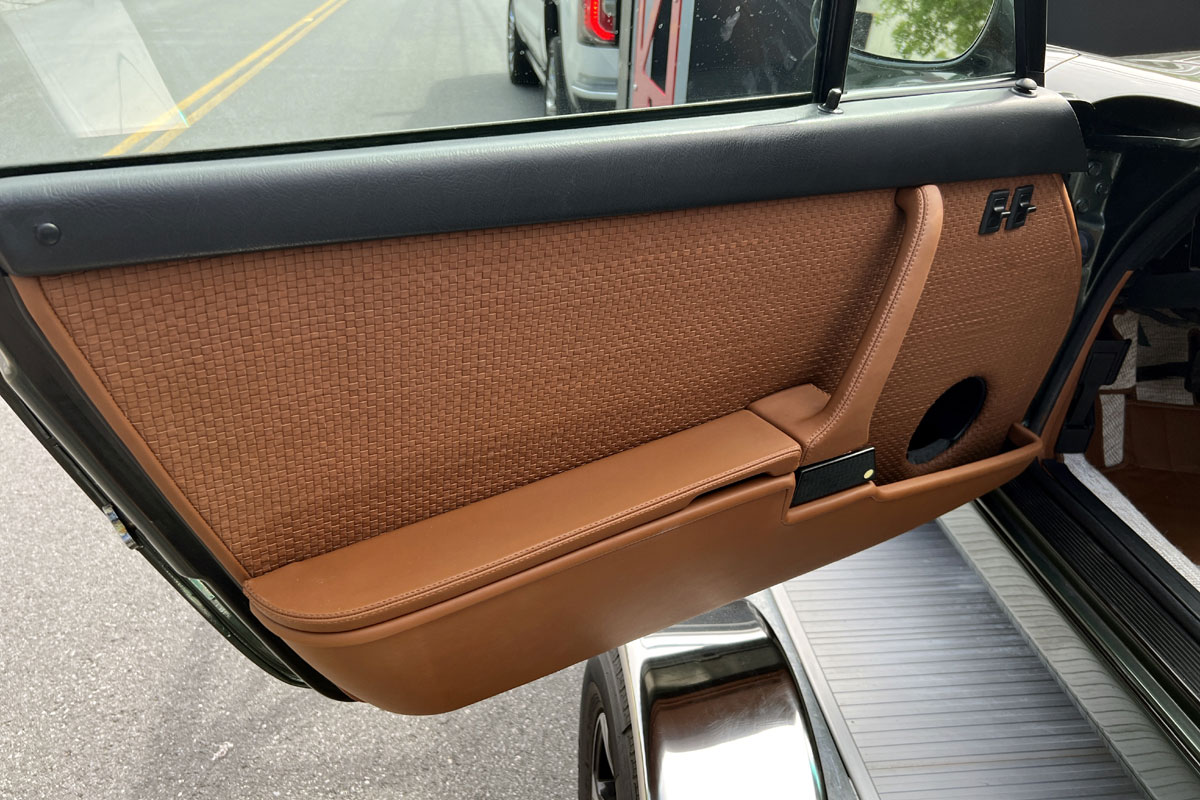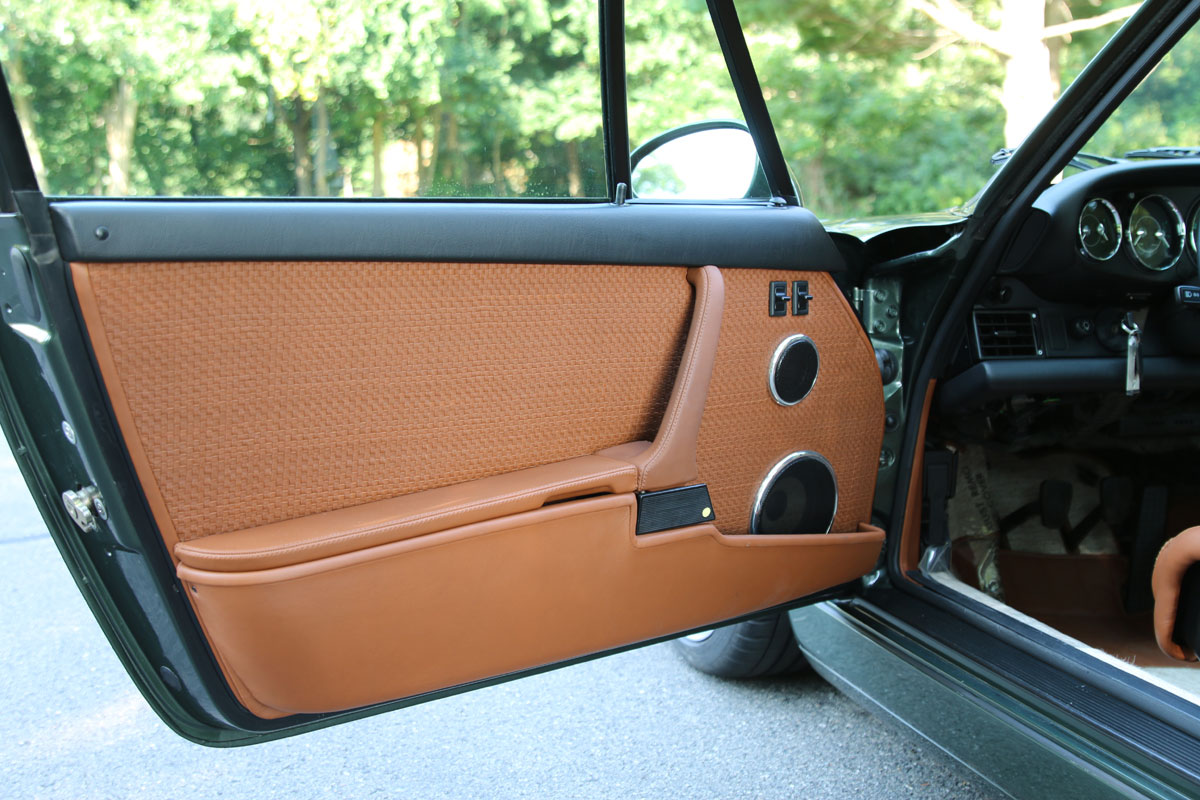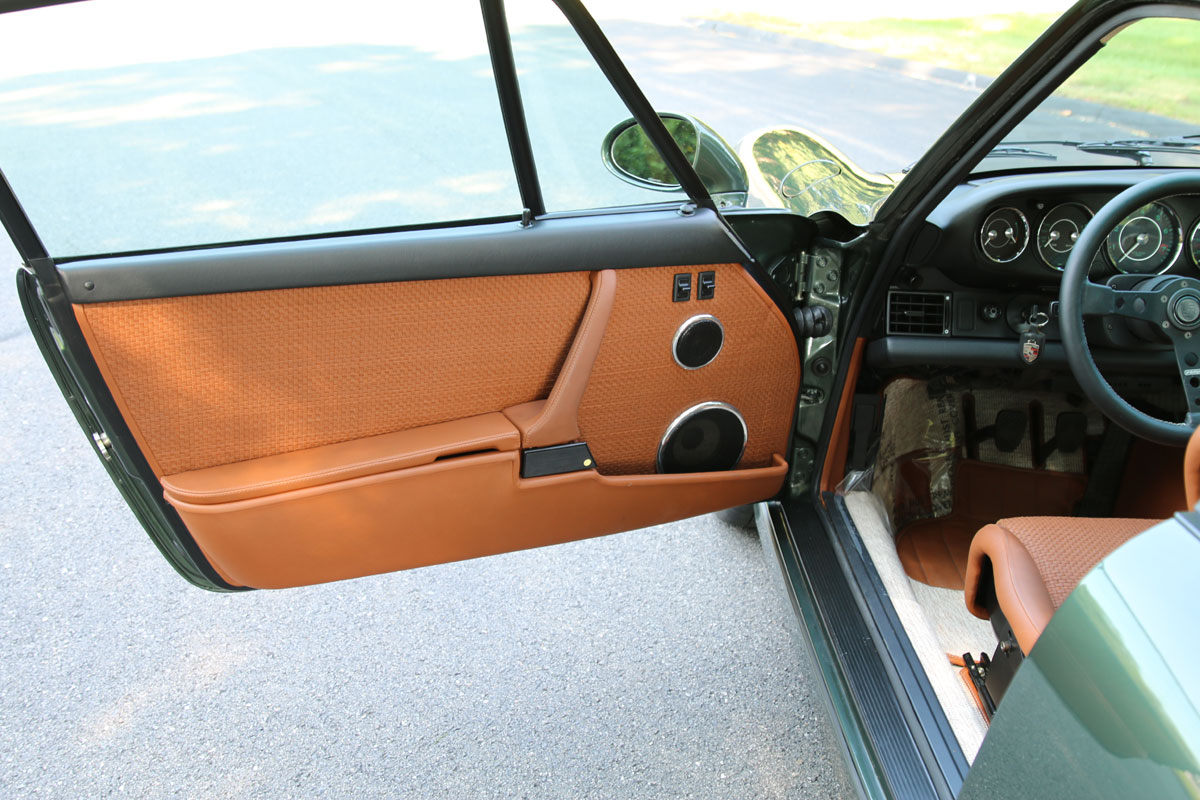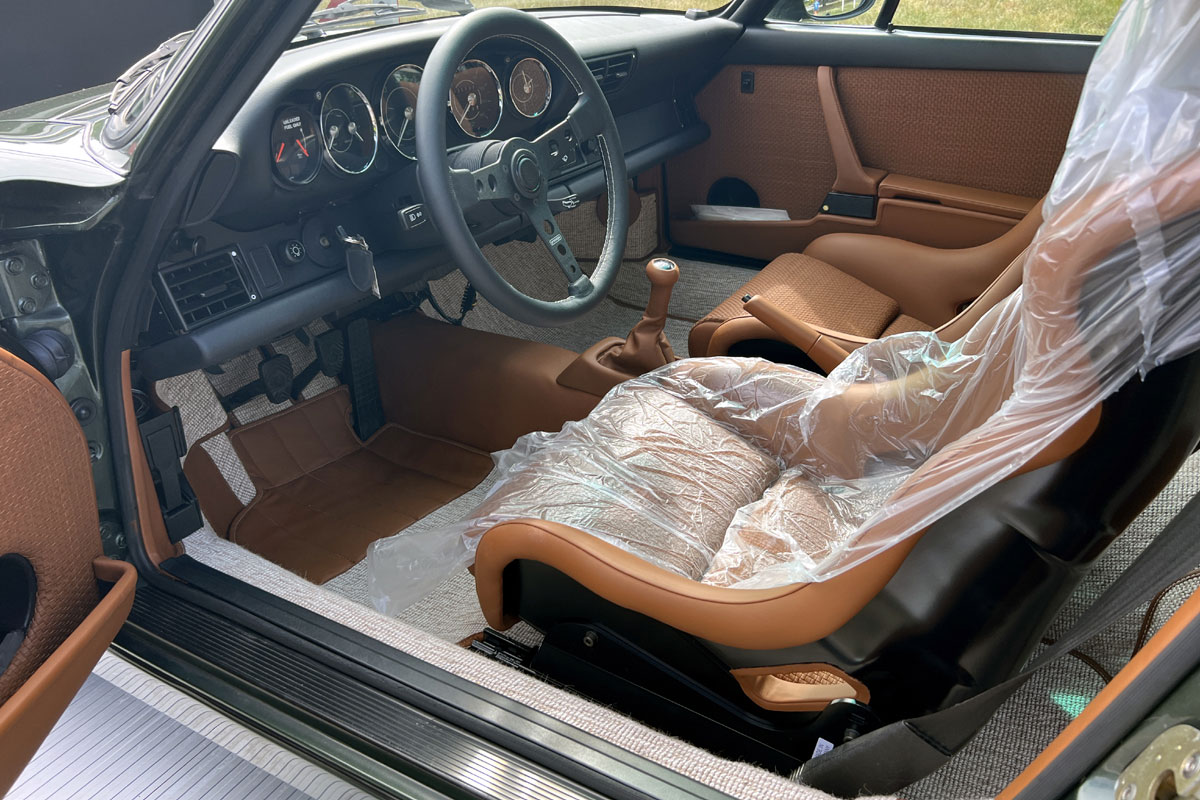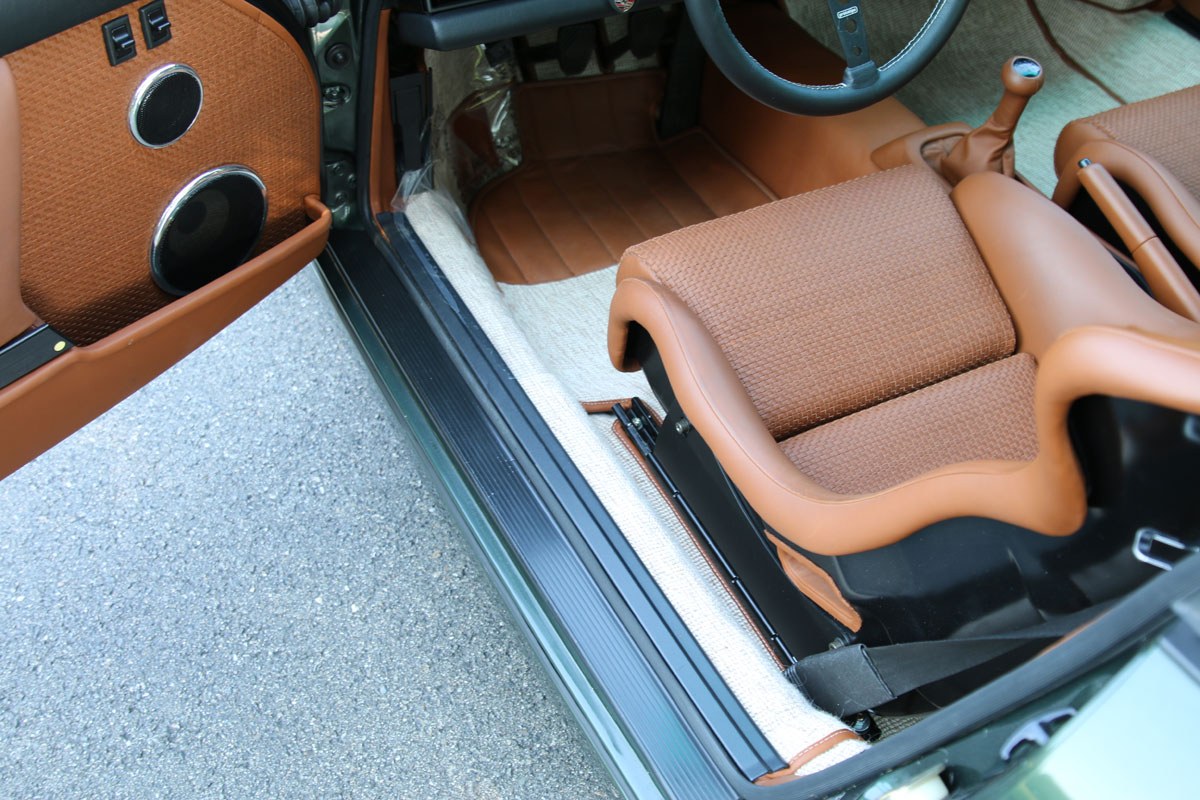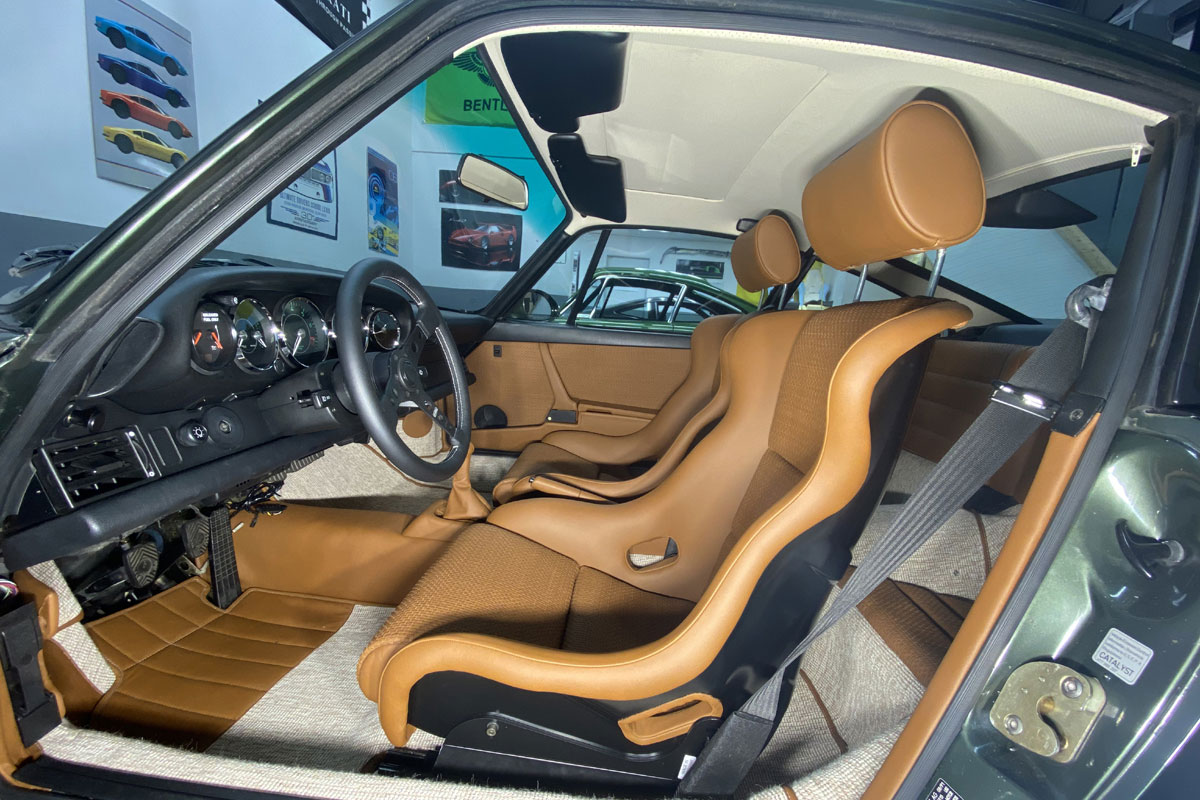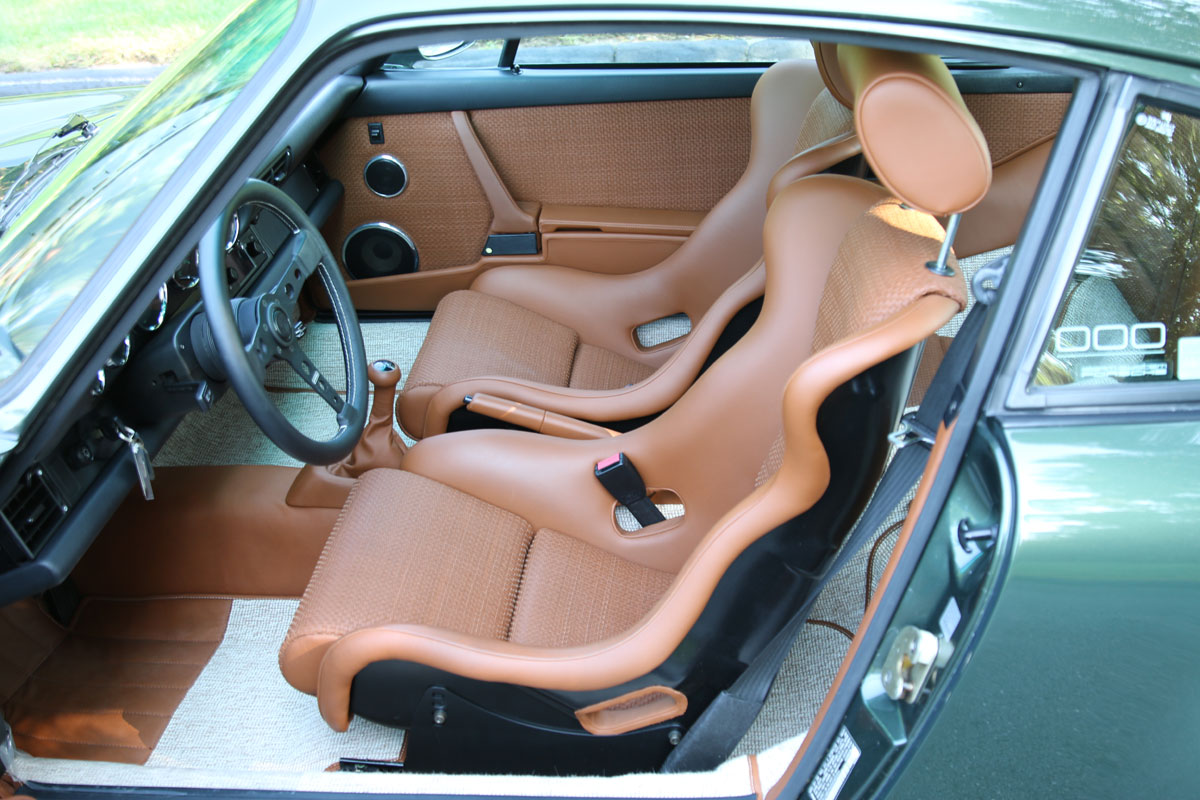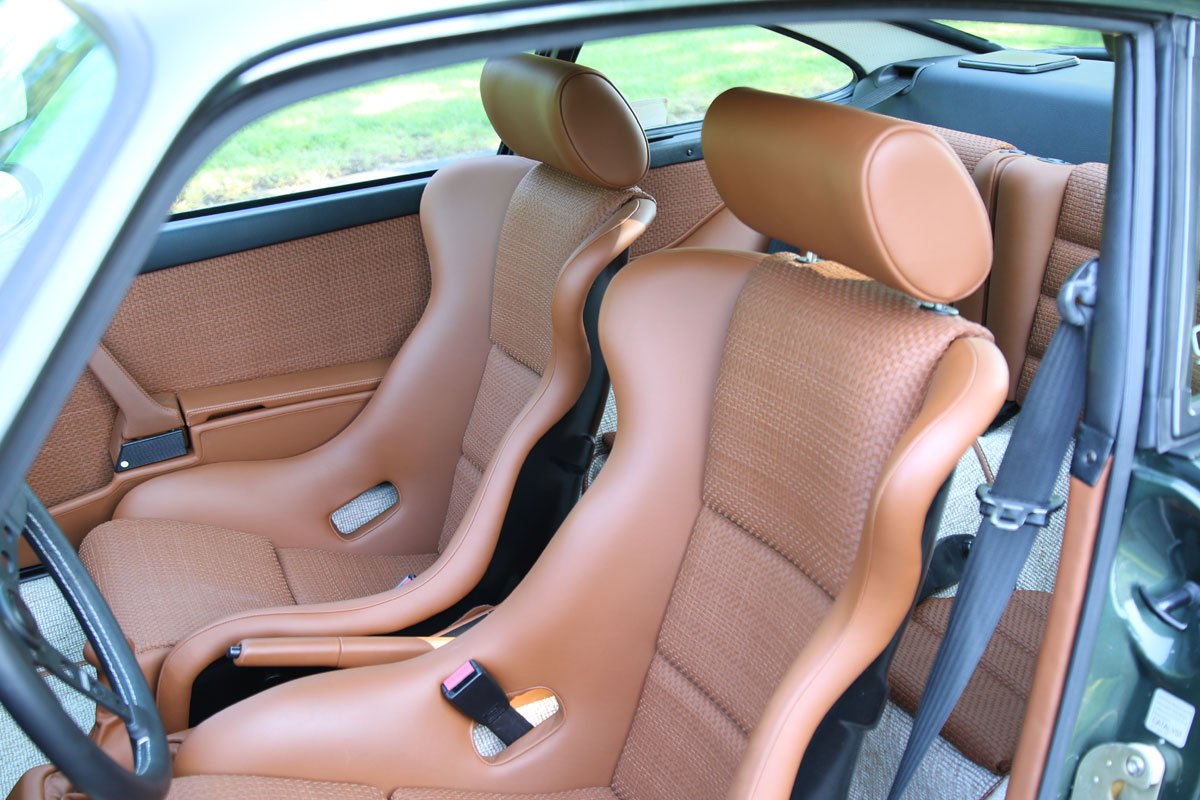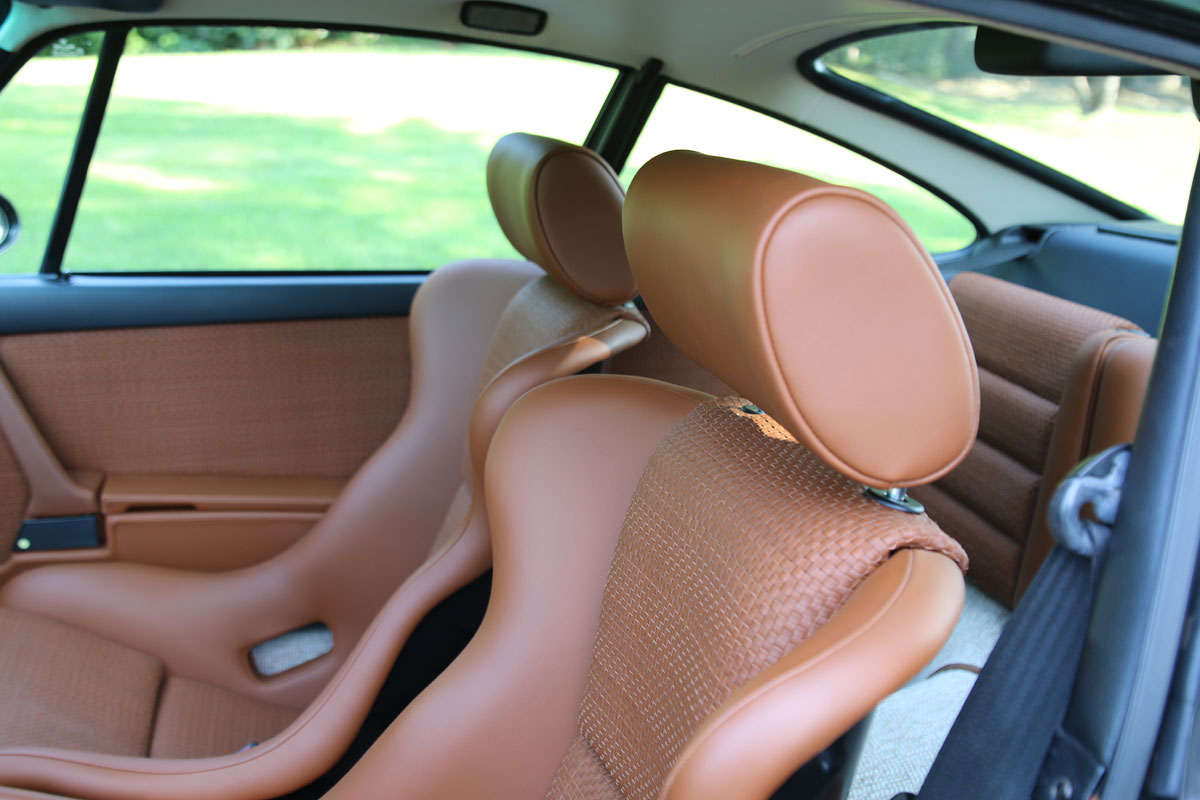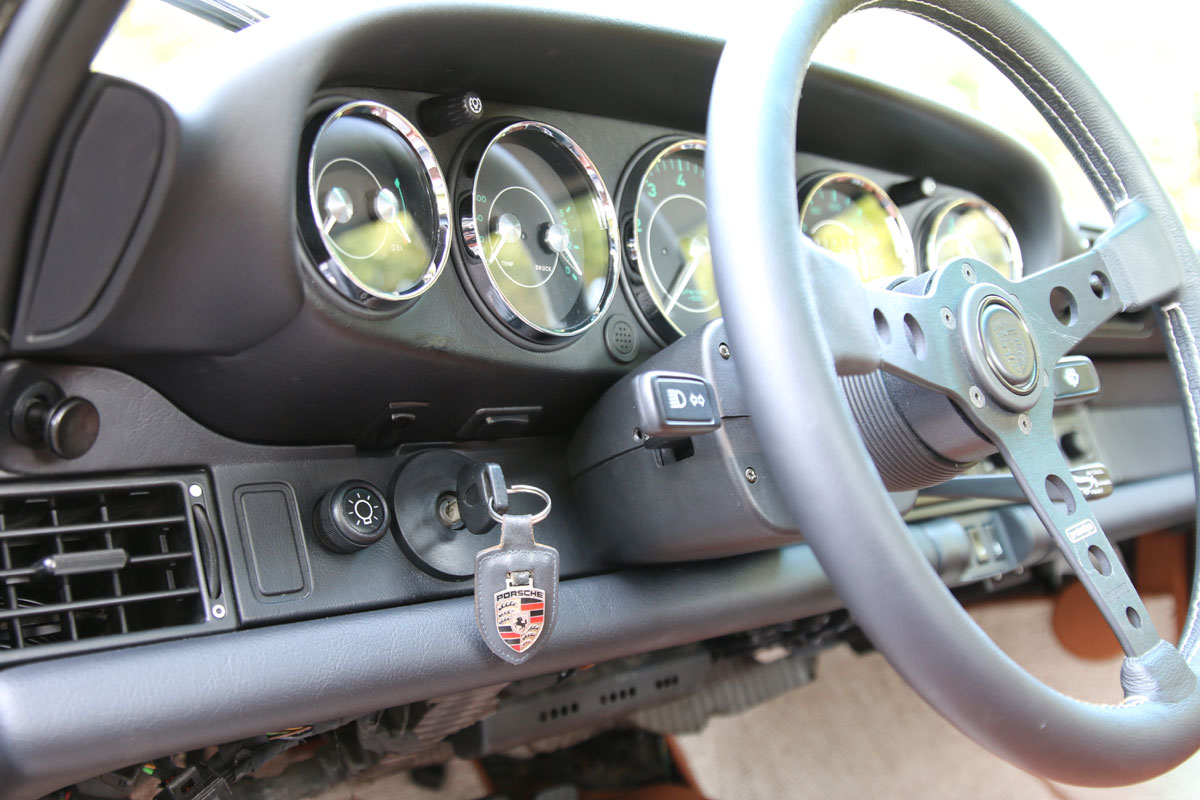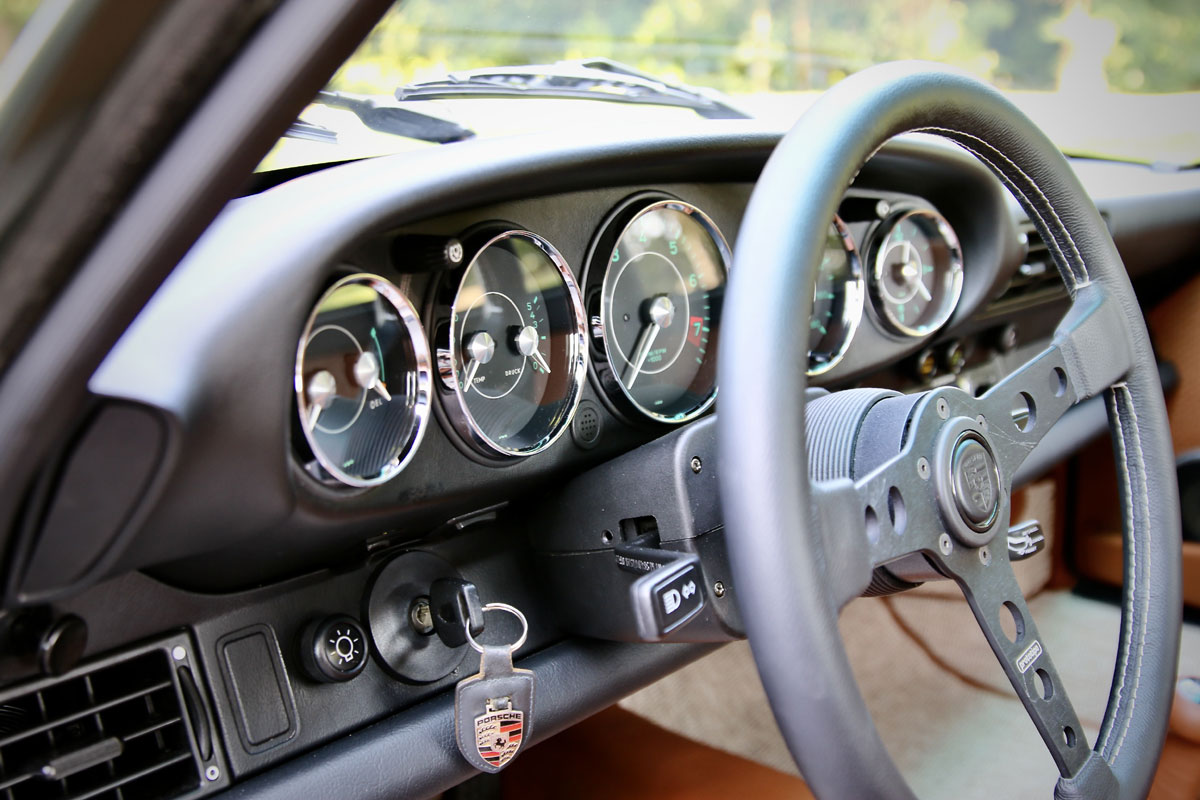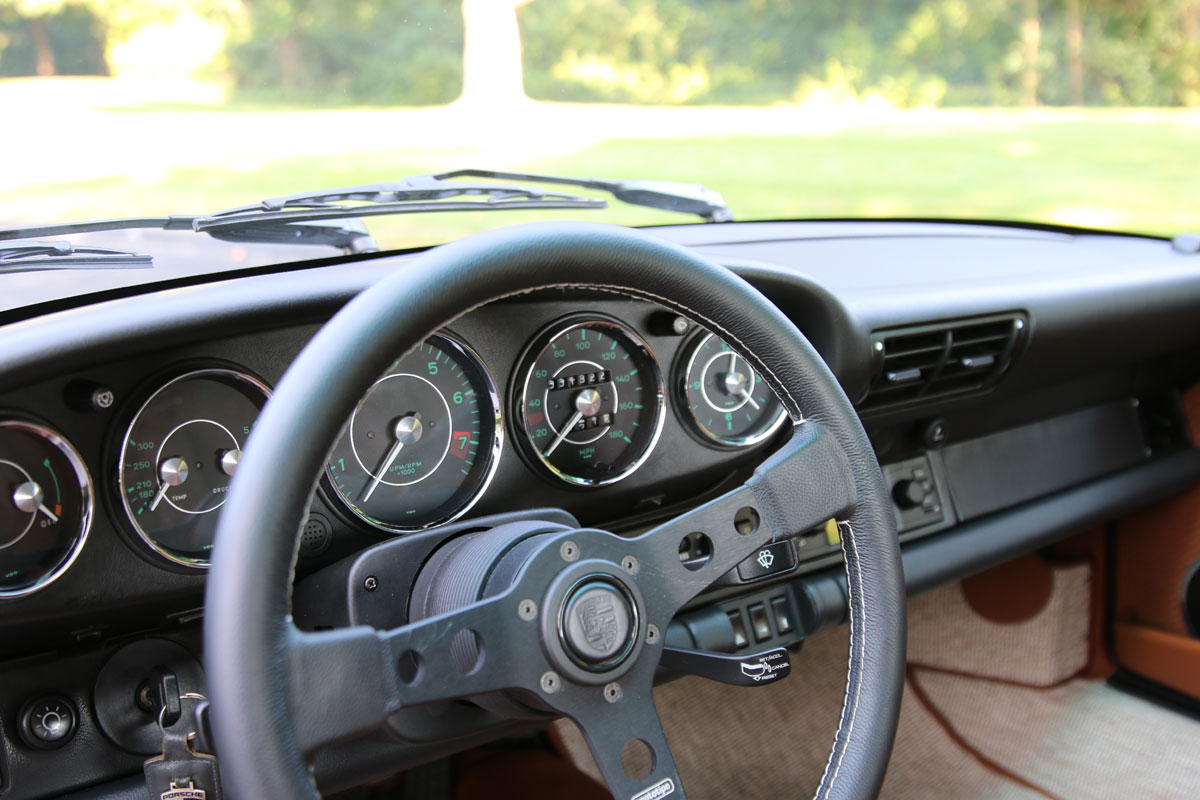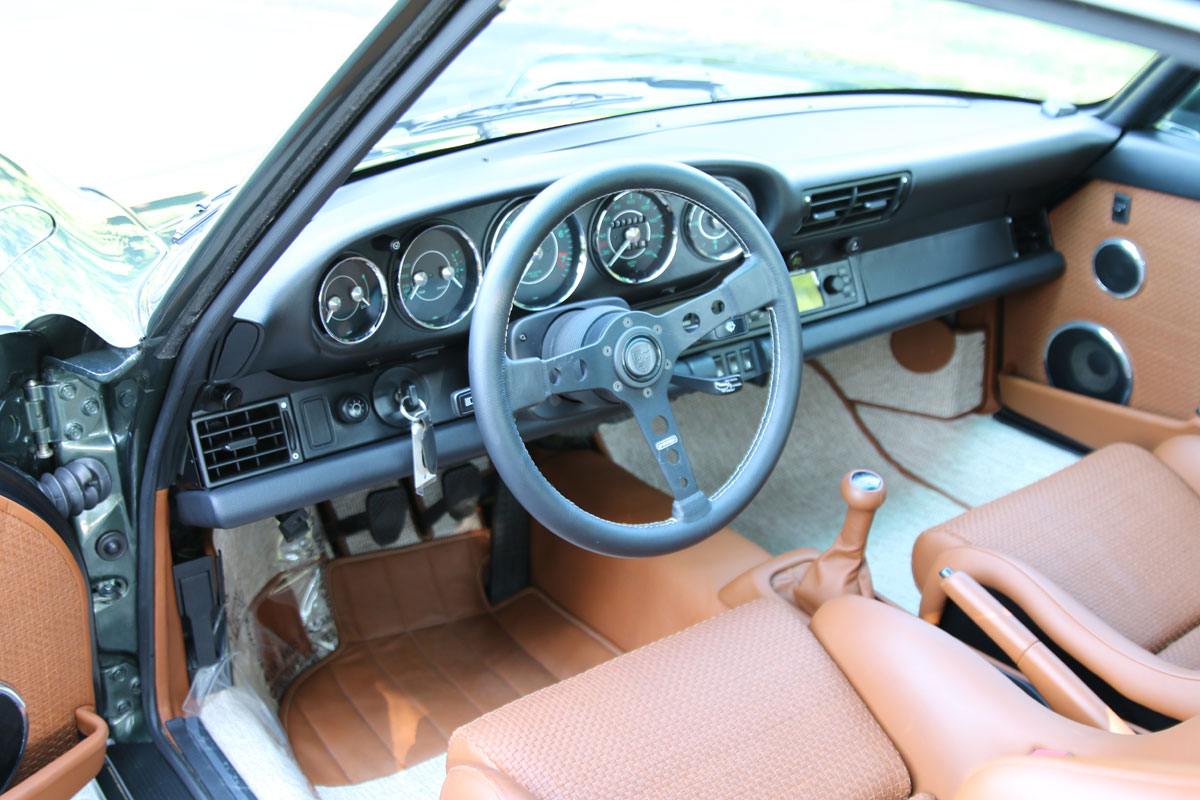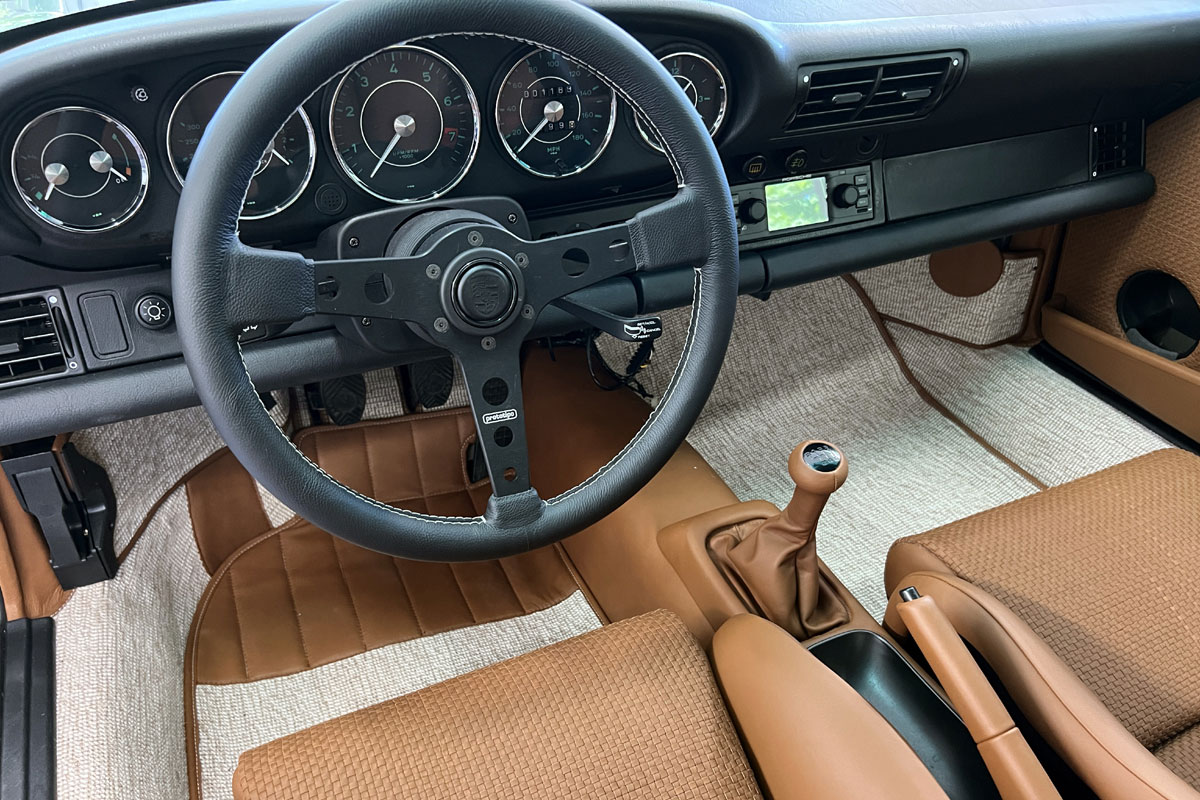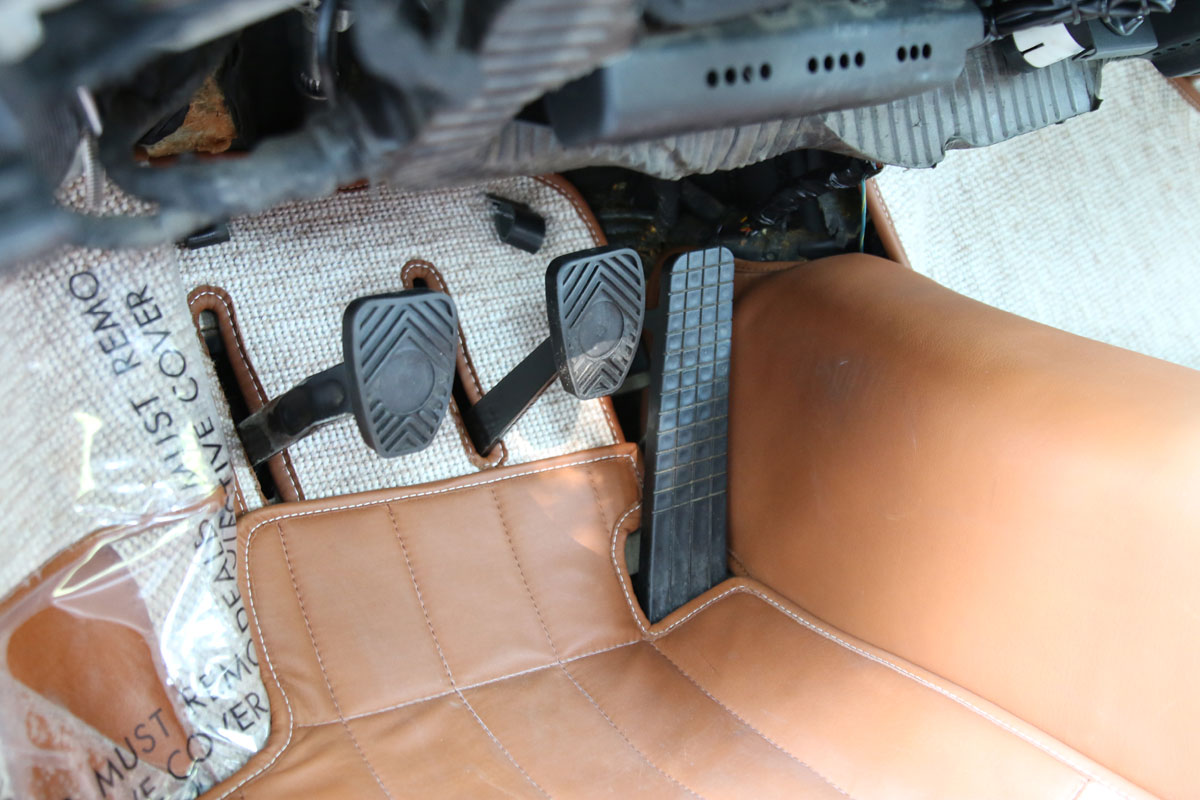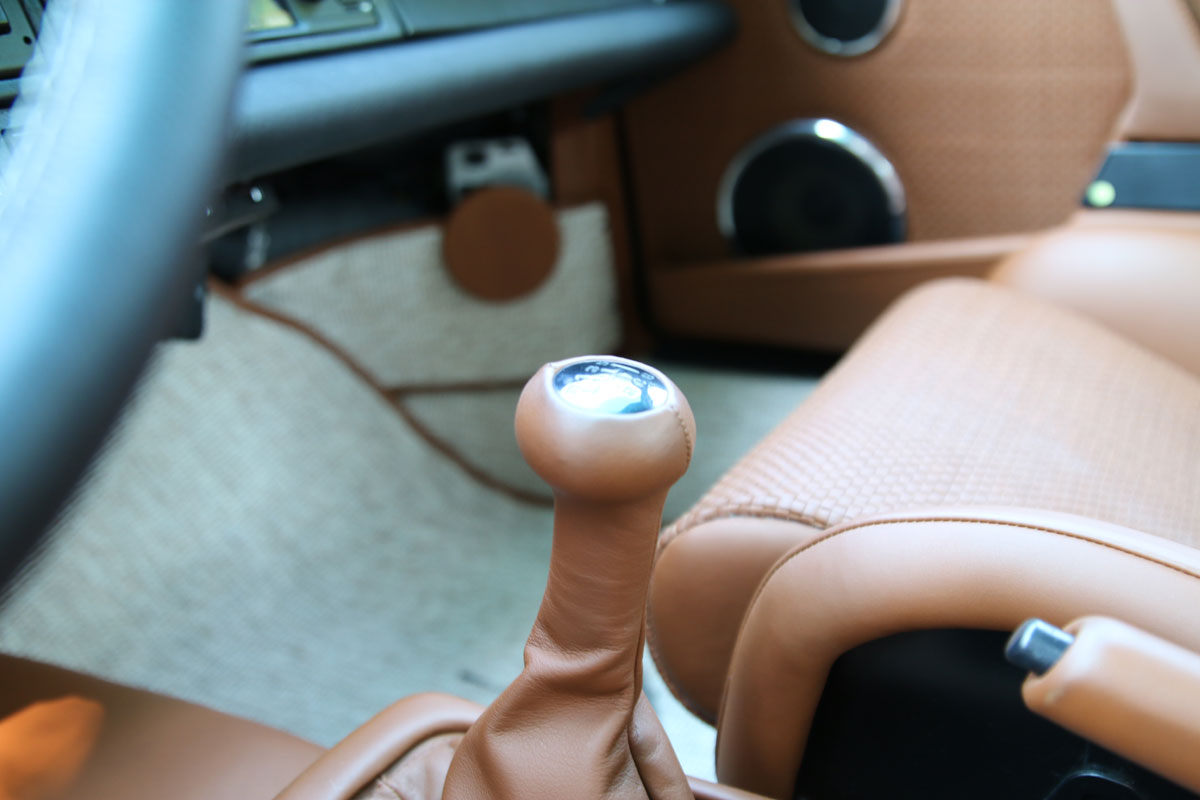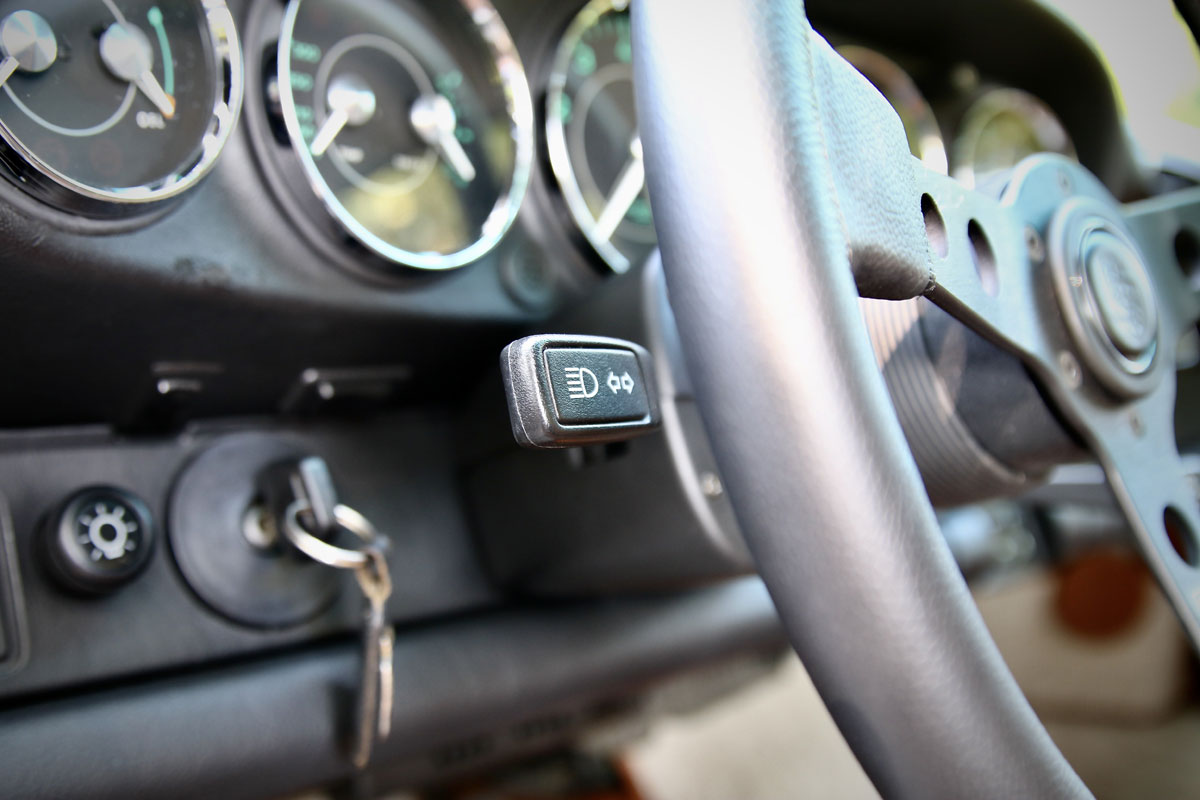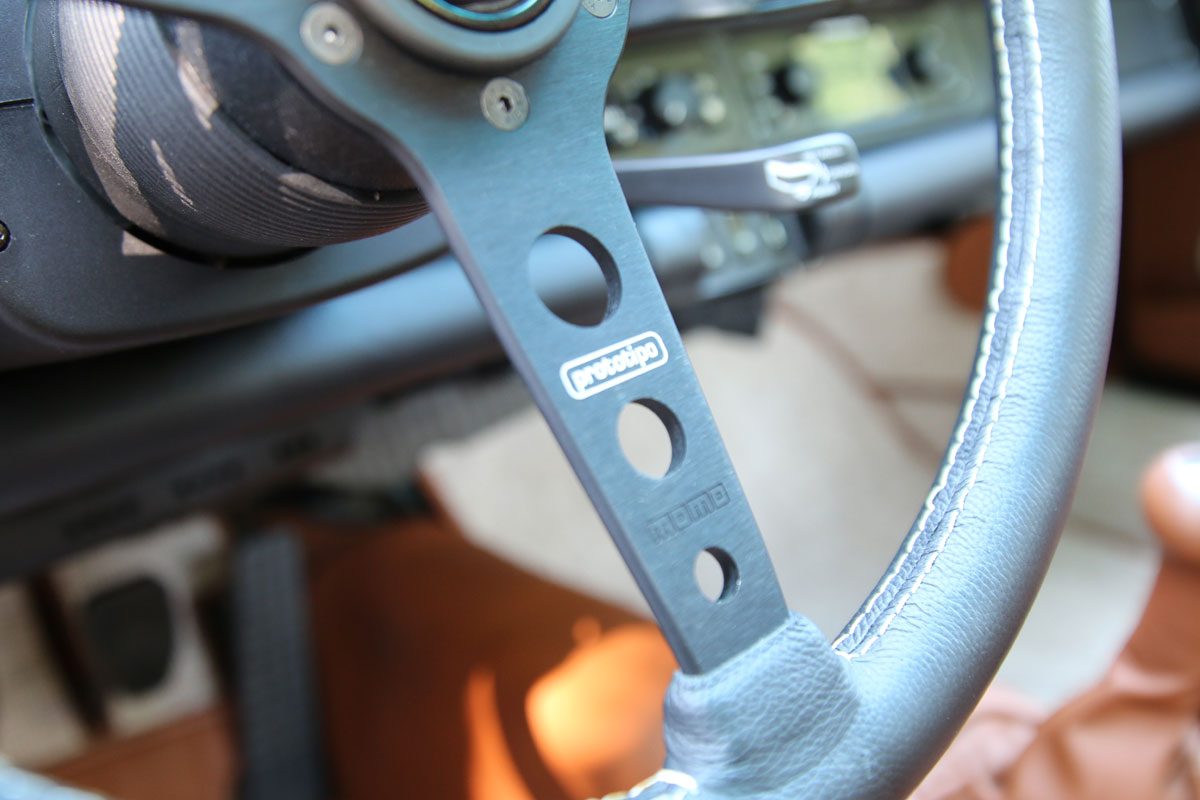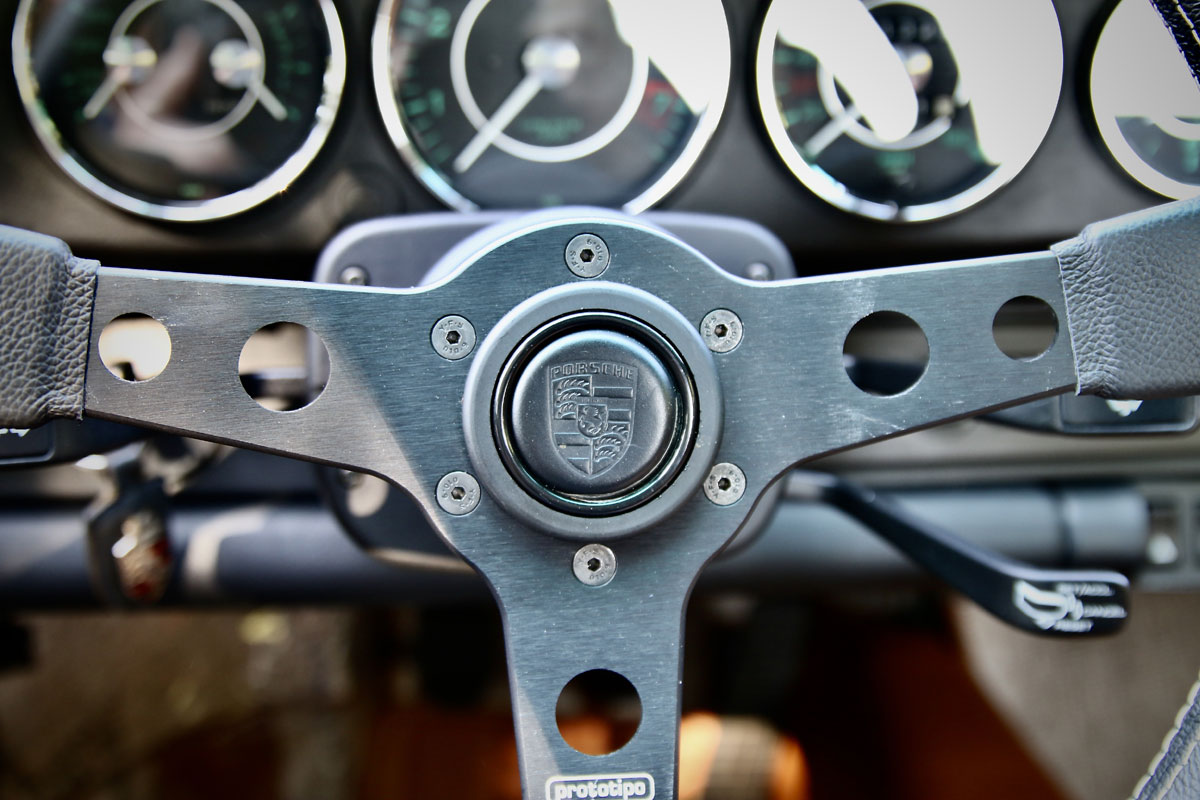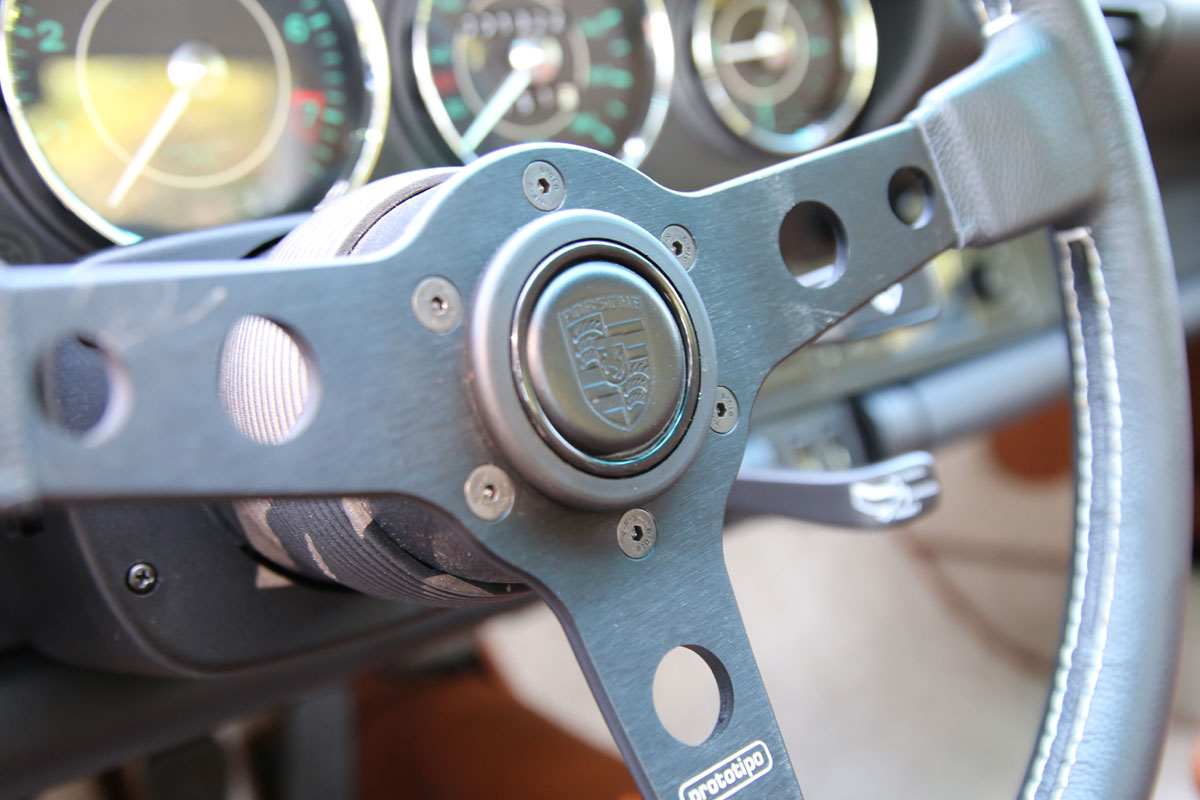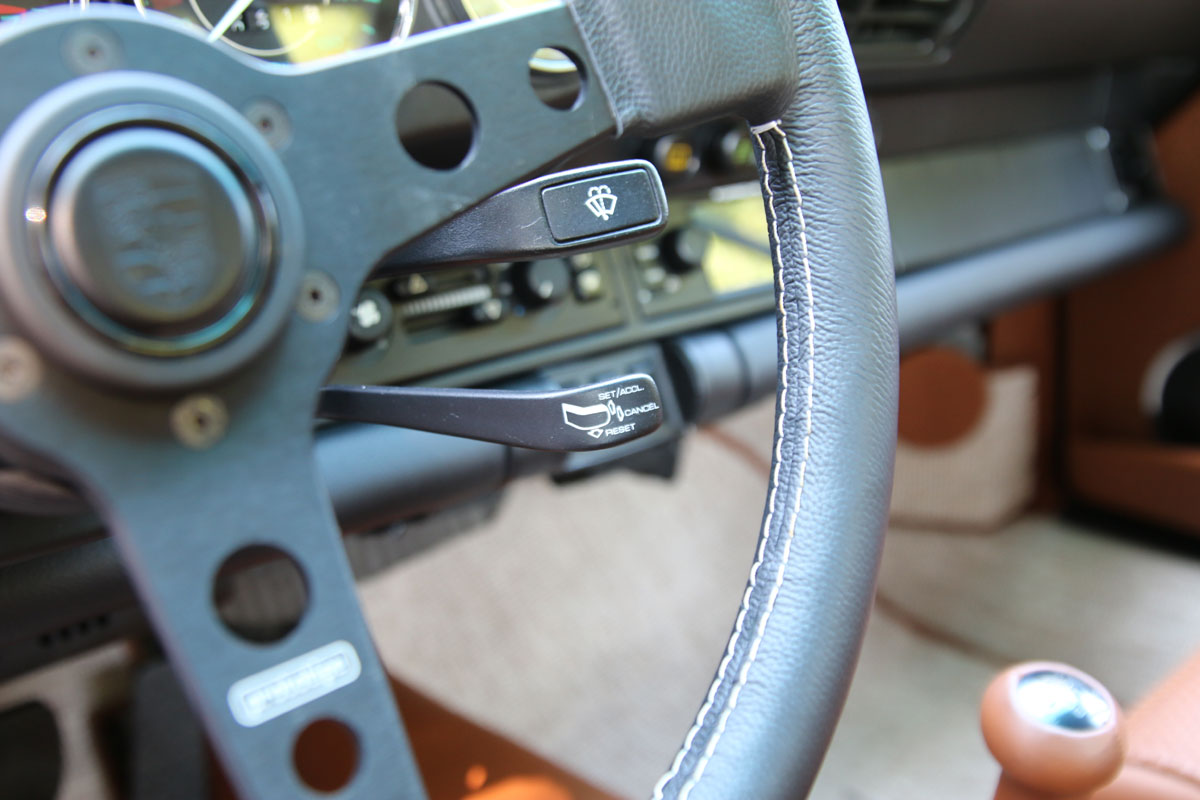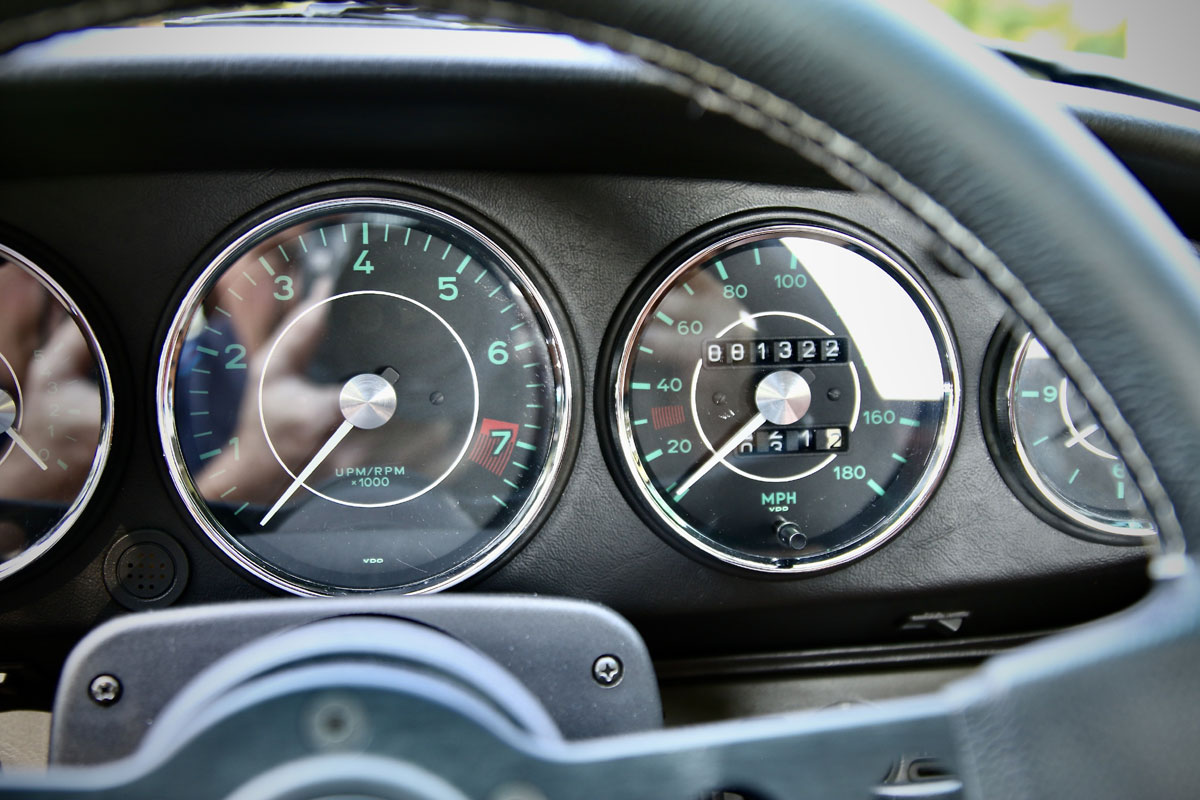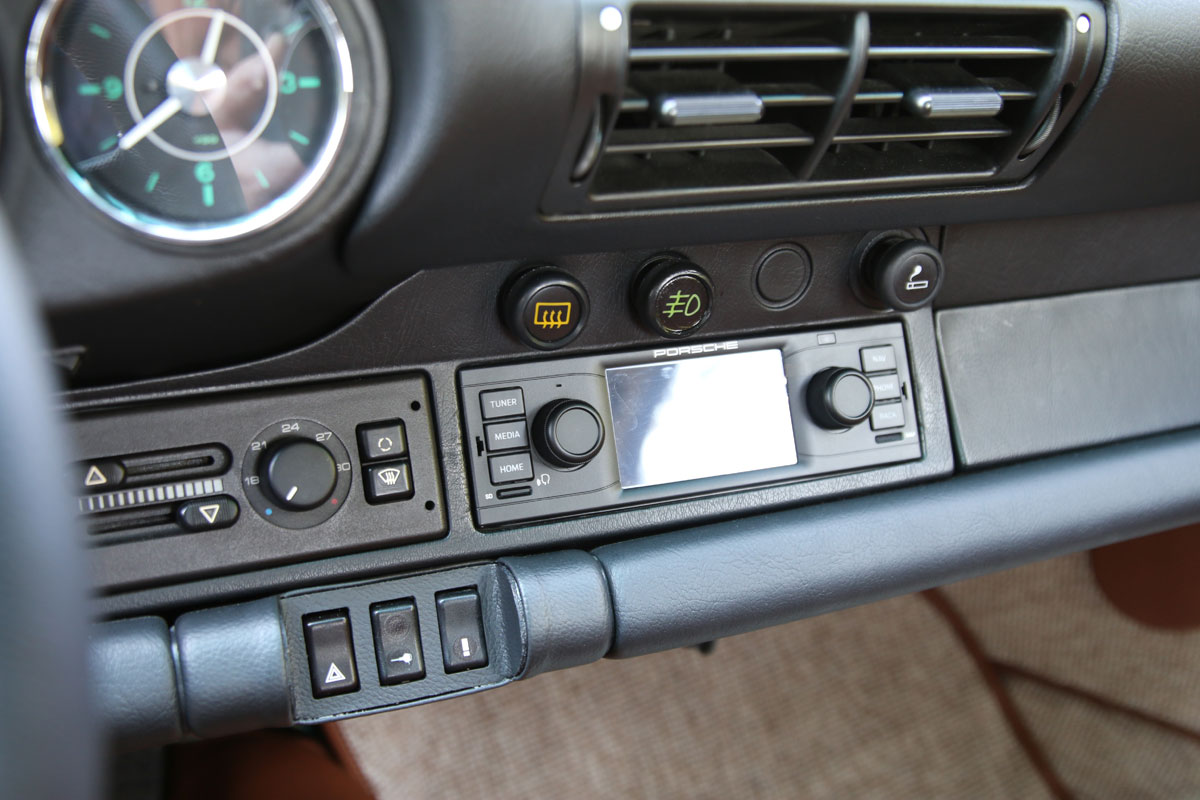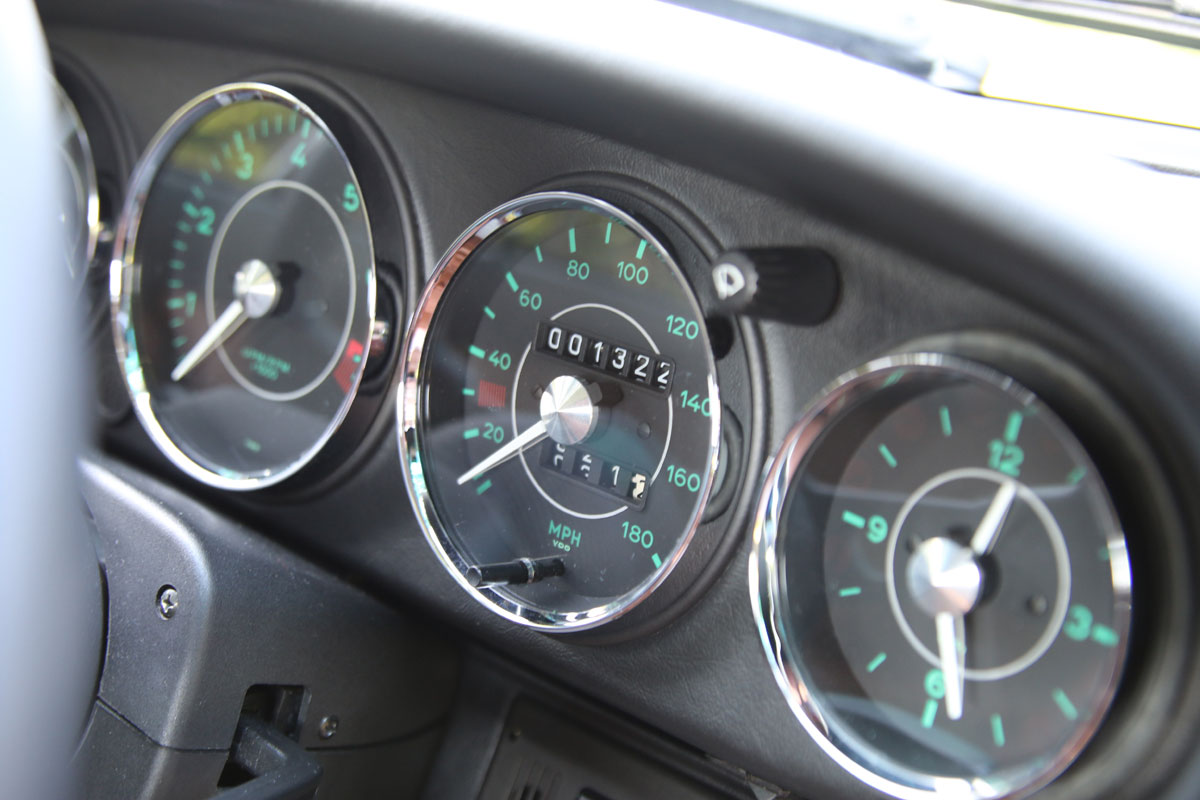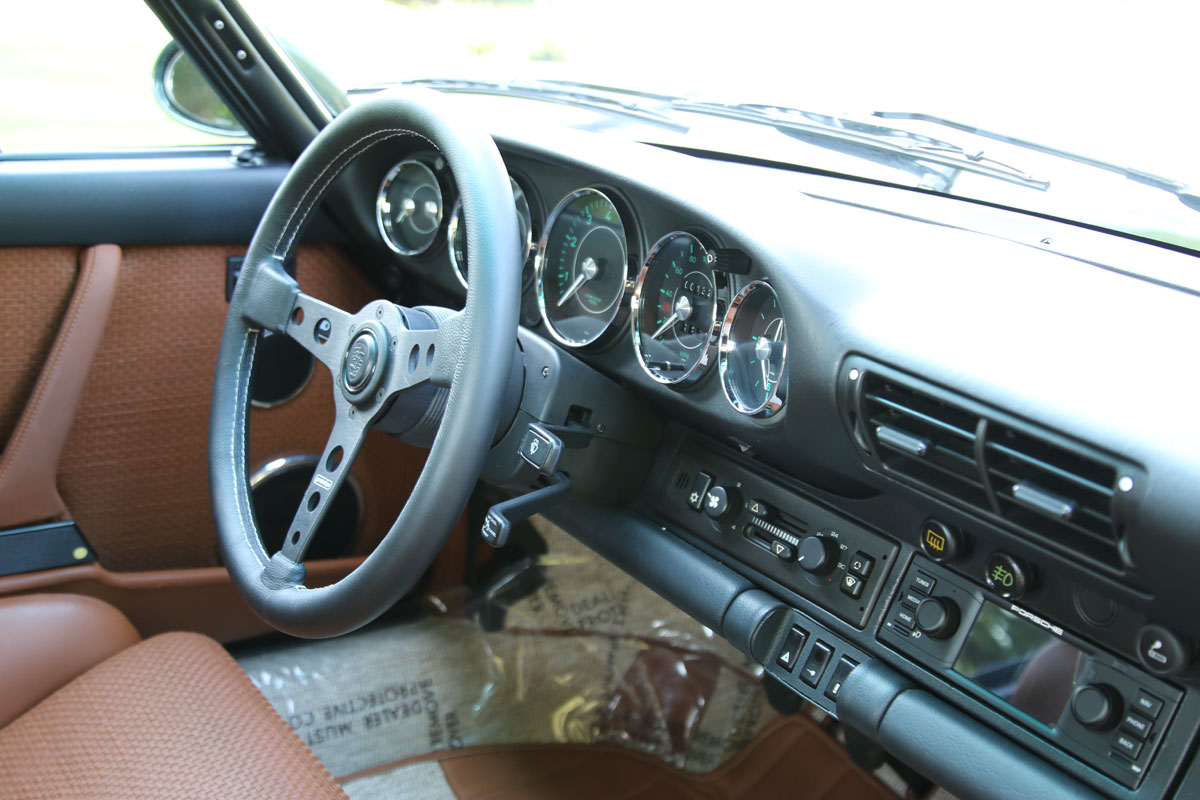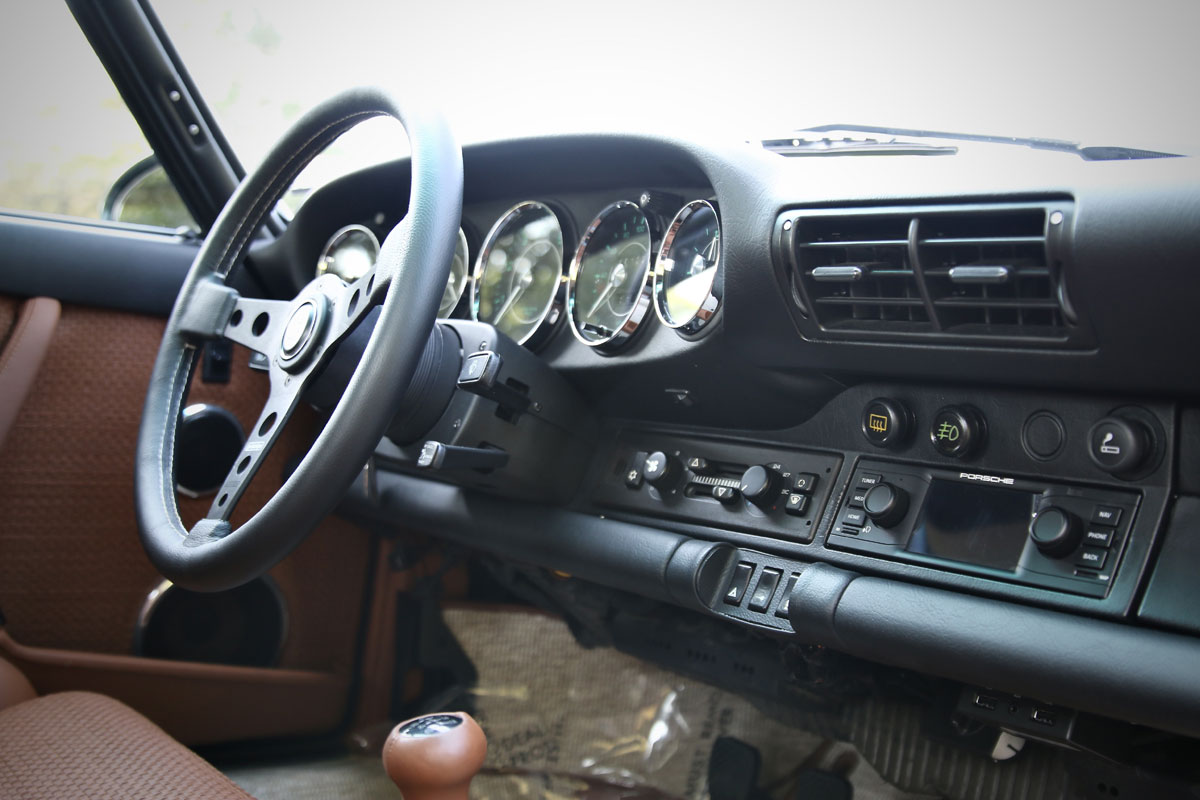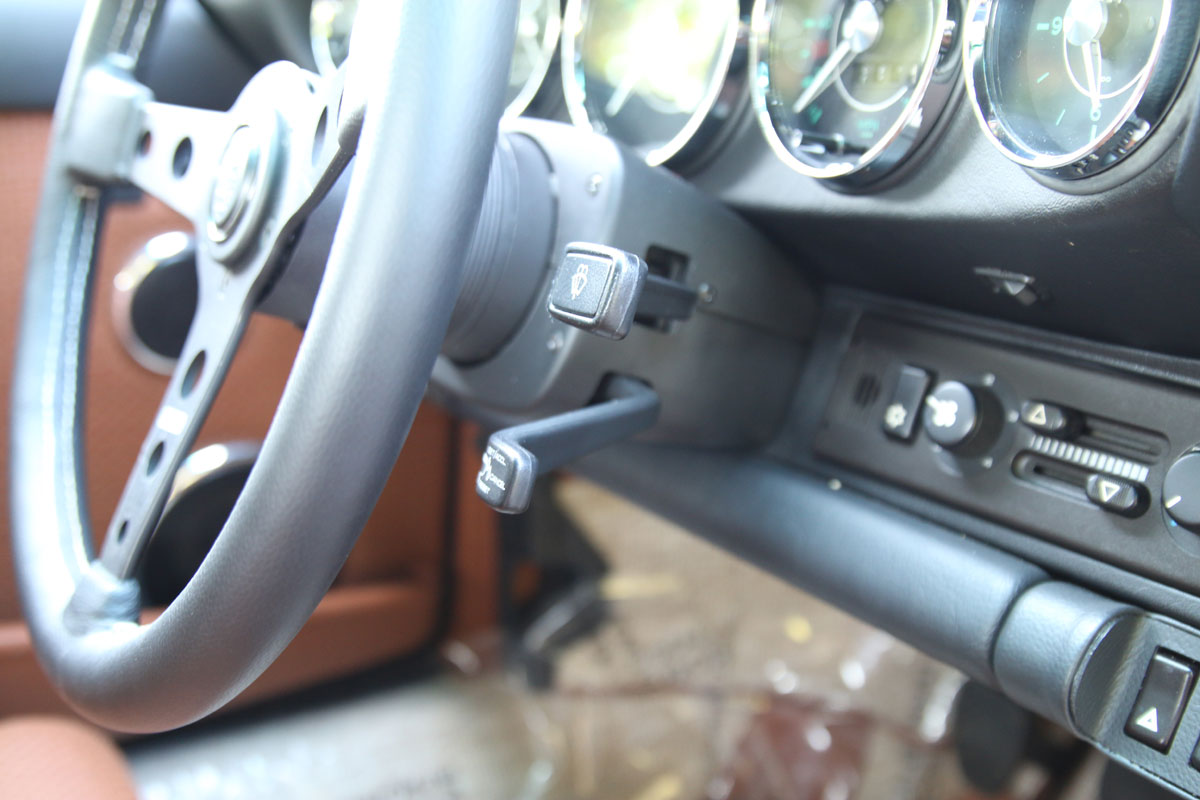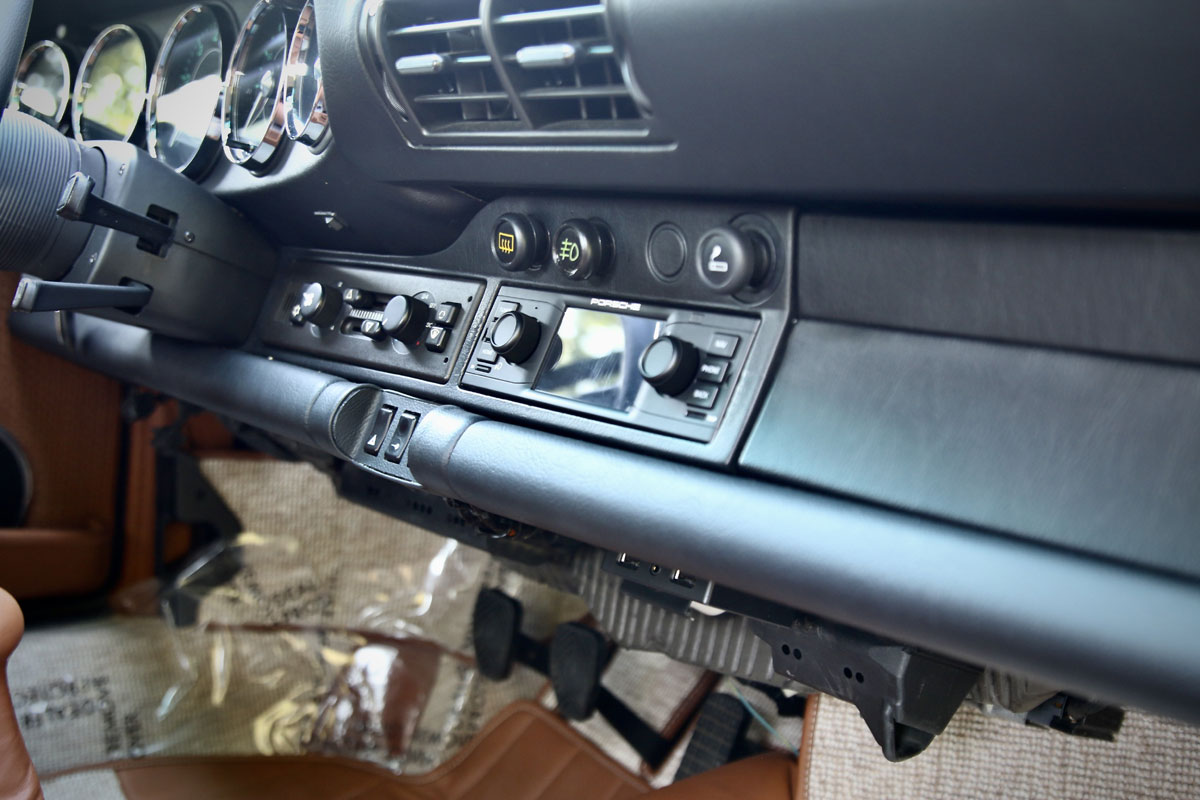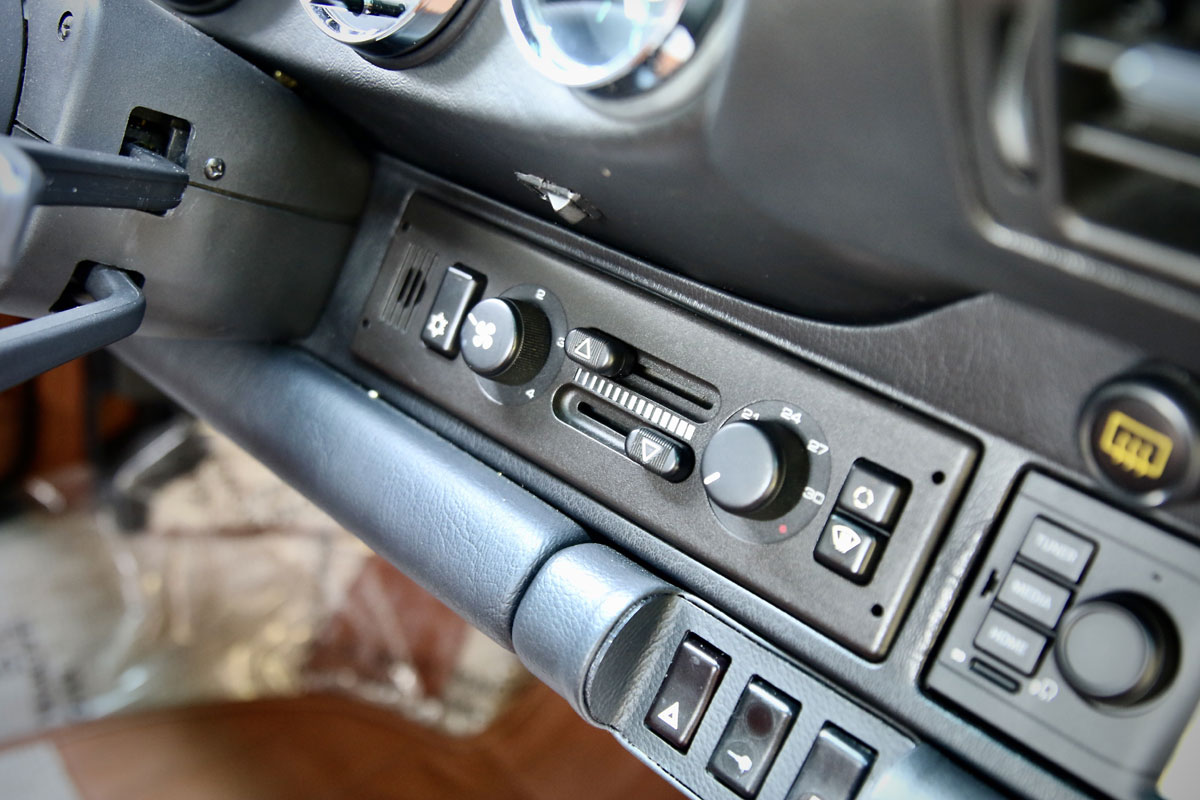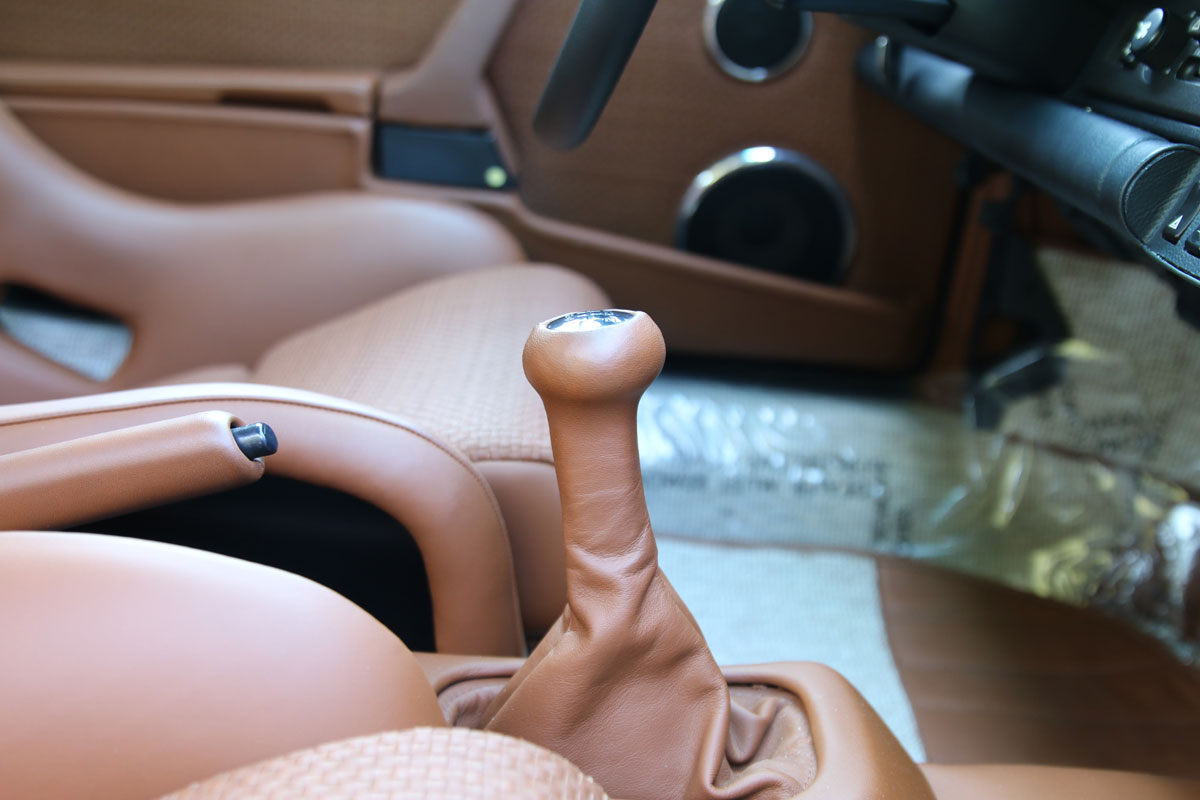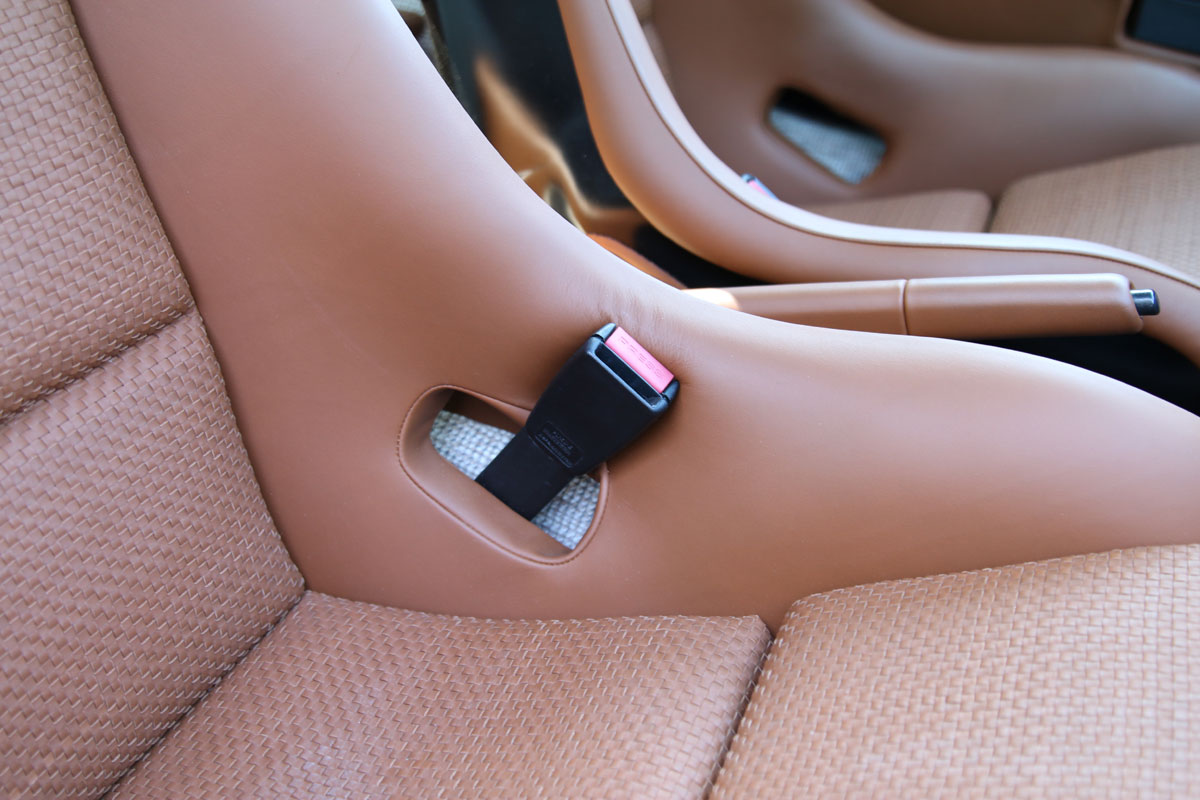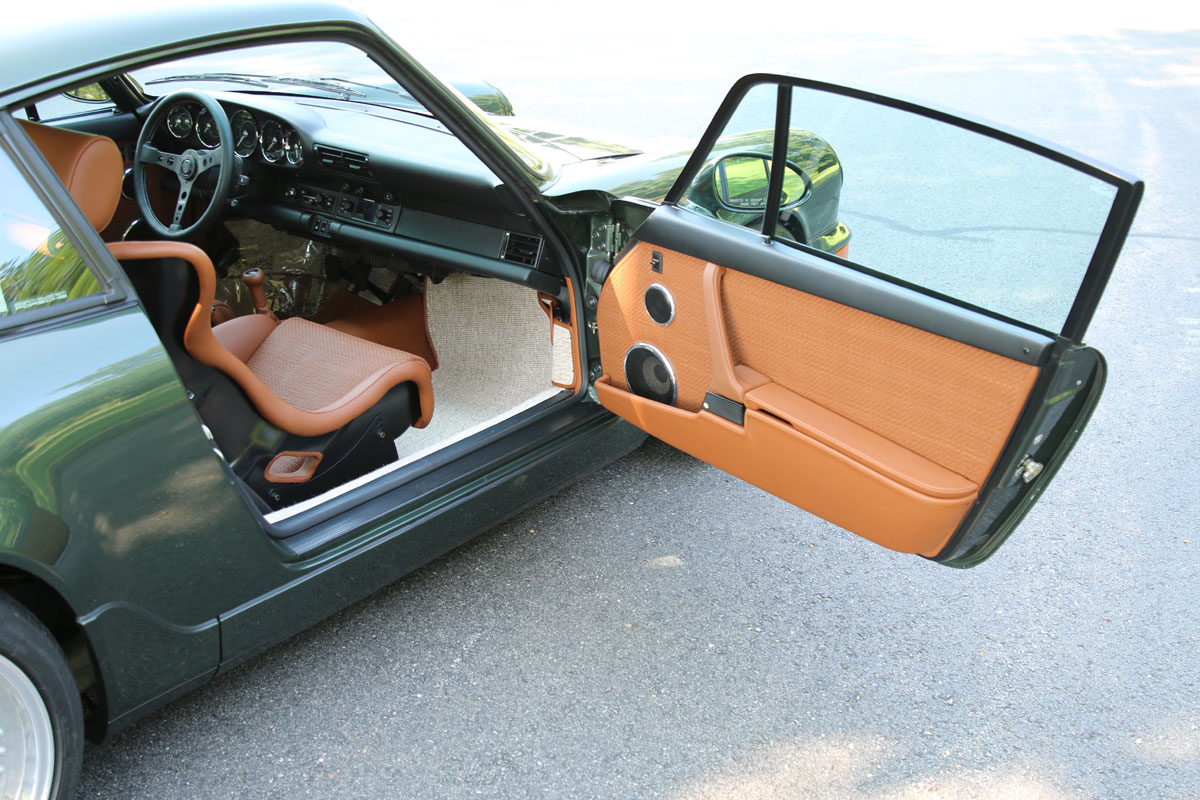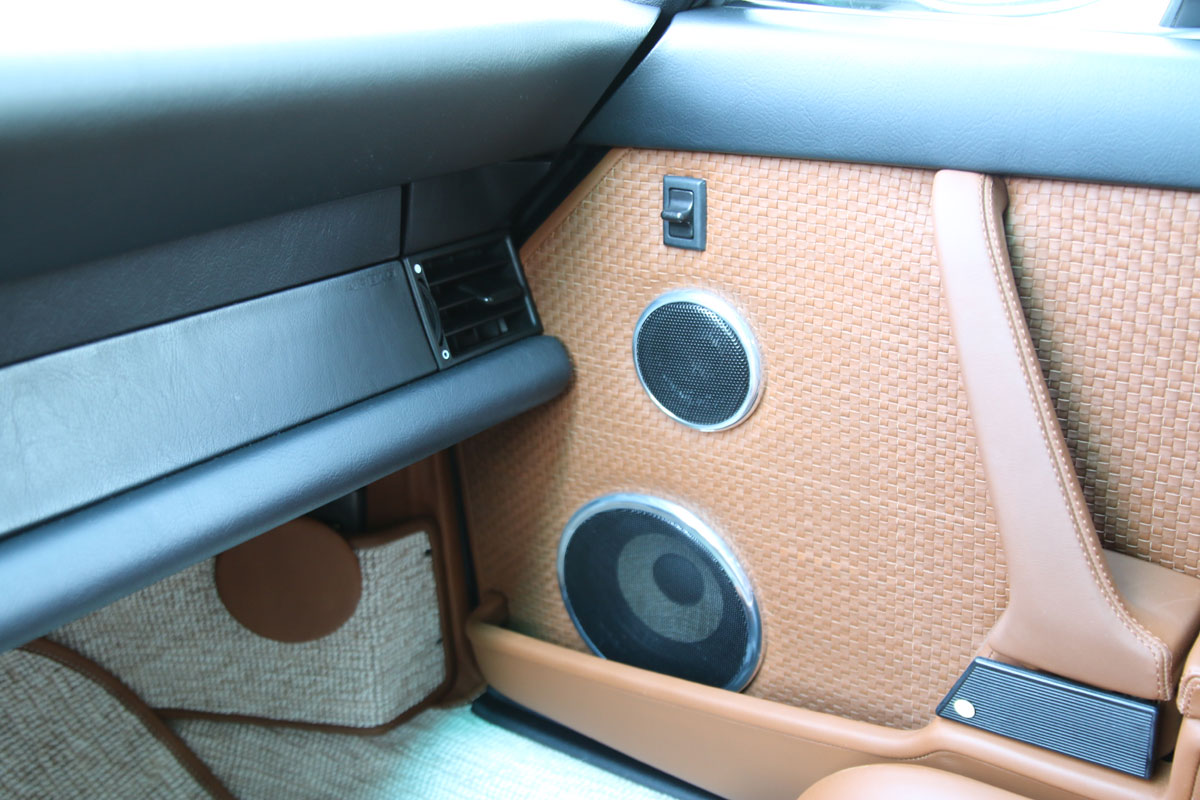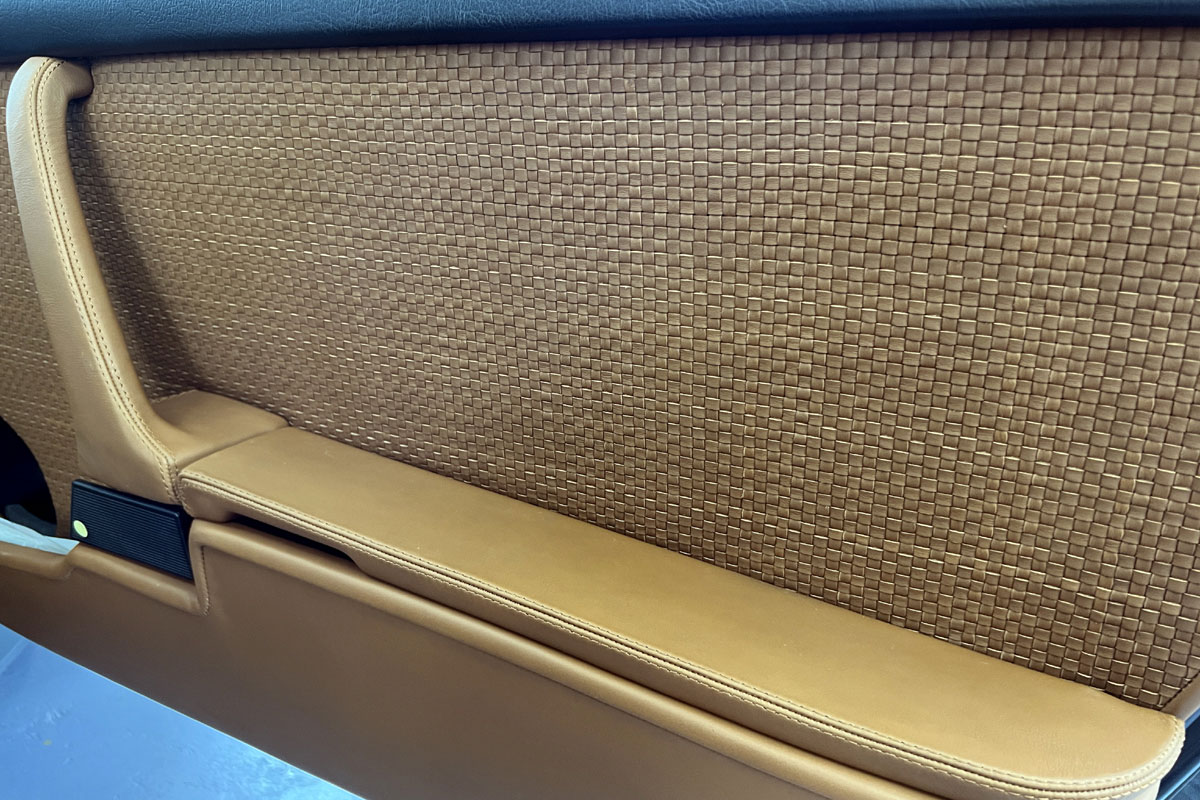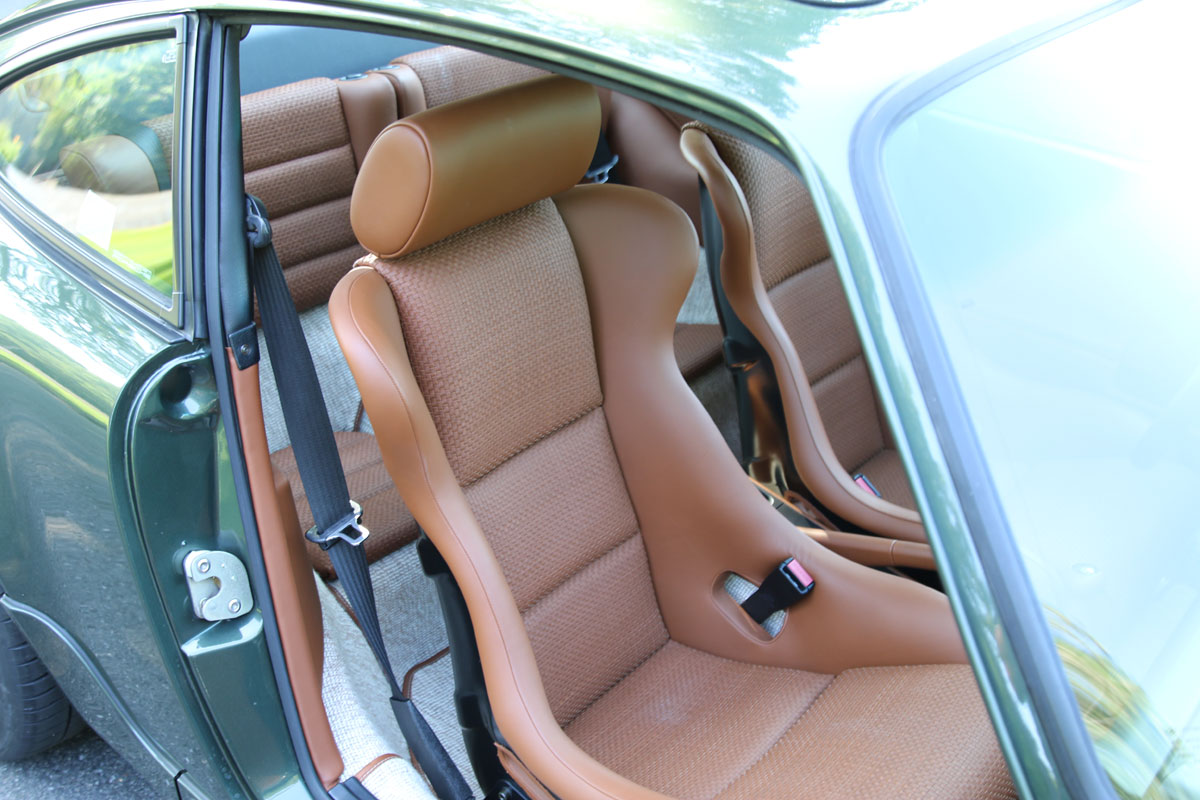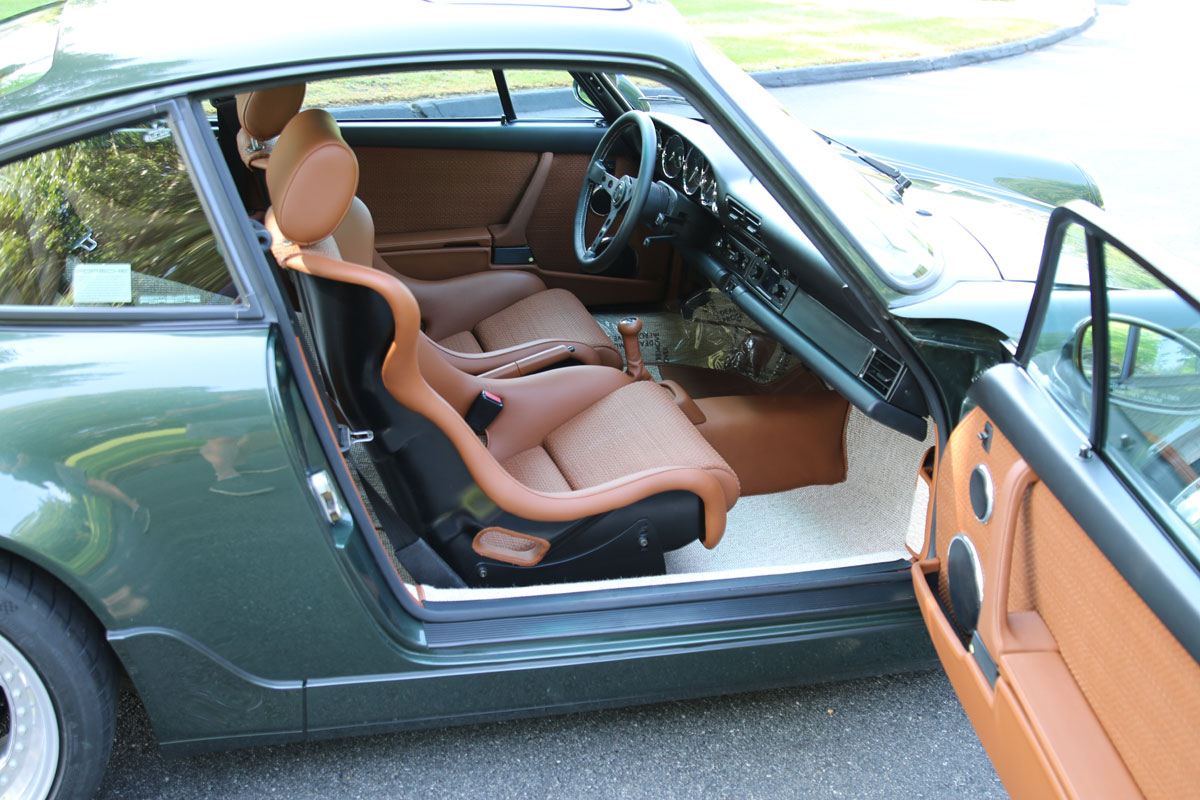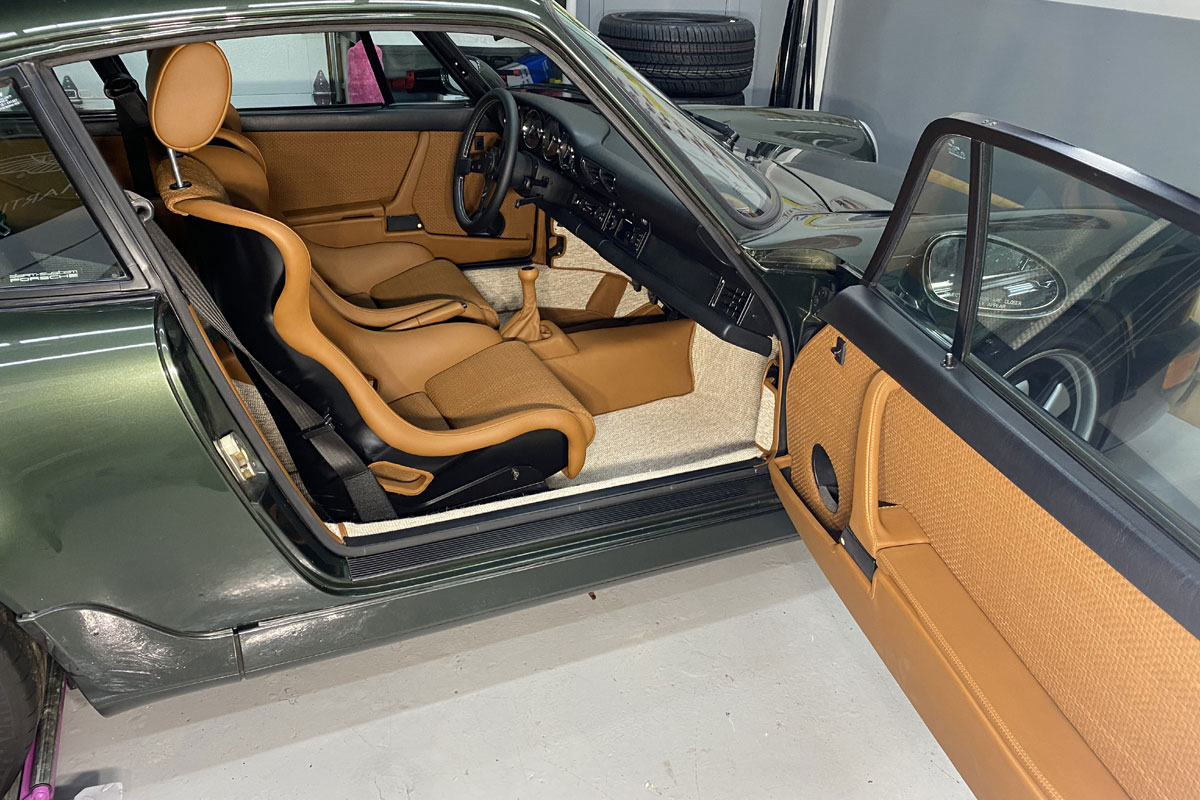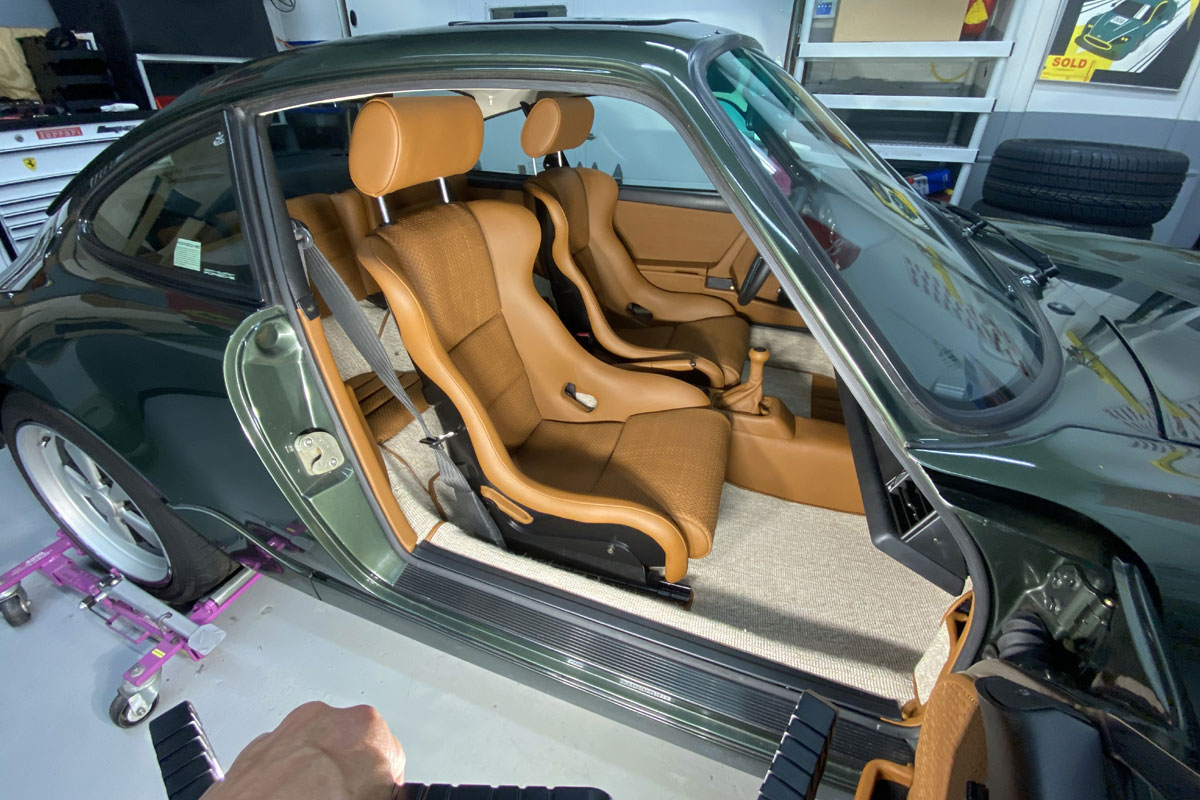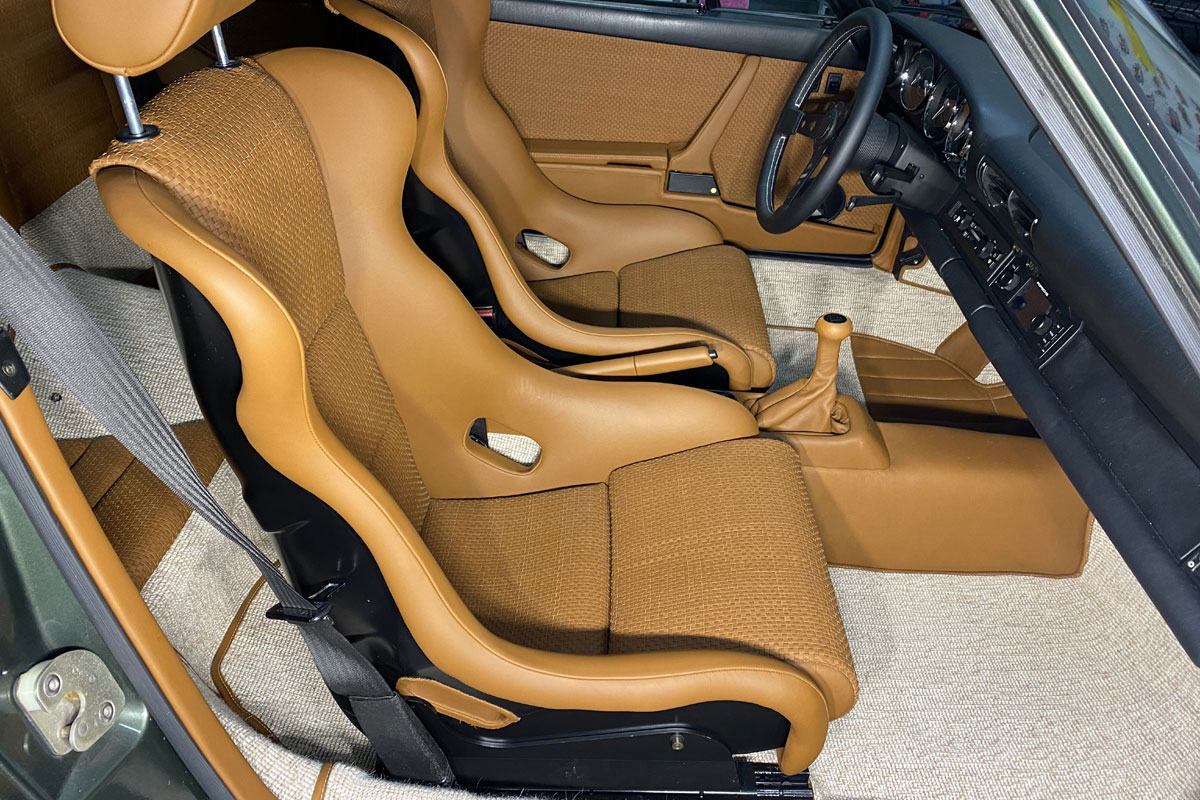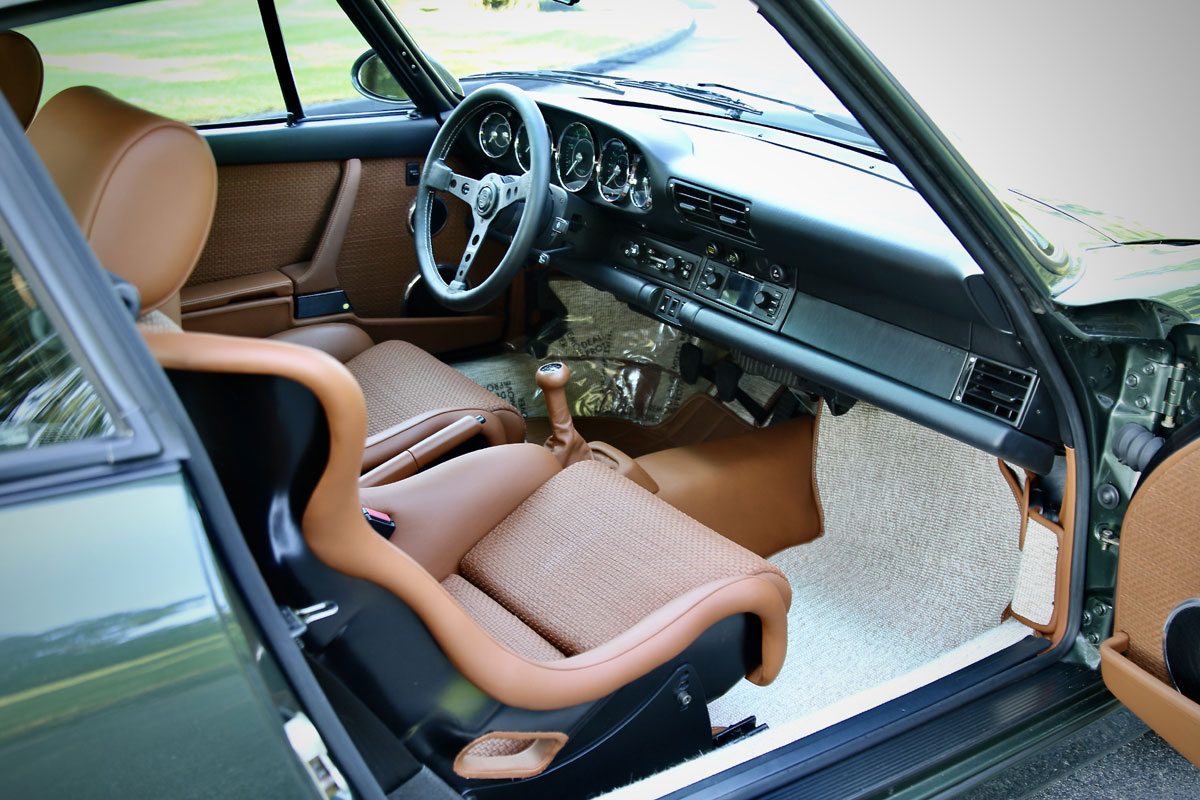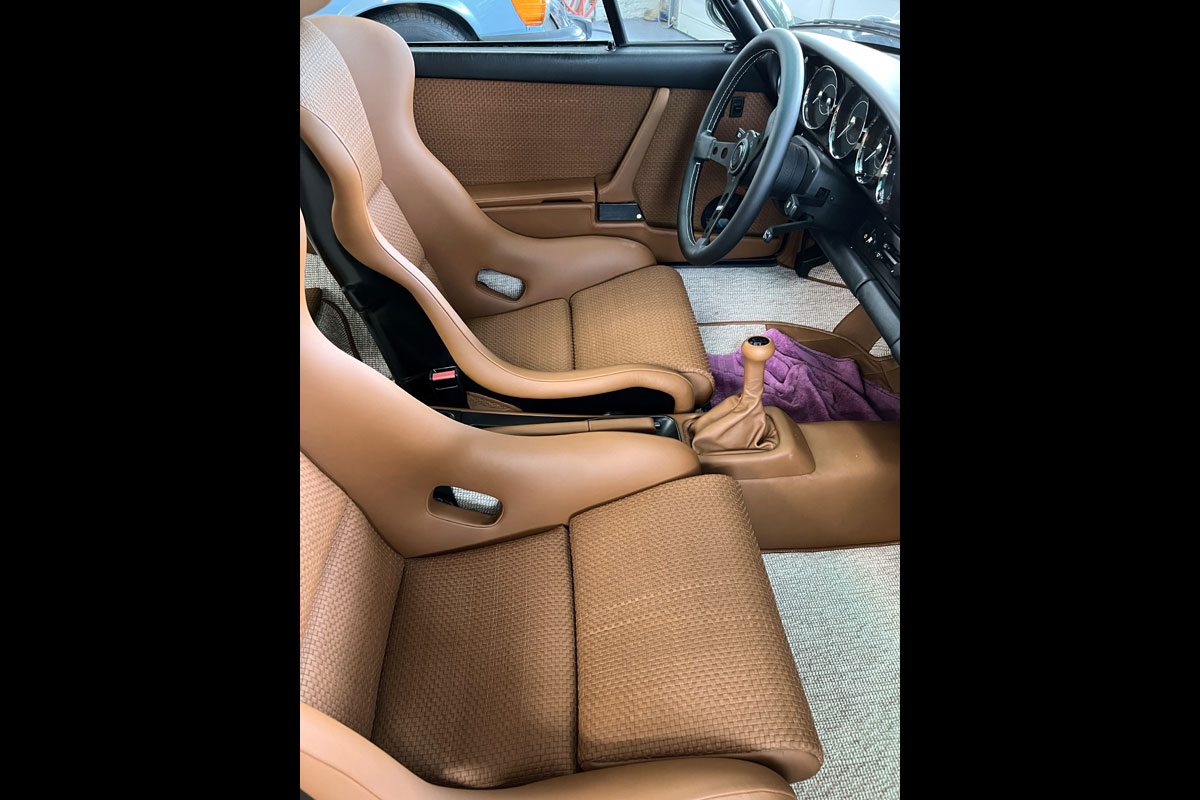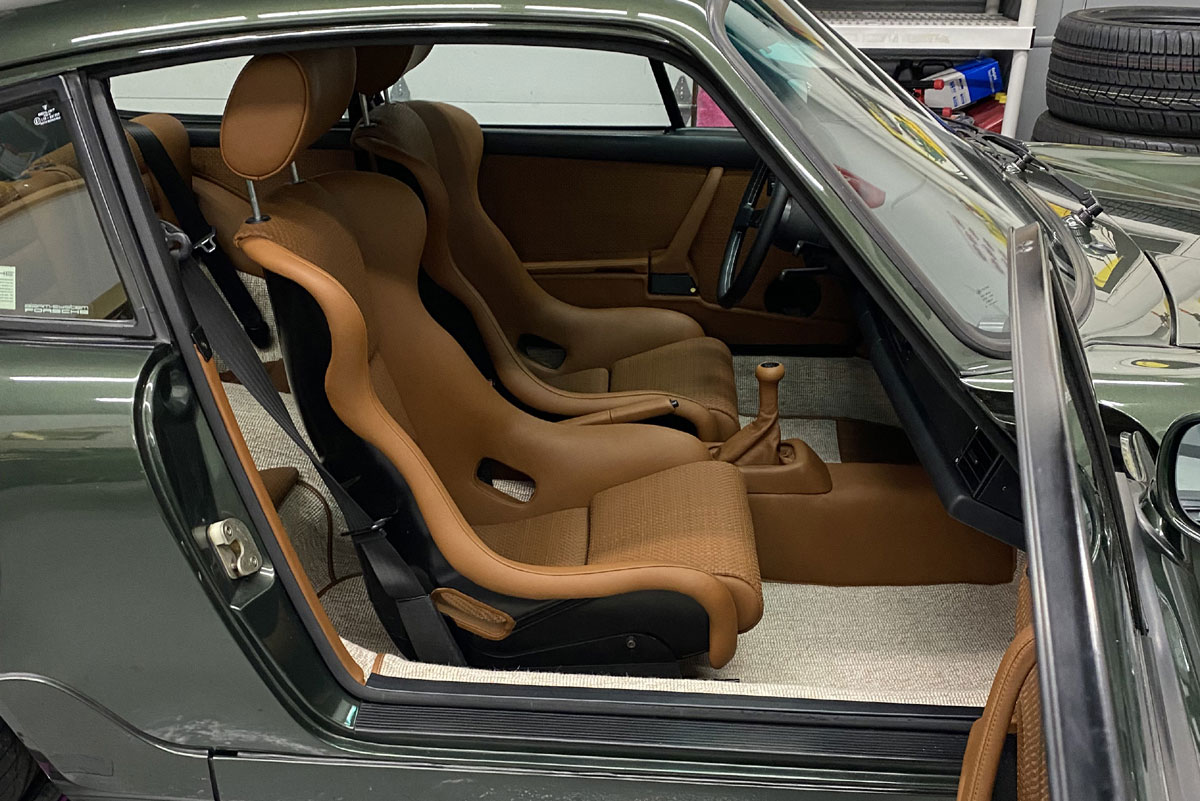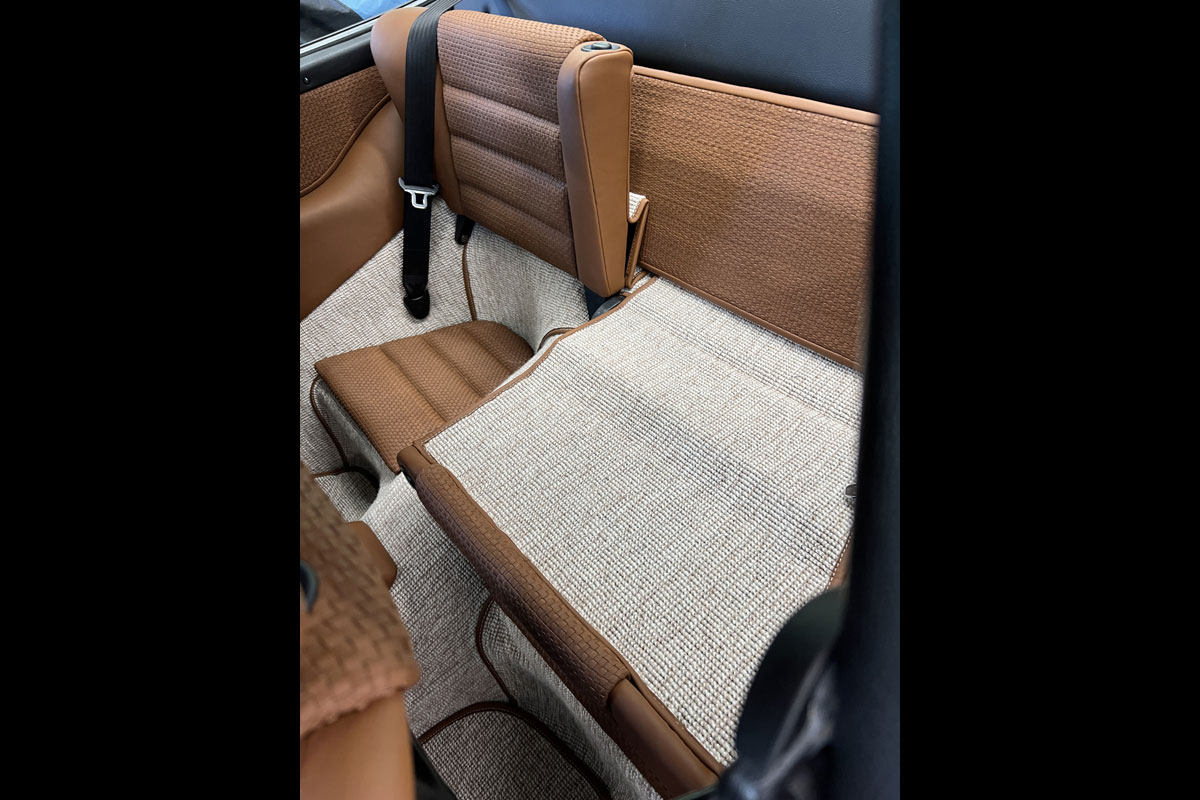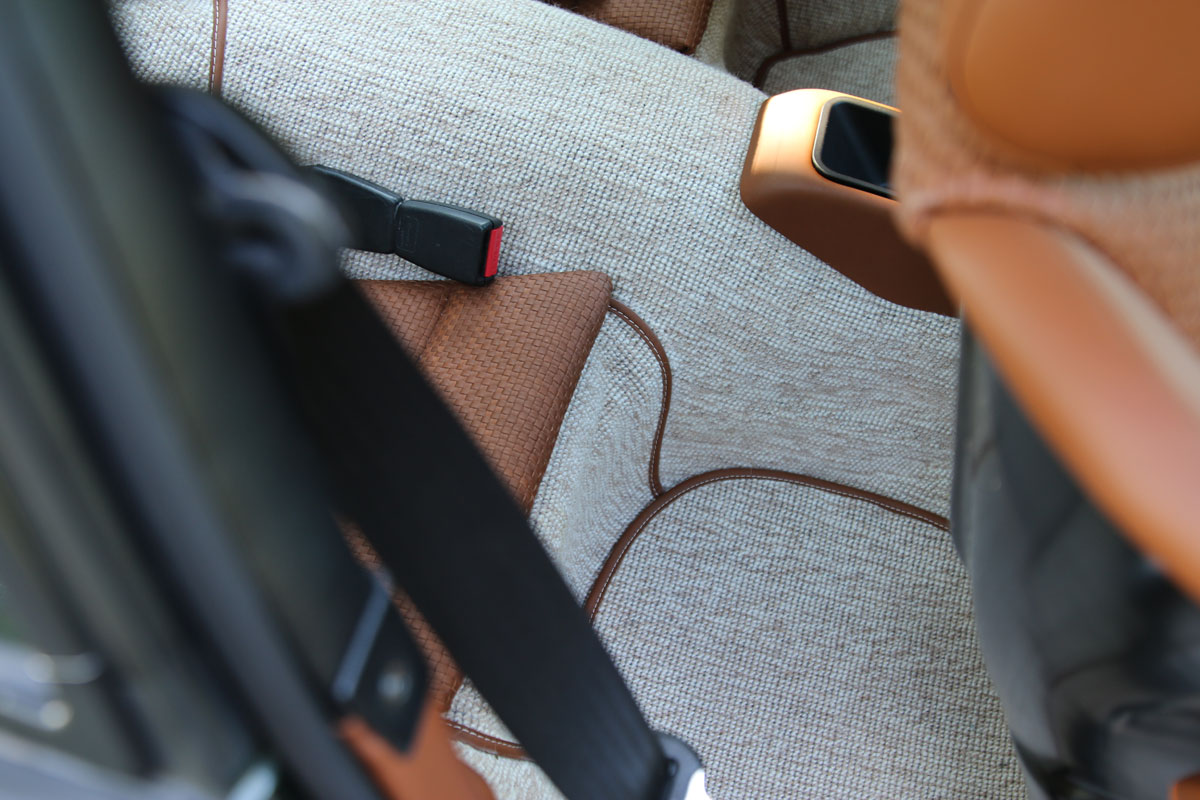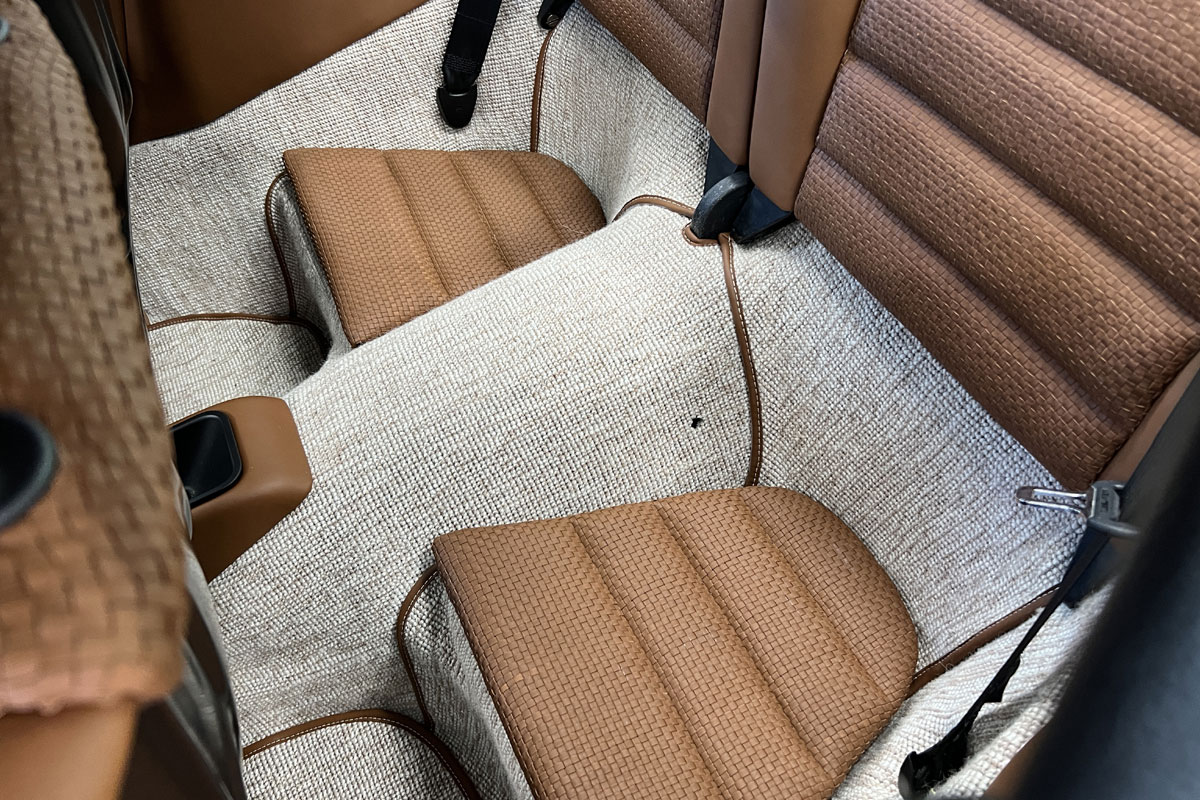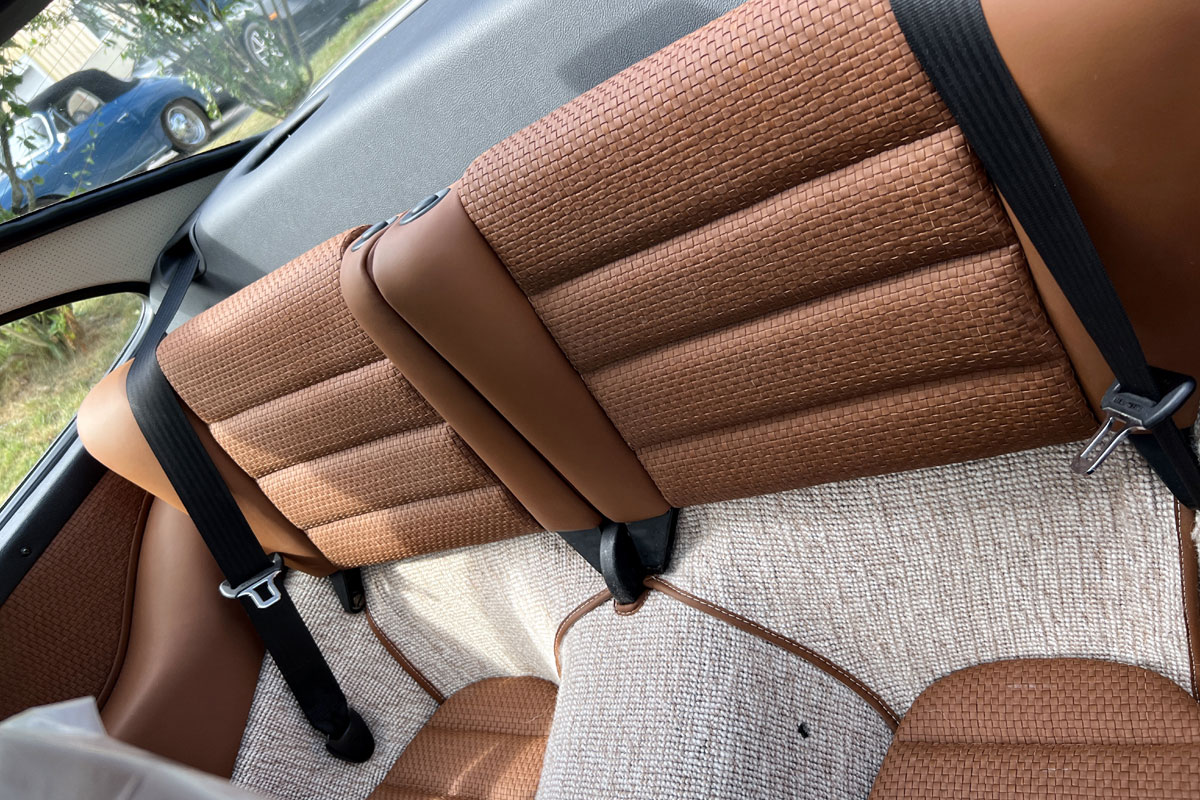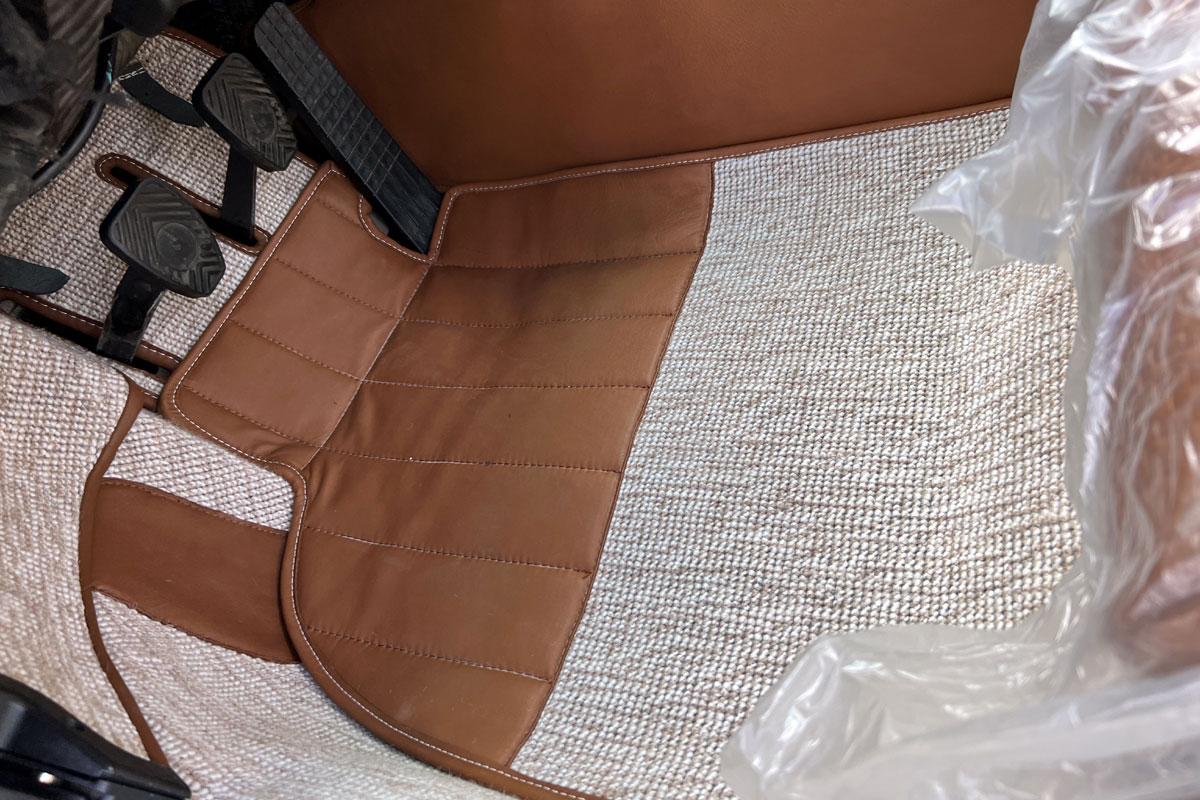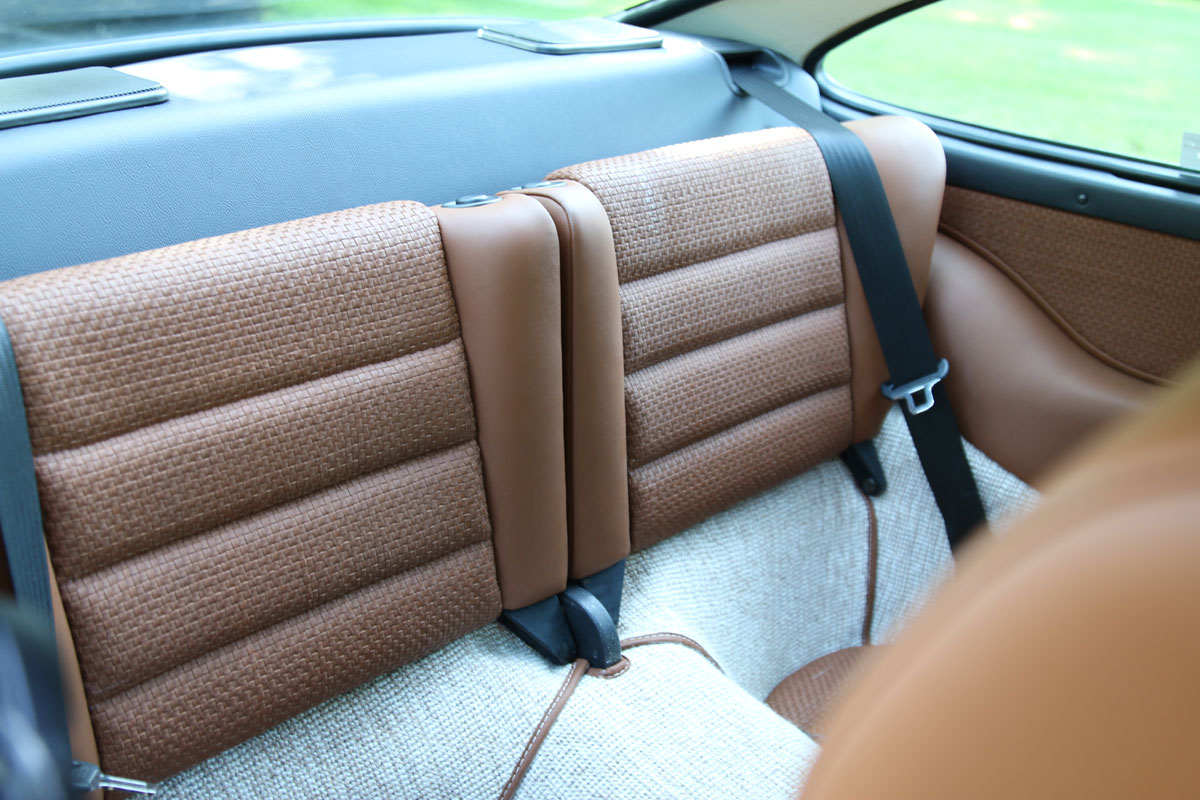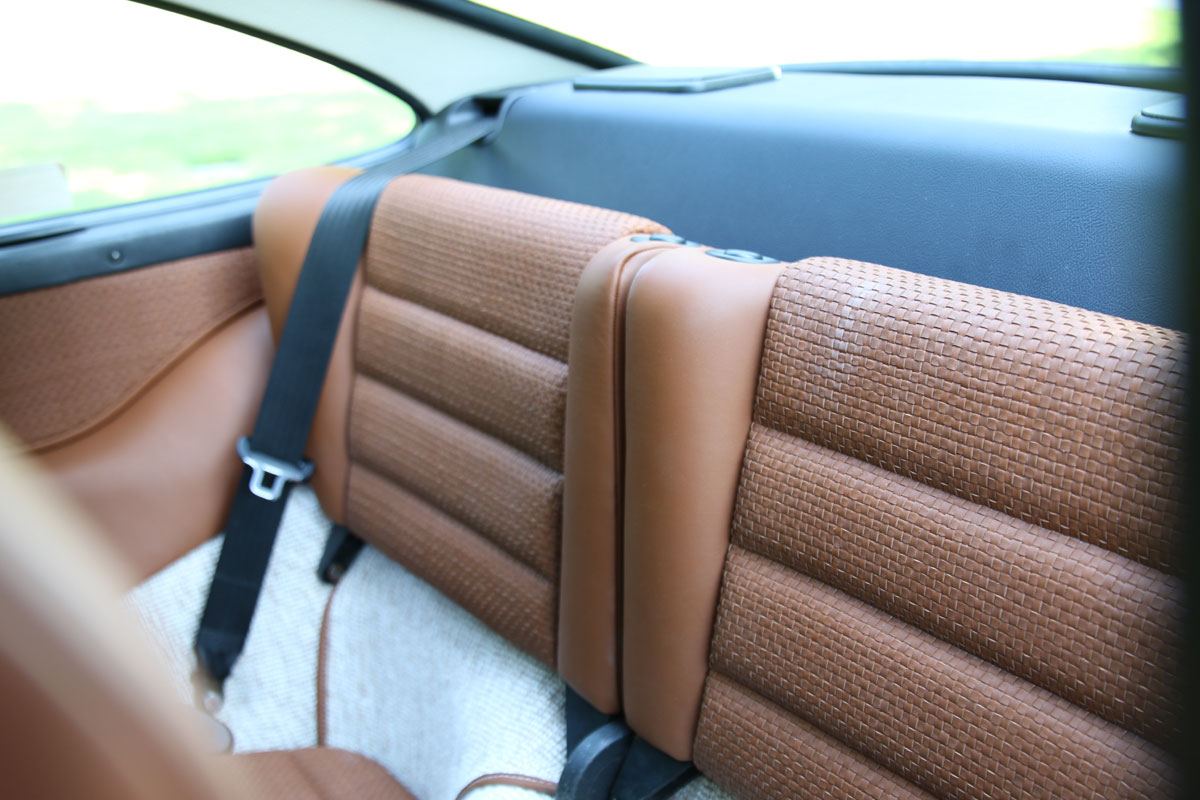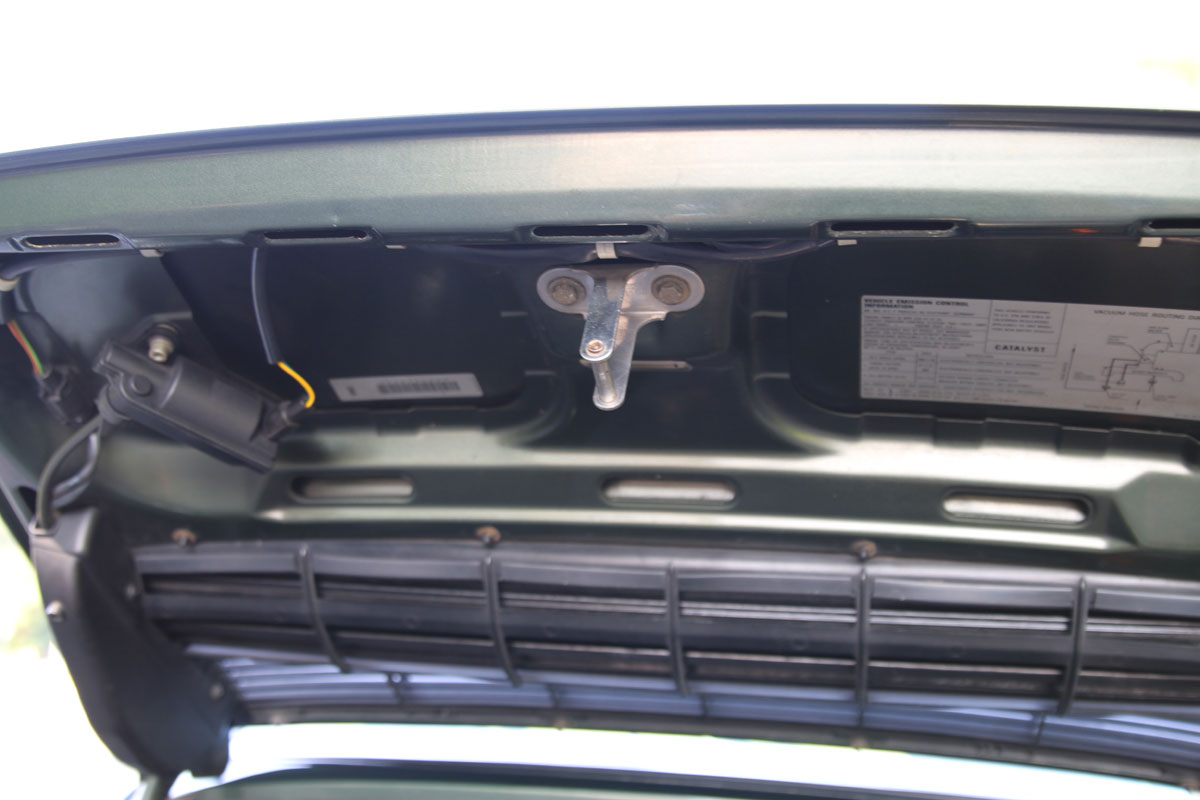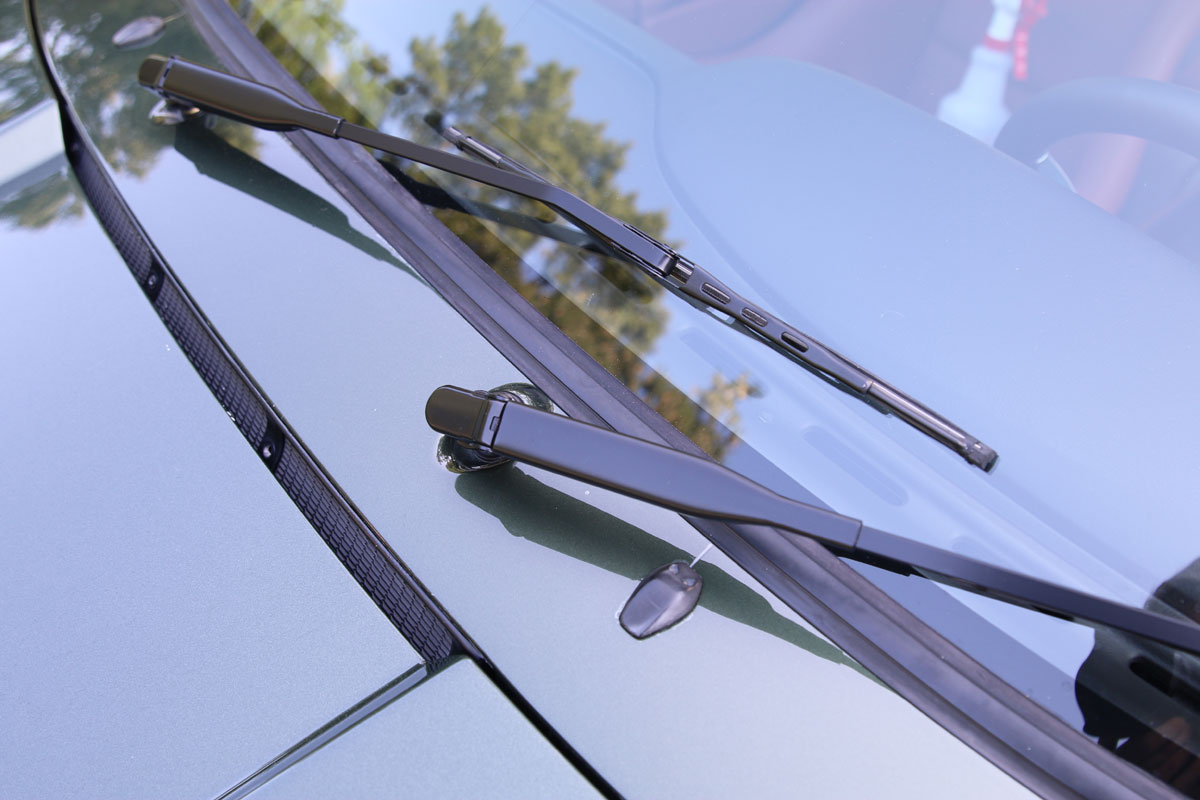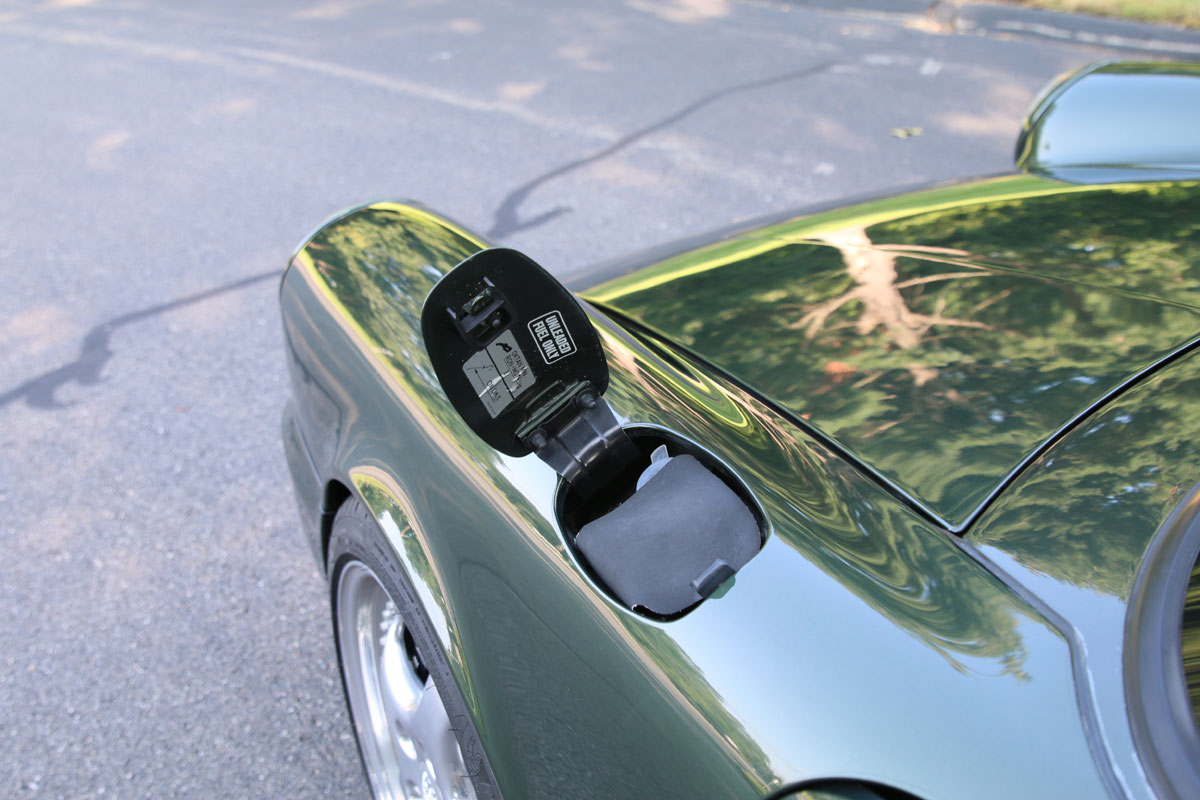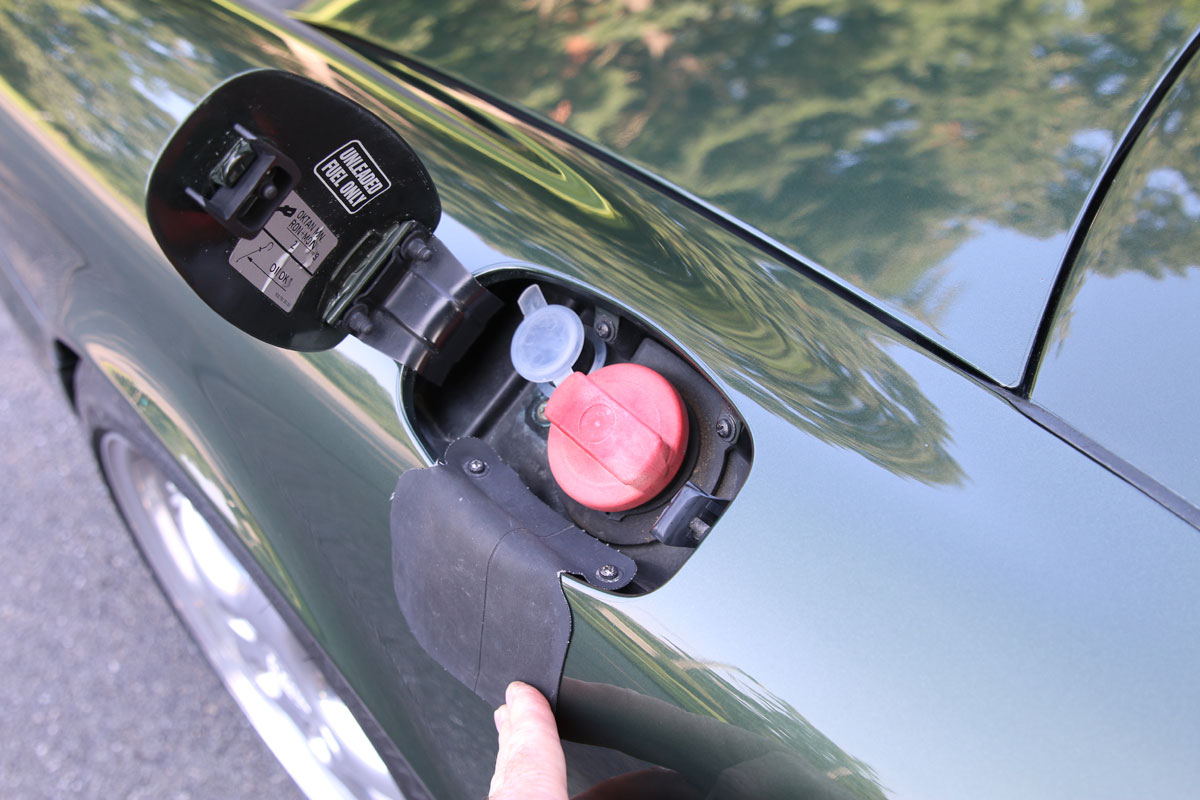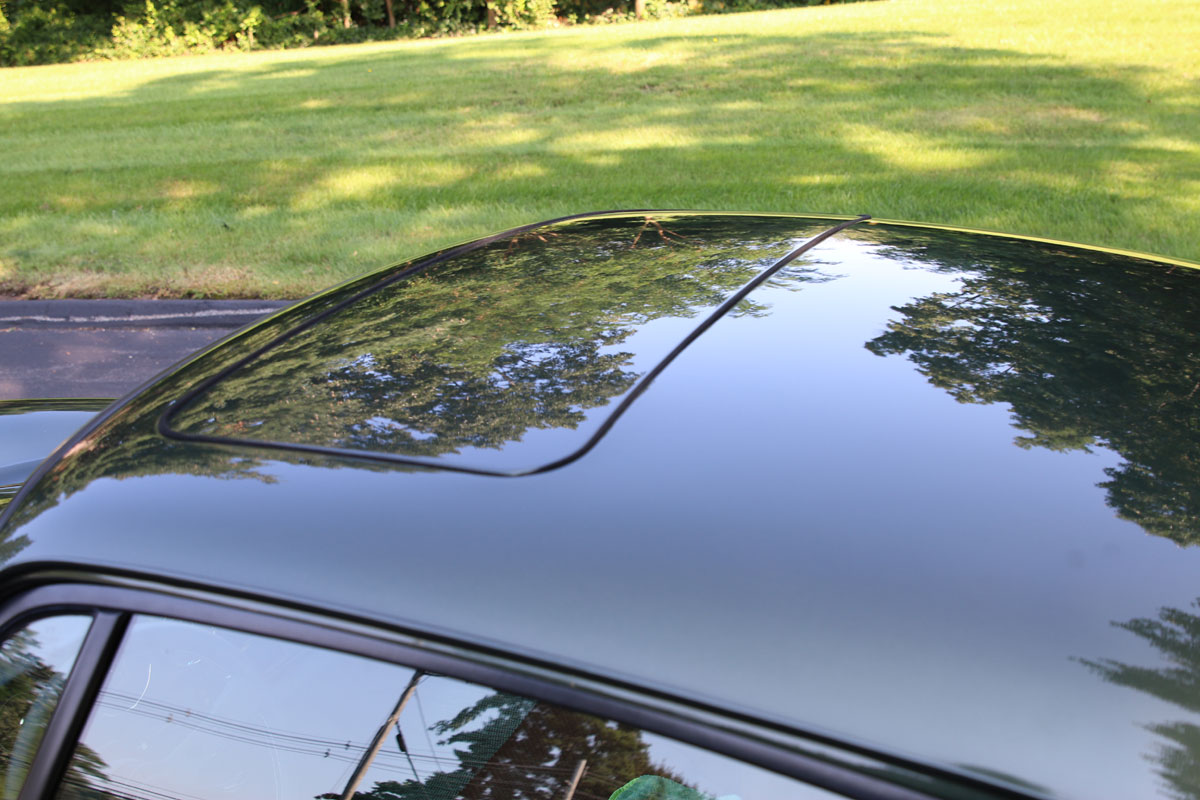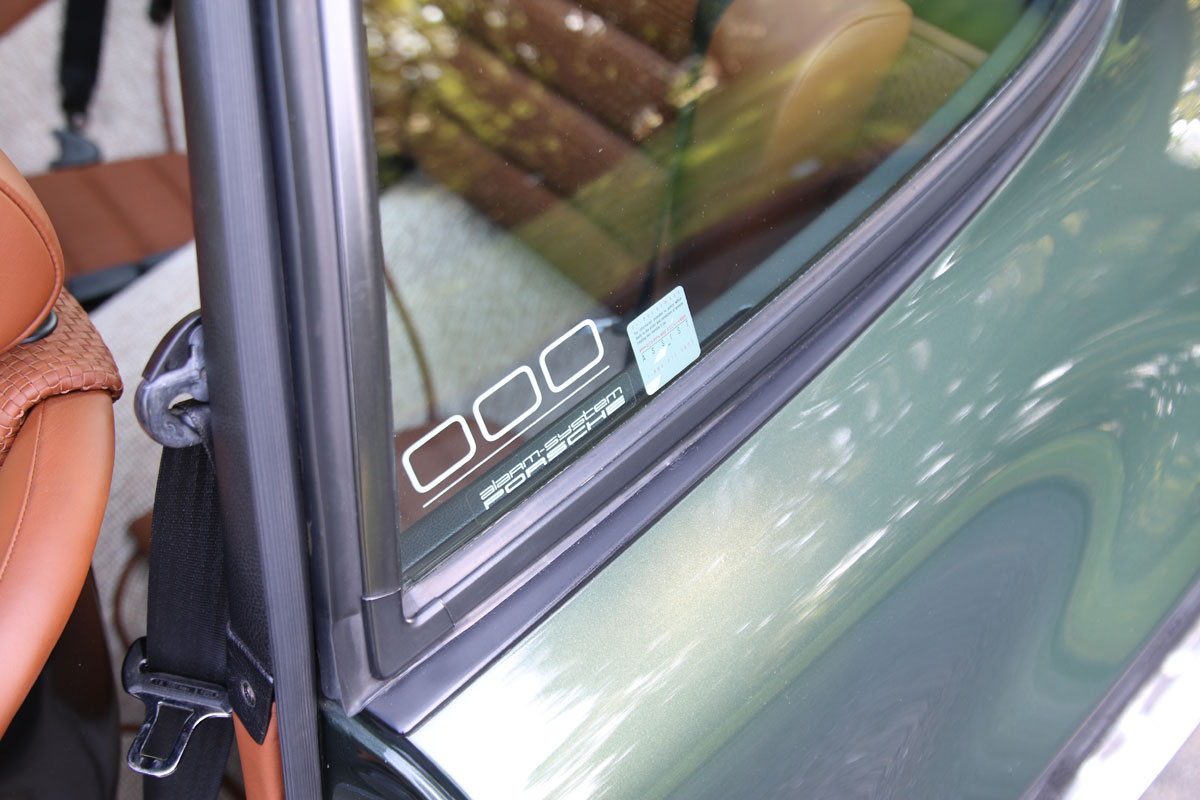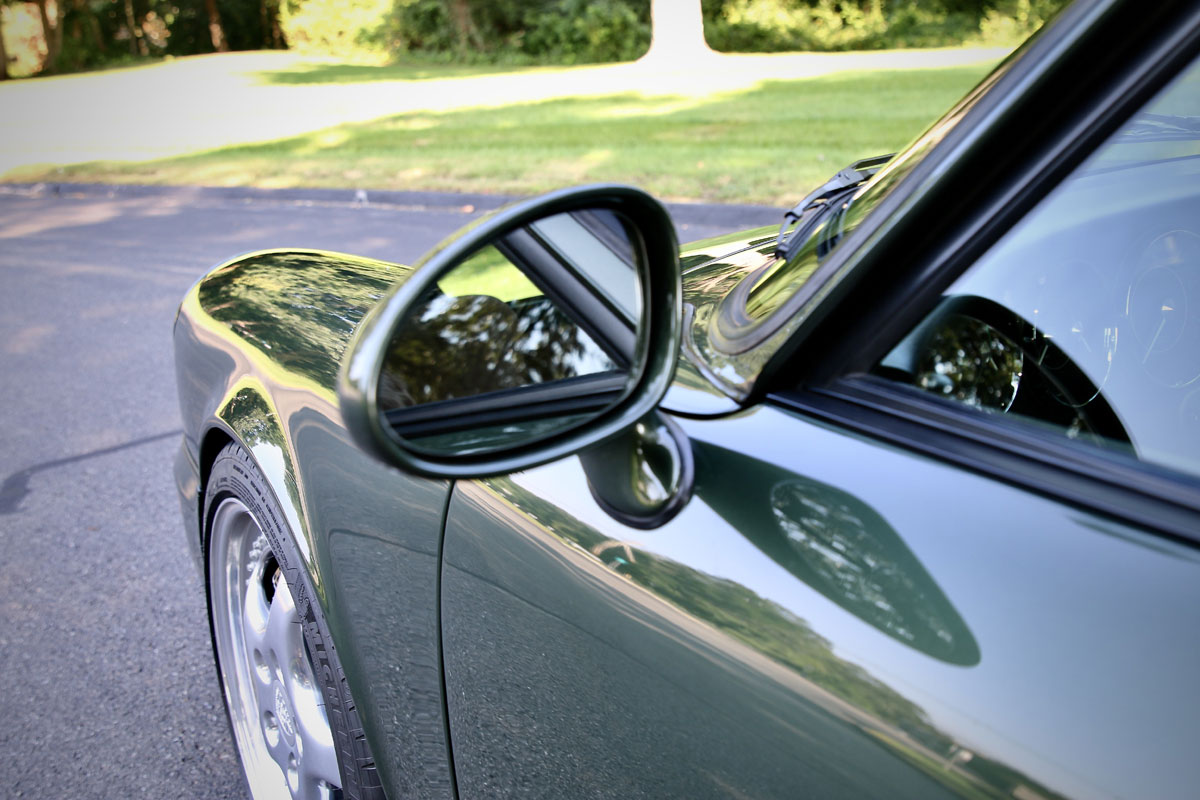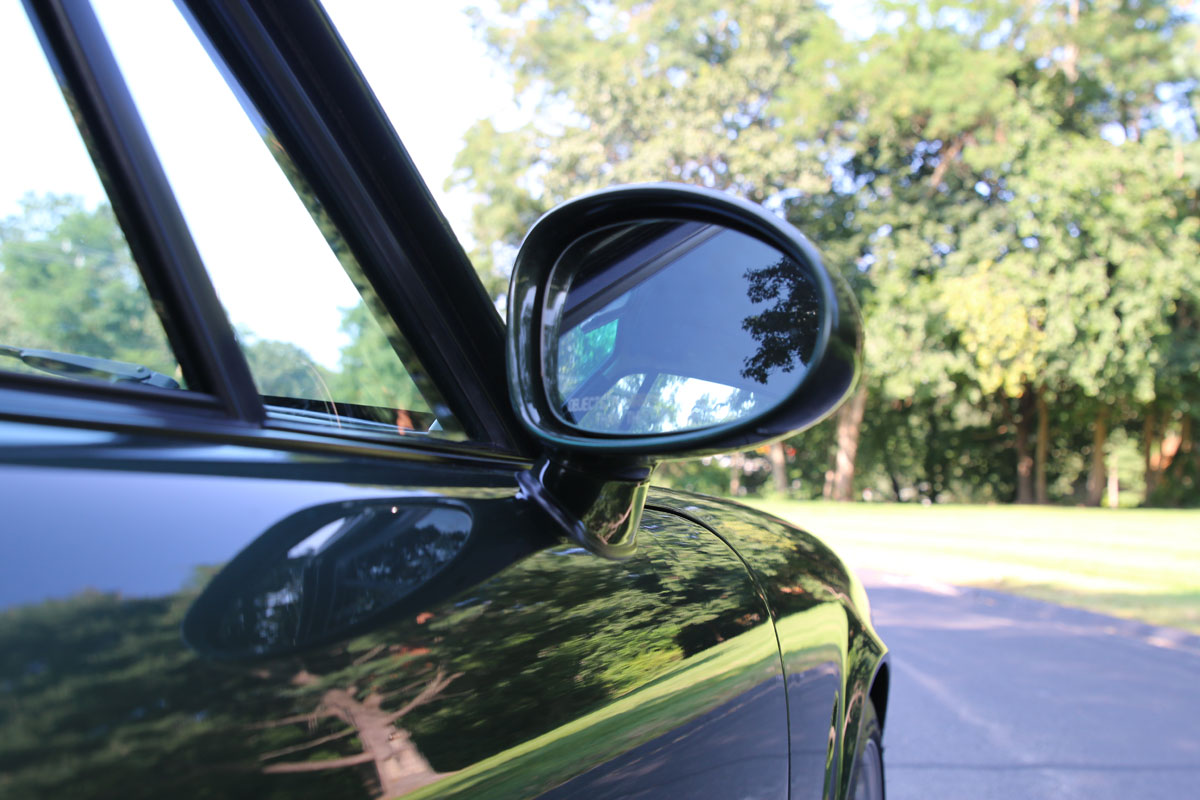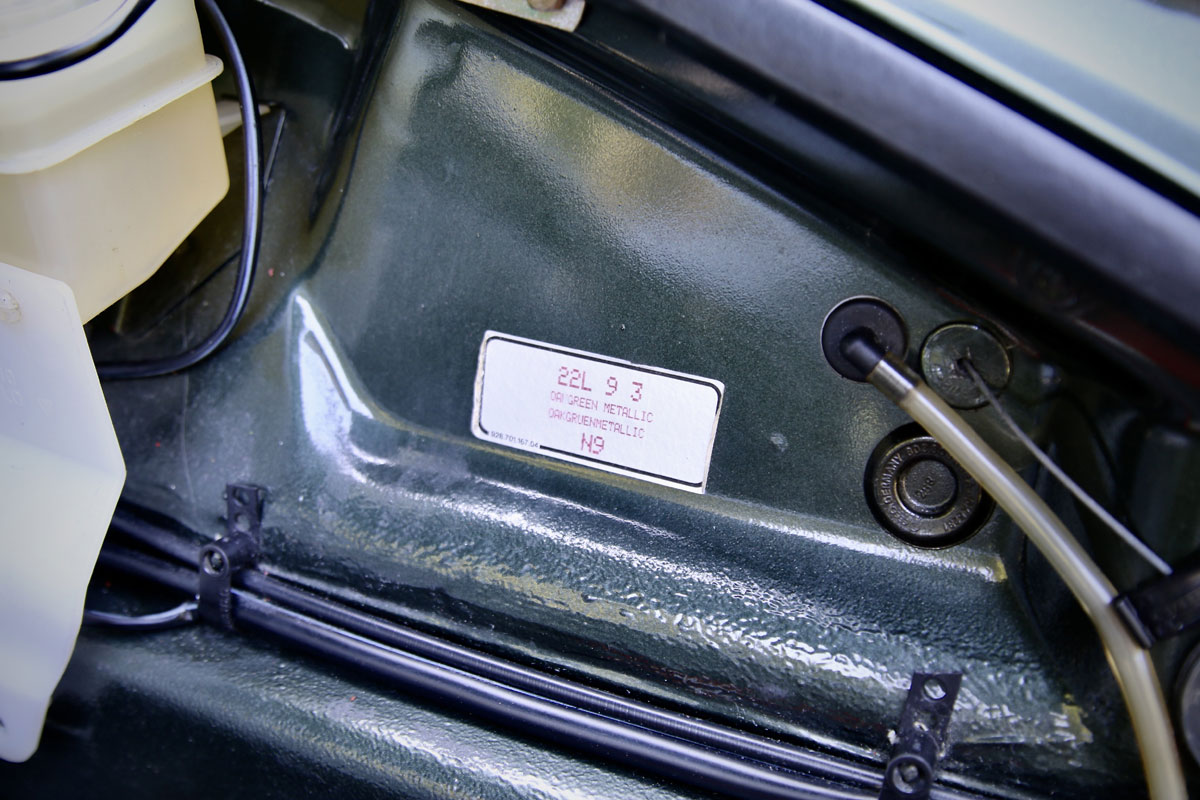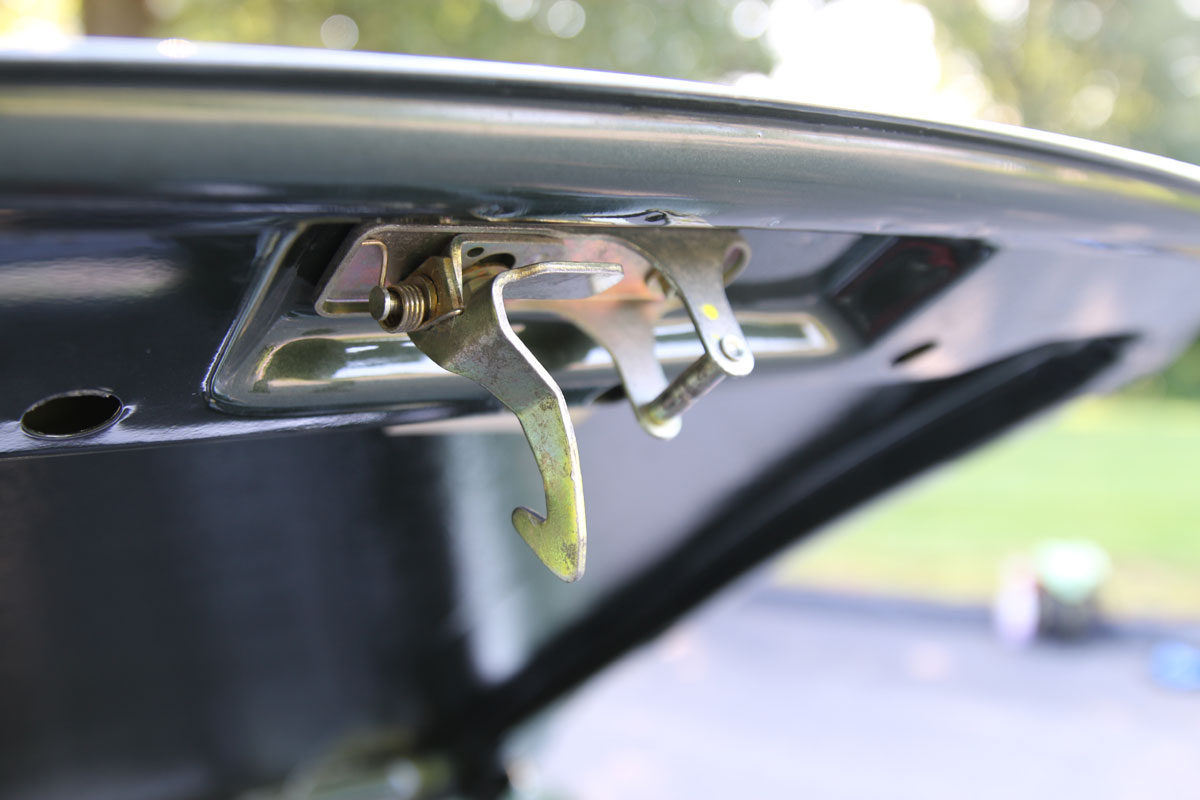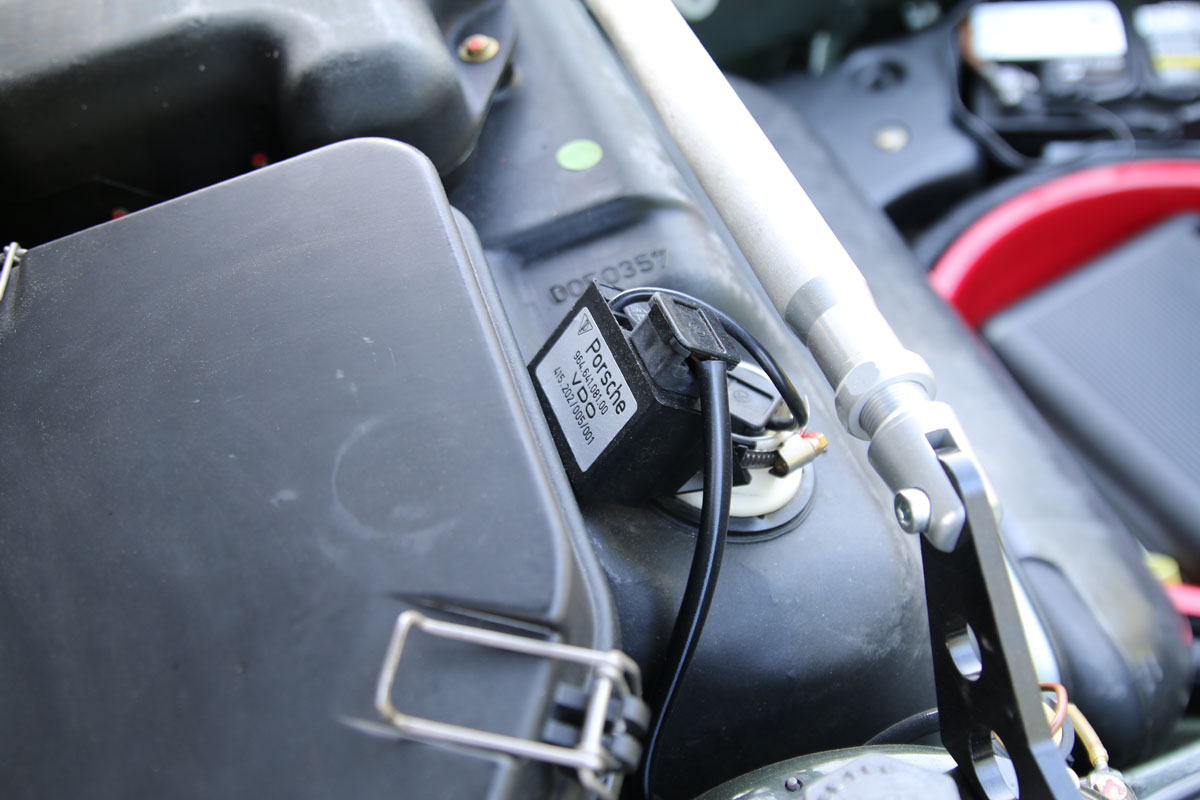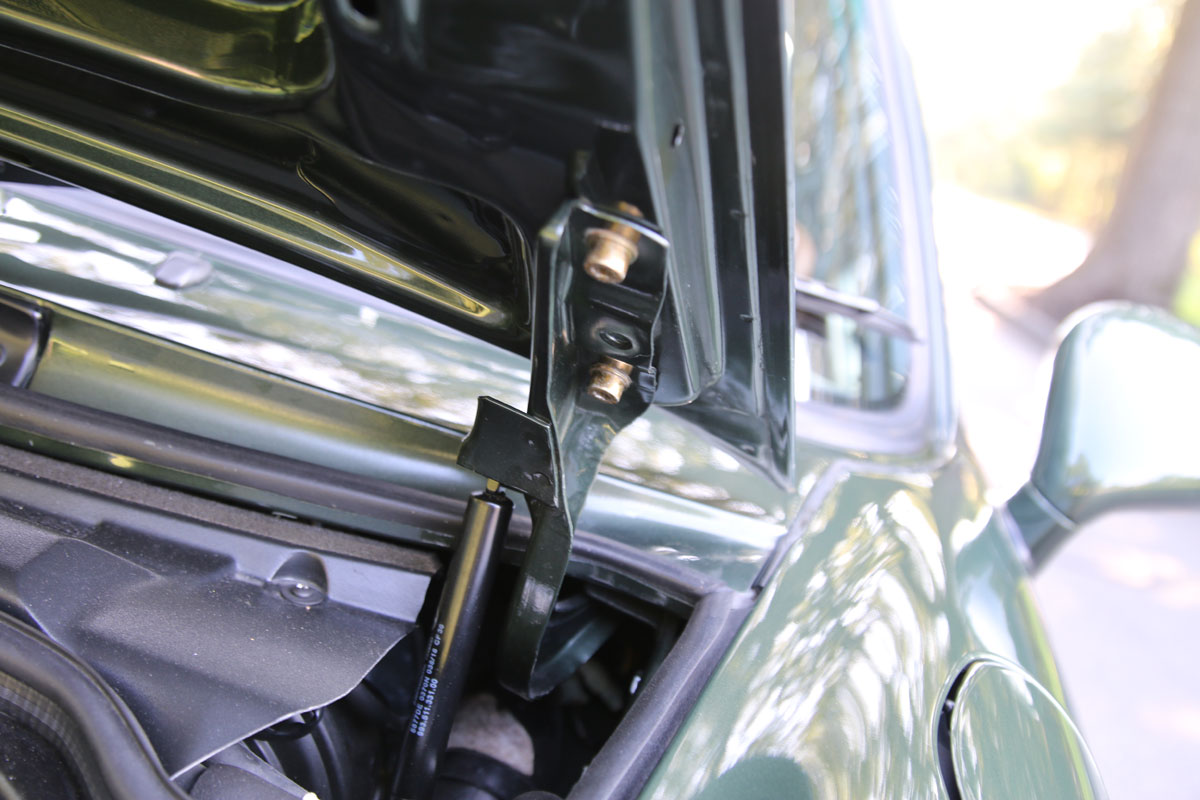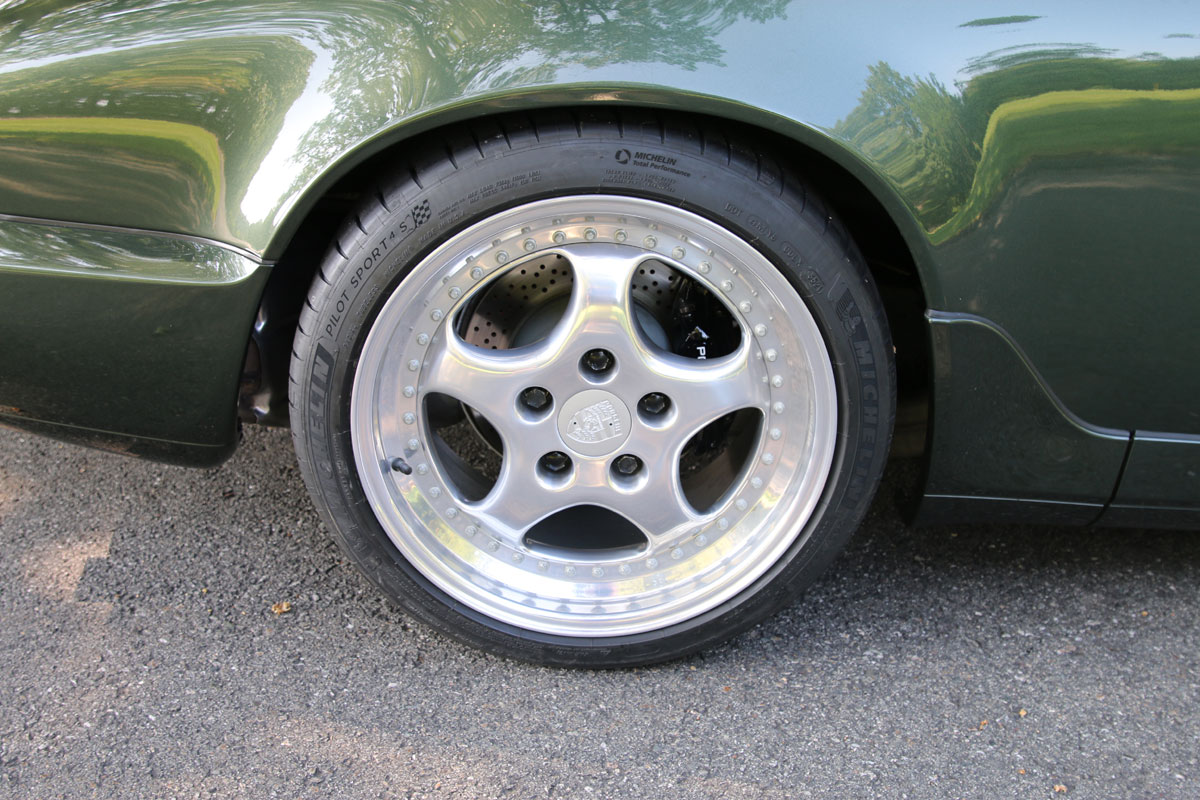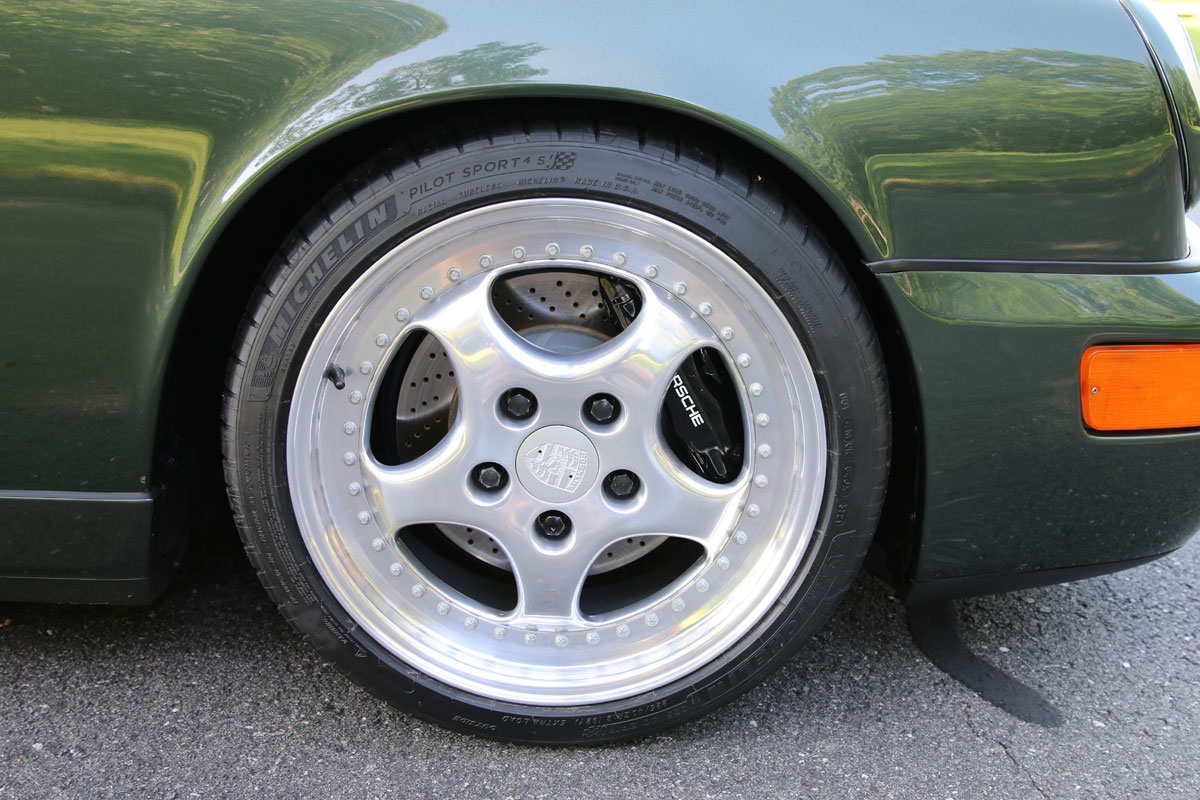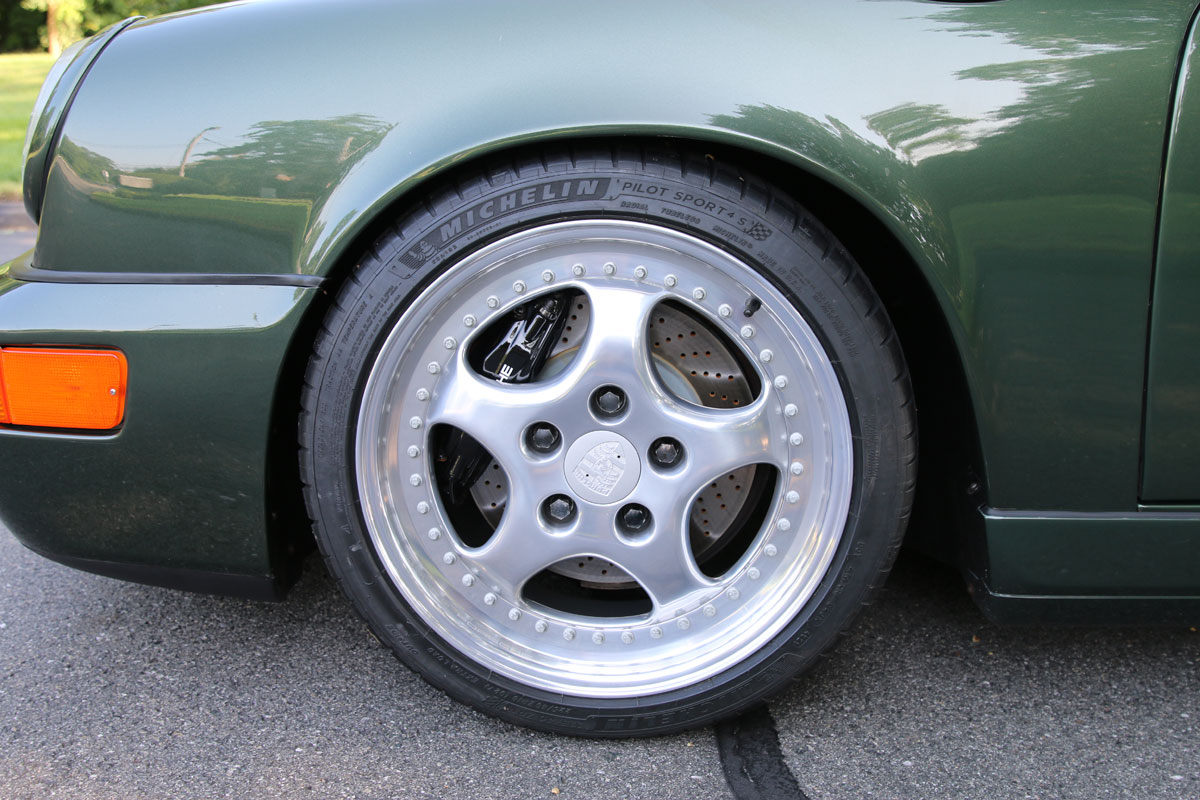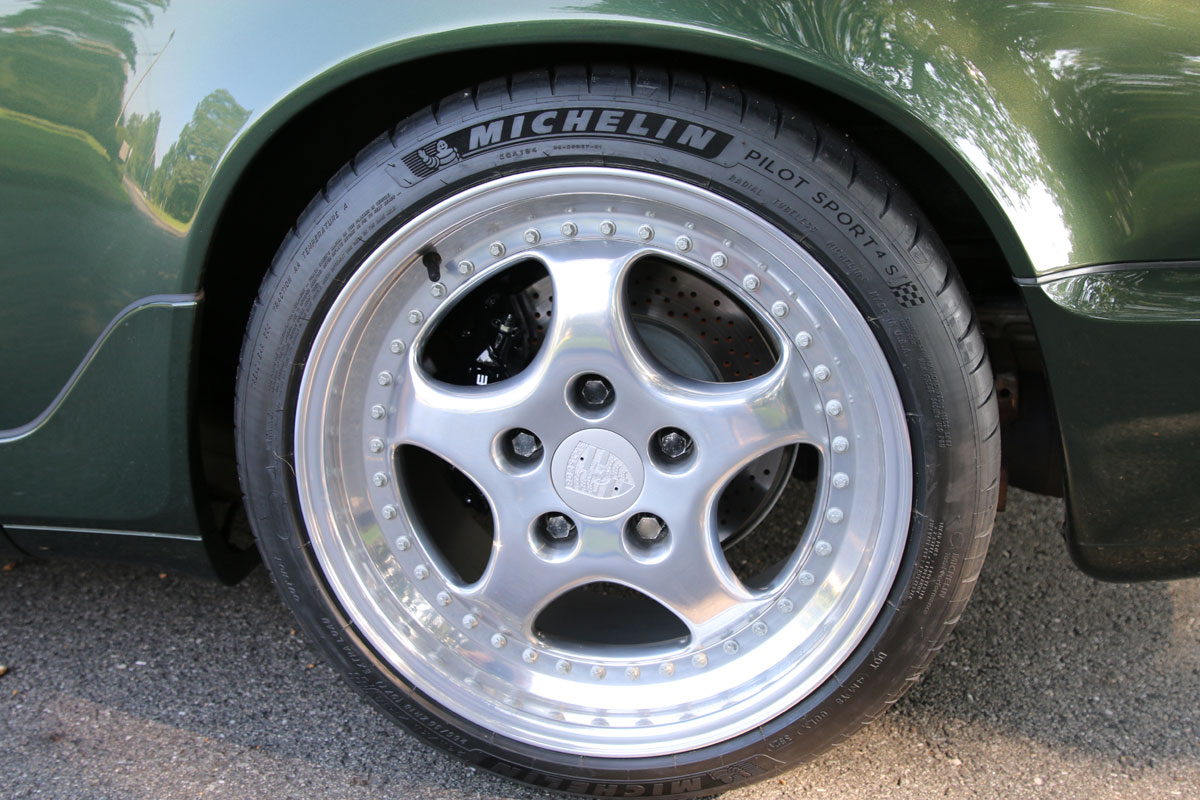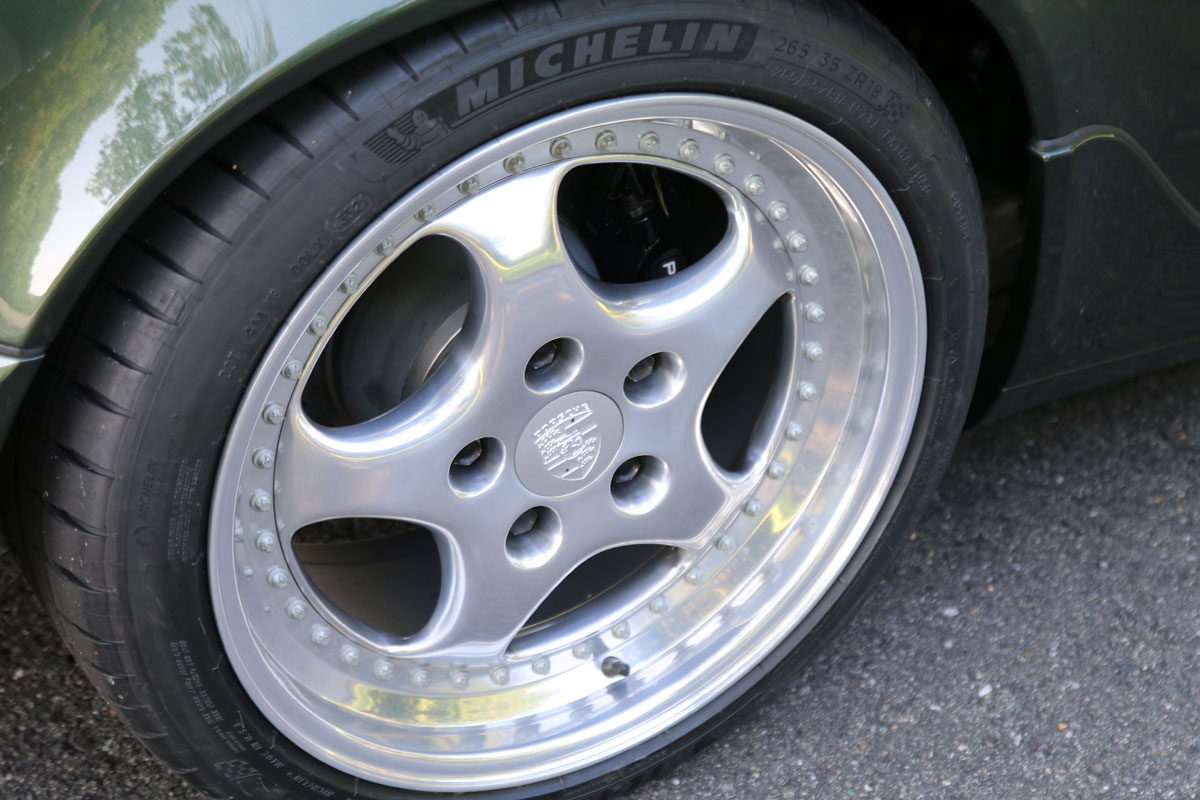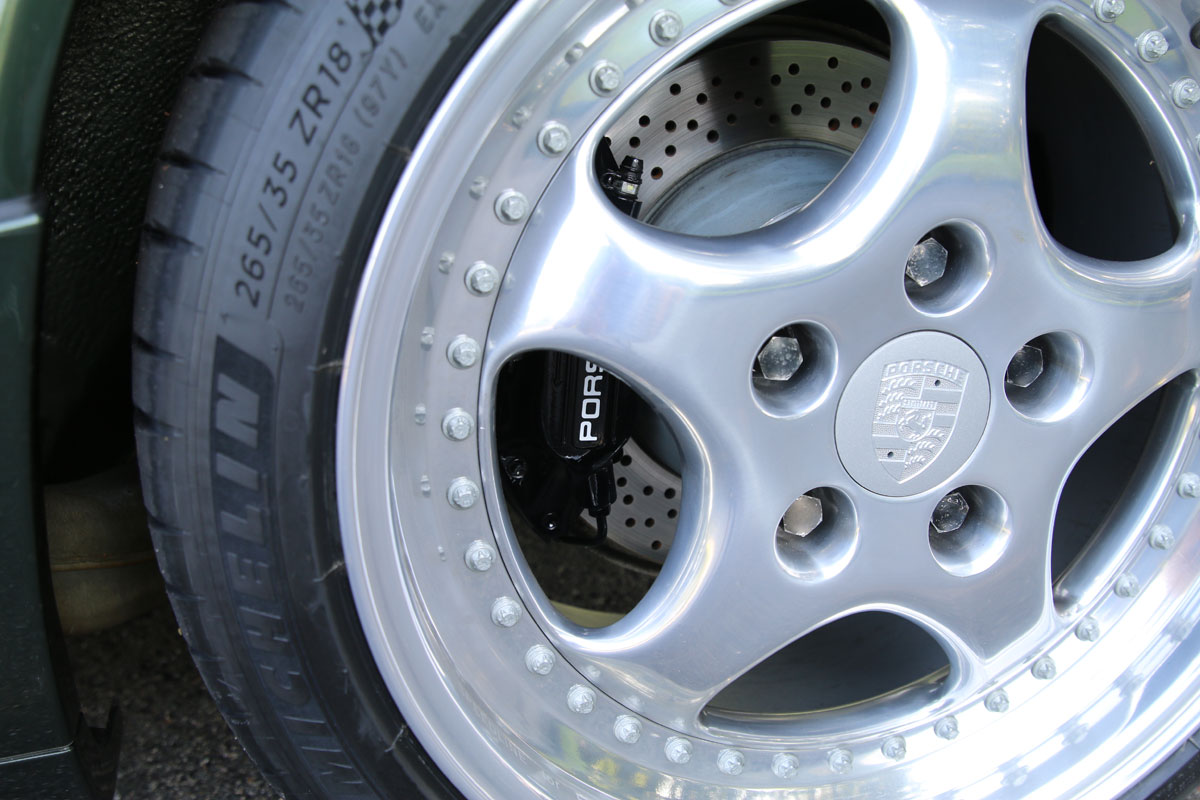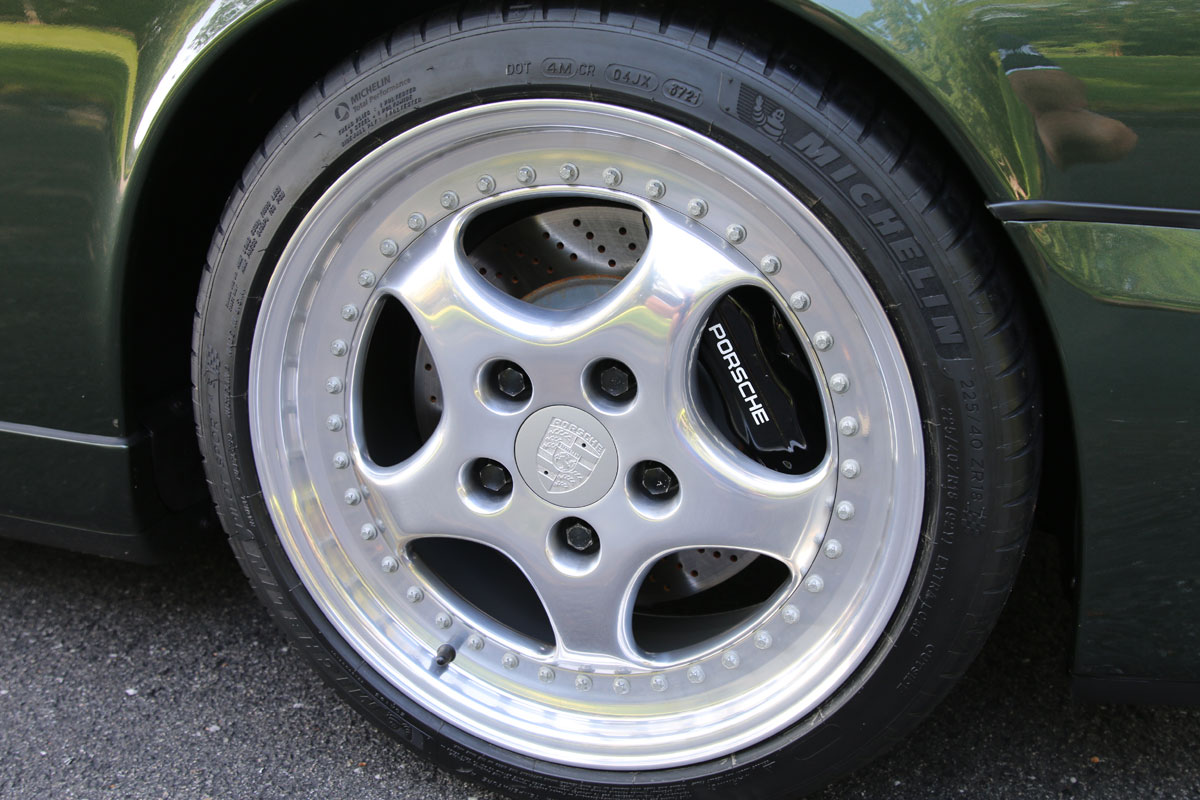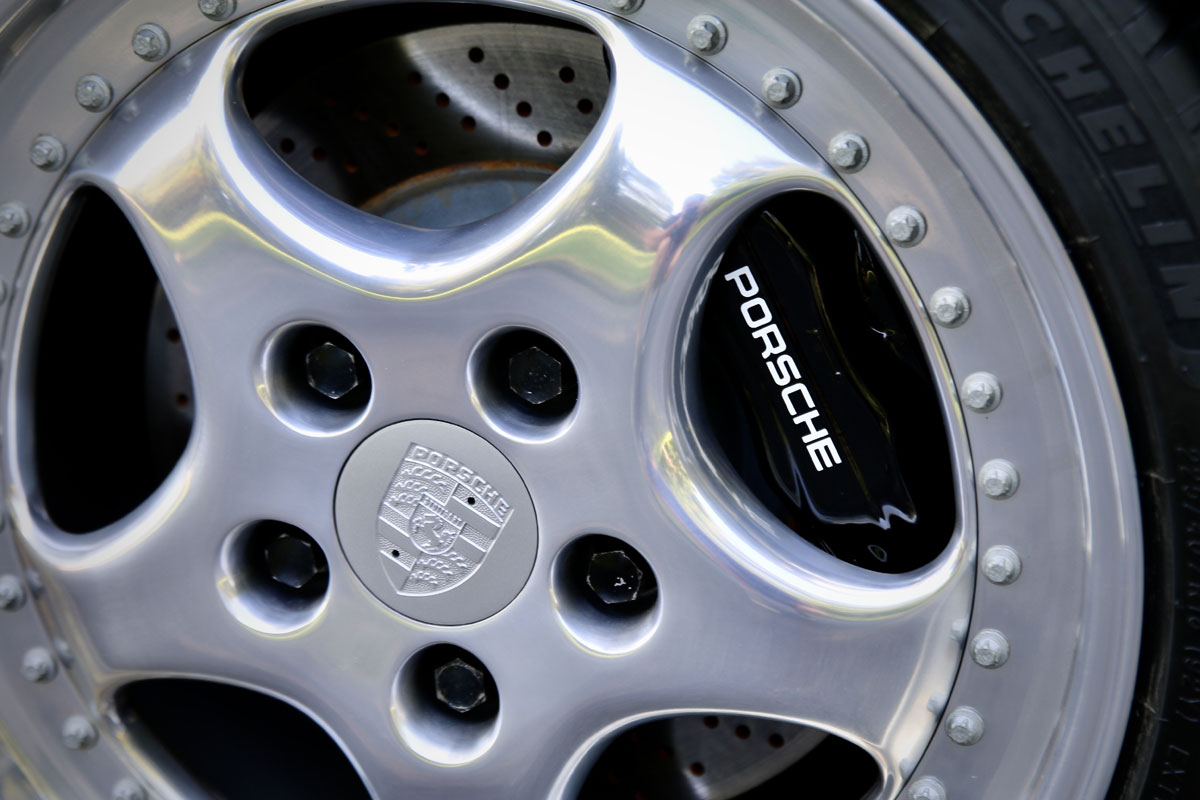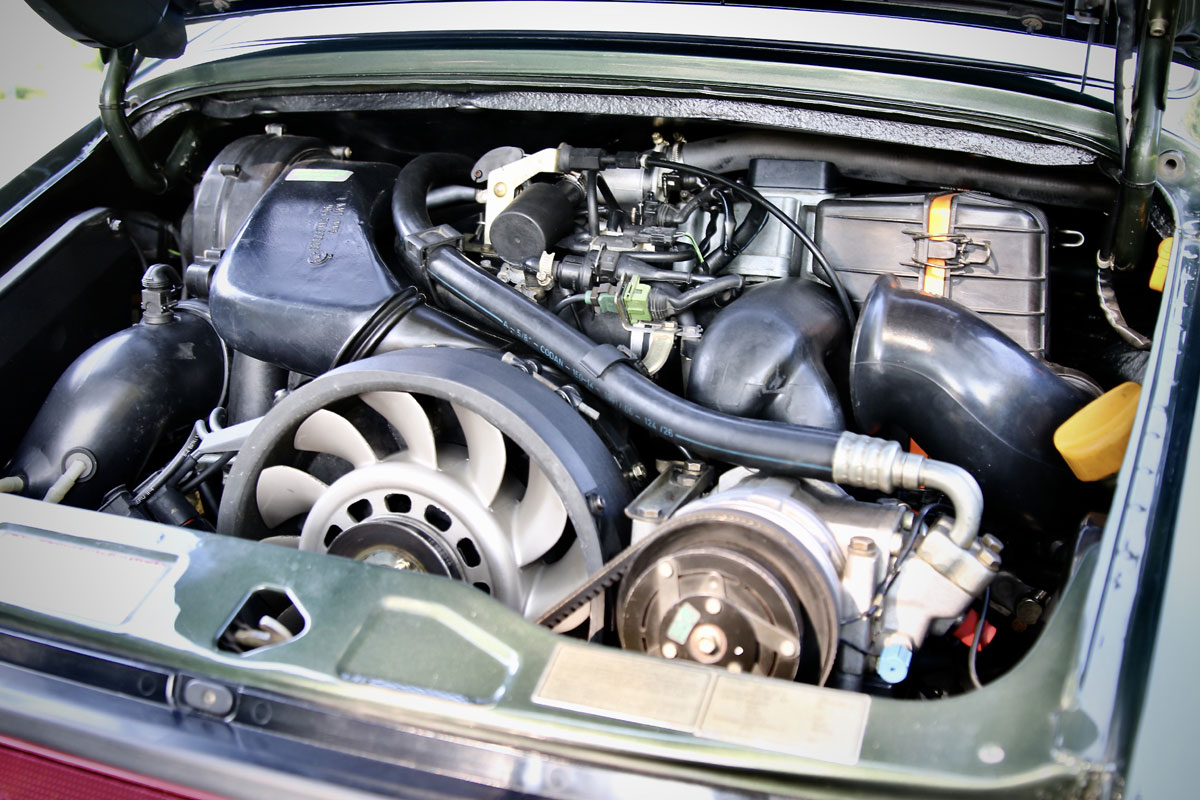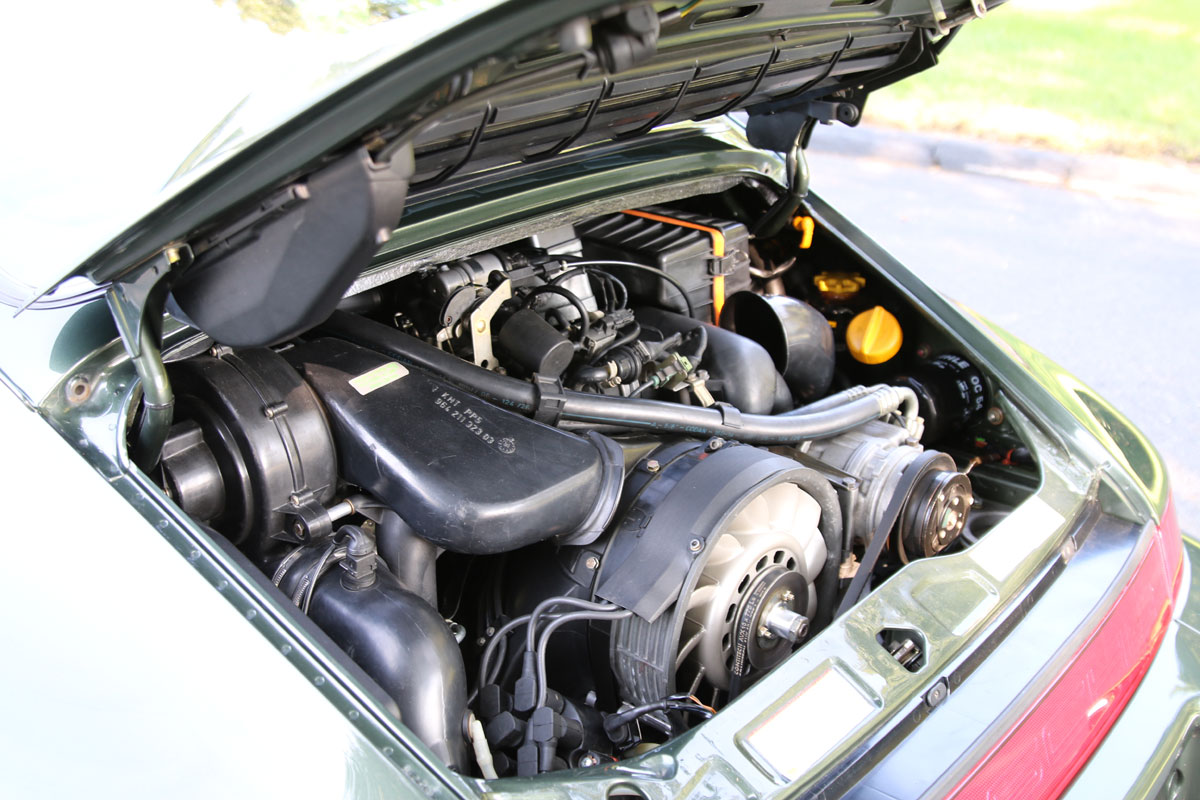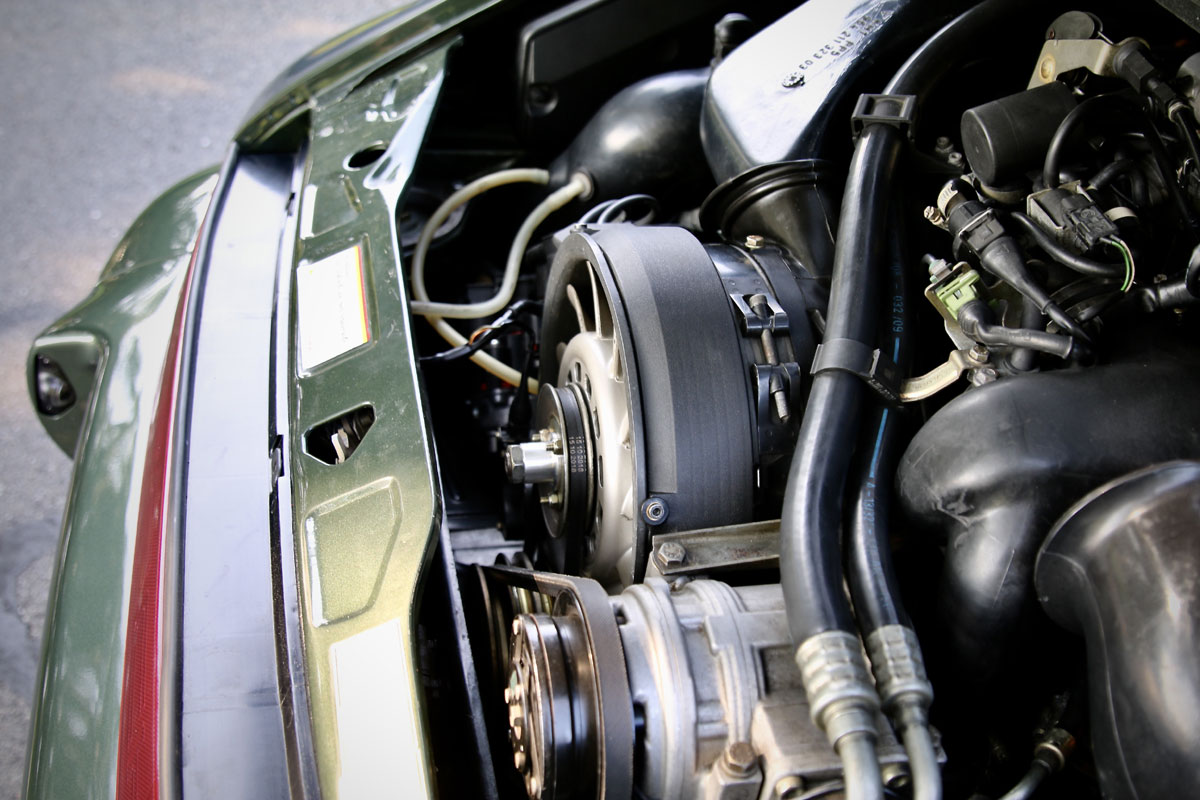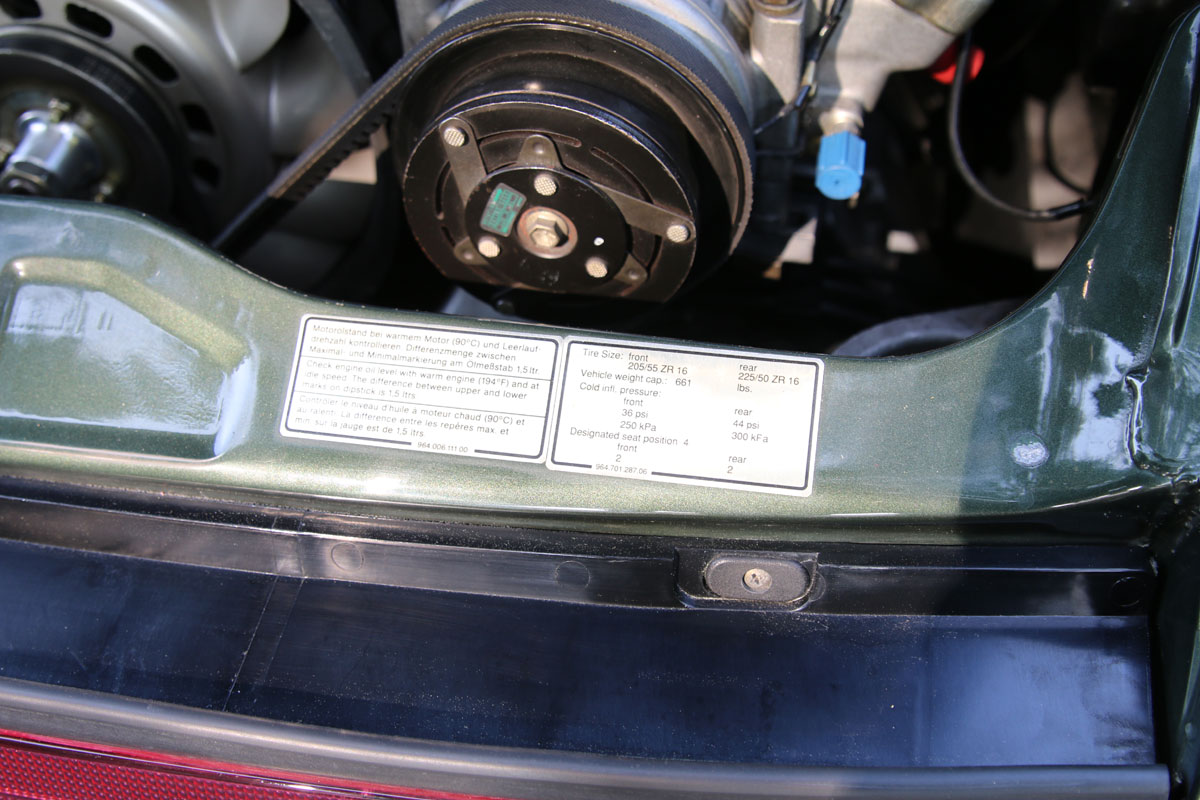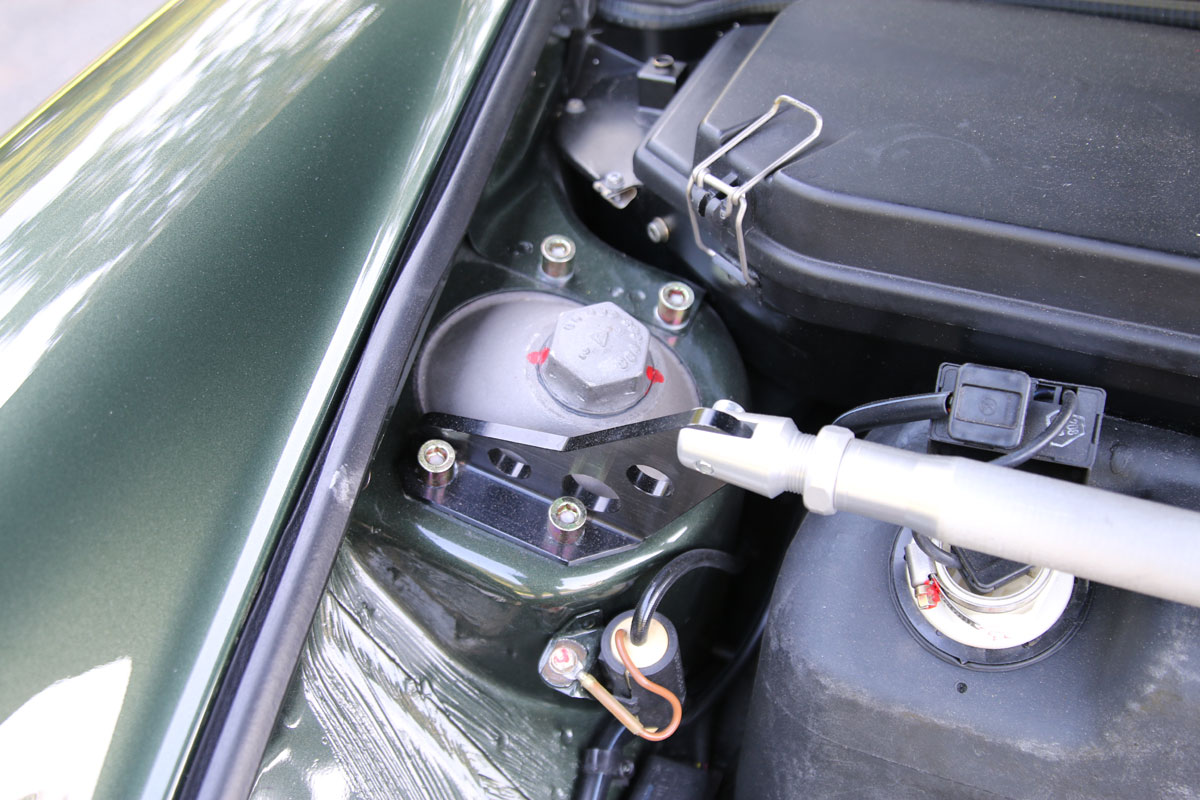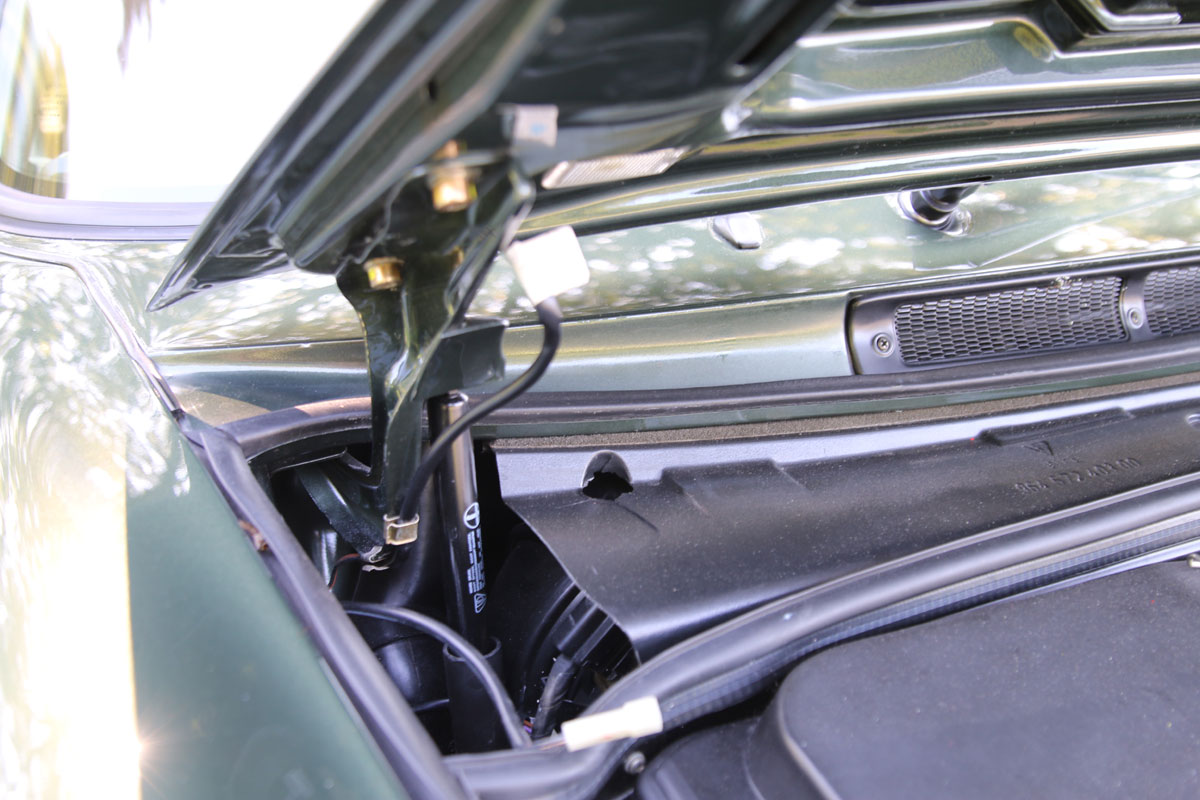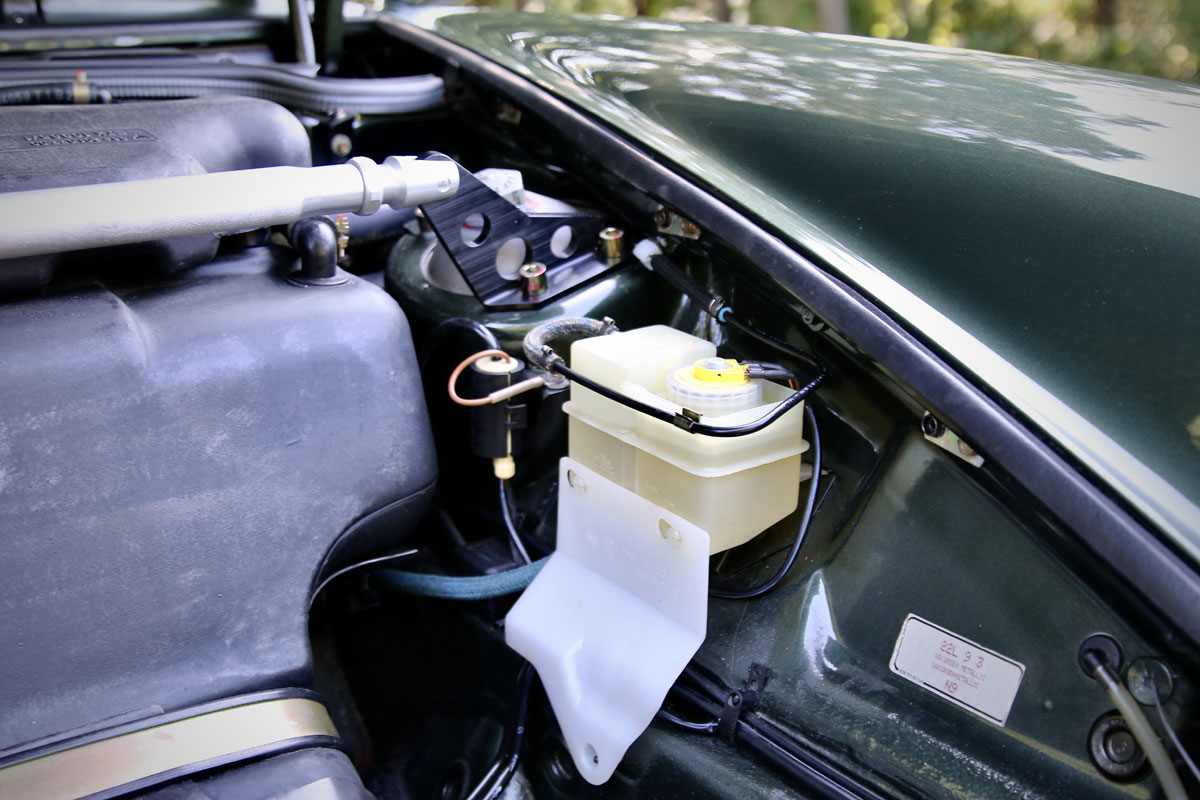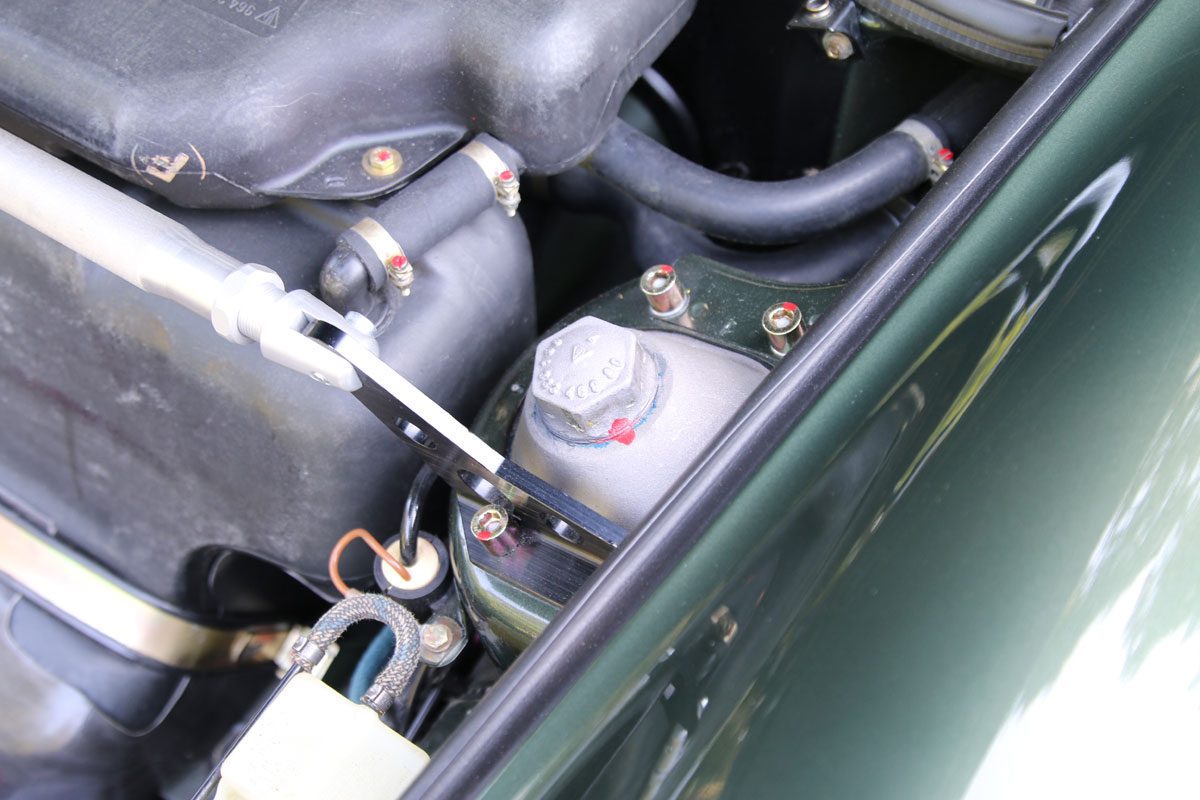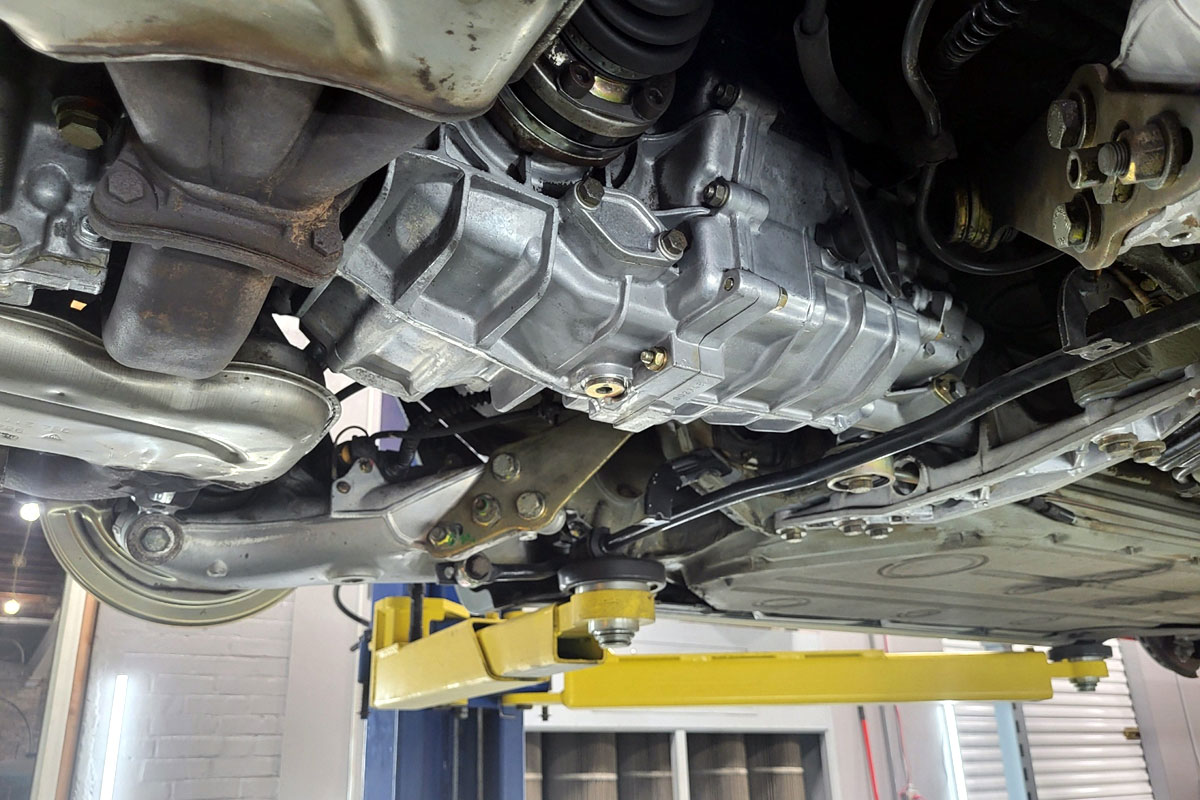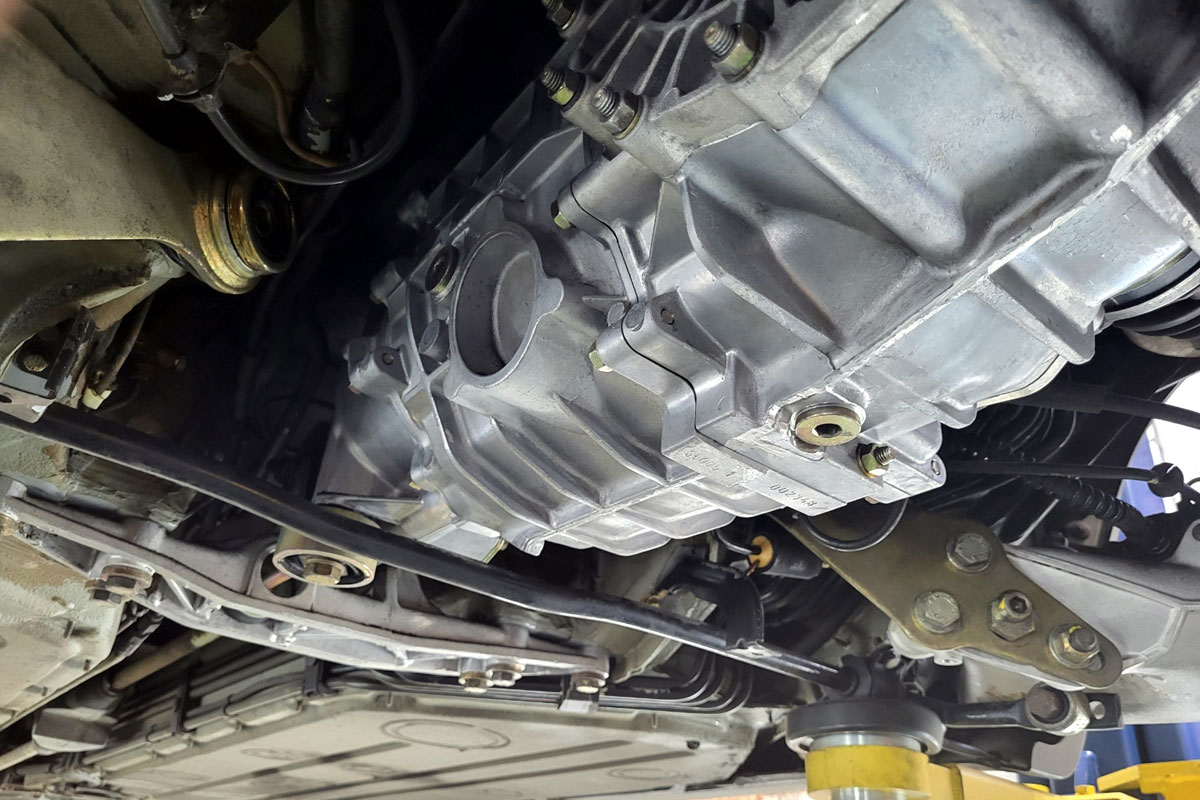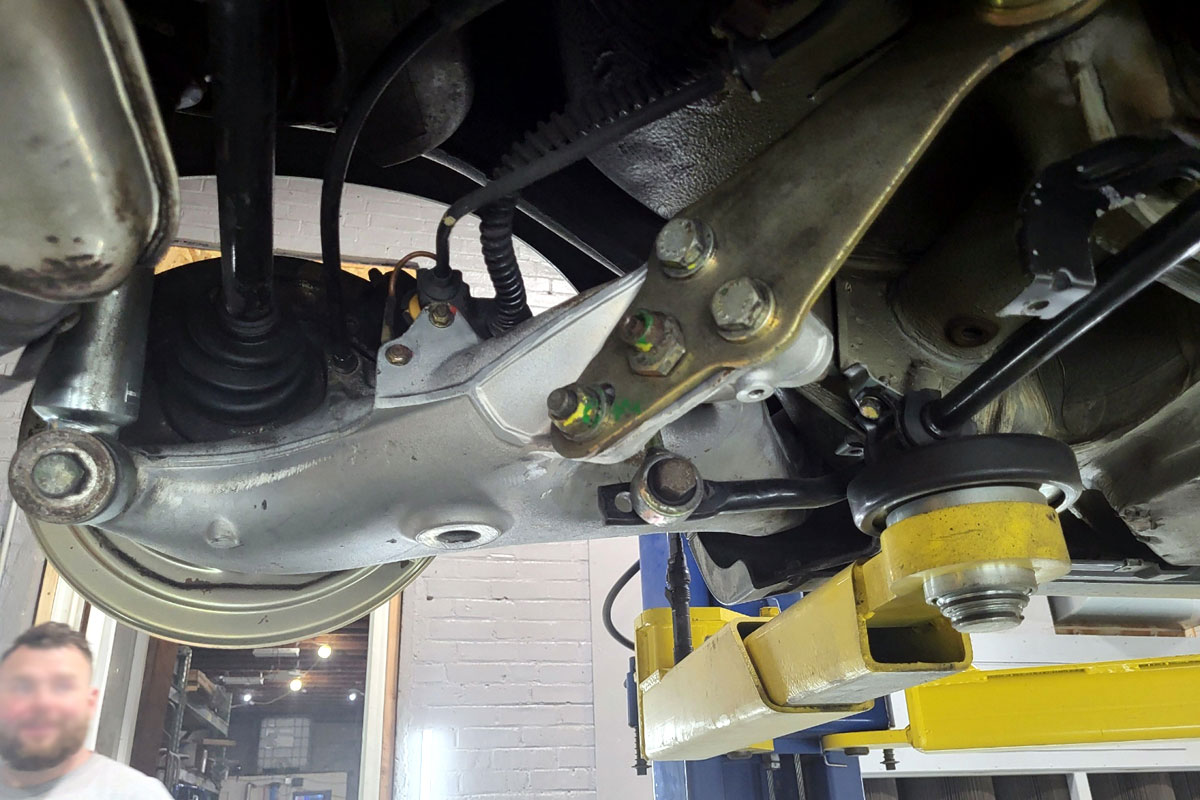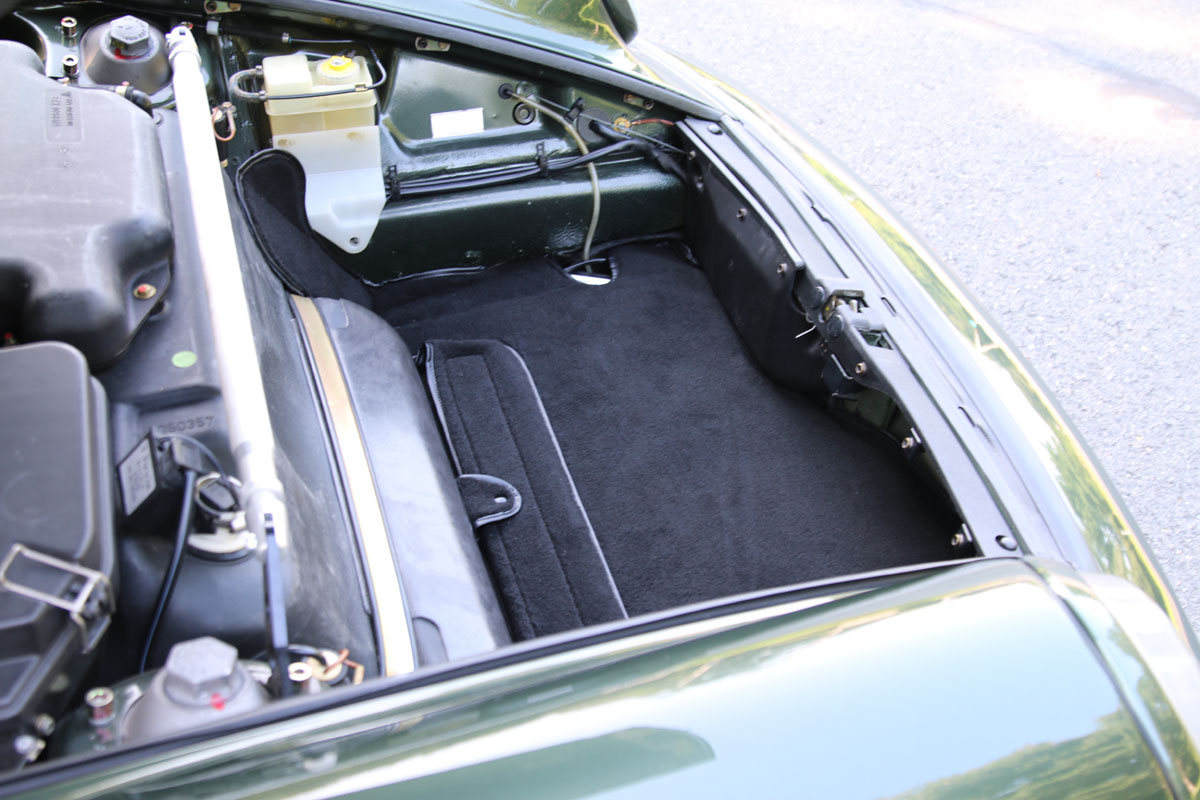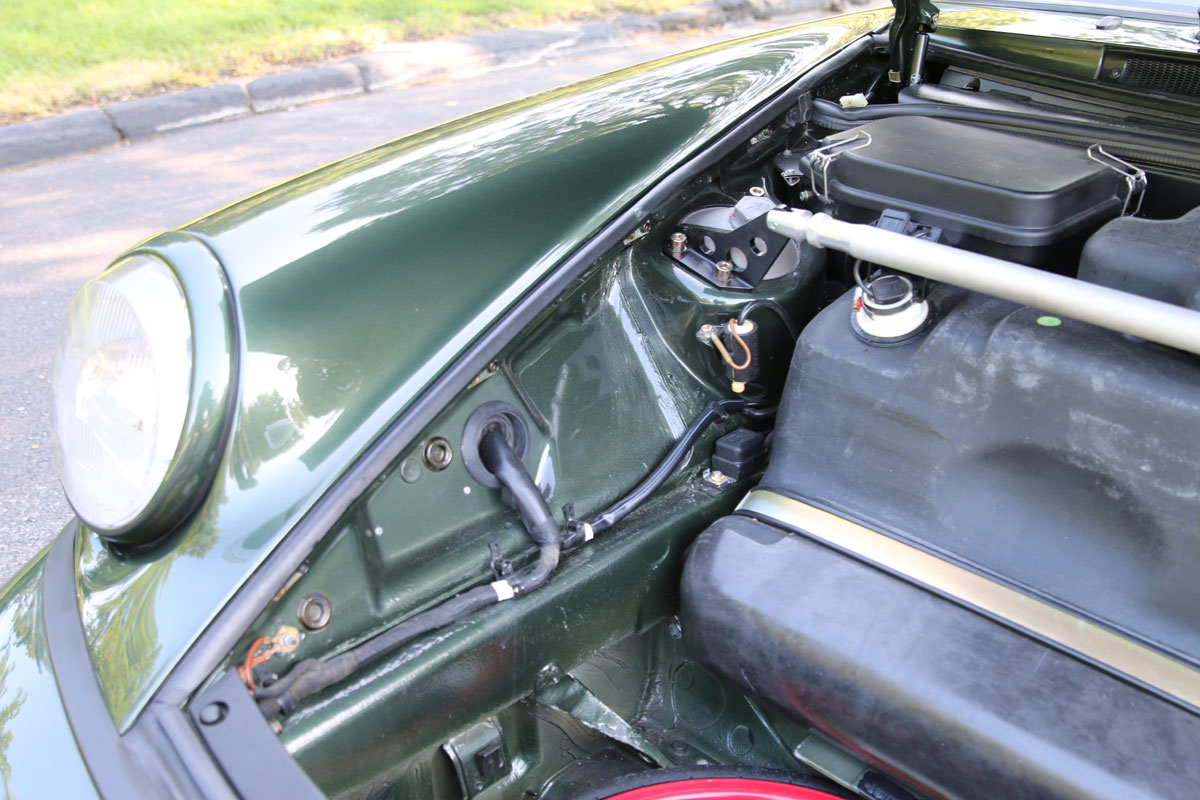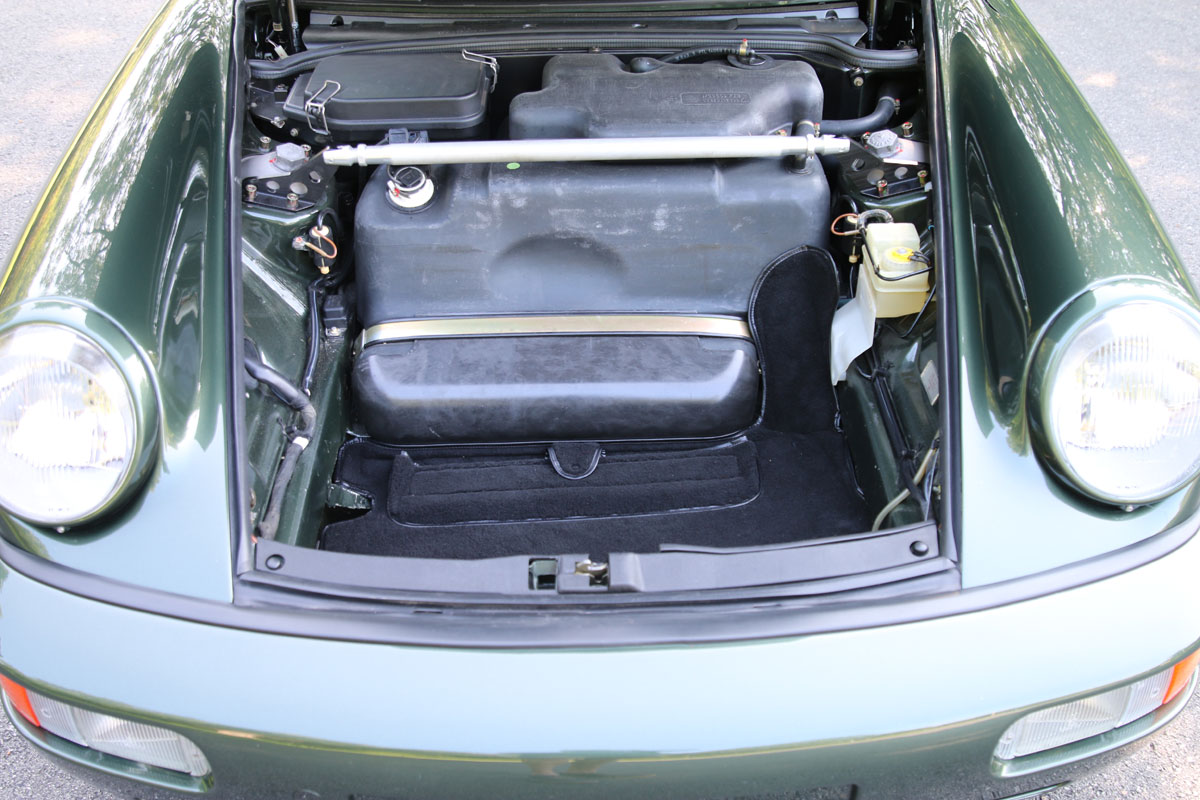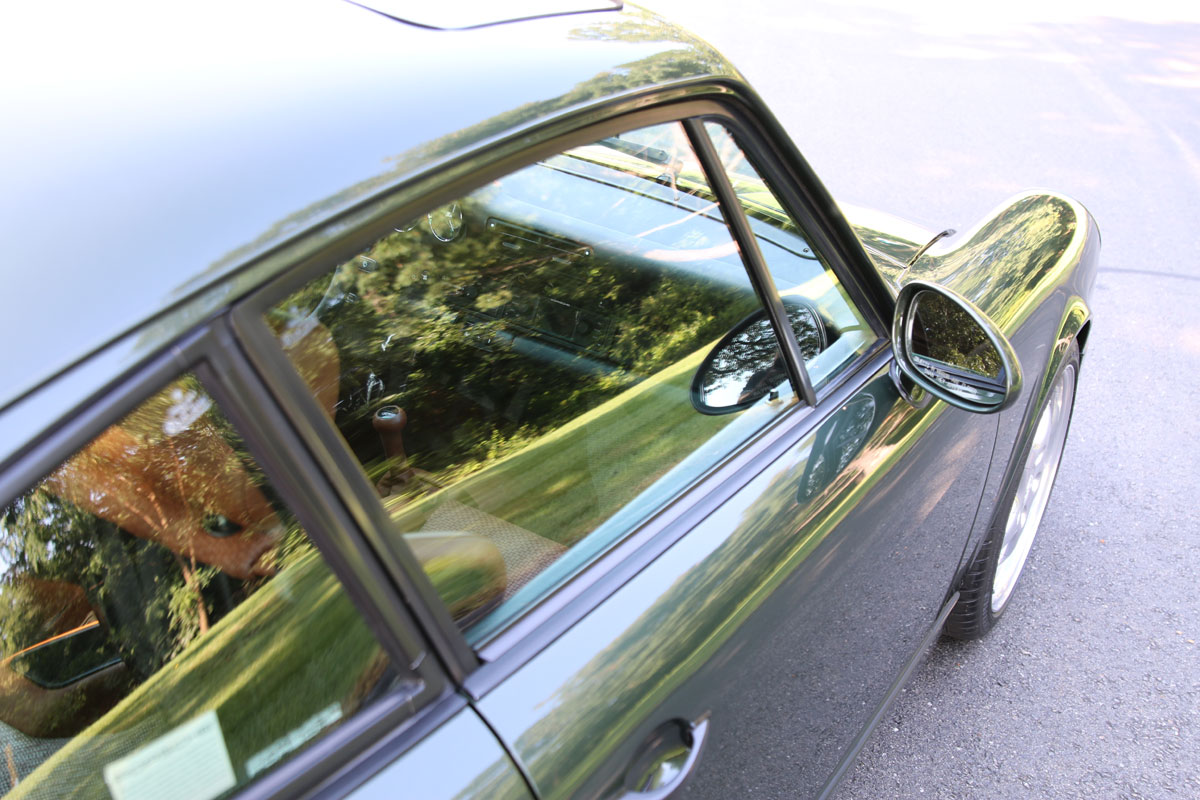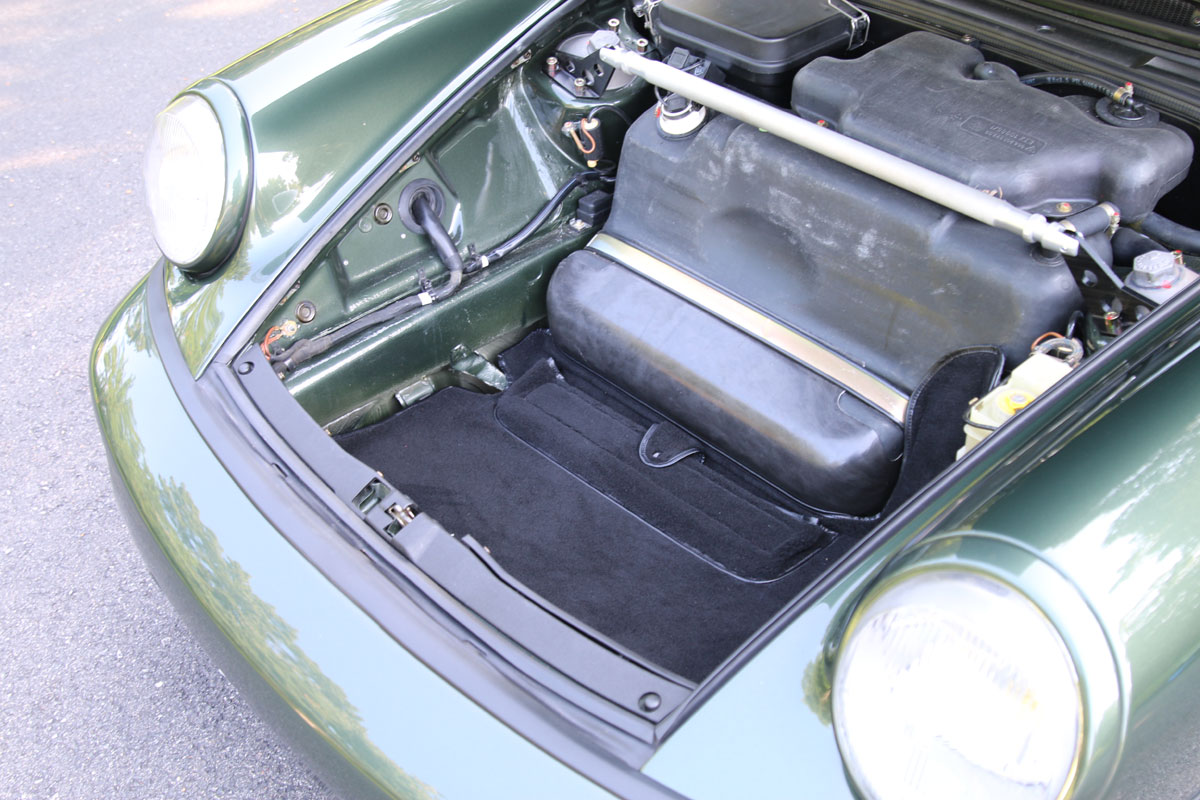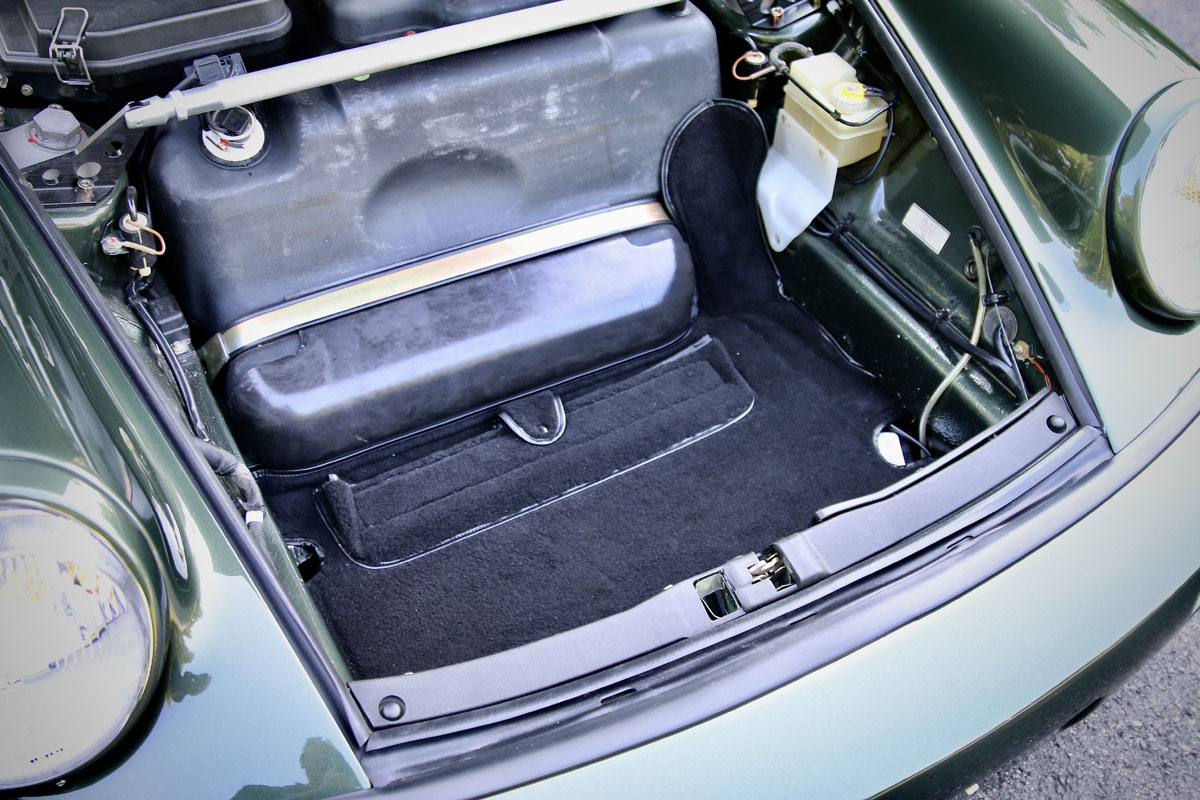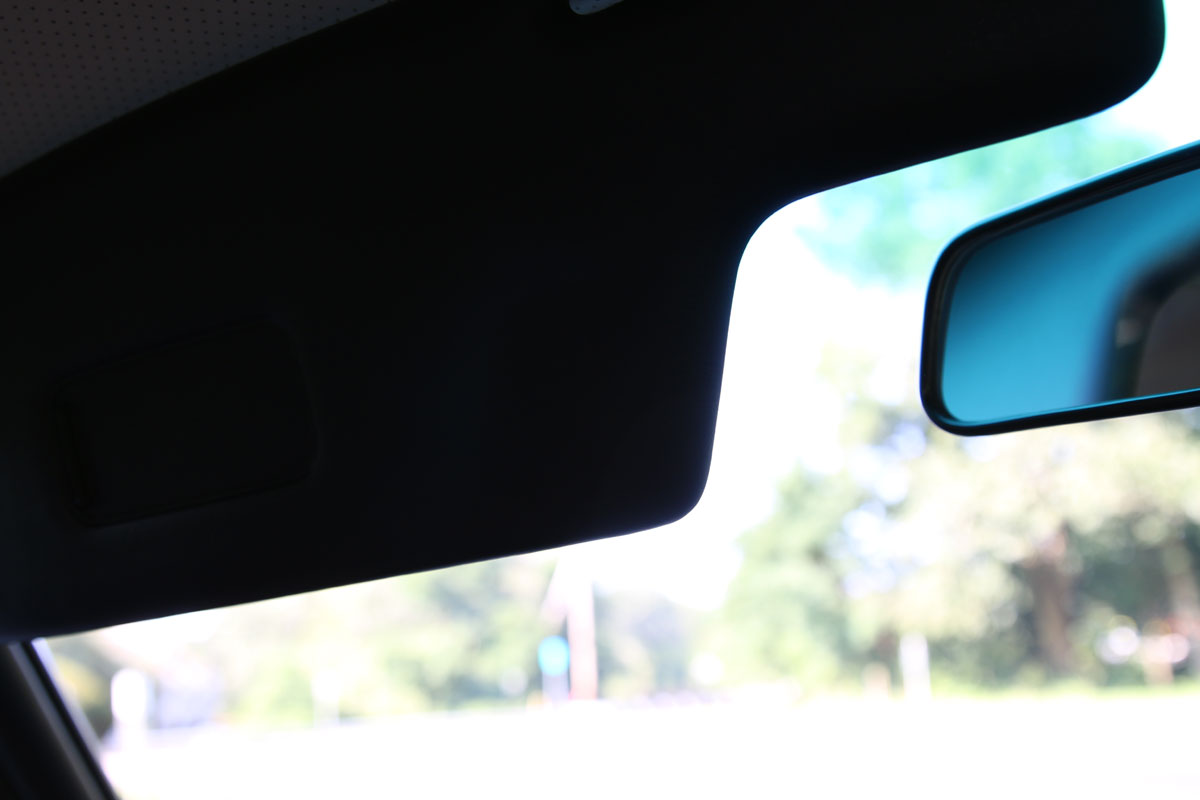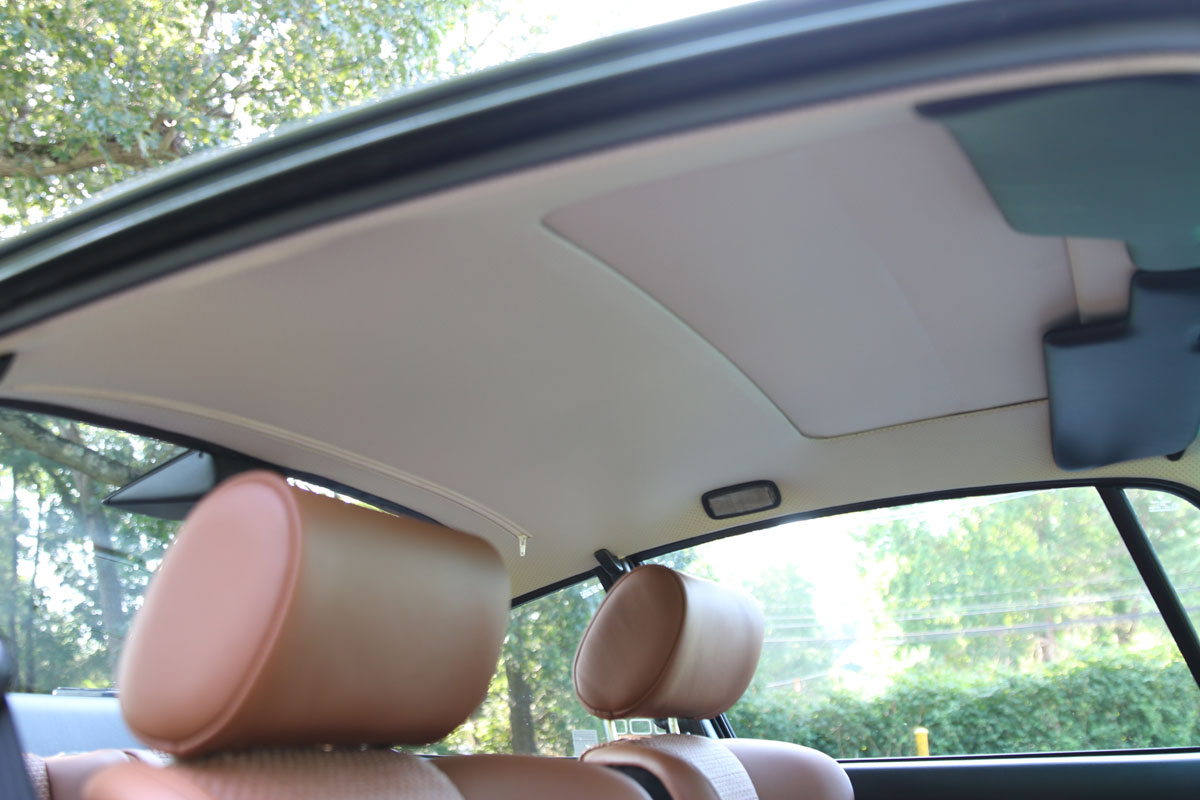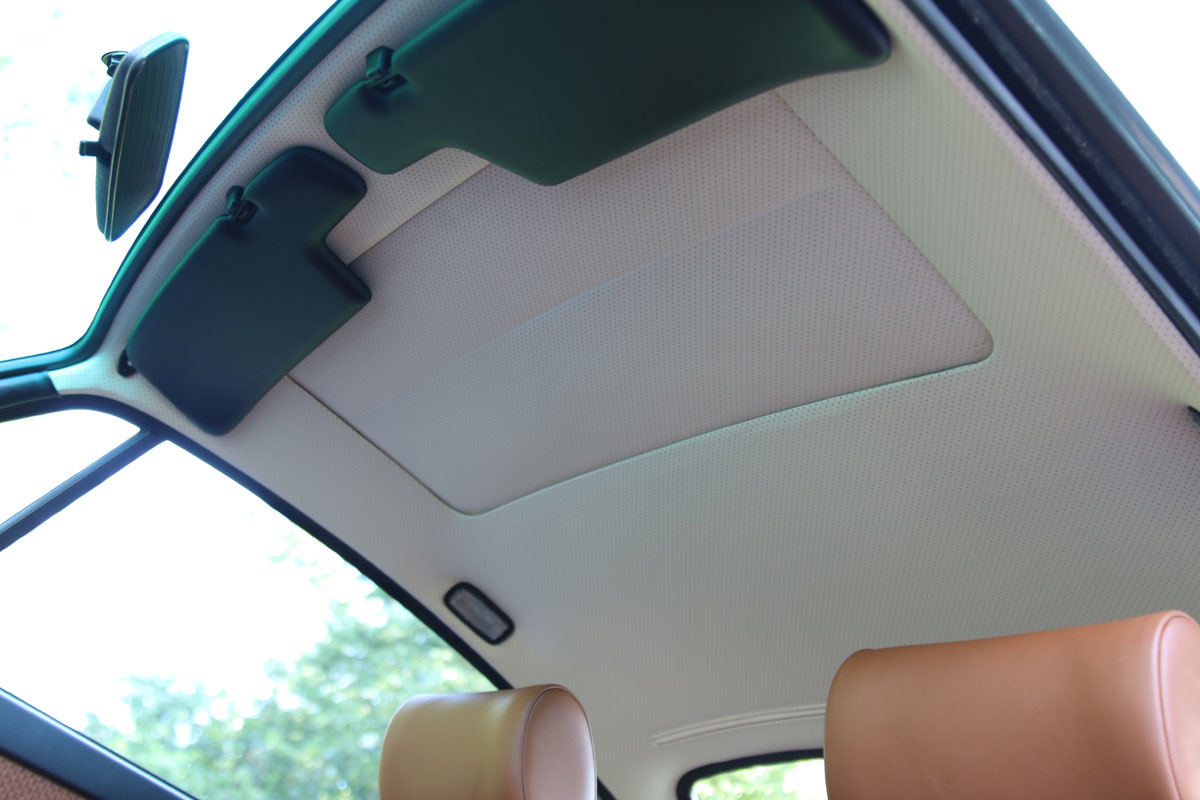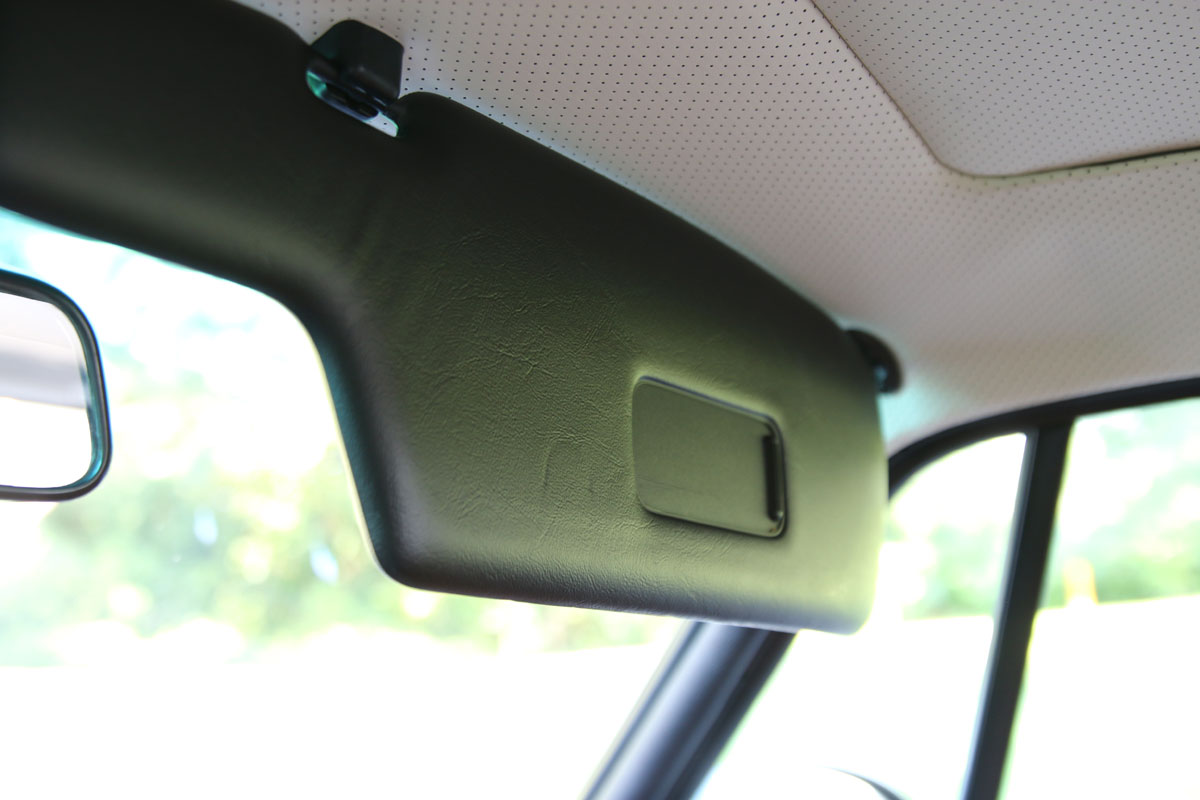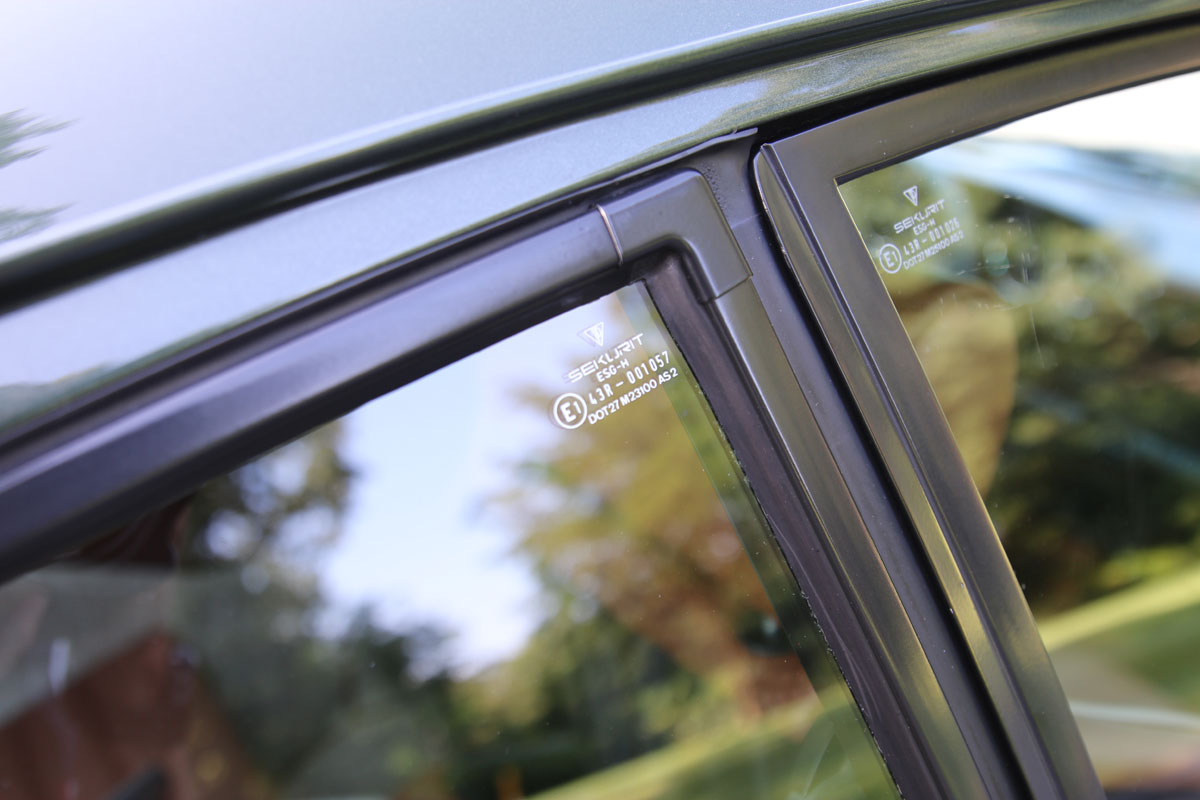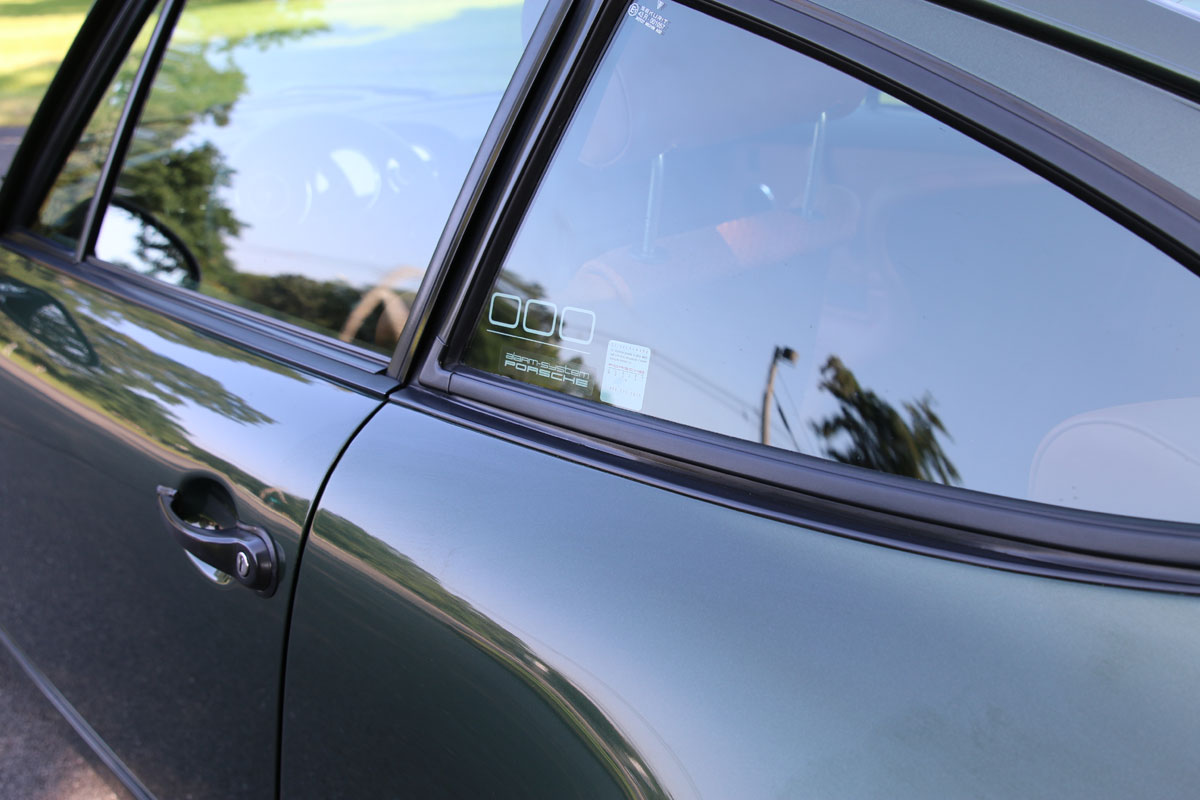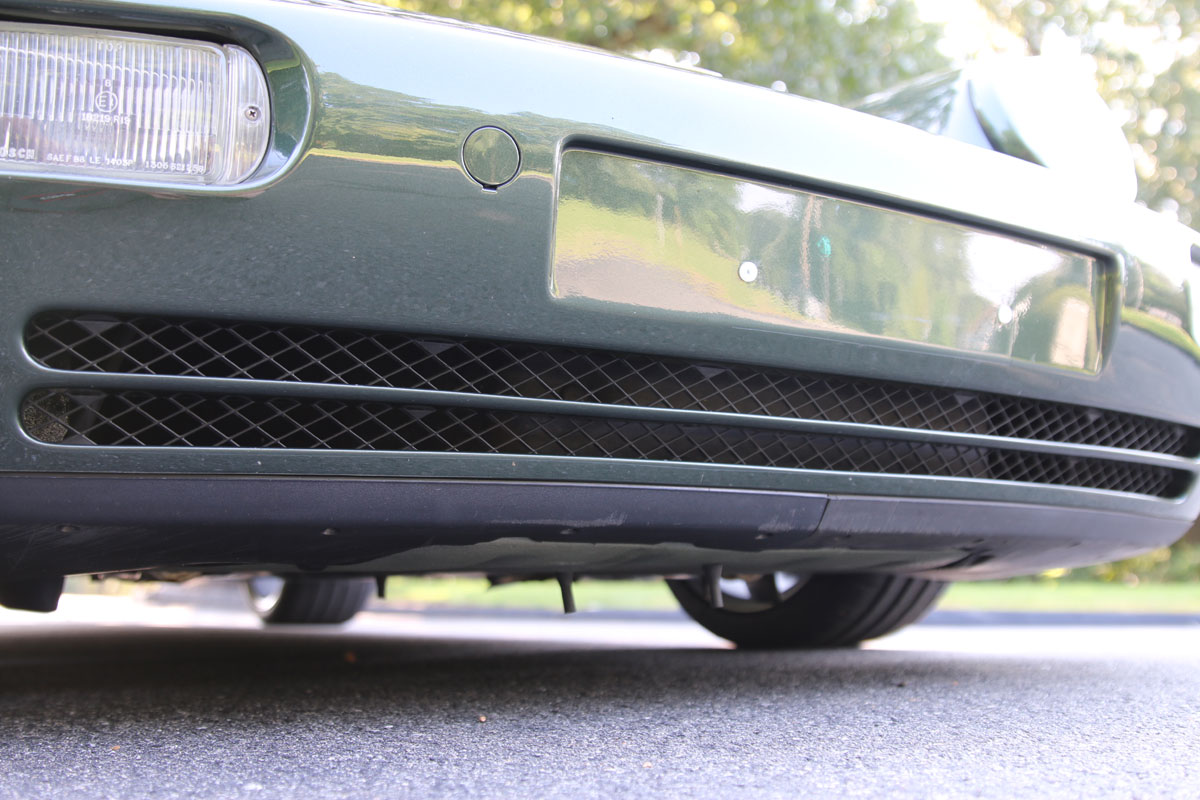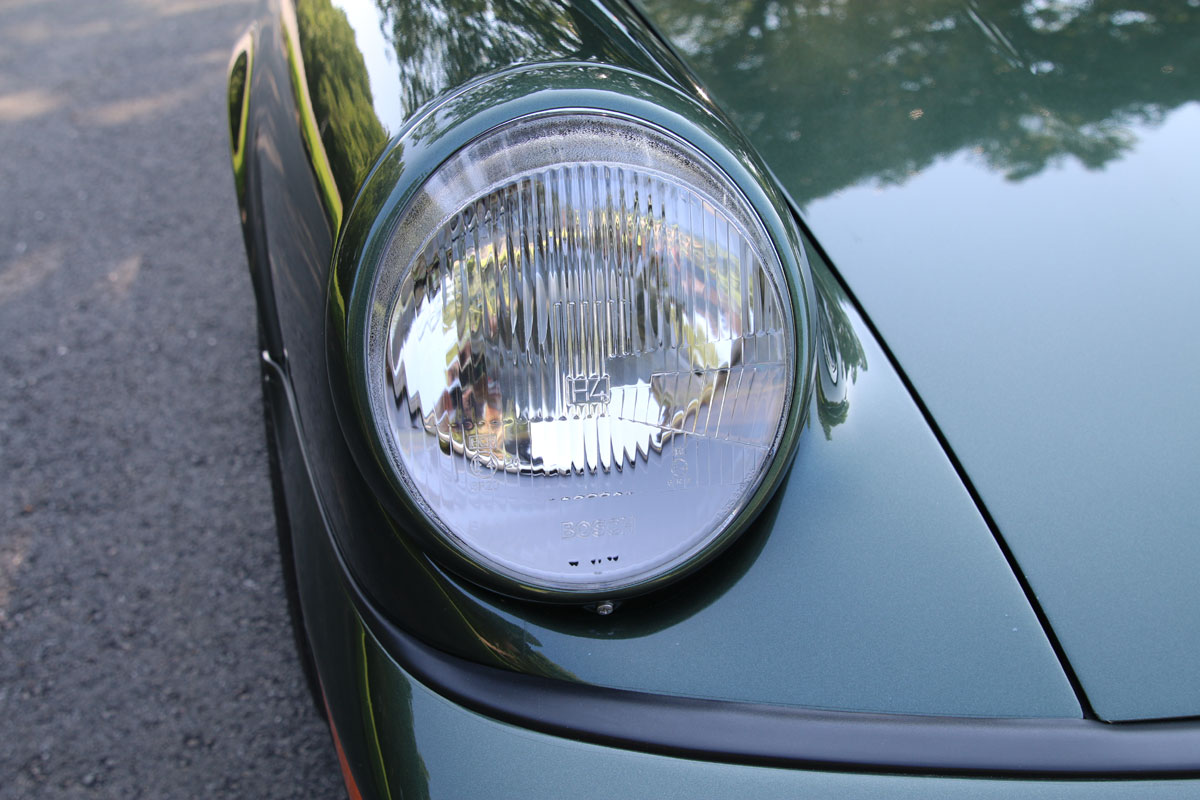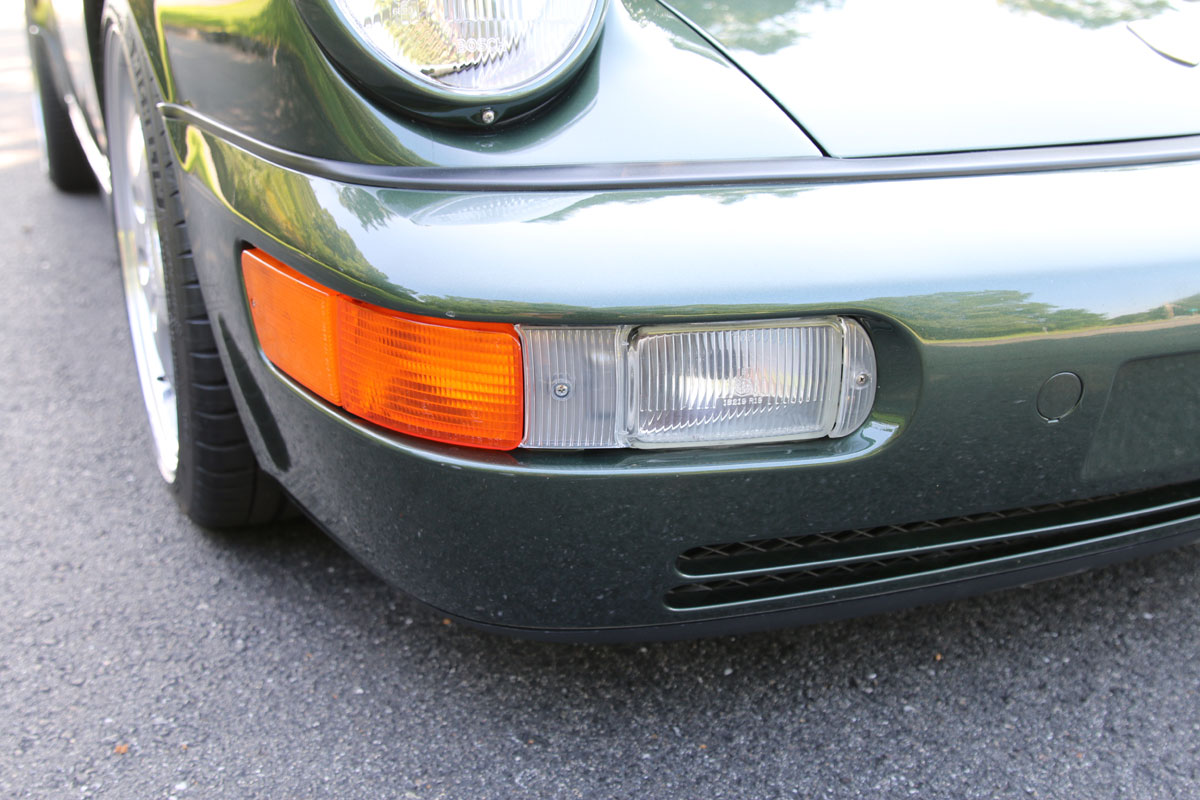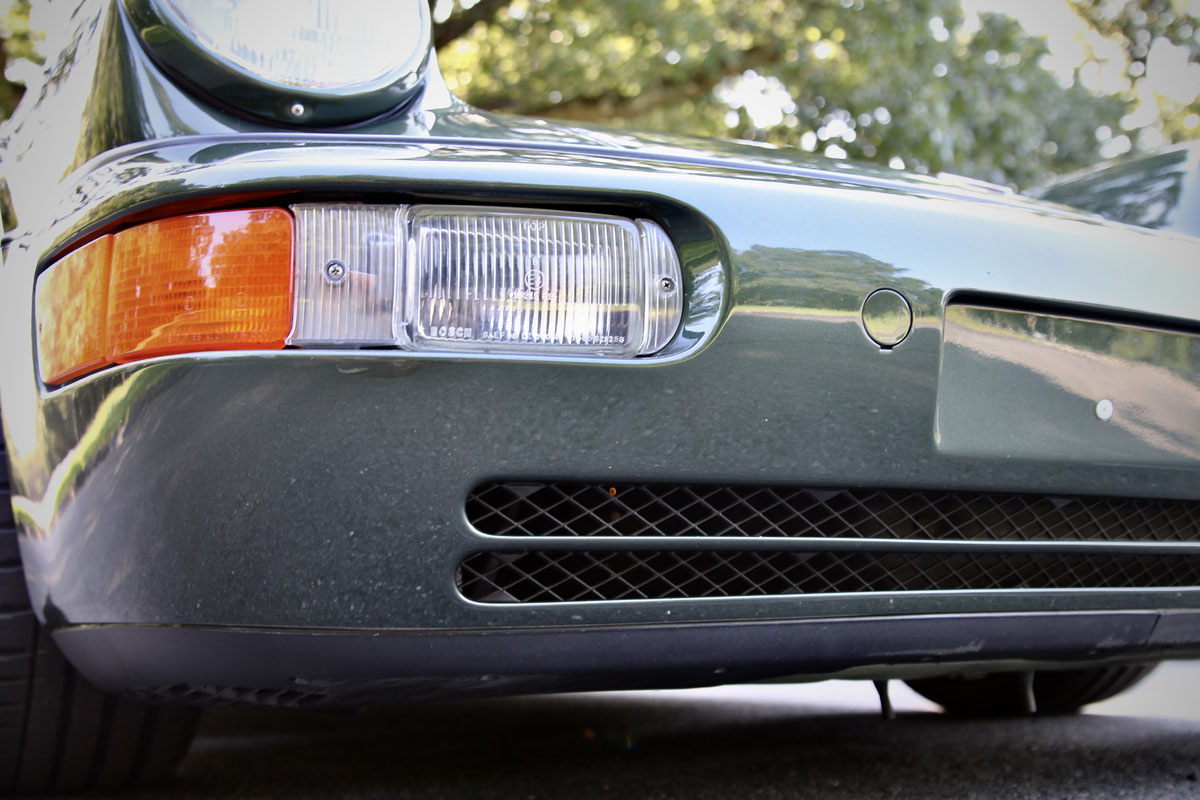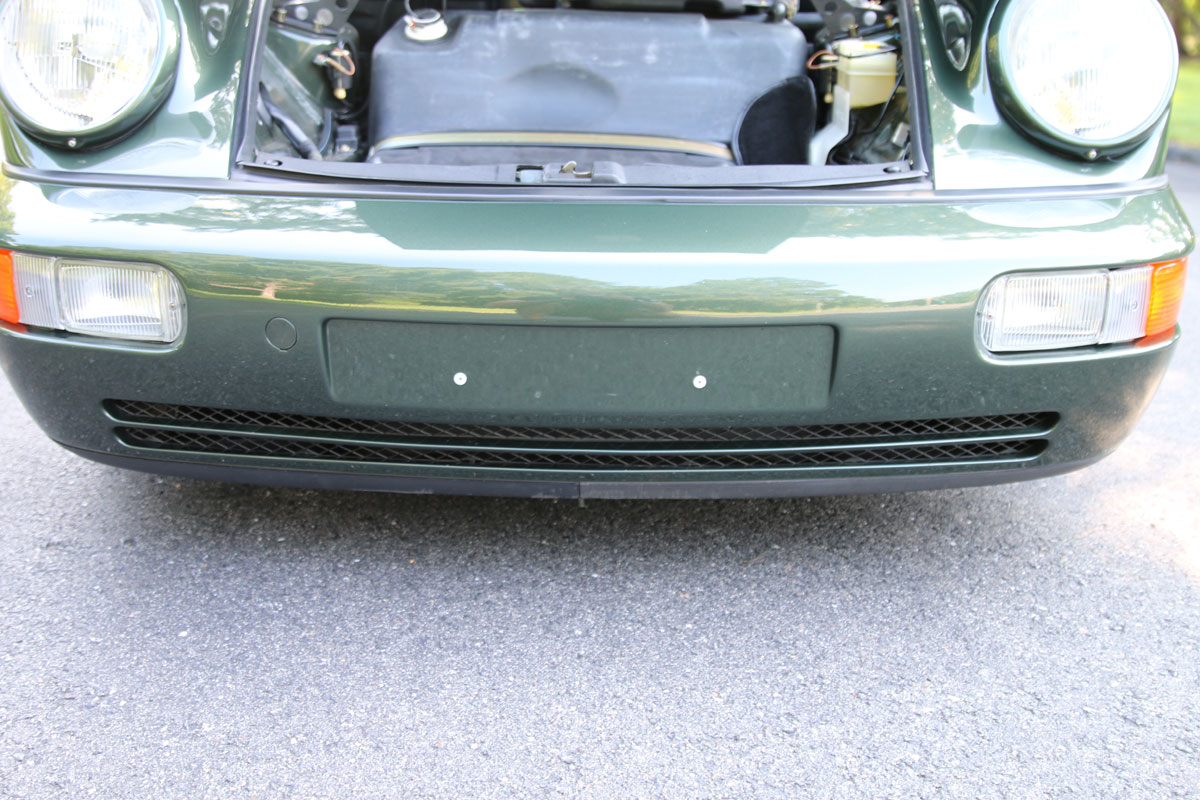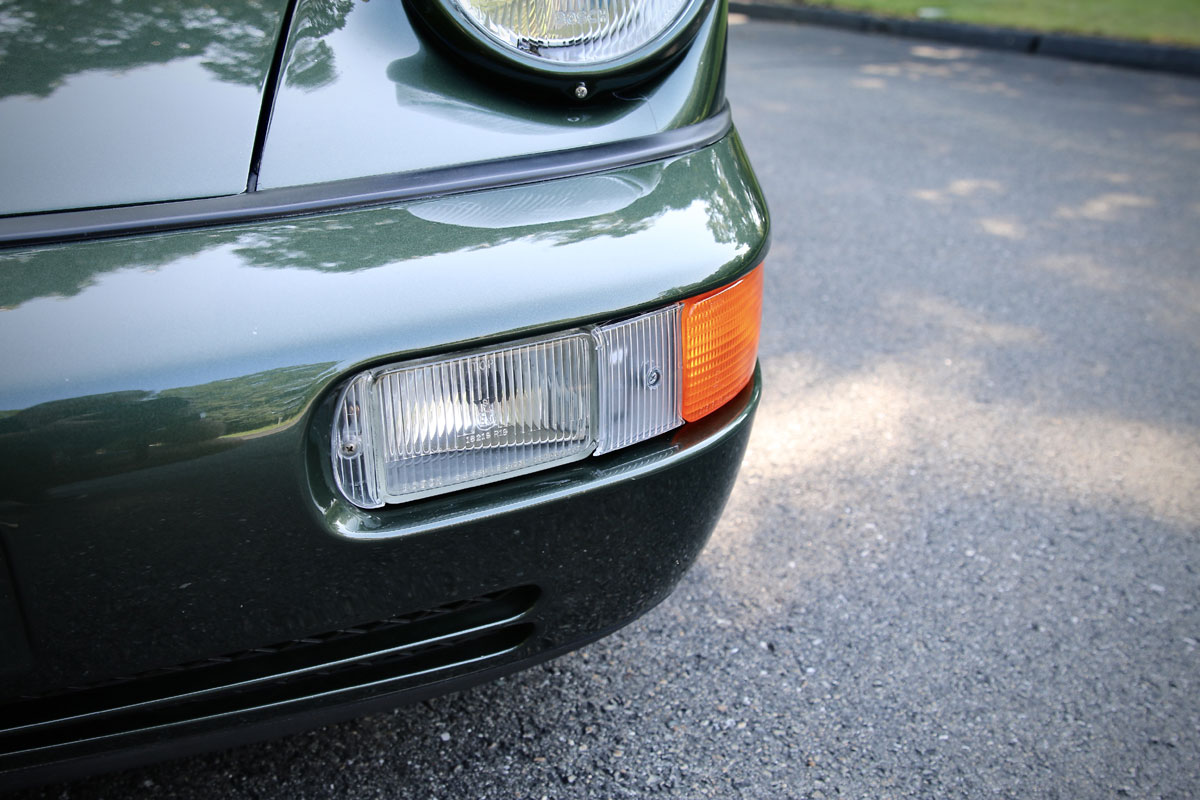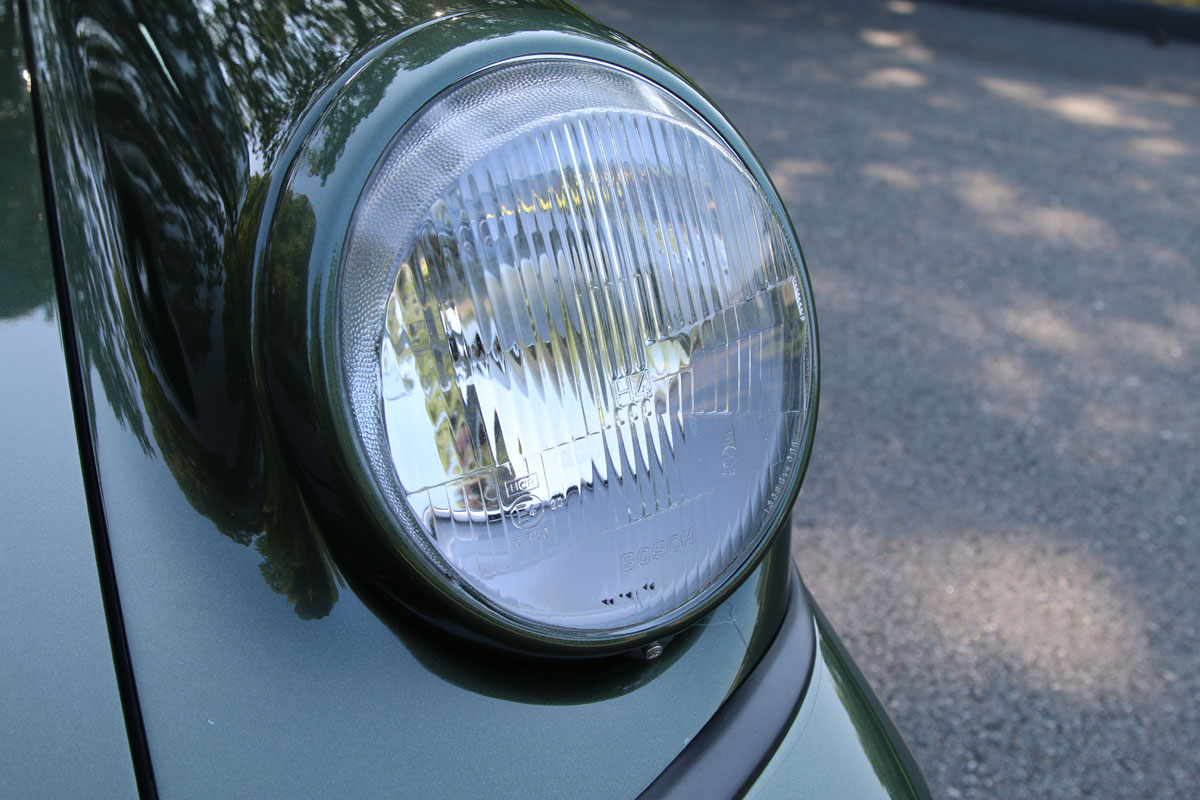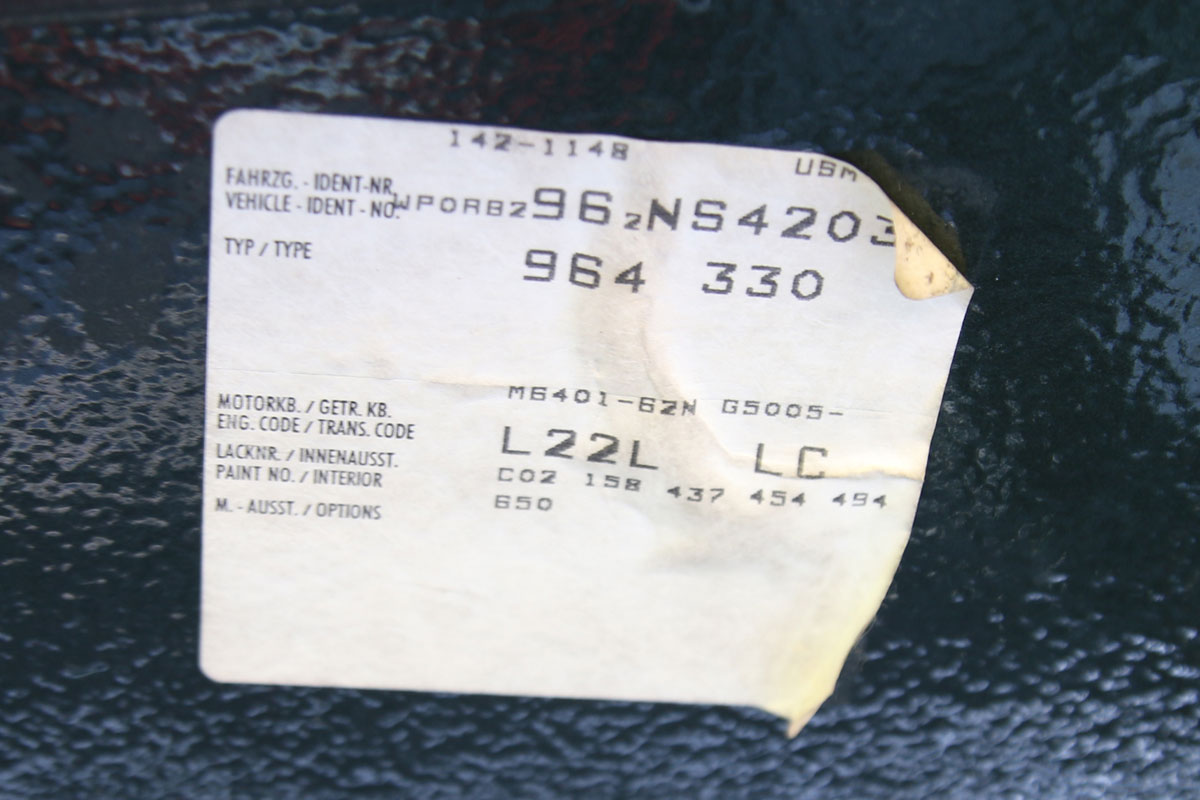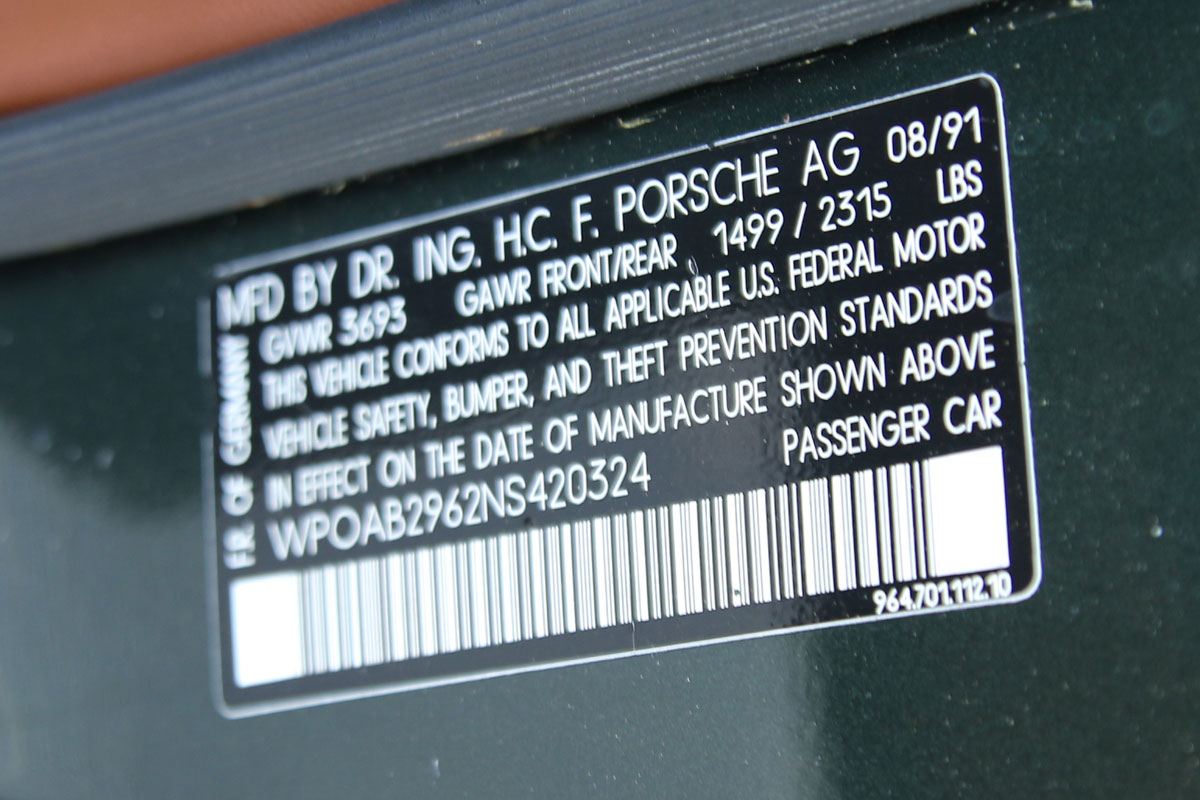 Details
Year: 1992
Make: Porsche
Model: 911 C2
Mileage:
VIN: WP0AB2962NS420324

Transmission: 5-Speed Manual
Engine: 3.6L 6 Cylinder
Drivetrain: Rear-Wheel Drive

Body Style: Coupe
Exterior: Oak Green Metallic 22L/N9
Interior: Baseball Glove
Stock: HM13
Vehicle History
From our collection comes this exceptional Oak Green Metallic over custom Saddle Brown leather 964 C2 Coupe. This build started in the Fall of 2018 when we acquired a very nice Oak Green Metallic 964 C2 with a tan leather interior. The car had just over 100,000 miles on it and was in excellent overall condition. We fell in love with our Oak Green Machine and wanted to do something special with this unique color Porsche. A plan was developed to build a spirited sport purpose car utilizing only Porsche factory parts and incorporate those changes with a custom interior with a backdated feel. Our interior goals included using German square weave rugs, white (Ivory) headliner, Lightweight bucket seats with early 911 headrest, woven baseball glove leather for the seats and door panels, backdated gauges and Porsche Classic radio with external amp and speakers. The result is a driving environment that welcomes you to an earlier time when craftsmen hand built things with pride to last sourcing the finest quality materials.
For the updated performance our goal was to increase power and handling while keeping the car street able and fun to drive. For the engine we refrained from adding displacement to the 3.6 litre engine that Porsche installed in the car. Instead, we chose to completely disassemble the entire engine and rebuild the unit for better throttle response and increased performance. Heads were sent to Extreme for reworking, Super Cup grind cams were installed for better response. The ECU was remapped.  Pauter rods substituted factory pieces for added strength. Other massaging and care resulted in a free revving engine making 270 HP at the rear wheels. Power is coupled to a G50 transmission geared for back road driving through a factory limited slip differential. Lightweight flywheel and RS spec clutch further enhanced the free revving experience. 
The exterior was left largely untouched keeping with Porsche lines from the original 964 design. We enhanced the front end by including H4 headlights, RS front driving lights, modestly lowering the stance and wrapping the hood, bumper and fenders in paint protective film. For the rear we installed a RS rear bumper center section while maintaining the single exit exhaust tip.
For suspension we installed factory RS shocks, springs and struts and rebuilt the original control arms with RS spec bushings. Brakes were sourced using factory RS parts including front and rear calipers and rotors and a larger master cylinder (from 993). New factory 3.6 Turbo wheels were sourced and fitted with Michelin pilot Sport 4S tires. 
The result of the build was exactingly followed through. We sourced the best materials and the best artisans to expertly carry through our vision of what we believe the ultimate air cooled experience should be.  A joy to drive and enjoy while taking in the finest in quality and craftsmanship. The result is a true work of art. 
Email brian@hatchandsons.com or call 978-562-3699 for more details.